1997 The Charles Kuralt Memorial Tour
The Charles Kuralt Memorial Tour you say ? Who is this guy and what does he have to do with our hapless heroes ? Charles Kuralt (10 September 1934 – 4 July 1997) was an award-winning American journalist whose long career with CBS made him famous as the motor home-traveling reporter whose chronicling of out-of-the-news American people and living made him as much of a household name as anyone who ever worked for CBS News.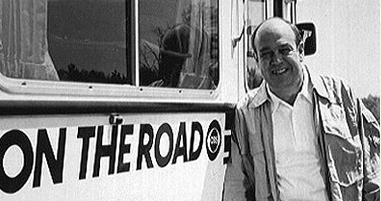 "On the Road" became Kuralt's legacy and legend. In October, 1967, he began to travel the back roads of America, producing his famous segments for the CBS Evening News. Over the next 20 years, Kuralt and his crew visited every state of the Union in their battered motor home, logging more than a million miles. He did stories on "wrestlers and jugglers and mountain climbers, traffic cops, tattoo artists, gandy dancers, sheep shearers, bagel bakers, horseshoe players, rodeo riders, sorghum makers and seashell collectors." Kuralt's discoveries included a 104 year-old jogger, a man who lived in a house made of beer bottles, and the owner of the world's largest ball of string.
Mike and Bone both listened to Charles final "stories of his favorite year, where Charles would spend a month in each of his favorite places in the US. Charles was Mike and Bone's type of guy; traveling to cool places, eating bad food, meeting neat people, is something that the Boys dedicate themselves to do. Therefore, in honor of Charles, the Boys decided to visit Charles favorite place to be in November, New Mexico !!! So with the anglo, Hispanic, and native-american residents trembling in terror. The Boys brought their brand of "On the Road" to sunny New Mexico !!!
Day 1: Sandinistas on the Sandia
Day 2: Getting Bombed in Los Alamos
Day 4: The Bad-Ass Carlsbad Caverns
Day 5: Looking for Beaches at White Sands