The Adventures of
Mike
and
Bone
!


Their Motto: A life lived foolishly, is a life well spent!!!!
These are the ongoing adventures of Mike Spencer and Tony (Bone) Giordano. Follow the hijinks and hilarity of these two adult adolescents who for over thirsty, err, thirty five years (!!!) steadfastly, and obstinately refuse to grow up even if the cruel hand of time pushes them from middle-aged morons to addled old timers! Regardless of their physical frailties, Read on how Mike and Bone trek and traverse the gardens and ghettos across the globe in the pursuit of: annoying locals; enjoying local curiosities, and the pursuit of the perfect pint of the Guinness!
Just how did all this nonsense start?
Way back in 1983, two down and out, ne'er-do-wells were barely making a living as pizza makers at an Italian restaurant in the quaint suburb of Berkley Michigan known locally as Sila's Pizzeria. In addition to their common contempt for co-workers, customers, and the world in general (see the Kevin Smith movie, Clerks), they discovered that they shared many common interests, including:
drinking good and awesome beer,
running marathons and mountain climbing,
and high adventures on low budgets.
Since their first high adventure in 1984, they have shared the life experiences of wives, divorces, new wives, children, college, new careers, new homes and the utter horror of creeping class respectability. To combat this mass delusion, they still go on their silly little adventures, looking for that next cool punk bar, Irish Pub, desert skyline, mountain cliff, and again, the perfect pint of Guinness.
Map of Misdeeds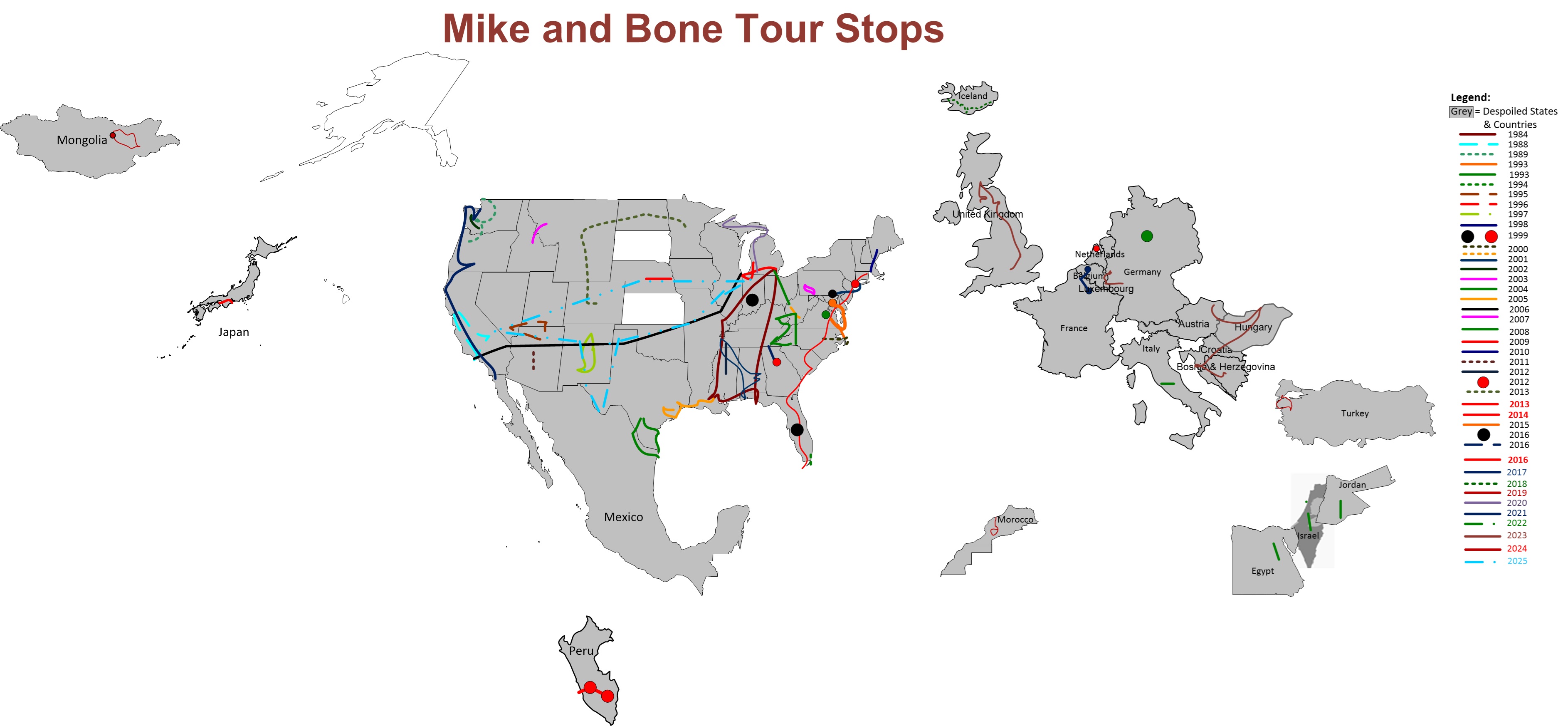 Mike and Bone's known path of world destruction from their various "Tour Stops."
Dedications and Disclaimers
This silly little site is dedicated to our families, without whom we wouldn't have the rich full lives that we have the unparalleled opportunity to experience (well OK, we would definitely have drank a lot more beer !!!)
We steadfastly deny and disclaim that browsing this site will be injurious to your mental well-being. However, be advised, can cause itching.
NOTE: Any use or reproduction of this material must have the written consent of God herself. Any characters or events represented here that resemble actual, normal, adult human behaviour is ludicrous, absurd, ridiculous, and most likely improbable. @Copyright 2011 Bunghole Press, extremely limited.
2023 Roman da North in Planes Trains and Automobiles!
2010 - 2020!
2019 The 35th Year Anniversary: Goin' Cold Turkiye!
2017 Good Timey Souuthern Hospitality!!!
2016 Mike and Bone, Do, Peru!!!!
2016 The Burning of Atlanta, Part Two
2016 Orange you glad we went Bowling? Citrus Bowling?
2015 Having a Riot in Bonamore, Mikeyland!!
2014 The 30th Year Anniversary: Rocking the Kasbah !!
2014 Hamburgers, Hot Dogs, and Pizza !
2013 Adventures in the Land of the Rising Fun !
2013 ND Michigan Under the Lights !
2000 - 2010!
2008 The Making Charlotte our Bitch Tour
2006 Getting our kicks on Route 66 !
2006 Visiting the "Friendly (?!?)" Confines of Wrigley Field
2005 "Having a Cocktail at the Worlds Largest Cocktail Party"
2005 " Houston, We have a Problem !!"
2005 Irish I was in New York !!
2004 Eastside !!!! The Ed Sheehy Memorial Tour
2003 The Missed-Adventures of Lewis and Clark
2002 Mt Rainier 1, Mike and Bone 0 !!!
1990 - 2000!
2000 BlackBeard's Revenge Tour
1999 Washington DC: The Capital Crimes Tour
1999 NYC: The Lamb Lies Down on Broadway Tour
1998 Oh my Cod!!! its New England!!!
1997 The Charles Kuralt Memorial Tour
1996 Riding US 12 - Operation: Denigrate Democrats
1995 Operation: Desert Storm (The Heber Jones Memorial Tour)
1994 Wasting Away in Margaritaville
1993 Cape Fear: The Outer Banks
1992 River Running with the Trans"manian" Devil
1990 to 1992: The "Ellen Degenerate" Years
The Eighties!
Special Features
There are things that Mike and bone do on their epic sojourns into the insanity and inanity that are both idiotic and interesting !!! Strangely enough !)
2019 A Sinatra Sixies Suarez in da Big Apple!!
Running Fools
Programmed for Hot Dogs Mike and Bone are "known" conningsewer's er, Connoisseurs of the complex tubesteak !
Pigskin "Playa's" You can't talk about Mike and Bone and not talk about College Football !!
River Runnin' Men Boys like to play in water, Mike and Bone like to play in BIG Waters !!!
Bone Alone Tours Some of Bone's Solo Stuff
Mike Alone Tours Some interesting pictures of Mike past, and present solo adventures!
Coming Retractions: Intended Campaigns of future desolation, destruction, and drunkenness
Chasing 'old Abe - Finding Lincoln's Logs
The Appalachian Trail [Multi-trip]
Tracing Lewis and Clark
The Oregon Trail
Keltic Adventures
The London Marathon
Version 8.1