2013
U o

f M

v.s

Notre

Dame

: Under the Lights!

Living in Japan was not gonna stop Bone from seeing the last Michigan Notre Dame game in the Big House. The cowardly Irish had decided to end the Rivalry, perhaps losing the 5 of 6 games may have had something to do with it ! Before heading to A Squared, the Boy's needed to break their fast with their favourite fast food, Hot Dogs !!! It only made sense to check out Bezerkley's own speciality dog joint, Atomic Dawg !

Berzerkely's own Atomic Dawg !!!
In June 2014 Bone's own City, Berkley's opened a new hot dog joint, Atomic Dawg ! Atomic Dawg is a remodelled two floor, remodelled house designed as old-school steel and chrome diner with a vegetarian-friendly menu and laid-back vibe with beats like Bob Marley's playing in the background.
Owner Joel Bascow, who is in the music industry, teamed up with close friends to be his business partners to fulfil a lifelong dream of his to open a diner.
Taking on Bascow's vision to make it all happen was West Bloomfield designer Celia Block of Hand painted Rooms. She's been in the business 12 years and said when she was fixing up the 1921 house, she did things to "give it pizazz."
"We wanted to capture the Atomic Age and also make each room different," she explained, adding that the feel gets more retro as guests move to the back rooms.
Gary Brunner the chef, who used to own Café 317 in Royal Oak, promises customers are in for a one-of-a-kind experience at Atomic Dawg, with homemade everything. He says his creations there are good for the tummy and the eyes. "Everything is bright and colorful. It's good looking and good tasting," he explained, while listing off all the freshest toppings used at Atomic Dawg, such as fire-roasted peppers, sweet onions, his grandma's homemade marinara sauce and his special bean veggie burger with herbs and spices.
Mike and Bone eatin' Atomic Dawg's !!!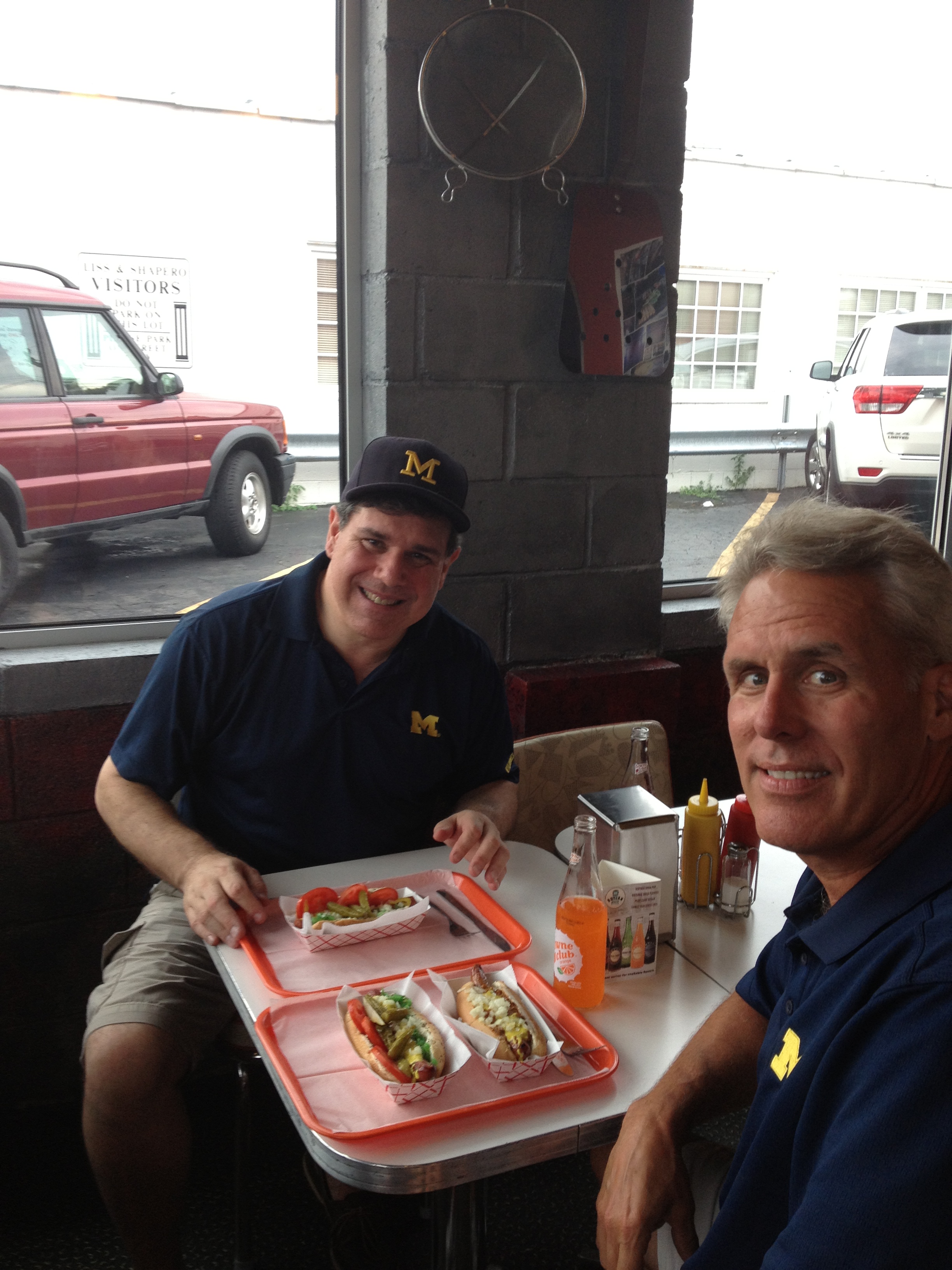 Atomic Dawg serves a series of speciality dawgs and old local favourite Town Club soda !!
Atomic Dawg – Split and grilled!

Frankfurt Dawg – Sauerkraut and French's mustard

The D – Al's Famous Chilli and onions

Chicago Dawg – Plockmans Dusseldorf mustard, onions, tomatoes, sport peppers, pickle spears, green relish on a poppyseed bun.

Manhattan Dawg – Sauteed sweet onions and French's mustard

BBQ Hog Dawg – Grilled Atomic topped pulled pork, Canadian slaw and homemade BBQ sauce

Hula Dawg – Teriyaki sauce, grilled pineapple, grilled onions, lettuce and Japanese cherry mayo

Russian Dawg – Canadian Slaw or sauerkraut, Swiss cheese and Russian dressing

Swanky Franky Dawg – Grilled Atomic wrapped with bourbon smoked bacon and topped with jalapeno lava cheddar
A "D" Dawg and Chicago Dawg with a coupla Towne Club's !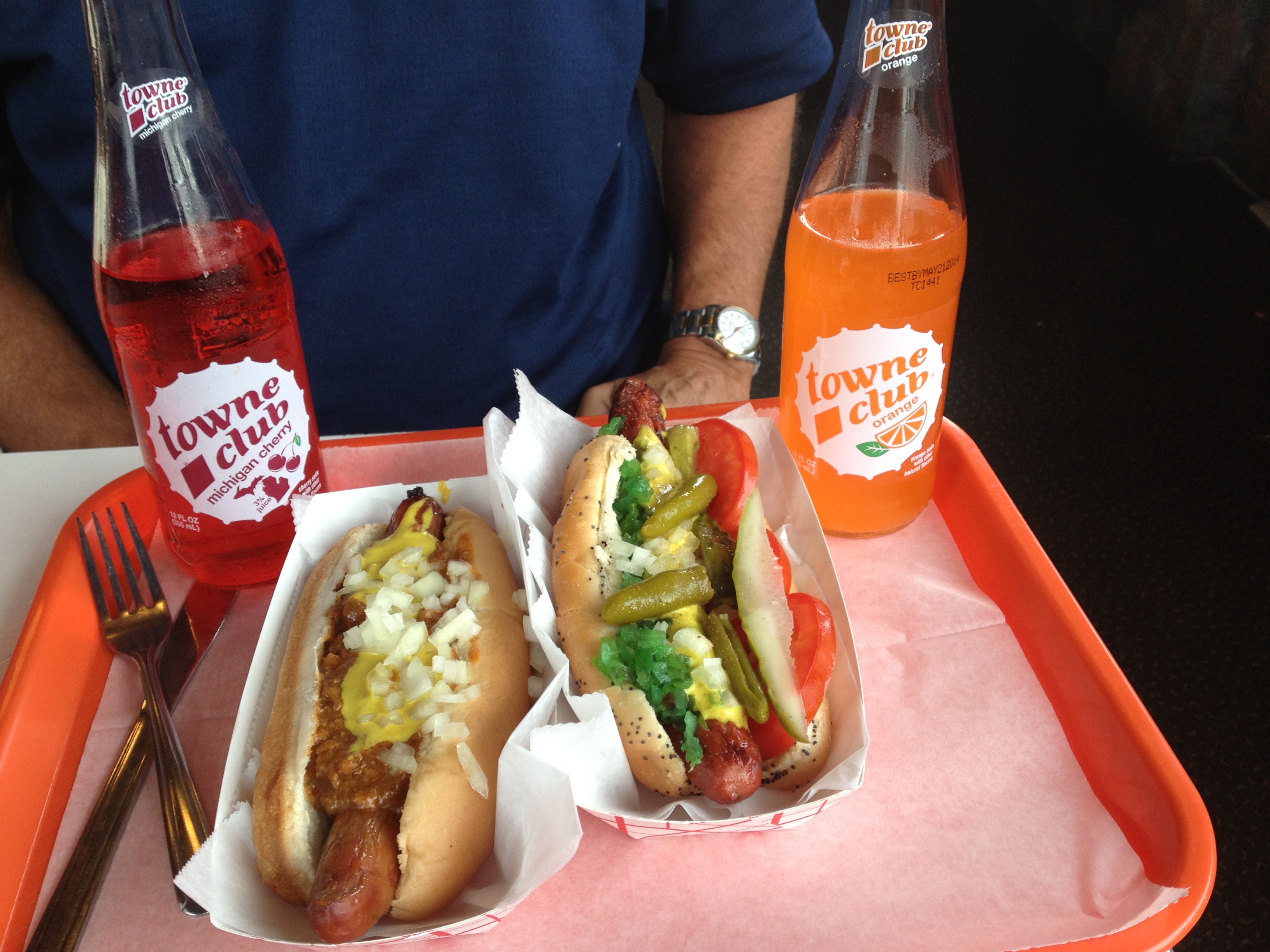 The now world-class hot dog aficionado' critical chowed on the split and grilled dogs with.... Two Thumbs Up !!! Great dog, with a snappy natural casing, great condiments, and cool setting! Who'da thunk that a place that cool would be in Berkley !!!
After an awesome lunch Mike and Bone drove to the House that Yost built, Canham carpeted, and Schembechler filled, the holy of holies, the Big House ! This being the second "Under Lights" game between Michigan and ND in three years, they wondered if it would be as exciting as it was in 2011, when Denard Robinson threw a touchdown with 6 seconds left to in the game.
Old 98?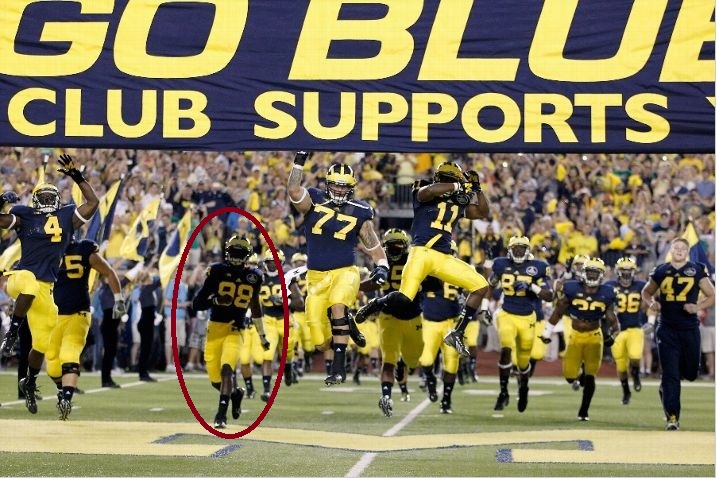 Before the Game during a special Pre-Game Presentation, Mark Harmon of NCIS and the son of Tom Harmon came on the field to present Devin Gardner with a special gift. Gardner traded in his No.12 jersey for a unique number for a quarterback these days, Old 98! With a Michigan Football Legends patch. Tom Harmon was Michigan's first Heisman Trophy winner in 1940.

"It's an amazing feeling to wear that number," Gardner said. "I knew about all the great things that he did on the field, but there are all the other things he did. He played two years of basketball, he fought for his country and he was a great human being. It's an honor to know that his family felt I deserved to wear that jersey. This really got the Big House jazzed up for the Game.

Michigan looked sharp on their first drive, but ND gave as good as they got. However by Half-Time, ND' Quarterback Tommy Rees through an interception to Blake Countess, which helped Michigan take a 27-13 lead at halftime.

Awesome Half Time !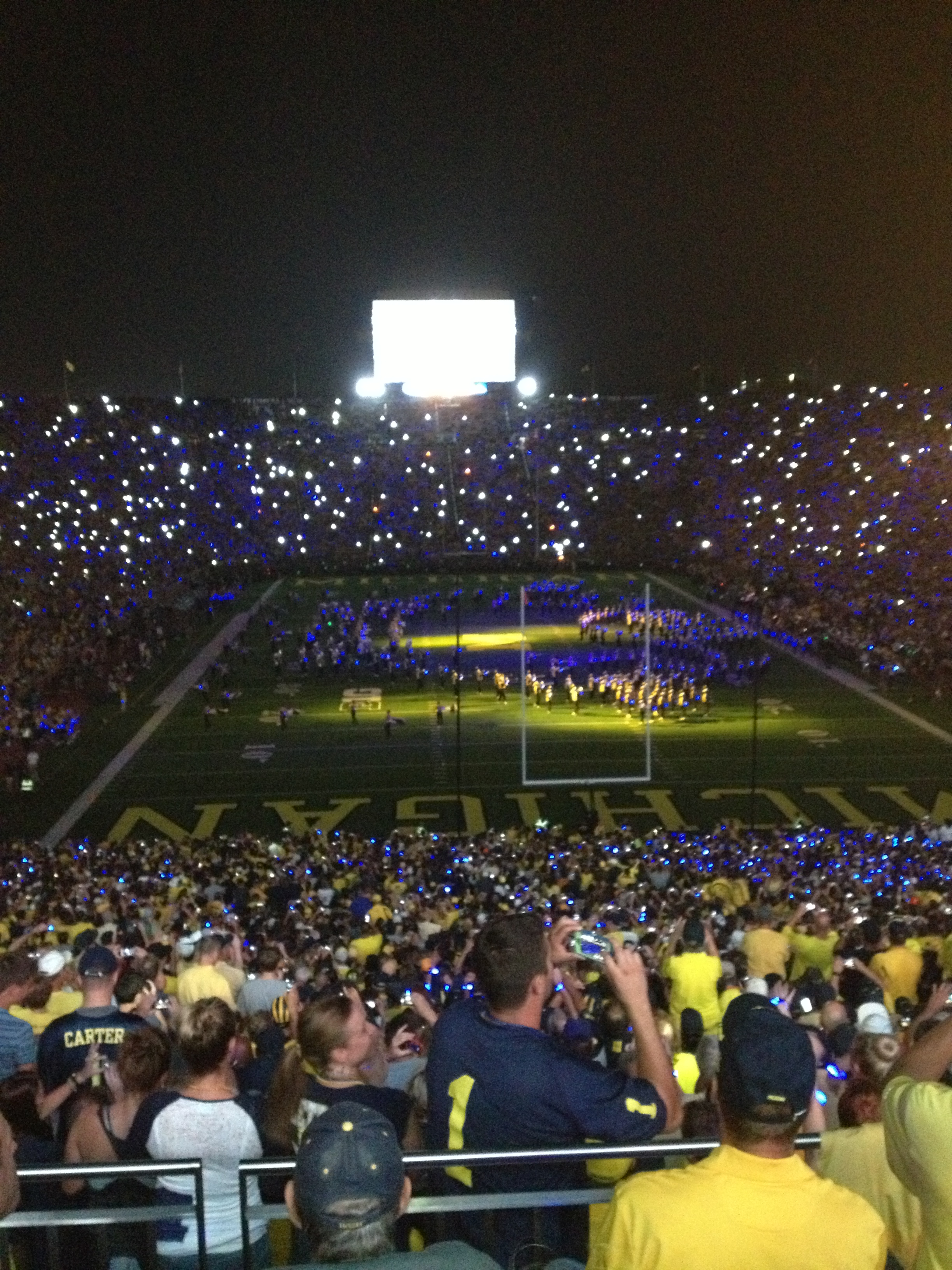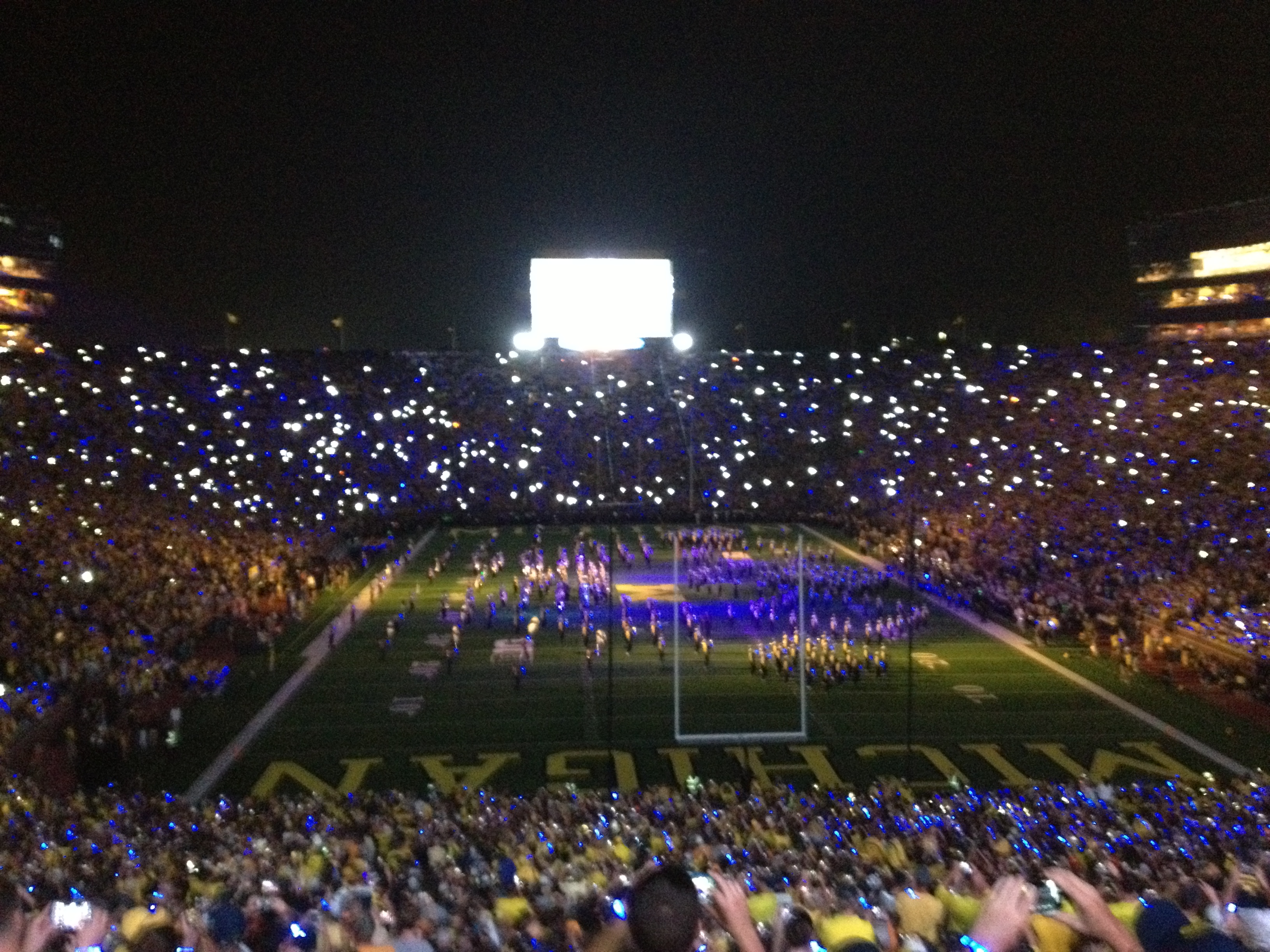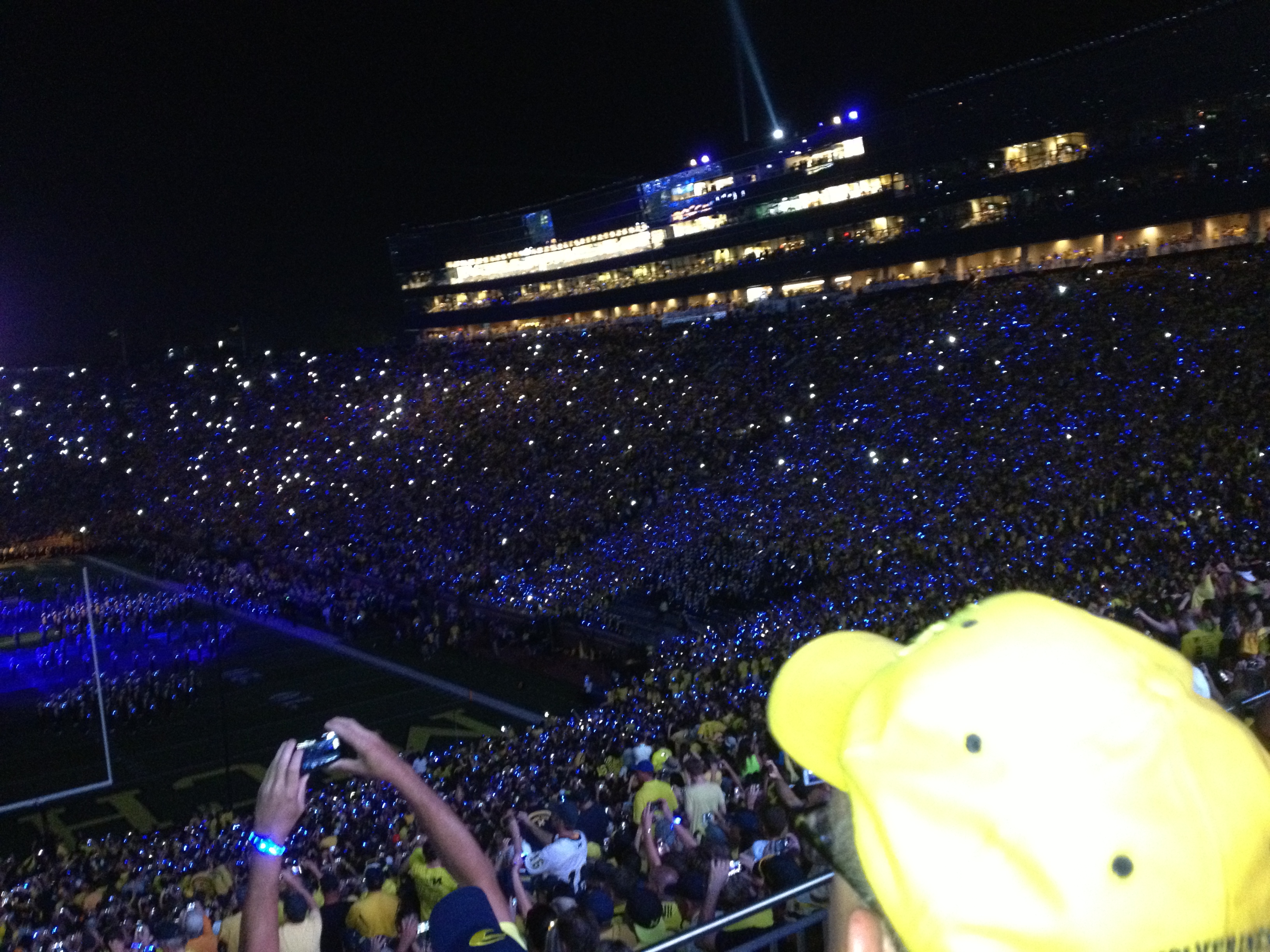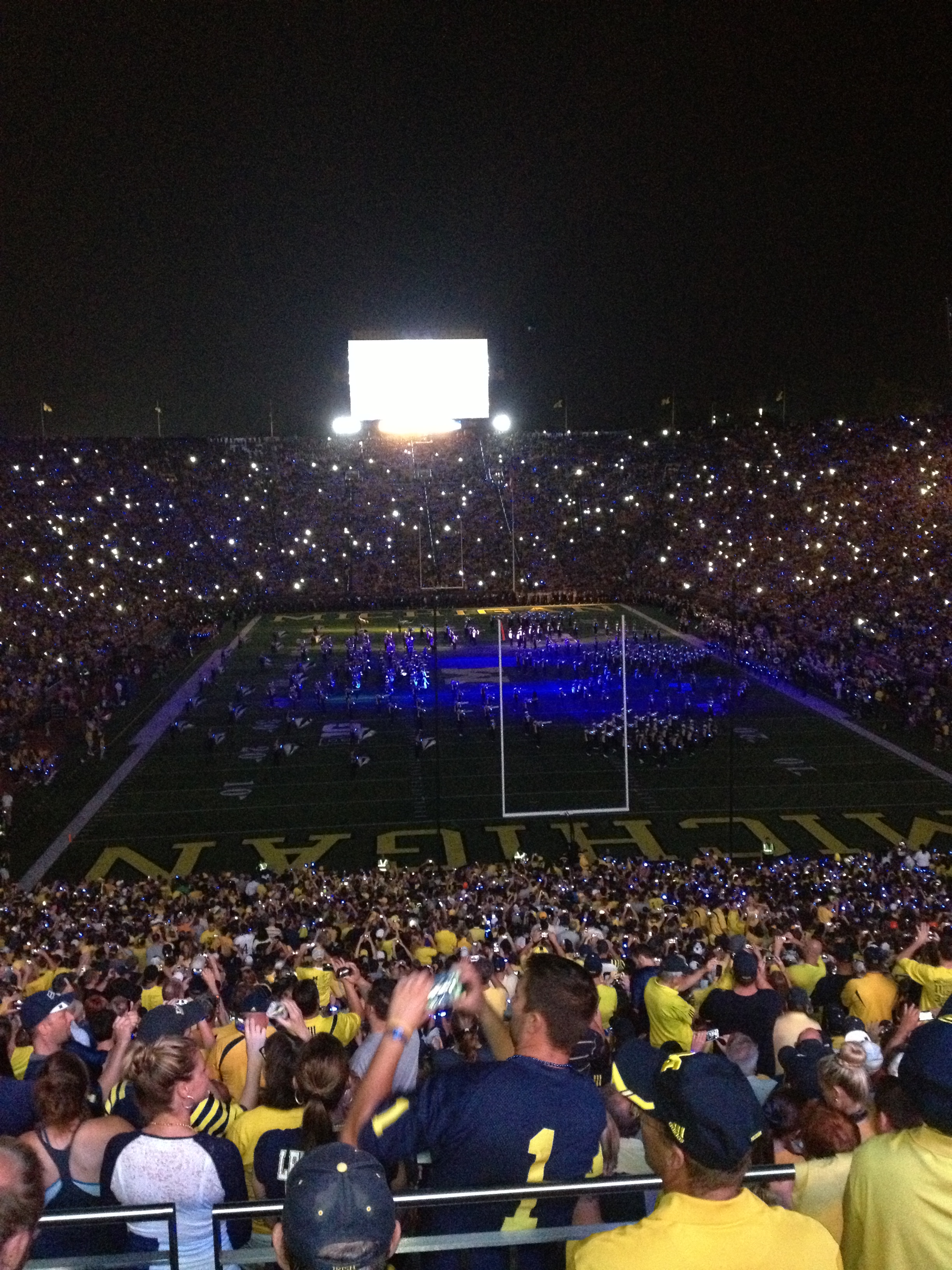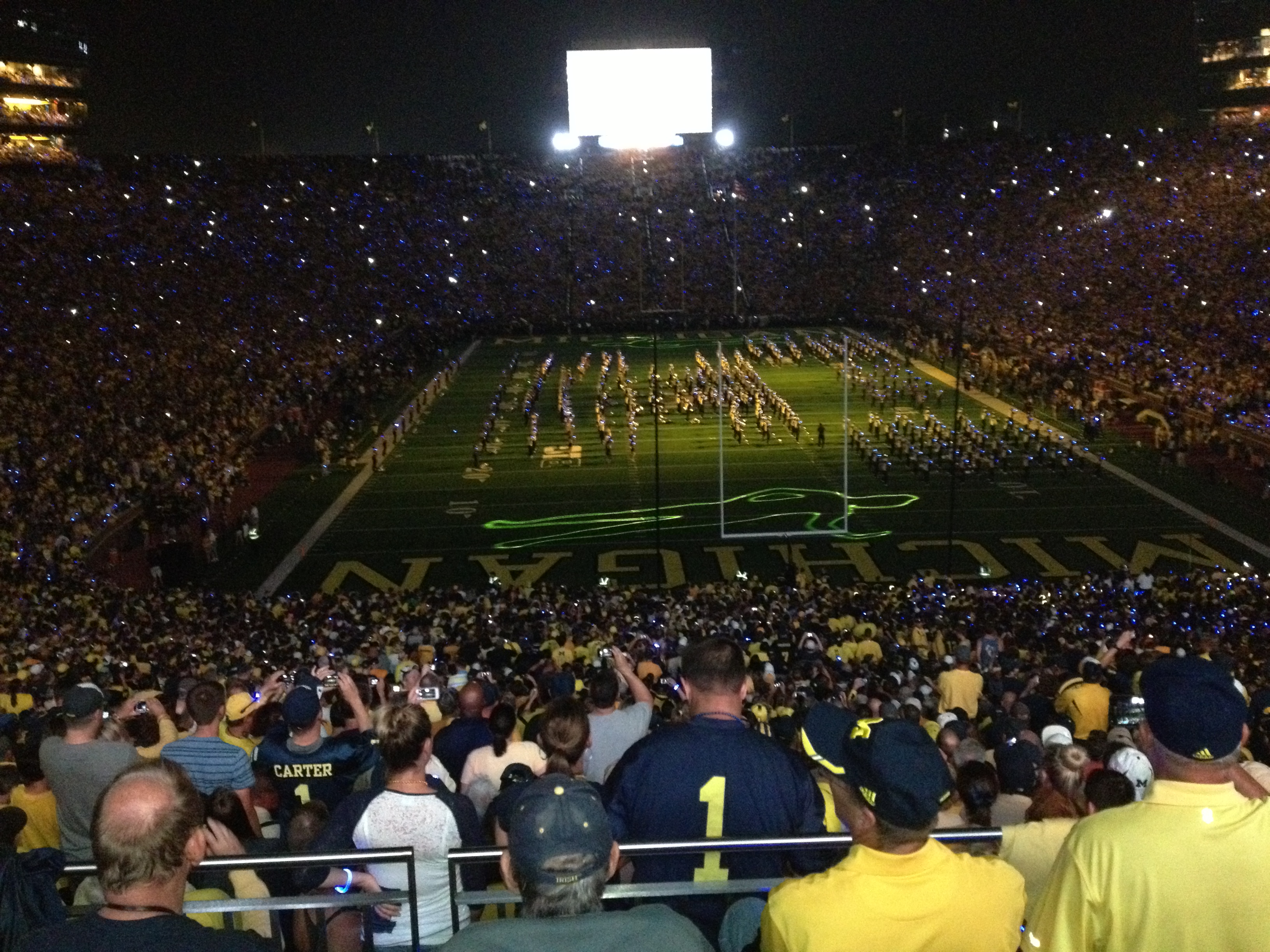 The Half Time show was a special presentation from Beyonce, who appeared on the Jumbotron while the much better Michigan Marching Band played her pop hits. During Half-time the Boys noticed it was more crowded that usual. No surprise since during the typical end of the third Quarter, it was announced that the 115,109 in attendance was a NCAA record.
Gardner was 21 of 33 for 294 yards. His one interception was costly, though. Trying to avoid a sack in the end zone, he flipped a pass to no one in particular that defensive end Stephon Tuitt came up with to give Notre Dame hope.
Notre Dame pulled within a TD early in the fourth quarter when Tuitt made a diving interception in the end zone -- a few snaps after the Irish turned the ball over on downs -- on a pass Gardner was trying to throw away to avoid a safety.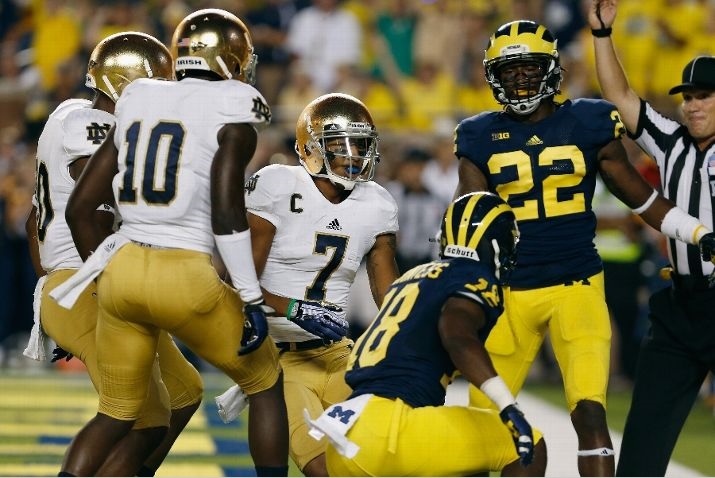 "I made a horrible decision," Gardner said. "But the Defense gave me a place to stand. They told me they believed in me and I finished it." Then, Kyle Brindza made a 40-yard field goal with 9:15 left to pull Notre Dame within four points.
In the waning moments the Irish were called for pass interference twice -- once on a questionable call when Bennett Jackson intercepted Gardner's pass deep in Notre Dame territory -- on the ensuing drive and Gardner later took advantage by accounting for a fifth TD.
Michigan's Jeremy Gallon had career highs with three TDs and 184 yards receiving. "I can't even imagine having a game like this," he said. "My teammates made this happen, not me."
Fitzgerald Toussaint gave the Wolverines just enough of a running game, gaining 71 yards on 22 carries and he also turned a short pass into a 31-yard catch on the final scoring drive.
Final 41 -30 Meeechigan!!!!
Gardner sealed the victory with a 4-yard TD pass to Drew Dileo with 4:18 left and ran for 14 yards to convert the final third down in the final seconds to set off a celebration.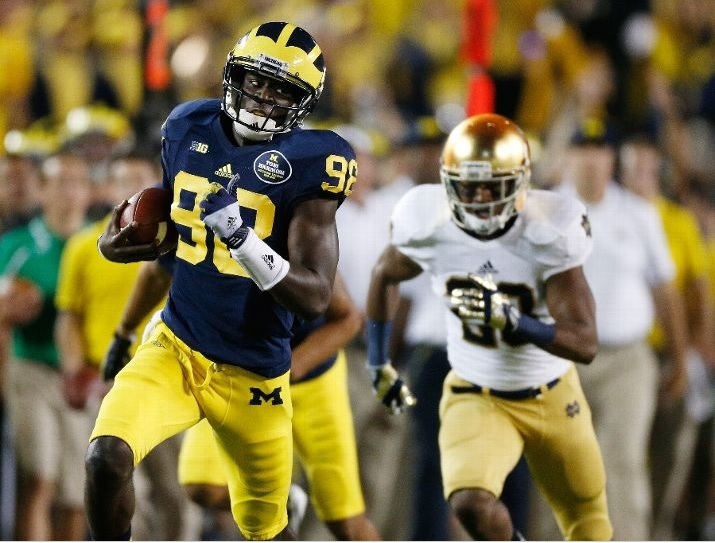 In the end Tommy Rees threw a second interception with 1:29 left. When it was over, Michigan took one last swipe at Notre Dame before the Fighting Irish said goodbye to the Big House -- at least for a while.
Soon after Gardner took the final snap, the "Chicken Dance" rather than "The Victor's" blared over the stadium sound system, and the Michigan fans who made up most of the NCAA-record crowd of 115,109 celebrated. This was a result of Michigan coach Brady Hoke stating that Notre Dame was "chickening out" of the series four months ago, drawing laughs at a luncheon. The Irish opted out of their contract with the Wolverines and made next year's game in South Bend, Ind., the last guaranteed matchup in a series that dates to 1887 and cancelling three previously scheduled games.
Hoke insisted he didn't tell his team that Irish coach Brian Kelly kicked off the week by saying the series was "a big regional game" even though it features teams with the top winning percentages in college football. Hoke would acknowledge, though, that he and his players were pretty fired up to face the Irish.
"There's certain games that you get very excited about," Hoke said. This gives Michigan its fourth straight win in the Big House vs. the Blighted Irish. That winning streak will stand for a while since the Irish won't play at the Big House again anytime soon.
After the Game the Boys headed back to Berkley for a celebratory Irish drink at the Blarney Stone called "The Guinness" just before last call.
It was a great end to simply a GREAT day !!!