2012 Blues Brothers Tour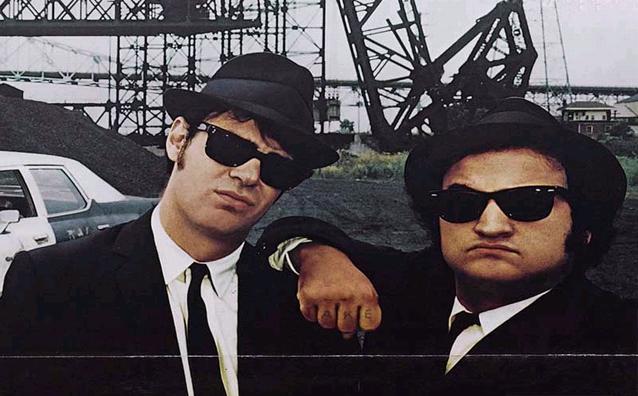 "I'm a Soul Man !!!" belts Joliet Jake with his Brother Elwood jamming his little heart out on the Harmonica. They say you ain't got no soul if you don't luv the Blues, so Mike and Bone must be soul men because they love the Blues! So in early March 2012 Joliet Jake-Bone and Elwood-Mike decided to pay homage and visit their carnage on Clarksdale, Mississippi !!
Why Clarksdale?
Why Mississippi?
Because it is birthplace of the Blues! The Mississippi Delta Blues is one of the earliest styles of blues music. It originated in the Mississippi Delta, a region of the United States that stretches from Memphis, Tennessee in the north to Vicksburg, Mississippi in the south, Helena, Arkansas in the west to the Yazoo River on the east. The Mississippi Delta area is famous both for its fertile soil and its poverty. Much of the Blue originated in the slave fields before the Civil War. The music of woe was passed down from the Freedmen to their children and grandchildren. Guitar, harmonica and cigar box guitar are the dominant instruments used, with slide guitar (usually on the steel guitar) being a hallmark of the style.
Mose Allison, Kid Bailey, Robert Belfour, Willie Brown, James Cotton, David Honeyboy Edwards, The Howlin Wolf, Elmore James, Lead Belly, Pinetop Perkins, Muddy Waters, Sonny Boy Williamson, BB King, Willie Dixon, and the man that sold his soul to the devil to learn guitar, Robert Johnson, all hailed from the Delta, with Clarksdale as its epicenter.
Rock Bands like the Rolling Stones, the Yardbirds, Eric Clapton, and many, many others grew up to the sound of the Mississippi Blues. So to pay proper homage required a repeat visit to Memphis's own Beale Street, with a ducking good time at the Peabody Hotel; Checking out Clarkdale with a side tour of Vicksburg with the Mayor, and wearing Oxford !
Day 1: Juke Jointing the Blues Halls of Beale Street !
Day 2: They went down to the Crossroads