2007 Havin' Fun on US 1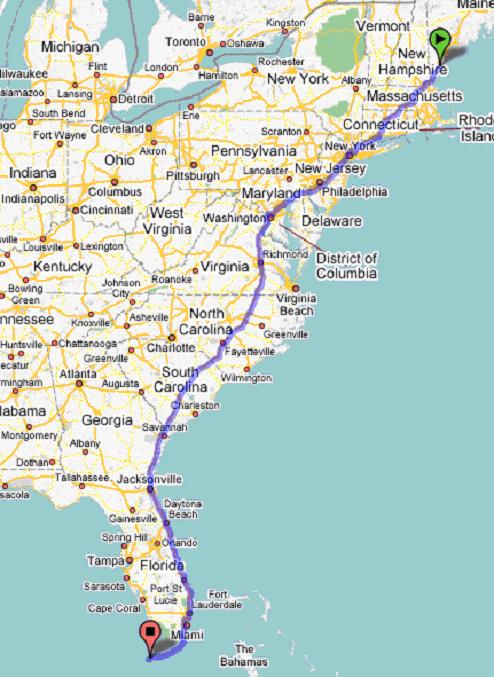 The 2007 Campaign was all about having fun on US -1. With the success of the 2006 Route 66 Tour the Boys decided to try pepper the entire Eastern Seaboard with their grace, charm, and empty coffee cups. Since Mike and Bone believe they are royalty, they decided to cruise down the old Kings Highway, which is now linked together as US 1. U.S. Route 1 (also called U.S. Highway 1, and abbreviated US 1) is a United States highway which parallels the east coast of the United States. It runs 2,390 miles (3,846 km) from Key West, Florida in the south, to Fort Kent, Maine at the Canadian border in the north.
US 1 generally parallels Interstate 95, though it is significantly farther inland (west) between Jacksonville, Florida and Petersburg, Virginia. It connects the major cities of the east coast, including: Miami, Florida; Jacksonville, Florida; Augusta, Georgia; Columbia, South Carolina; Raleigh, North Carolina; Richmond, Virginia; Washington, DC; Baltimore, Maryland; Philadelphia, Pennsylvania; Newark, New Jersey; New York, New York; New Haven, Connecticut; Providence, Rhode Island; Boston, Massachusetts and Portland, Maine.
US 1 largely follows the route of the Atlantic Highway and originally shared the same termini of Fort Kent, Maine and Miami, Florida. The only major difference was between Augusta, Georgia and Jacksonville, Florida, where a more inland route was selected (the Atlantic Highway ran via Savannah). Early auto trails often overlapped; as a result, in Virginia, it was also known as Jefferson Davis Highway. The section from Miami, Florida to Jacksonville, Florida duplicates the Dixie Highway; that from New York City to Providence, Rhode Island duplicates the Boston Post Road. The names of the old auto trails are still used locally in many places. So on Saturday October 6th for the next week the Boys would terrorize the country from Massachusetts to Florida.
Day 2 Messing around in the Middle
Day 5: Slurping from the Fountain of Youth
Day 6: Zeroing in on Mile Zero !!!
Havin' Fun on US-1
When you're travelling from Boston to Key West
There is a highway, that's the byway that's the best.
Having fun on US-1
Having fun on US-1
When travelin' down the eastern coast
There is a road I use the most.
Having fun on US-1
Having fun on US-1
You'll pass through the towns that are the best,
Providence, Mystic, NYC,
and not stopping in Philly just seems silly
,
don't bother me no more with
Crackamore,
DC,
Miami
,
an finally the Conch Republic
So, when travelin' down the eastern coast
There is a road I use the most.
Having fun on US-1
Having fun on US-1