1989 Dancin' on a Volcano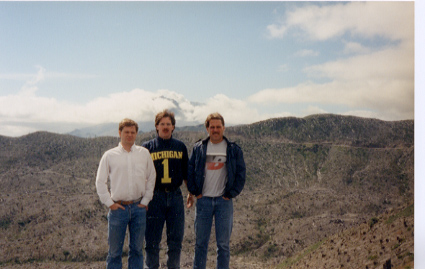 The name Pacific comes from the Latin term of peaceful. Most people's vision of the Pacific Northwest conjures visions of a peaceful, green, lush place. Not being able to stand for virgin forest, the boys decided to despoil the Pacific Northwest. The clean air, picturesque mountain views were soon darkening with the fumes of beer breath and cigar smoke. In a five day period they toured up the coast, from Portland to Vancouver British Columbia, much to the consternation of the beer drinkers of the Northwest who found their local beer supplies radically depleted...........
Day 1: The Portland Trailblazers
Day 2: A Couple of Hoods on Mount Hood
Day 3: Holy Smokes !! Its Mount St. Helen !!!
Day 4: Raining on Rainier !!!
WARNING!!! This page has pictures of men behaving badly !!!!
Day 5: The Big Mouths meeting a Really, Real Big Mouth in Vancouver