2000 Golly ! its the Gauley !
"Wild" is not the proper adjective when describing the frenetic power of the Gauley River during "Gauley Season!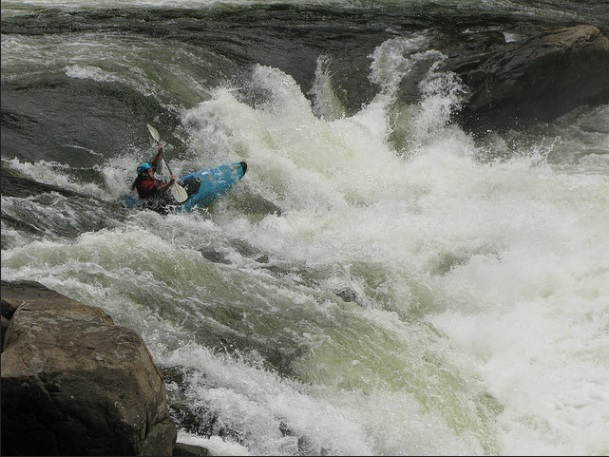 The Gauley or the "Beast of the East", is the most renowned whitewater in West Virginia, always in the top 3 in the nation and consistently in the top 5 in the WORLD!
The Upper Gauley River drops over 335 feet in less than 13 miles. It's the essence of big-water rafting excitement creating an intense whitewater experience not recommended for the timid or inexperienced. The Upper Gauley River is continuous, big volume, technical, gut-wrenching whitewater from start to finish. Prior rafting experience and the ability to swim are required as Mike Bone found out the morning of the momentous trip!
The intensity is due to the fact that every Fall, the Army Corps of Engineers releases flood-level water into the Gauley on a pre-determined schedule to lower Summerville Lake for the Winter. In West Virginia, the rafters call it "Gauley Season", and it allows for the rafting companies to know exactly what days will be the best for big-water action.
Gauley is indescribable, it is a wall of water big enough to swallow a school bus looming in front of you. Waves, late for some downstream meeting, sprint past your raft. Cliffs of sandstone rise hundreds of feet above, their tops a verdant tumble of hardwoods such as hickory, oak, poplar, and maple. Just as the boat dips into the first of the five extreme rapids, you hear the guide shout from their (safe) seat at the back of the boat. "Welcome to West Virginia" as you see your life flash before your eyes !
Its five class V rapids in its first 10 miles is the highest concentration of class V on any river in the US.
It would be the classic battle of irresistible forces meets an immovable object ! Quite frankly none of Mike and Bone's earlier trips on the relatively tame and tepid New River could of prepared the Boys for the wild ride that early 2000 September morn in West Virginia !
Day 1: Riding the Rapids Wild !