2006 Getting our Kicks on Route 66 !!!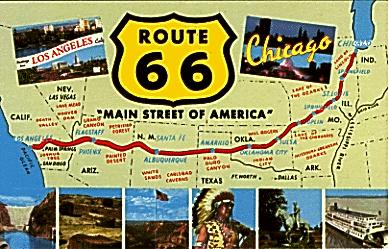 All of Mike and Bone's adventures always seem to revolve around long drives, eclectic food joints, and a lost Americana, and there ain't no better example of Americana that Route 66 !!! So on October 14th of 2006, the Boys embarked on a gruelling 5 day cross-country adventure of bad beer, greasy food, and weird bars along often dangerous roads that ensured that they got their kicks, on Route 66 !!!!
Day 5 Mission Impossible: Accomplished !!!
"If you ever plan to motor west,
Take my way, the highway that's the best,
Get your Kicks on Route 66"
The Route 66 Story
If one delirious post-World War II definition of freedom was being able to get in your car, hit the ignition, put the pedal to the metal, and go anywhere you wanted to the Route 66 offered an asphalt of independence that stretched all the way from the wind-buffeted shores of Lake Michigan in Chicago to the balmy beaches of the Pacific in sunny Santa Monica.
For 2,448 miles, it was long glorious, eight-state road show. For the scores of communities and thousands of businesses it once serviced, it became the Main Street of America.
Although it began in 1926 during a national movement to standardize America's highways, Route 66 is best remembered for the way it fueled the United States in the '30s, '40s, and '50s. It offered its own high-octane brand of manifest destiny.
First came the penniless, dispossessed Okies and Arkies, escaping the dust-choked farmlands, westbound in rattletrap roadsters during the '30's. They came to life as the Joads, clattering California-bound in a cut-down Hudson Super-six on "…the mother road, the road of flight…" in John Steinbeck's epic 1939 novel, "The Grapes of Wrath".
After World War II, fueled by tens of thousands of returning GI's, longing for a better look at the America they had fought and died so hard for, and wanting to see what the country had in store for them.
Paved since 1937, that shimmering, black ribbon of highway beckoned, Bedazzled, the veterans cut loose, heading for the Promised Land, just beyond the setting sun. One of them, a likeable Pennsylvanian, named Bobby Troup, listened to the rhythm of that road. Bound for what he hoped would be a lucrative West Coast music career; he left Harrisburg in his green '41Buick convertible in summer of '46. Slipping onto Route 66 in Chicago, he arrived in Los Angeles 10 days later with a new song that caught the ear of Nat King Cole, who quickly turned it into a hit that became the anthem of the asphalt.
Route 66 helped raise a new crop of vocabulary words for a country that hungered for the open road and thirsted for the automobile. Some of the words identified the new businesses that began to service the increasingly mobile public: motels, fast-food drive-ins, service stations, convenience stores, commercial strips, strip malls, parking lots, and drive-in theaters.
Fast food was the fare of drive-in restaurants. Burgers and fries became inseparable.
Along the highway were billboards and Burma Shave signs.
There were retooled cars everywhere sporting bigger engines. The words became abbreviations, then brand names. The eight-cylinder engine became the V-8. Chevrolet's ultimate sports car, the Corvette, became the 'vette. Ford and Pontiac countered with the Mustang and Firebird. Motorcycles became hogs, and choppers, then Harleys. At truck plazas, all trucks were Mack and truck engines seemed Peterbilt.
Swing and be-bop surrendered to Elvis, Little Richard, and Buddy Holly who belted out rock and roll tunes from car radios, as teenagers in hot rods, street rods, roadsters, and muscle cars cruised America's Main Street on warm Saturday nights bathed in Route 66's signature signage, neon.
As the heartbeat of America accelerated into the '50s and '60s in an era of unparalleled prosperity, so did the volume and speed of the nation's affordable automobiles and a commensurate need for a vast, national network of bigger, faster highways.
Route 66 enjoyed a pop-cultural homage of sorts when young actors Martin Milner and George Maharis jumped into a beige '59 Corvette and drove Todd Stiles and Buzz Murdock into America's baby-boomer living rooms every Friday Night from 1960 to 1964.
By then a Federal Interstate Highway System that was begun by Eisenhower in 1956 was spreading across the national landscape. By 1985, after the last segment had been bypassed by I-40 the year before, Route 66 was decommissioned and passed into history.
But its legacy endures. Some of its service stations, garages, tourist teepees, and kitschy oddities such as the muffler men endures. Some of the architecturally and historically significant motels, hotels, restaurants and cafes are now protected by preservation covenants and are undergoing renovation.
But most important of all, that ribbon of highway is still there, connecting them all, and calling out to everyone who yearns for yesterday, guys like Mike and Bone !!!!