Prequel
: A Dogged Pursuit
Main Page > 2006 Getting our Kicks on Route 66 !!!
There is no better way to start a tour of "kitsch" than hitting a historic and iconic hot dog stand, and the SuperDawg Stand in Chicago absolutely fits the bill. Needing to "carb" for the ardous journey ahead, Mike and Bone headed to Milwaukee and Devon for maybe the best Chicago-style hot dog known to man or beast.
Suppin' @ Superdawg !!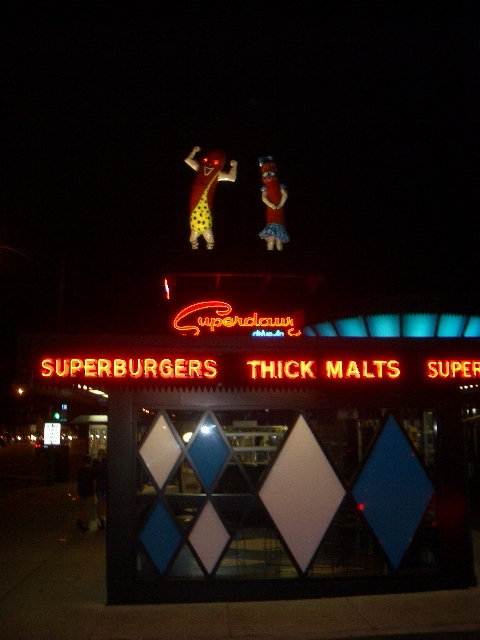 In May of 1948, Superdawg® was established at the corner of Milwaukee, Devon and Nagle in Chicago. Superdawg® continues to be family owned and operated in the same location today. Maurie Berman, a recently returned G.I. from World War II, married his high school sweetheart Florence (Flaurie), in August of 1947. Maurie was attending Northwestern University, studying to be a CPA, while recent Northwestern grad Flaurie was teaching in the Chicago Public Schools. With their "school-year" schedules, the newlyweds wanted to open a business that they could operate during the summer months. Many other returning G.I.'s were opening roadside hot dog carts and Maurie and Flaurie decided to open their own roadside hot dog stand, one that would be as unique and distinctive as they were. Maurie designed an architecturally distinct, 20' x 12' building topped with two 12 foot hot dog icons to beckon hungry passersby with their winking and blinking eyes. Maurie and Flaurie then created a proprietary, secret recipe to set themselves apart from the other hot dog stands popping up around the city. With a distinctive look and delicious recipe, they were almost ready to open. All they needed was a name, inspired by the superheroes featured in the newly-created, popular comics of the '40's, Maurie and Flaurie named their signature product and restaurant. It was not a wiener – not a frankfurter – not a red hot – but their own exclusive SUPERDAWG™. In 1948, Milwaukee and Devon was the end of the streetcar line. With the forest preserve and Whealan Pool across the street, the area was a great destination for swimming families and cruisin' teens. Kids could ride the streetcar for a nickel, and stop at Superdawg® where a Superdawg™ sandwich and drink cost only 32 cents. Many times, on their way home, they would stop and ask what they could buy for a dime. If they were a few cents short, Maurie and Flaurie would give them what they wanted and told them to bring the money back the next time they stopped, which they never failed to do. In 1950 Maurie passed the CPA exam, but he and Flaurie decided to keep operating Superdawg® and to open year-round in order to retain the outstanding personnel that had become so invaluable to fulfilling the Superdawg® ideals. When Superdawg® first opened, the electronic speaker system had not been invented. Carhops went out to the cars to take orders and customers signaled that they were ready for their trays to be picked up by turning on their headlights. In the early 1950's the "carhop in a wire" electronic speaker system was installed, and Maurie designed the glowing blue "control tower" where the carhop sits to answer the switchboard and take orders. As Superdawg® grew into a successful business, . Customers can still order from their car and have a carhop deliver their order on a tray. Maurie and Flaurie's attention to quality products and service, preparing each customer's meal to order, affirming the belief that the customer is always right, and insisting that the customer should always be treated as family continues today. Since 1948, Maurie, Flaurie, their children and grandchildren have scrupulously adhered to one goal: "always to serve you in a manner that will make you want to return – and bring your friends, and new generations, with you".
As they say "From the bottom of our pure beef hearts... Thanks for Stopping !"
Maurie, Flaurie, Mike, and Bone !!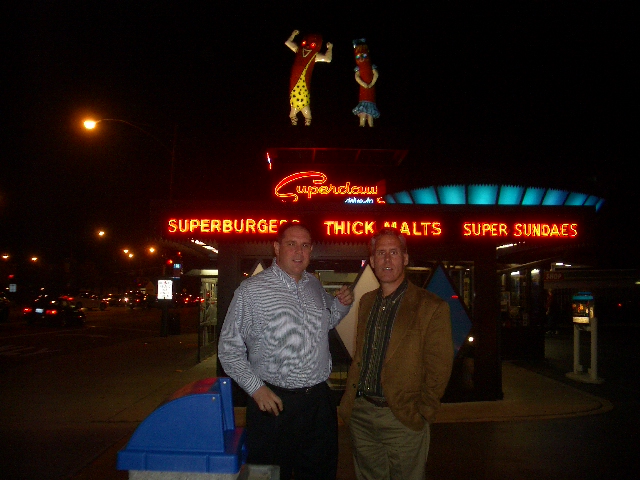 Mike and Bone totally jamming on a coupla of Superdawgs !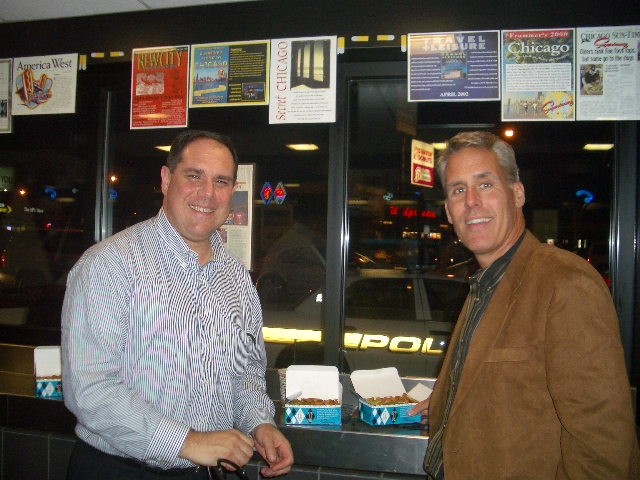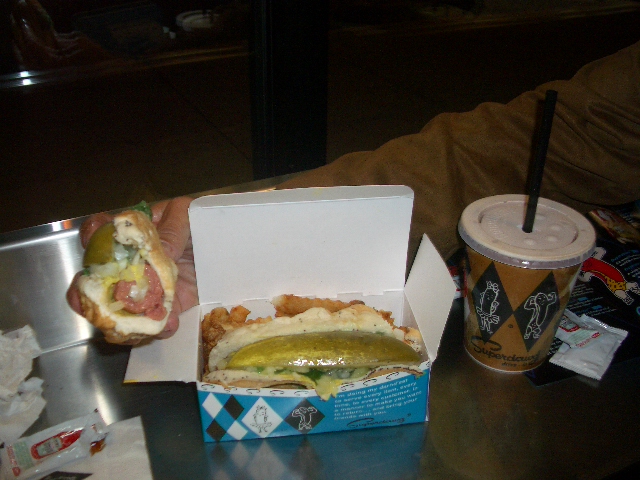 Mike and Bone order two superdawgs and chocolate malts and thoroughly and completely loved the dogs. Superdawg got two enthusiastic thumbs up from the two connoisseurs of the tubesteaks. Completely sated, the Boys headed to their Hotel to rest for the BIG drive the next morning.