Day 1: "Illing Noise"
Main Page > 2006 Getting our Kicks on Route 66 !!!
Why Illing Noise you ask? After all this is supposed to be the first day in a grand adventure? ,,,, a happy time,,, well isn't it ? Well indeed it was, but in the next 14 hours the Boys would eat more hot dogs and sheer crap to ensure that when they did take a crap that there would be very much indeed an "Illing Noise" in Illinois !!!!!
Route 66 in Illinois
The "Mother Road " begins in the big, windy city of Chicago, and winds slowly down to the banks of the mighty Mississippi across from St. Louis, passing through small town after small town through the Midwestern prairie. Much of the "kitsch" of Route 66 that still survives is found in Illinois as the Boys found out.
Starting in Chi-Town !!!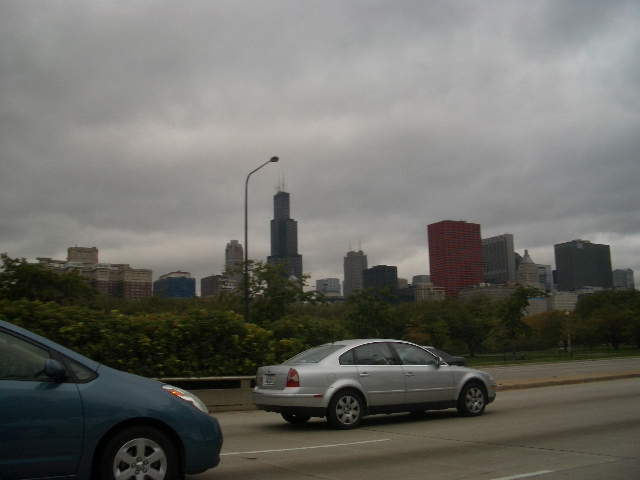 Starting early the Boys had a false start due to faulty directions on the drive up I-55 from Mid-Way ironically due to the Hertz Rental Car's Never Lost !!
Mike and Bone @ the beginning of Route 66,
the Road and the Adventure ! ! ! !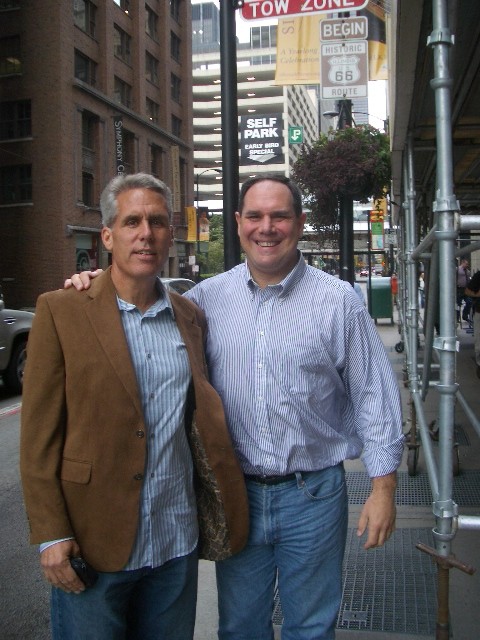 Route 66 formally begins on Adams Street and Michigan Avenue across from the Art Institute, the Boys again broke their fast at the same Au Bon Pain where the idea of driving Route 66 hatched EXACTLY ten years before. Grabbing a Coffee and bagels (the last healthy food of the day !!), they boys began mile 1 of the 2,448 mile odyssey that lay before them !
E.R. for Real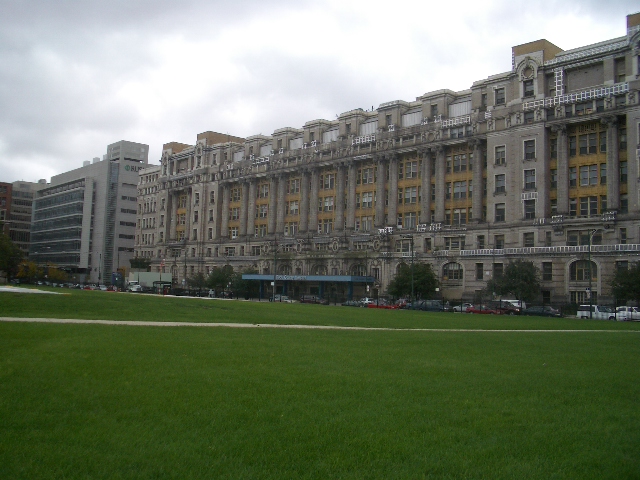 Heading down Adams, Route 66 angled left (southwest) onto Ogden Street, named for Chicago's first Mayor, William B. Ogden, It was on Ogden where the Boys came upon Chicago's Hospital which has served as the basis of the highly popular ER Television program.
Where the E.R. Staff probably gets their Chicago Dogs !!!!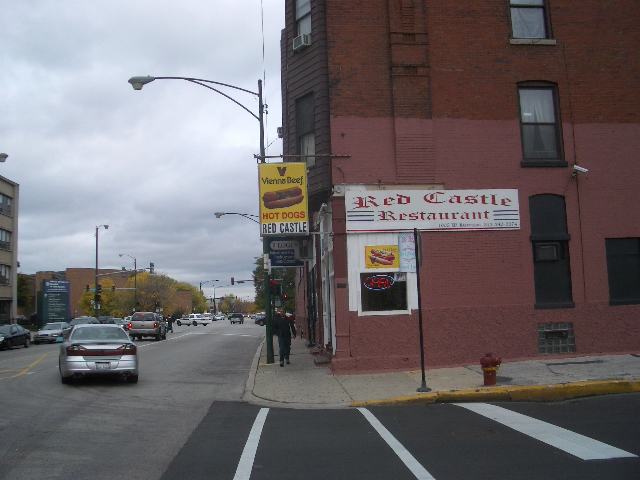 The Boys ready to perform surgery on a coupla Chicago Dogs !!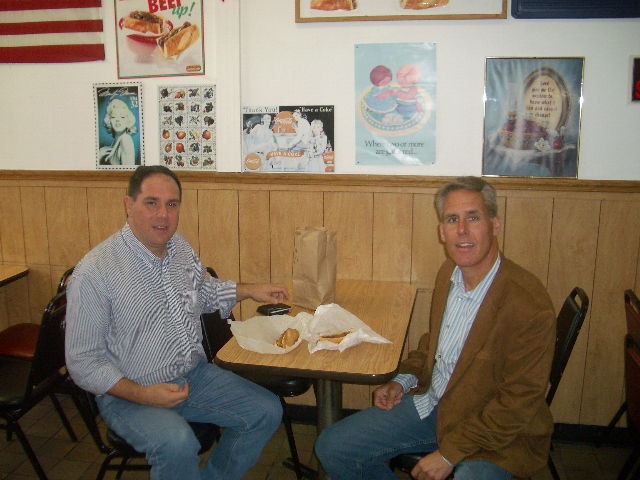 While stopping to take a picture of the Hospital, the boys "sniffed" out a Chicago Hot Dog Stand, and despite just eating Breakfast 15 minutes earlier the thought of having a Chicago-Style Hot dog was simply too strong and the Boys checked out the Red Castle's finest, which were a traditional Chicago Hot Dog but with salsa!!!
Another of the many Chicago Hot Dog Stands in Chicago, on Route 66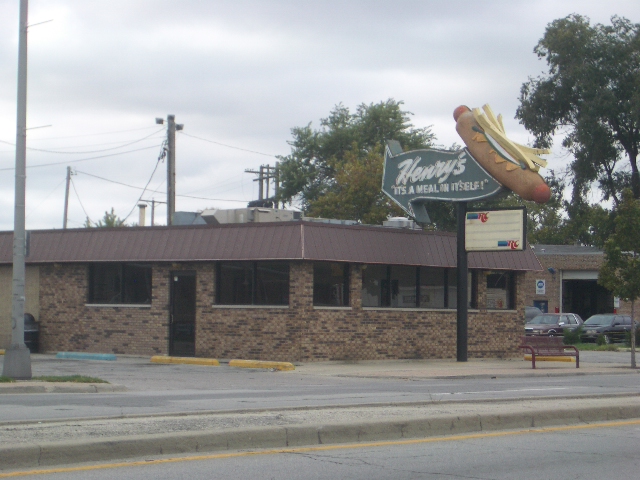 As the Boys slowly traversed through greater Chicagoland, they used a Route 66 Adventure book to help them along the way. Henrys was only of them many pictures that were in the book to represent the many, many hot dog stands in Chicago.
"Er, Where is Route 66?
Route 66 through the suburbs traces along I-55, through Cicero (Al Capone's old handout) and Berwyn. The sign markers are very inconsistent and the Boys missed their turn at least three times taking a good chunk of their morning (and patience!!) just trying to get out of Chicagoland. Finally, around 11:00 AM they emerged on the Mother Road, into the bucolic two lane road they had envisioned and expected. They raced through Lyon's-McCook and Plainfield, since they were not interested in visiting "Chicago's Plymouth Rock" at the Chicago Portage National Historic Site.
Looking for Jake and Elwood @ the Joliet Prison !!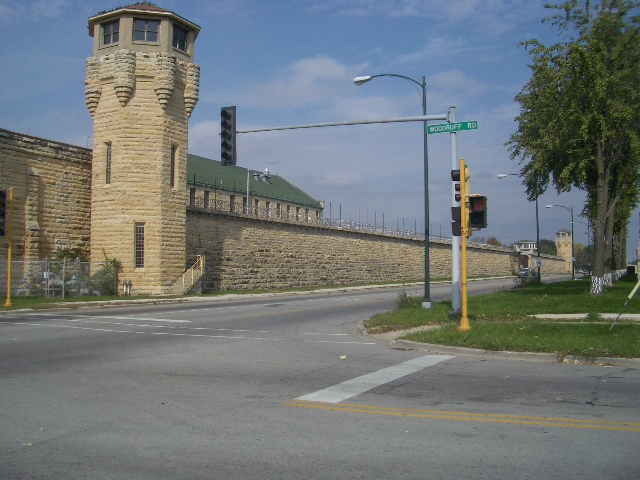 They stopped around noon to visit the now closed Joliet Prison, the fictional stomping grounds of Jake (A.K.A John Belushi) and Elwood Blue (A.K.A. Dan Akroyd), where Jake received his nickname "Joliet Jake" ! The old decrepit walls of the prison received their first "guests" all the way back in 1858. The Boys only spent 15 -20 minutes checking out Joliet, fearing that they had spent too much time getting through Chicago.
Just south of Joliet, the Boys drove through the very small town of Elwood, which made the boys ponder the name of Dan Akroyd's Blues Brother character.
The first Route 66 Muffler Man@ the Launching Pad Drive-in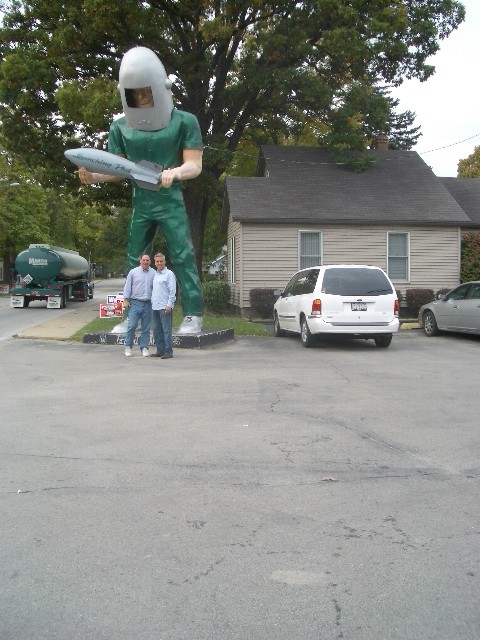 Entering the "Island City" of Wilmington, the Boys entered their first Muffler Man, or in this one's case, the "Gemini Giant." The muffler men where at one time found throughout the American highways and byways. Over 20 feet tall, they were roadside icons for automotive muffler shops in the late 50's early 60's. Some of the owners customized their muffler men. The most of the few that are left can be found along Route 66. The Gemini Giant is one such statue that has been modified to look like an astronaut with a funky helmet and replacing his muffler with a rocket ship.. Stopping in to the Launching Pad, the Boys ordered up a couple of the best strawberry-banana shakes they had ever enjoyed while they were able to weasel an old part-owner of the Launching Pad to snap a picture of them in front of the Gemini Giant.
The last Trucker who messed with Mike and Bone !!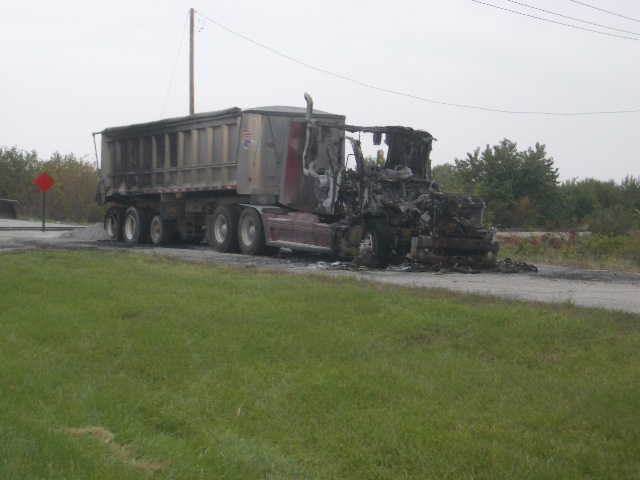 Once south of Wilmington, Route 66 became much more rural and the towns smaller and more remote tracing through very tiny towns such as Gardner and Dwight, where in 1940 Eleanor Jarman, the "Blond Tigress" escaped from the Dwight Correctional Facility from a 199 year sentence for bank robbery to be never to be seen again. It was along this remote stretch that the boys happened upon this recent tractor trailer wreck.
Yes !!, Muffler Man does wanta Weenie !!!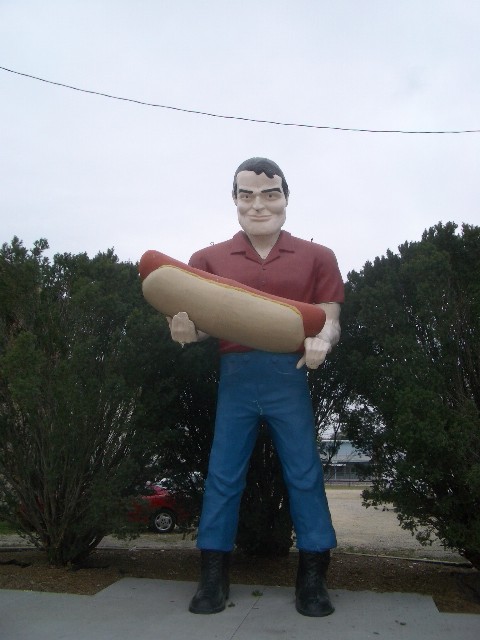 The Boys passed right on through Bloomington-Normal, having no interest in Beer nuts or Illinois State University, but did stop in Mclean for a shot of the Muffler Man that had been moved here from Cicero.
Moving on Mike and Bone did stop at a historic Roadside Service Station which is now a Route 66 Museum, where the Boys learned all about the Broadwell Pig-Hip Restaurant, which as supposed to be the place in its day.
Lincoln Logs in Springfield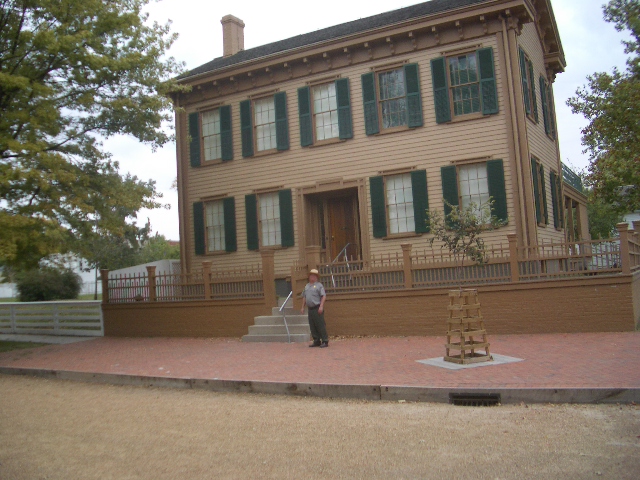 Heading into Springfield around 4:00PM, being students of history to pay their respects to arguably the most famous president, number 16, the man who held the Union together, Abraham Lincoln. When Abraham Lincoln left Springfield, Illinois, to start his inaugural journey for Washington, D.C., he paid an unforgettable tribute to his friends and neighbors in what is known today as the Farewell Address. Lincoln spoke these famous, emotion-charged words as he boarded a special presidential train at the Great Western Railroad station, now a restored Lincoln visitor site. That day Lincoln addressed a huge crowd where he recognized most of the people in the huge crowd gathered outside. Ahead of him was war, death, and enduring fame; behind him were the warm-hearted people who provoked this response:
"My friends, no one, not in my situation, can appreciate my feeling of sadness at this parting. To this place, and the kindness of these people, I owe everything. Here I have lived a quarter of a century, and have passed from a young to an old man. Here my children have been born, and one is buried. I now leave, not knowing when, or whether ever, I may return, with a task before me greater than that which rested upon Washington. Without the assistance of the Divine Being who ever attended him, I cannot succeed. With that assistance I cannot fail. Trusting in Him who can go with me, and remain with you, and be everywhere for good, let us confidently hope that all will yet be well. To His care commending you, as I hope in your prayers you will commend me, I bid you an affectionate farewell."
Lincoln's downtown Springfield home doesn't impress like George Washington's plantation on the Potomac or Thomas Jefferson's mountain retreat, but has proved irresistible to visitors since it opened to the public. Beautifully restored to its 1860 appearance, the Greek Revival house was Abraham and Mary Lincoln's home for 17 years. In 1844 they bought it for $1,200 and some land from the Rev. Charles Dresser, who performed their marriage ceremony in 1842. When the house was built, it was much smaller than you see it today, as shown in this scale model. Mary's niece wrote, "The little home was painted white and had green shutters. It was sweet and fresh, and Mary loved it. She was exquisitely dainty, and her house was a reflection of herself, everything in good taste and in perfect order."
The Lincoln's Parlour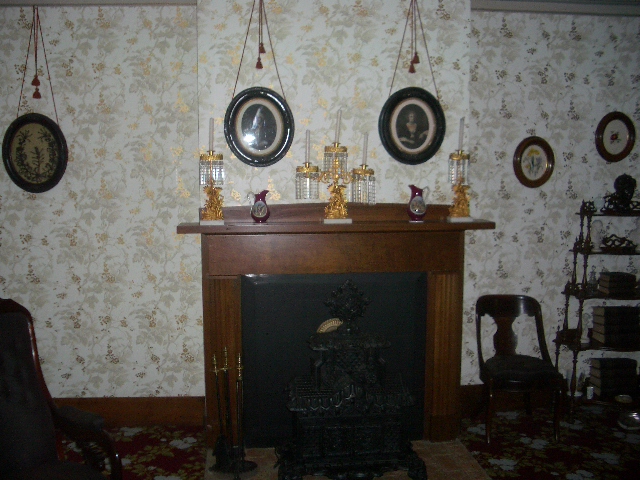 The Lincolns enlarged the house to a full two stories in 1856 to meet the needs of their growing family. You'll find the painted frame building in a shady residential neighborhood with wood plank sidewalks, ideal for a leisurely walk. The four-block area around it is being restored to the same time period by the National Park Service. Three of the four Lincoln sons were born here, and one (Edward) died here in 1850 at nearly four years of age. When Lincoln won the 1860 Republican Presidential nomination, he received a delegation of party officials in his parlor. When Lincoln became a presidential candidate the house became a magnet for visitors, parades, rallies and other political festivities. After holding farewell receptions there in 1861, the Lincolns rented it, sold most of their furniture, and entrusted the family dog to a neighbor.
The Boys paying their respect at the Lincoln Mausoleum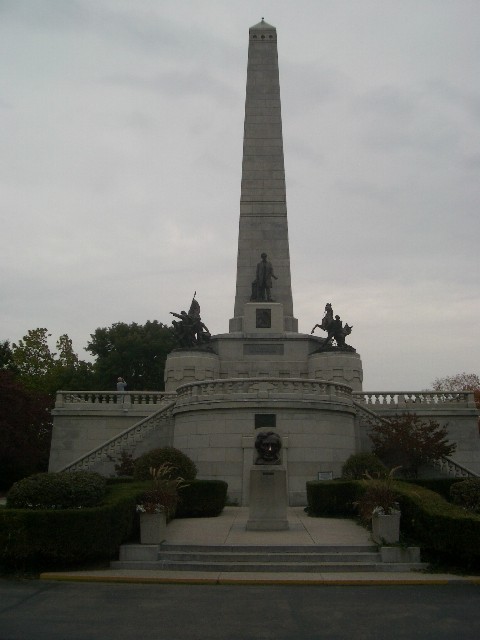 Dedicated in 1874, Lincoln Tomb is the final resting place of Abraham Lincoln, his wife Mary, and three of their four sons, Edward, William, and Thomas. The eldest son, Robert T. Lincoln, is buried in Arlington National Cemetery. Also on the site is the public receiving vault, constructed ca. 1860, the scene of funeral services for Abraham Lincoln on May 4, 1865. In 1960 the Tomb was designated a National Historic Landmark and was placed on the National Register of Historic Places in 1966. The 117-foot Tomb, designed by sculptor Larkin Mead, is constructed of brick sheathed with Quincy granite. The base is 72-foot square with large semi-circular projections on the north and south sides. Double sets of north and south stairs lead to a terrace, above which rises the obelisk. At the corners of the shaft, large pedestals serve as bases for four bronze sculptures, each with a group of figures representing one of the four Civil War servicesóinfantry, artillery, cavalry, and navy. A taller base on the obeliskís south side holds a heroic bronze statue of Lincoln. At the Tomb entrance is a bronze reproduction of Gutzon Borglumís marble head of Lincoln, located in the U.S. Capitol in Washington, D.C.
The Mortal Remains of Honest Abe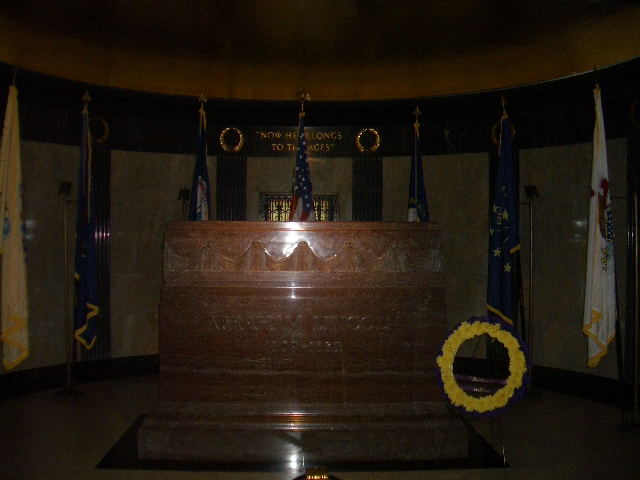 Interior rooms of the Tomb are finished in a highly polished marble trimmed with bronze. The south entrance opens into a rotunda, where two corridors lead into the burial chamber. The rotunda and corridors contain reduced-scale reproductions of important Lincoln statues as well as plaques with excerpts from Lincolnís Springfield farewell speech, the Gettysburg Address, and his Second Inaugural Address. Lincolnís remains rest in a concrete vault ten feet below the marble floor of the burial chamber. A massive granite cenotaph marking the gravesite is flanked by the Presidential flag and flags of the states in which the Lincoln family resided. Crypts in the chamberís south wall hold the remains of Lincolnís wife and three of their sons.
Bronze Nosing Abe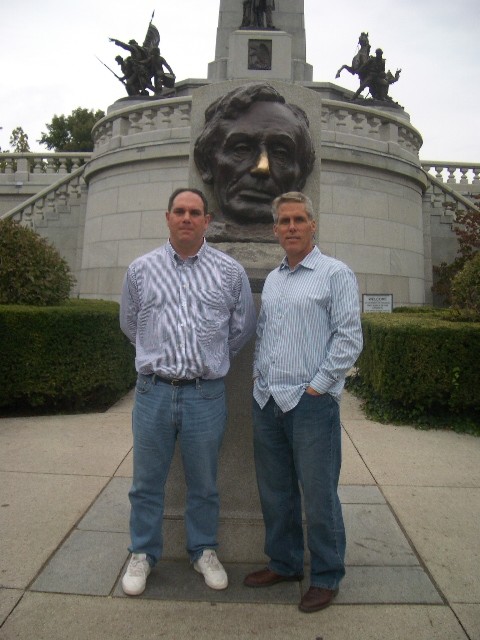 One of the strange traditions of Lincoln's tomb is to rub Lincoln's Nose for good luck, so there in the eyes of God and Abe, are Mike and Bone with Abe's well-polished proboscis.
By 5:30, the Boys had covered both Lincoln's House and Mausoleum, both emotionally-spent and exhausted from the day the Boys had worked up a mighty appetite, and since it was AT LEAST 5 hours since they had had a hot dog, it was high time to cross another of the Hot Dog Programs off of the list!
Cozying up to Cozy Dogs
X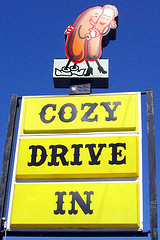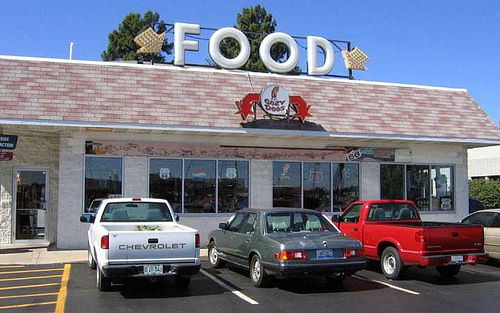 The founder of Cozy Dog, Ed Waldmire Jr. was in Muskogee, Oklahoma in 1941, where he saw an unusual sandwich called a "corn-dog." This sandwich was a wiener baked in cornbread. The corn-dog was very good, but took too long to prepare. The problem was how to cover a hotdog with batter and cook it in a short time. He mentioned this story to a fellow student at Knox College whose father was in the bakery business, and then gave it no further thought. Five years later while in the Air Force stationed at Amarillo Airfield, Ed received a letter from his a fellow student, Don Strand. To his surprise he had developed a mix that would stick on a wiener while being french-fried. He wondered if he could send some down that I could try it in Amarillo. Using cocktail forks for sticks, the U.S.O kitchen in which to experiment, he made a very tasty hotdog on a stick, that he called a "crusty cur." They became very popular both at the U.S.O. in town, and at the P.X. on the airfield. His friend continued to send mix and he continued to sell thousands of crusty curs until he was honorably discharged in the spring of 1946. That spring he decided to go into business with his wife, who did not like the name "crusty curs." Through trial and error and discarding dozens of names, they finally decided on the name "Cozy Dogs." Cozy Dogs were officially Launched at the Lake Springfield Beach House on June 16th, 1946. After the Cozy Dogs were launched at the Lake Springfield Beach House, a Cozy Dog stand was opened on Ash and MacArthur in Springfield along Route 66, where it stands to this day.
Mike and Bone crunching Cozy Dogs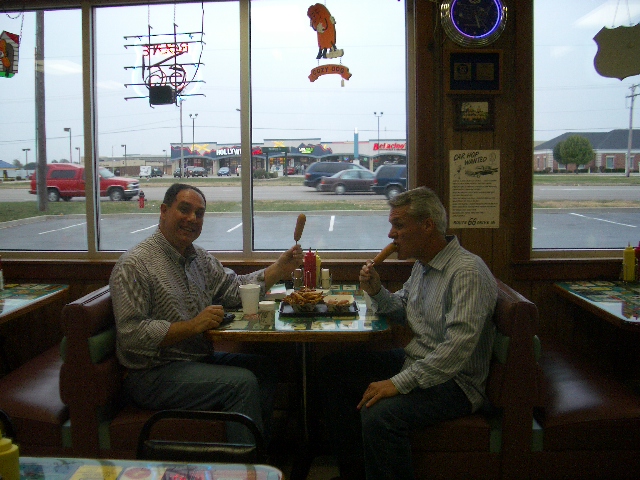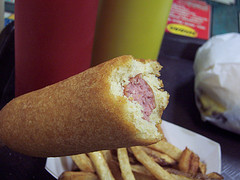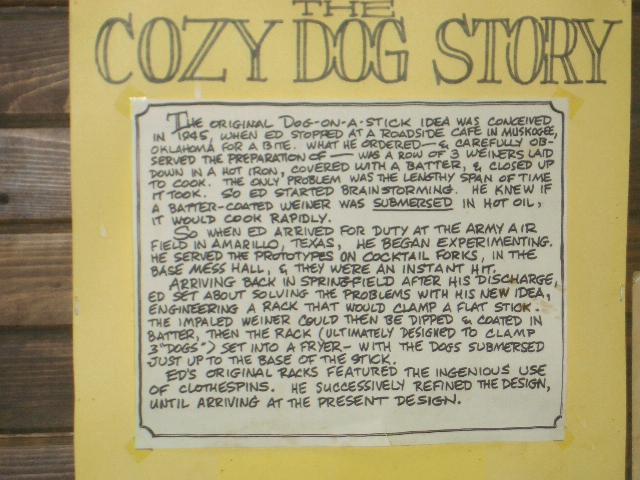 Well? How corny boys?!! Well, the fries were great, the chili, good but the corn dogs themselves,,,, not so much from the Boys perspective. Yet, it was another Hot dog Program Restaurant down and the Boys did get to dicker with some of the locals that have been frequenting the Cozy Dog for decades, so they weren't that bad.
Emptying some bottles at the Empty Bottle
The Boys weren't keen on driving too much at night as to not miss too much. So after Cozy Dog, they drove another 30 mile to within earshot of the Mississippi River and East St. Louis and pulled off to a Holiday Inn Express in Collinsville right off of Route 66.
Neither Mike nor Bone were Doctors or Lawyers, but they would be able to say that they had stayed in a Holiday Inn Express !
After checking in the Boys hightailed it across the street to a little Truck Stop Bar called the Empty Bottle to watch the Tiger and the A's in the American League Championship Series. As the boys drank a few hefenweizen's (along with a few shots of the Bushmill's !!), they met very earthy truck drivers and even earthier women. For example, the highly tattooed and tongue pierced 40'ish Bartender could have probably ripped a phone book in half and driven her head through a brick wall. The Tigers game ended ended in a Detroit victory around Midnight by which time Mike and Bone were glad that they didn't have to drive across the street to the hotel and really needed a designated walker !!!
Staggering back to the Holiday Inn Express, the Boys passed a Taco Bell and found out Drive thru means that, and that walk thru's are not allowed. Finally getting some late nite munchies the boys passed out (literally with the TV on !) around 1:00 EST, thus ending the First full day of getting there Kicks on Route 66 with never leaving Illinois, but definitely had ate enough crap to ensure some Illing Noises throughout the night !!!!