Day 1:
The Wearing O' the Green !!!
Main Page > 2005 Irish I was in New York !!
Logistics, Logistics, Logistics !!!
The Logistics of this Trip were not unusual compared to other trips, it was the Brooklyn Traffic that destroyed a perfect plan. The plan was for Mike to arrive in LaGuardia at 10:30 AM, and Bone to be their waiting for him to jump in a Taxi for Manhattan. Bone was supposed to drive up close to New York the night before and be in the City before Mike. The night before Bone drove from Richmond, Virginia, up past Baltimore, up past Philly in great time. He has originally planned to drive till 1:00 AM, go to bed, rise early to beat the traffic. However, once the Bone was north of Philly, it was impossible to find a hotel. Bone went to try three different hotels until he found a grimy, lower tier, no-name hotel in Princeton New Jersey, With strict instructions at the Front Desk for a 6:00 AM wakeup call, Bone woke on his own, unfortunately it was at 7:30 !! Racing, he diverted off of I-95 around Perth Amboy in Joisey to back door into Queens through the Staten Island Expressway.
Since LaGuardia in on Long Island heading there via Staten Island made a lot more sense than cutting through Manhattan. Bone was made great time, churning through Staten Island in only twenty minutes, in fact Bone was over the Veranzano Bridge and into Brooklyn by 9:45. However it took Bone a full hour to make to LaGuardia from 5 mile away, due to Morning Traffic and ending up being late to pick up Mike.
By 11:00AM The Boys were in Manhattan, on their way to the Downtown Marriott, just off of Battery Park and ready to begin The Wearin' O' the Green Tour !!!
A first foray into Foran's in Lower Manhattan on Broome Street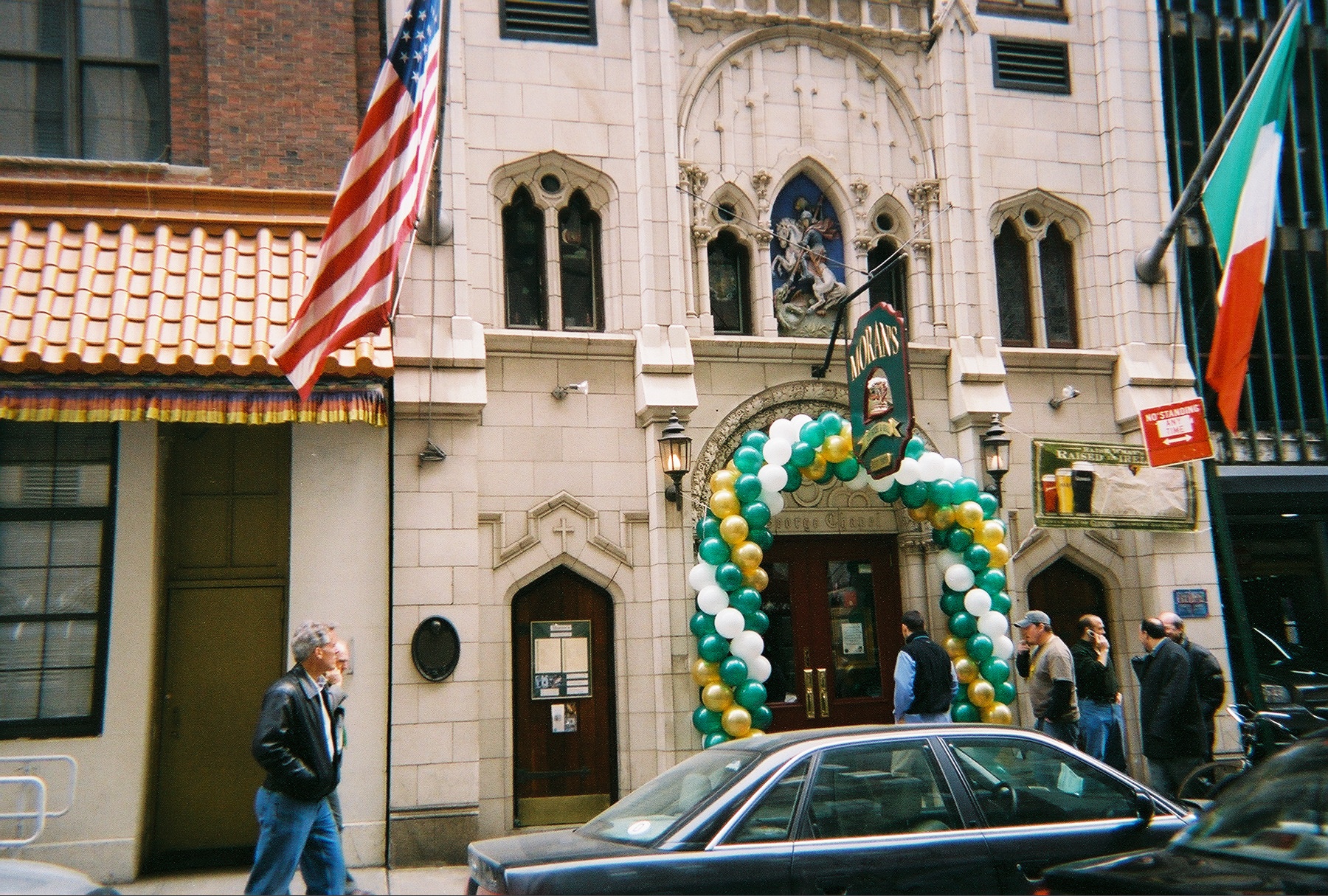 2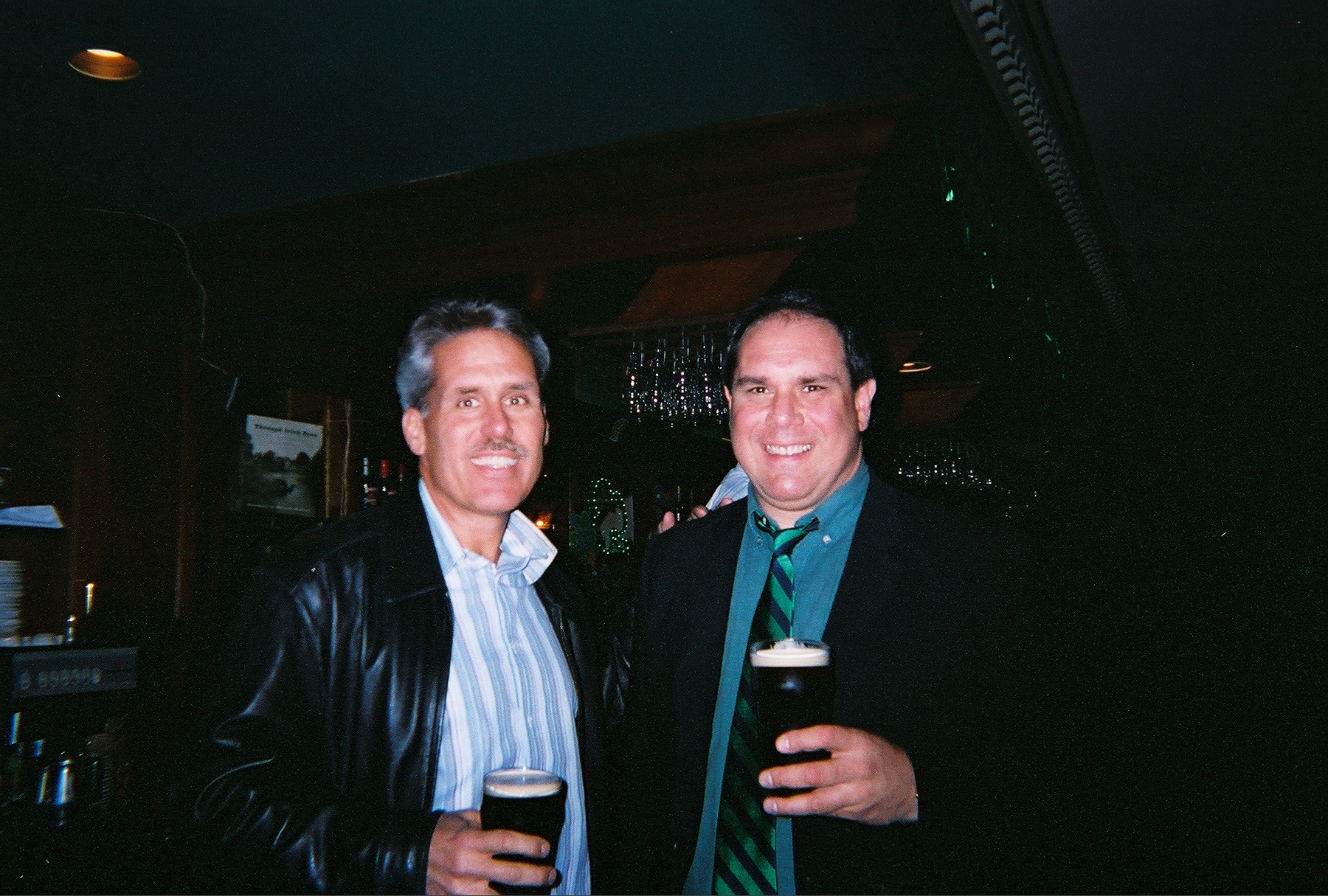 Quickly dumping their stuff at the Marriott, the Boys were on their way to a Subway Station, when they happened upon a fine-looking Irish Pub called Foran's, where the Boy's first official Guinness of the 2005 St. Patrick's Day campaign occurred at exactly 12:00 Noon, which is a foine time for an Irish Lunch !! The Boys enjoyed the Guinney's and ambience, but the Bar was over-crowed, so after dodging waitresses and patrons for 15 minutes, the boys decided to have only one round and moved on uptown to see the famous New York's St. Patrick Day Parade.
The Notorious New York Saint Patrick's Day Parade at 45th, and Lexington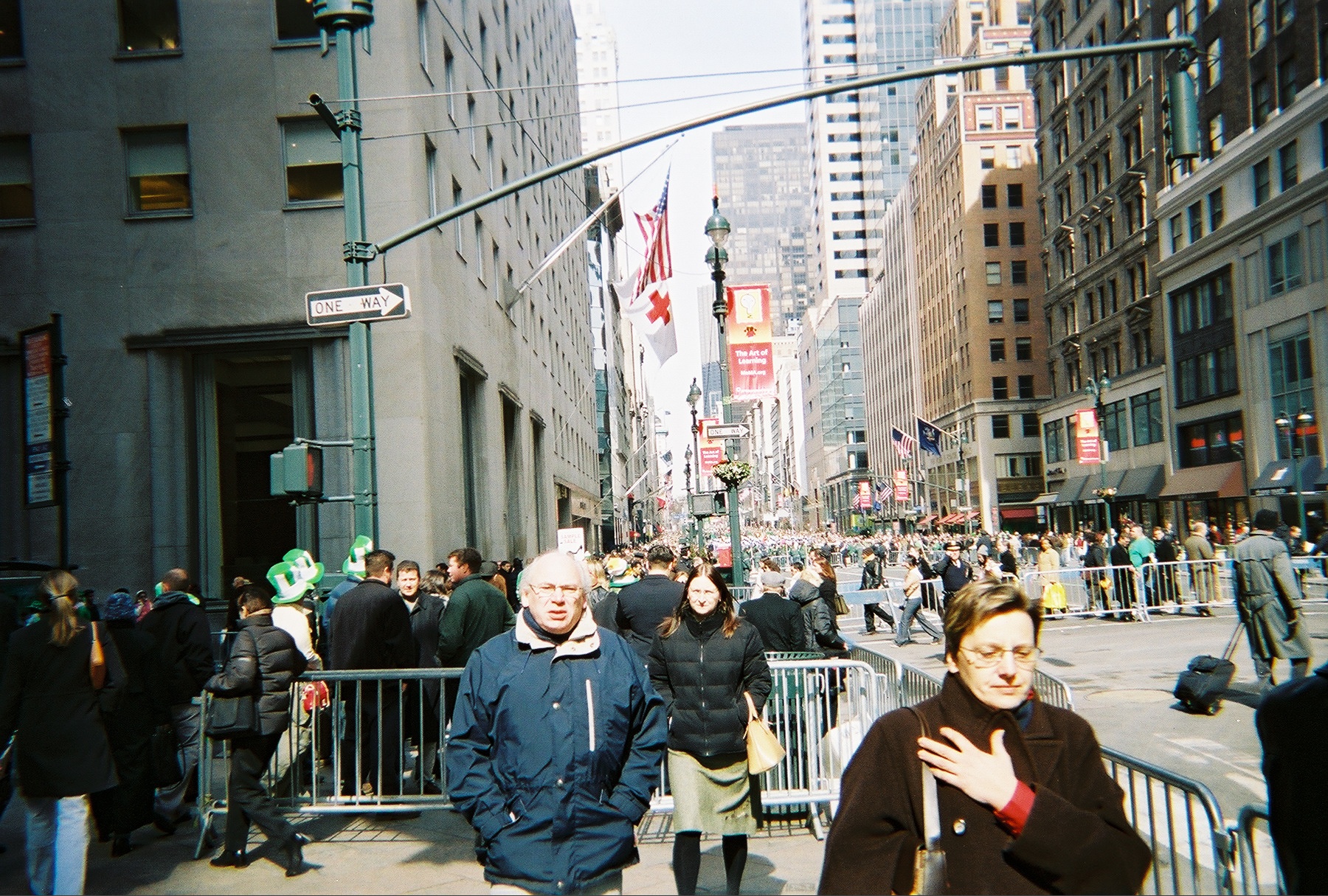 Taking the Subway up to Penn Station, the Boy's quickly boogied through Times Square, on east to 45th and Lexington to catch as much of the pomp and pageantry of the St. Paddy's Day Parade as possible.
Bagpipers begging for a Beer !!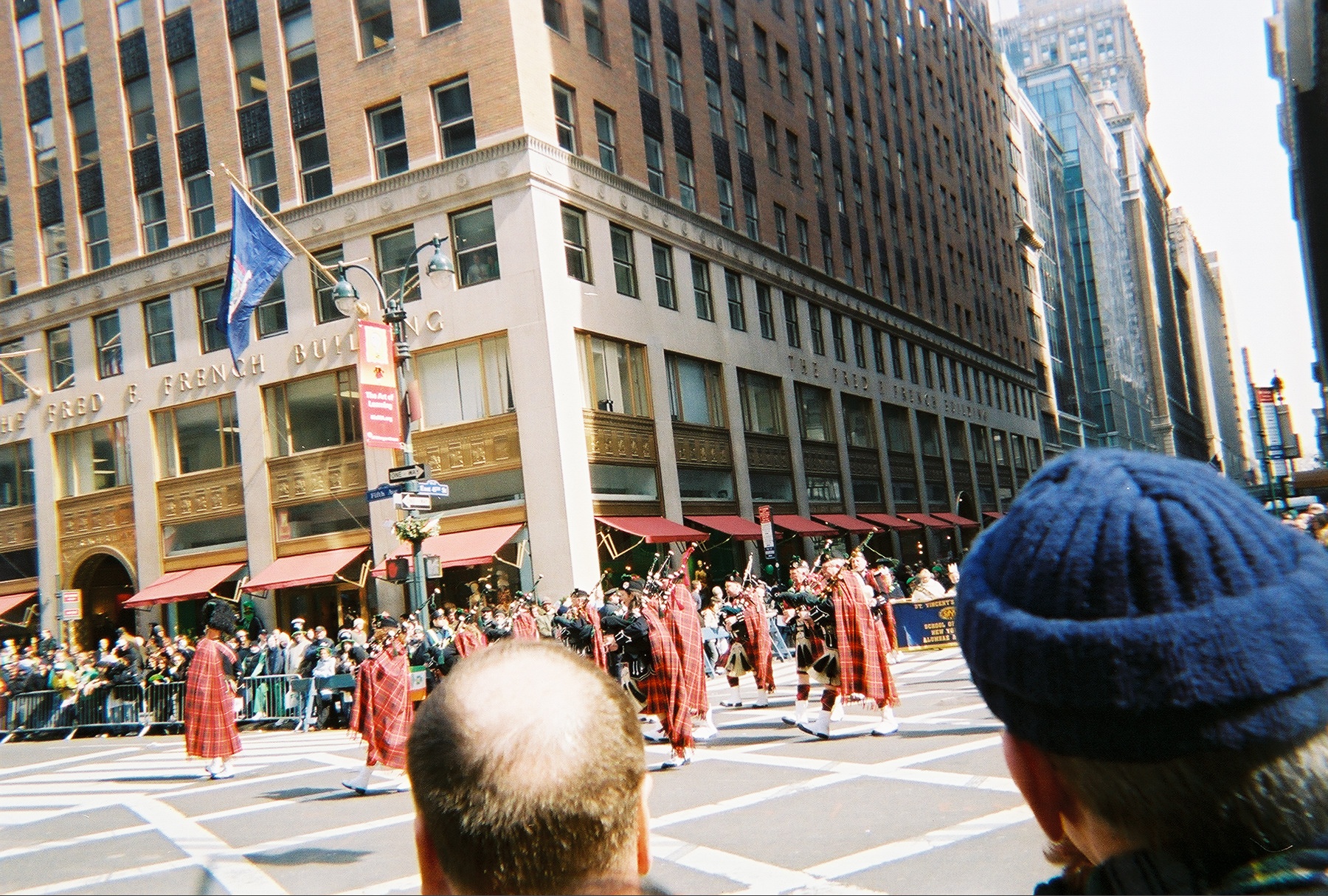 The parade was very cool with lots of different groups representing the Irish including diverse groups from bagpipers to bikers, politicians to paupers. And it was a perfect day. 50 degrees, sunny without a cloud in the sky, a perfect spring day in the Big Apple. Mike and Bone spend a better part of an hour soaking up the Sun,, Parade, and the awesome New York crowd, until 2:00 PM when they decided to start seriously soaking up the Guinney's !!!!! The plan for the day was to work their way on Third hitting as many Irish Pubs until the Boys could meet up with Bone's friend Ed Sheehy at 7:30. Turning to leave the Parade the Boys only had to walk 20 steps to their next stop ....
Three of threes: The Third Guinness, on Third Avenue, at Third and Long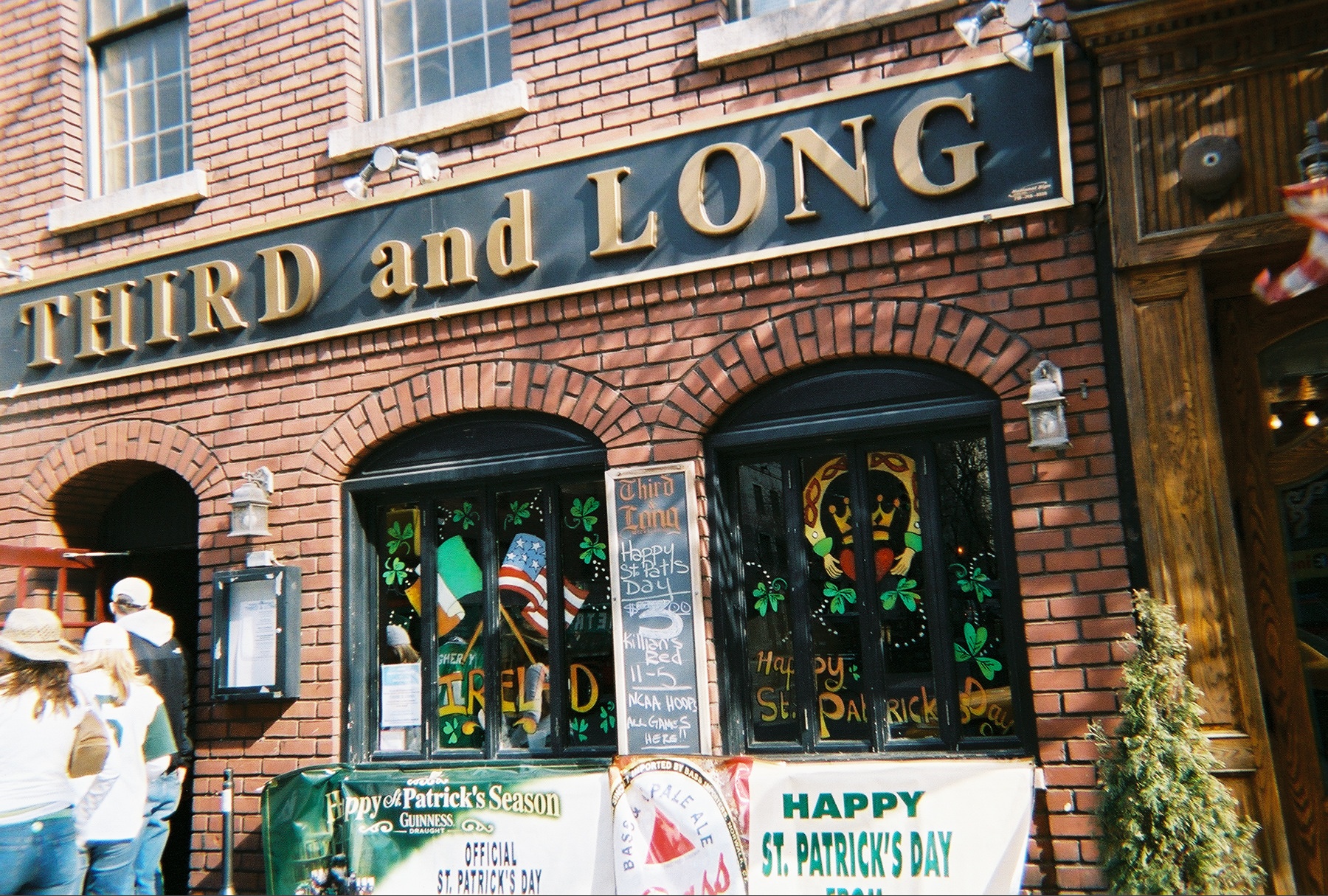 "A nudder foine round of the Guinness Goodness"
Mike O'Spencer and O'Bone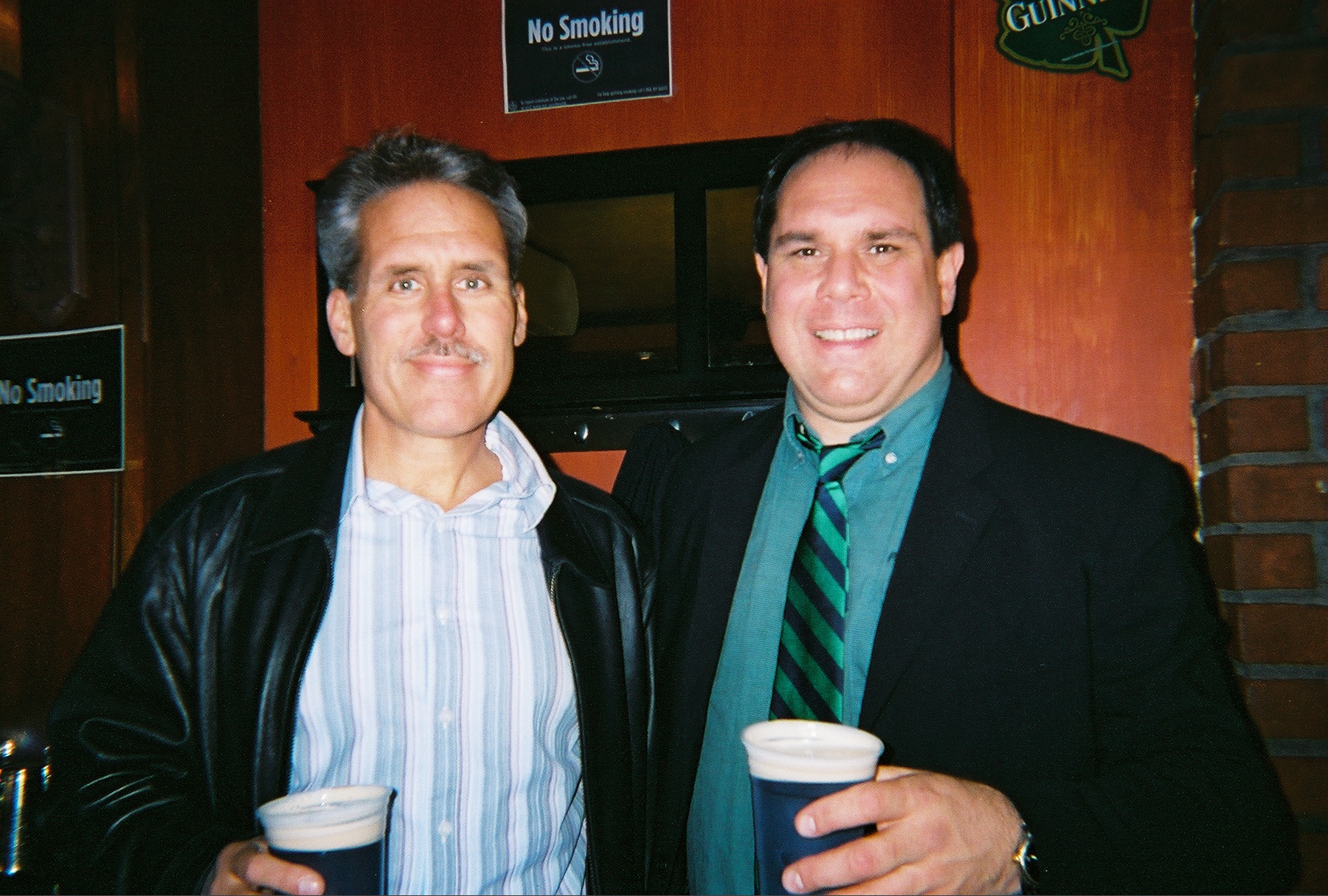 Three is a wholesome number. It provides a sense of balance, unless you hammer away at three Guinness at your next Pub stop !!! The first pub south of 45th and Third is called Third and Long, which is a nice yuppie-type, Irish Pub. After getting quite lubricated with 3 Guinness and 2 Bushmill's, the Boys moved on around 2:00 in the afternoon.
Getting o' wee bit sloshy @ Joshi !!!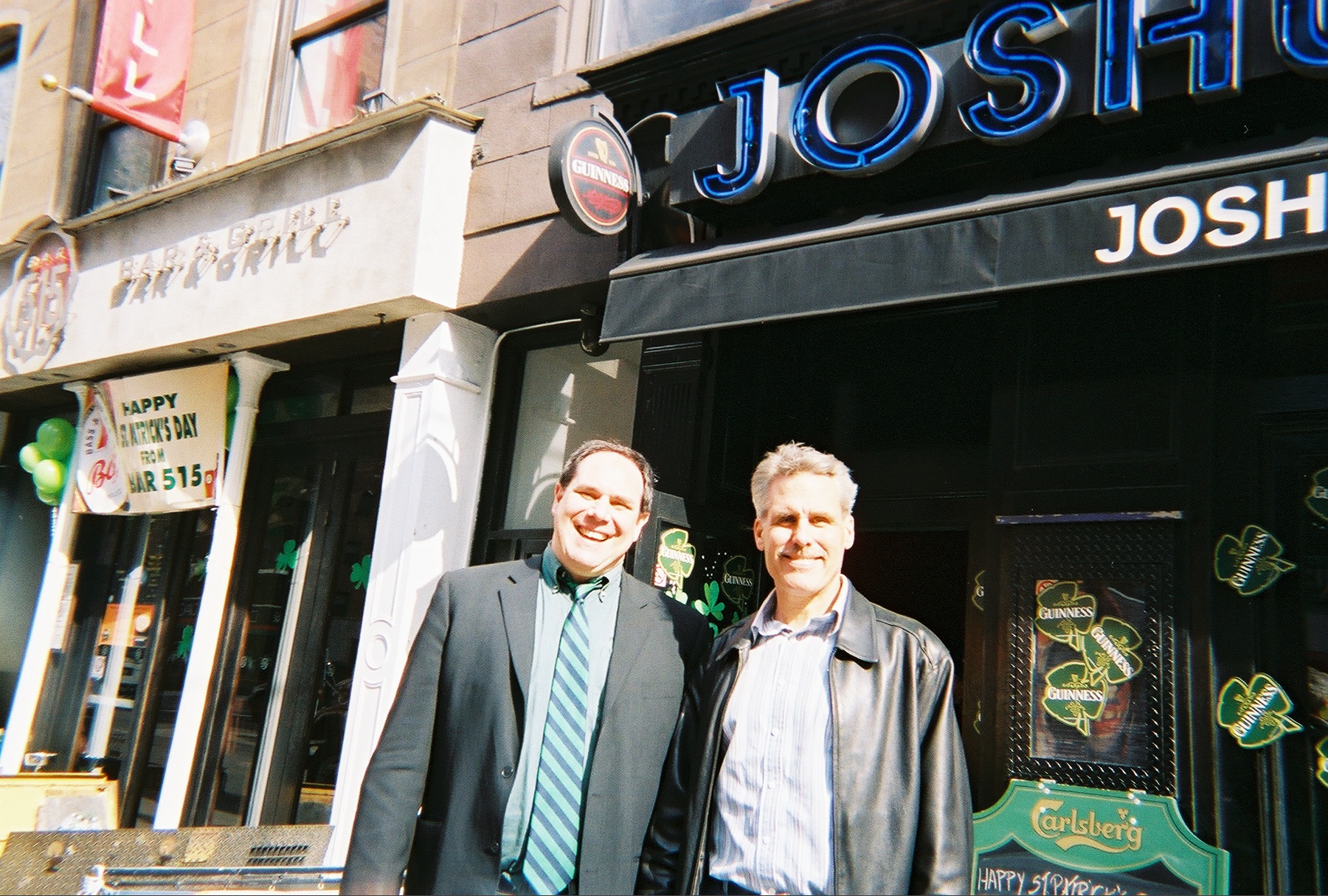 "We be needin' a nudder round Lassie !!"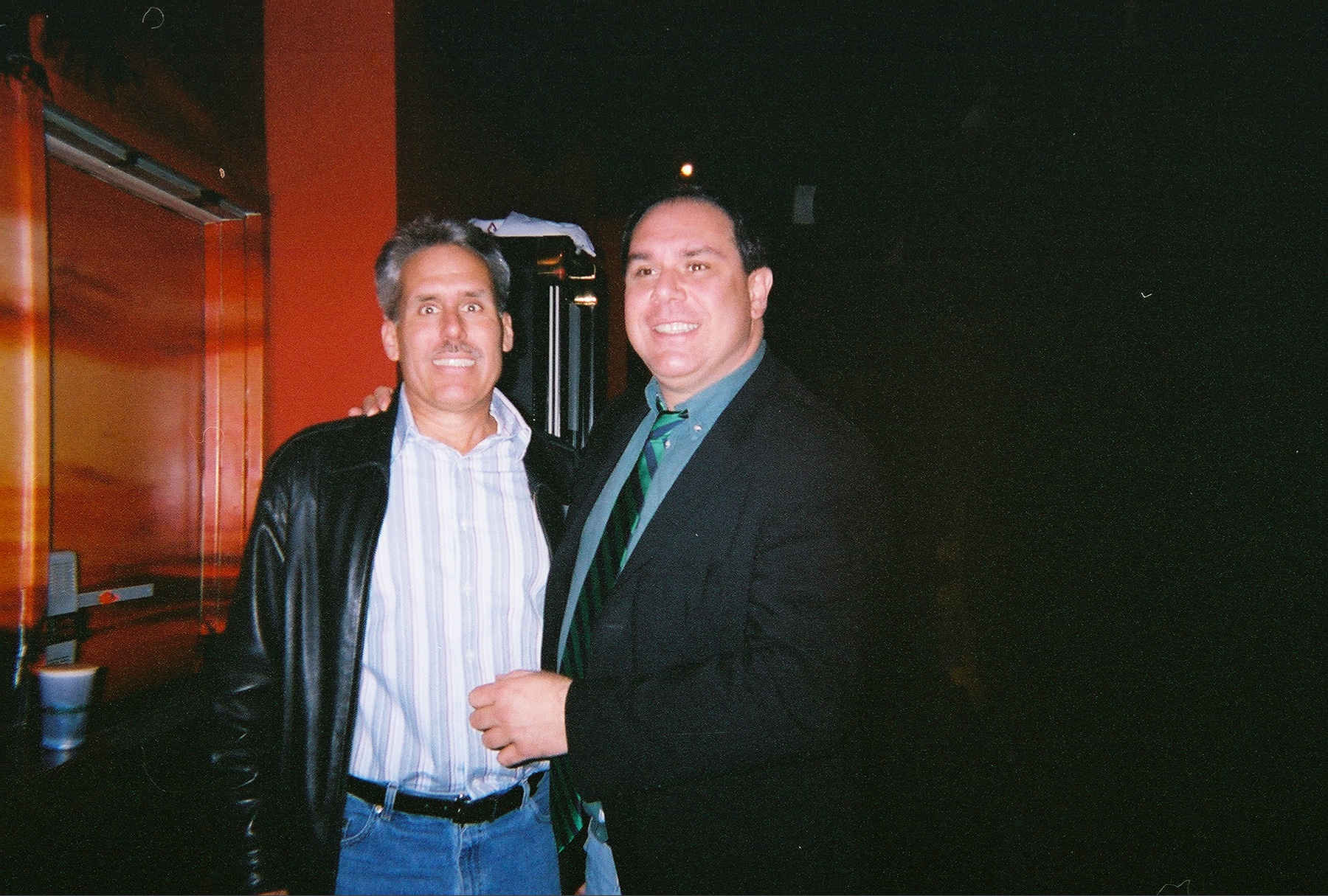 Not a real Irish sounding names but foine looking lassies abounded in Joshi's, where the Boys imbibed in yet another round of the Guinness Goodness and the foine Irish Whisky, the Bushmill's, by 2:45 PM, the Boys were definitely buzzing with Irish goodness and decided to descend further down Third Avenue.
"Tis no junk at the Hairy Monk"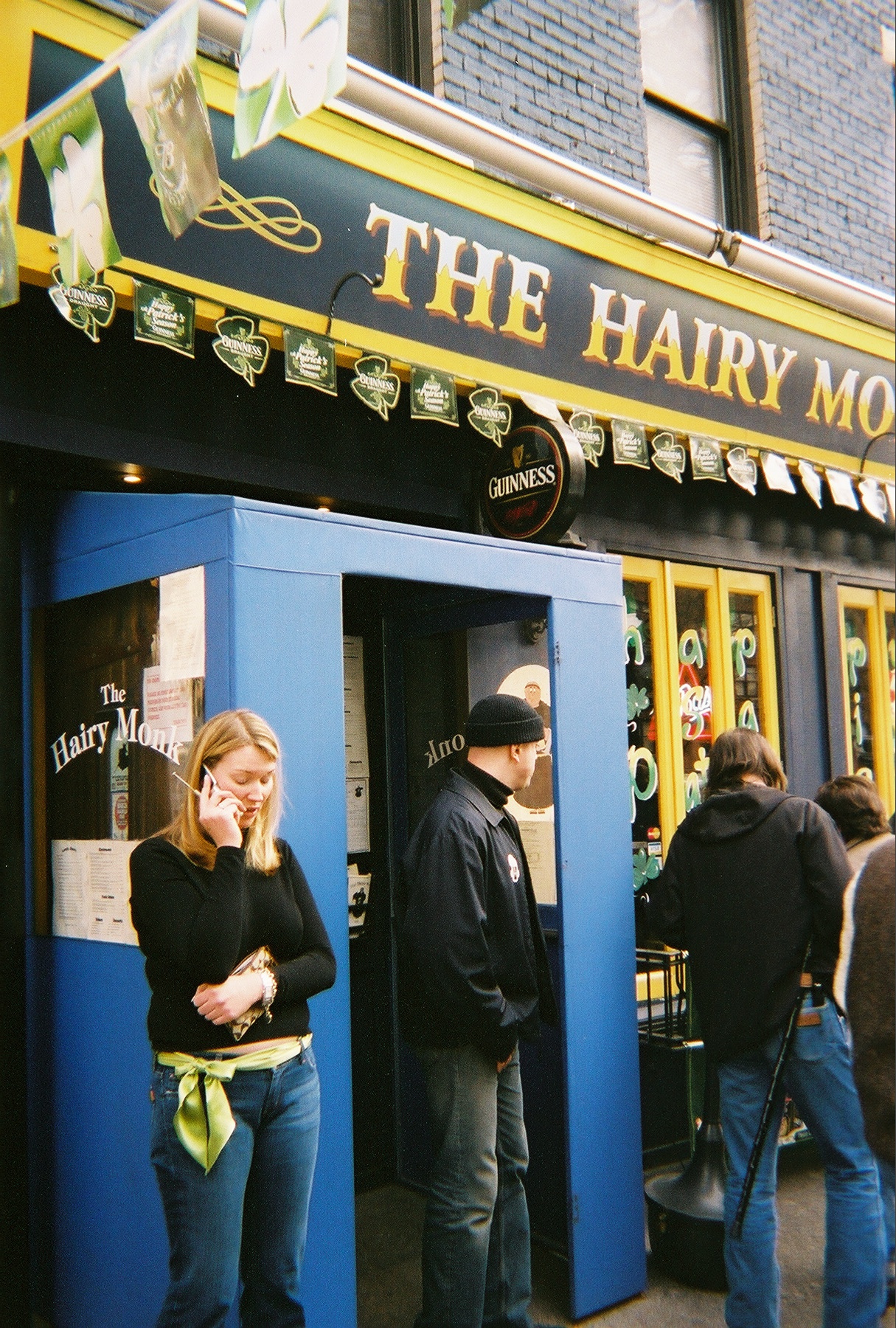 "An Genuine Irish lad @ the Hairy Monk"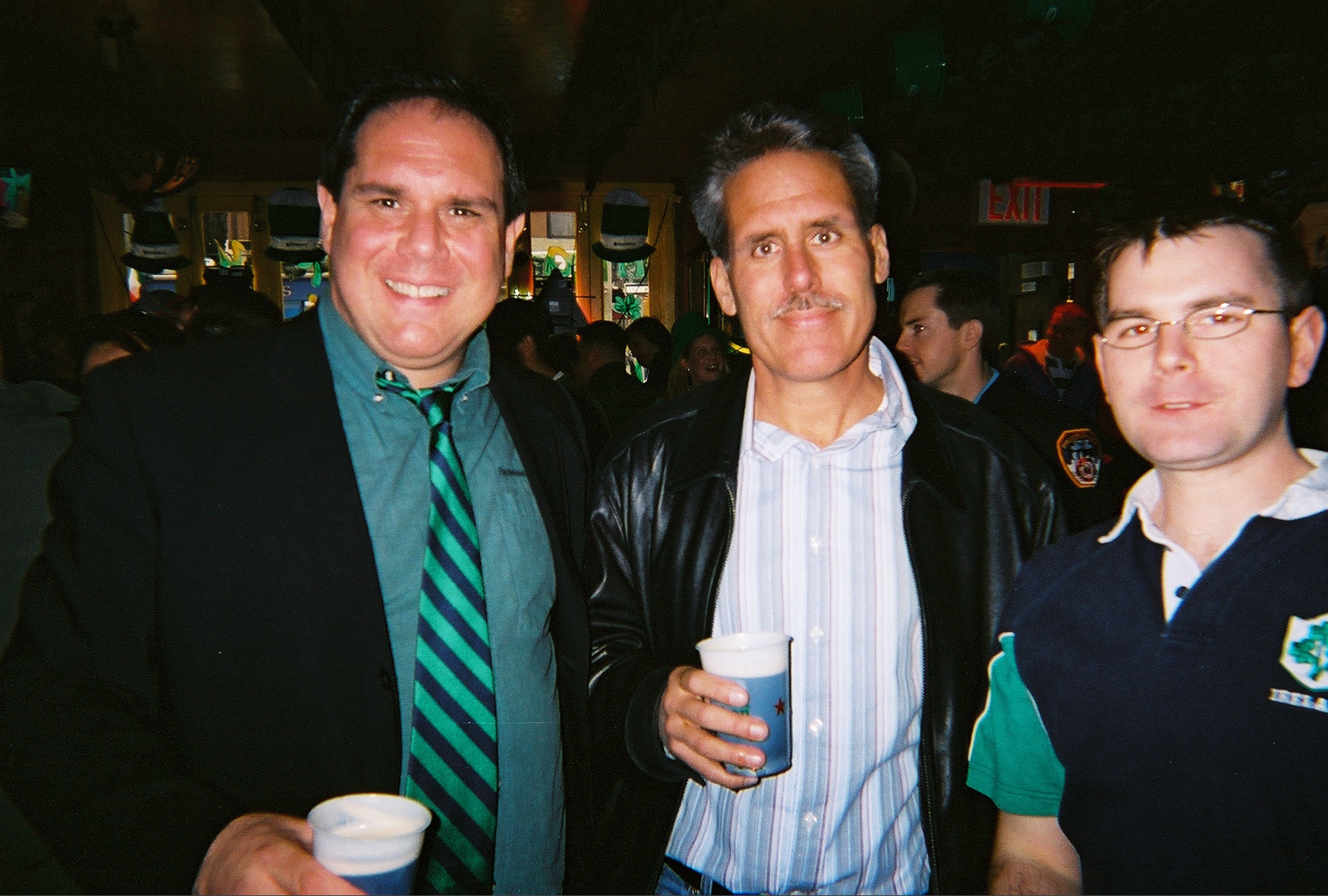 The next Bar, the Hairy Monk was much more of a typical Irish Pub replete with actual Irish men, who had played Rugby earlier in the day. Buying the lads a round of the Bushmills Bone was thoroughly the day, while Mike wisely began to abstain from the Whiskey !! After four or five more Guinness, both Boys need some sustenance in order to survive the entire evening. Deciding to lay a base, the boys caught a cab to their favourite restaurant in Little Italy, Angelos' !!!
Mike and Bone enjoying the Pastabilities of Little Italy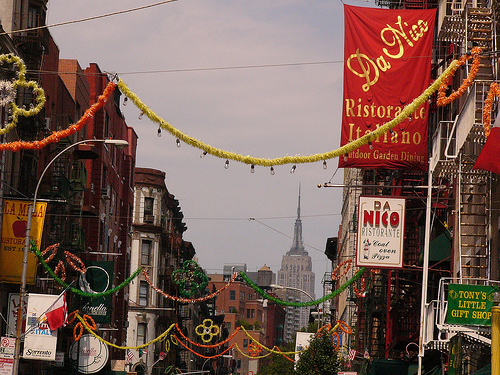 Despite being St. Paddy's special day Corned Beef and Cabbage just ain't nearly as good a fine piece of Veal Scaloppini and pasta marinara, a glass of red Chianti, along with some delicious hard-crust Italian bread help to lay the base the Boys need to sustain the night. Well Fed the Boys headed up Second Avenue to catch some of the Irish Pub's between 12th and 20th before they met Ed at Paddy Reilly's, North America's only All Guinness Draft Bar.
In of one those local bars, with Guinness in hand Bone, heard from Eddie, that there was a 45 minute wait to get into Paddy Reilly's with a 20 dollar entrance fee. Saying "Bollocks" to that they agreed to meet at a very nice Tavern at 35th and Second Avenue.
A foine Irish Lad and Lassie ,,,, Ed and Wendy Sheehy !!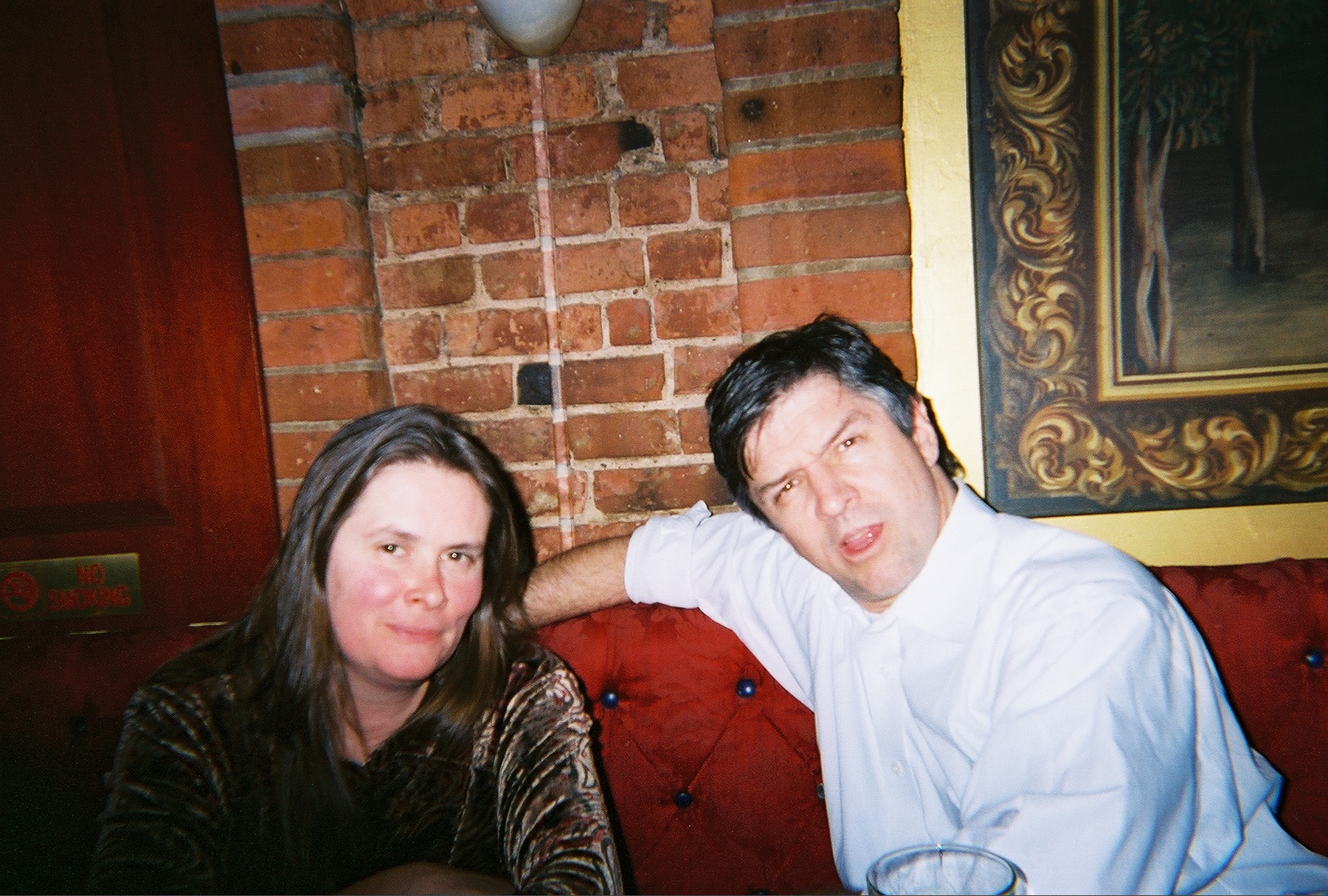 Descartes on Speed. Eddie Sheehy was born in Ireland, raised in the Bronx, went to NYU in Manhattan, and has lived in the Lower East Side (Alphabet City) since 1978, a true Irish New Yorker. Eddie and Bone had worked together for 10 years at PwC and IBM, where they had become great friends. When Bone's Sherry passed away Eddie, made sure to be in Michigan (his first time ever !) to support Bone at the funeral. Being one of the smartest and funniest human beings Bone had every met, they had truly a wonderful time when they worked together in Richmond at Capital One. Eddie brought his wonderful wife Wendy, a diehard liberal in the Kennedy vein, who teaches History in the New York Public school system.
"An Irish Bone wid the Sheehy's !!!"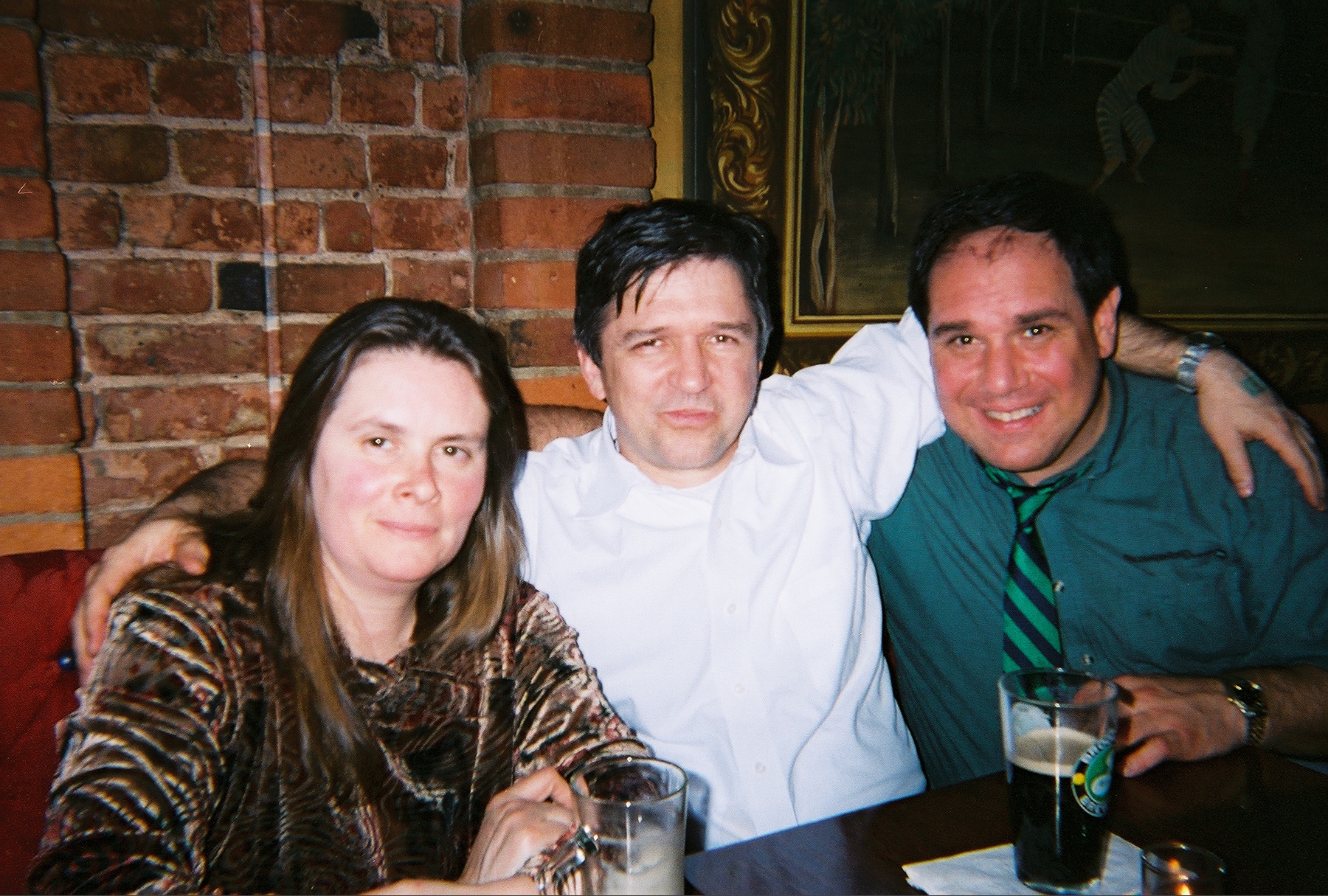 Bone and Eddie regaled Wendy and Mike with their many misadventures of a Midwesterner and New Yorker, dealing with the in-bred Southern Culture of suburban Richmond. The even progressed with wild stories of bars in Richmond, such as the Capital Ale House, Sharky's, and Sine well into the evening. By Midnight, Mike had had enough and headed back to the Hotel, Tony went Home to meet Eddie's family and carry on well into the early morning.
"Aye Laddie, Tis ne'er too late to share in the Bushmills"
Bone with Ed Sheehy at 2:30 in the Morning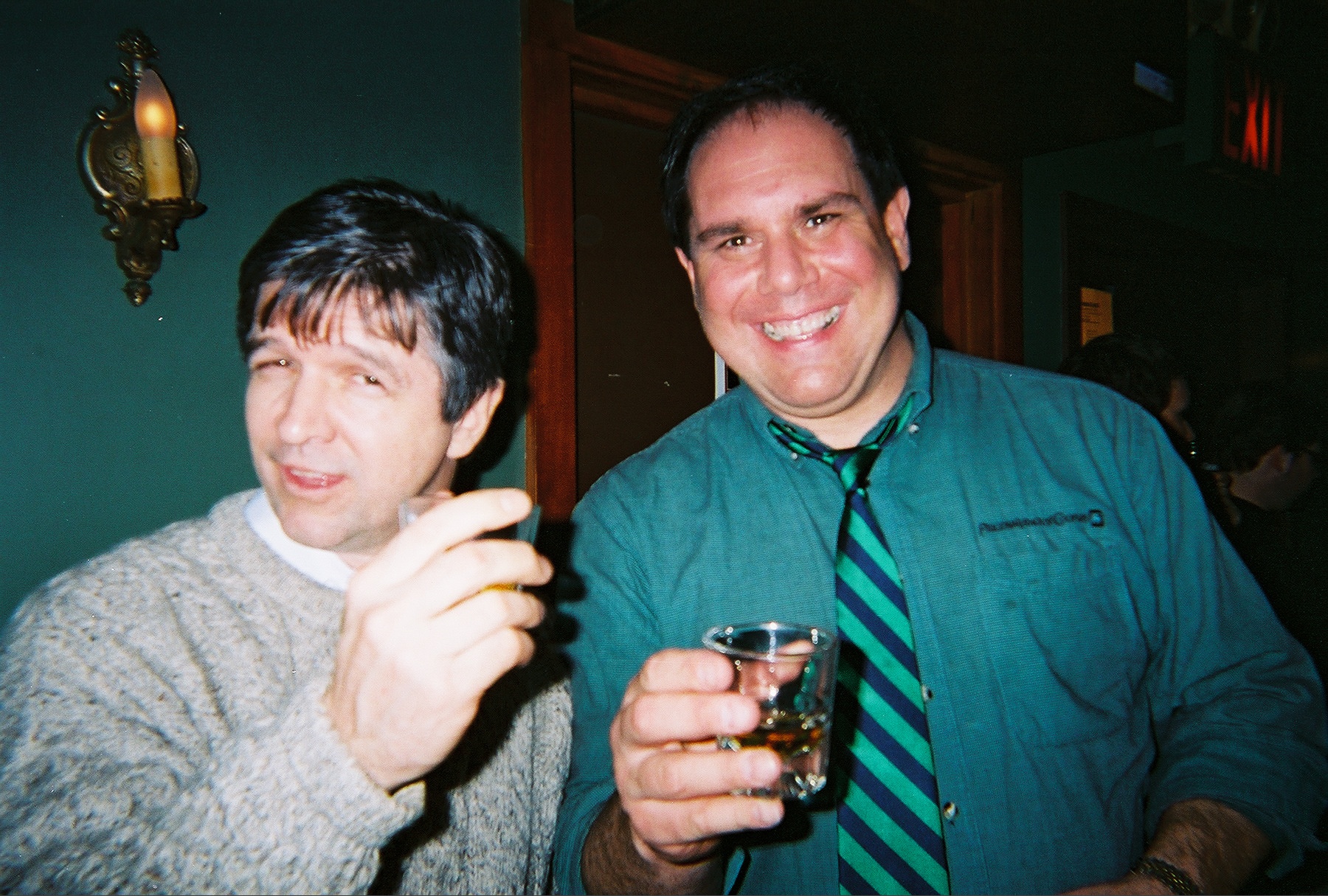 After a brief stop to meet Eddie's family Ed and Bone headed to Ed's favourite local pub (where the week before he had held Wendy's Birthday Party), and the Boys toasted Guinness after Guinness, Bushmill after Bushmill until 3:00 AM and Bone staggered out to find a cab back to the Marriott'