Day 2: Foodgasm !!!
Main Page > 2014 Hamburgers, Hot Dogs, and Pizza ! Intro >
The Boys rose oh so slowly the next morning where the vagaries of 18 year old Macallan, Bushmill's, Guinness, and cheap Vodka played their toll. The first target of the day was to revere the subject on Ron Chernow's Biography, Alexander Hamilton !
Hanging at Hammie's Duel Site
Alexander Hamilton (January 11, 1755 or 1757 – July 12, 1804) was a founding father of the United States, chief of staff to General Washington, one of the most influential interpreters and promoters of the Constitution, the founder of the nation's financial system, and the founder of the first American political party.
As Secretary of the Treasury, Hamilton was the primary author of the economic policies of the George Washington administration, especially the funding of the state debts by the Federal government, the establishment of a national bank, a system of tariffs, and friendly trade relations with Britain.
He became the leader of the Federalist Party (now the Republican Party), created largely in support of his views, and was opposed by the Democratic-Republican Party, led by Thomas Jefferson and James Madison. Embarrassed when an extra-marital affair from his past became public by James Monroe, Hamilton resigned from office in 1795 and returned to the practice of law in New York. He kept his hand in politics and was a powerful influence on the cabinet of President Adams (1797–1801).
Hamilton's opposition to Adams' re-election helped cause his defeat in the 1800 election. When in the same contest Thomas Jefferson and Aaron Burr tied for the presidency in the electoral college, Hamilton helped defeat Burr, whom he found unprincipled, and elect Jefferson despite philosophical differences.
After failing to support Adams, the Federalist candidate, Hamilton lost some national prominence within the party. Vice President Burr later ran for governor in New York State, but Hamilton's influence in his home state was strong enough to again prevent a Burr victory.
Wandering Weehawken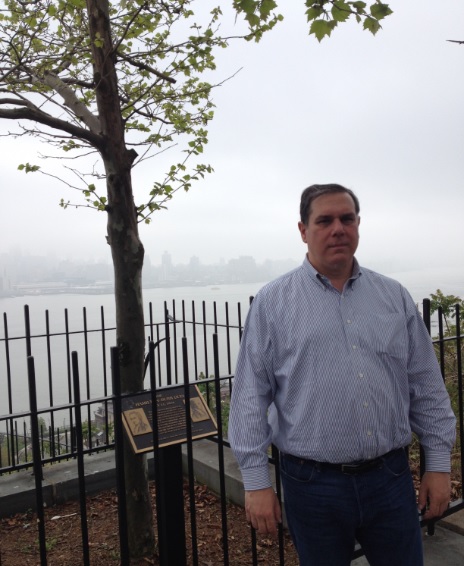 Taking offense at some of Hamilton's comments, Burr challenged him to a duel and mortally wounded Hamilton, who died the next day. In the early morning hours of July 11, 1804, Burr and Hamilton departed by separate boats from Manhattan and rowed across the Hudson River to a spot known as the Heights of Weehawken in New Jersey, a popular dueling ground below the towering cliffs of the Palisades. Hamilton and Burr agreed to take the duel to Weehawken because although dueling had been prohibited in both states,
New York more aggressively prosecuted the crime (the same site was used for 18 known duels between 1700 and 1845).In an attempt to prevent the participants from being prosecuted, procedures were implemented to give all witnesses plausible deniability. For example, the pistols were transported to the island in a portmanteau, enabling the rowers (who also stood with their backs to the duelists) to say under oath that they had not seen any pistols Burr, William P. Van Ness (his second), Matthew L. Davis, and another (often identified as John Swarthout) plus their rowers reached the site first at half past six, whereupon Swarthout and Van Ness started to clear the underbrush from the dueling ground. Hamilton, Judge Nathaniel Pendleton (his second), and Dr. David Hosack arrived a few minutes before seven.
Mike and Alexander ?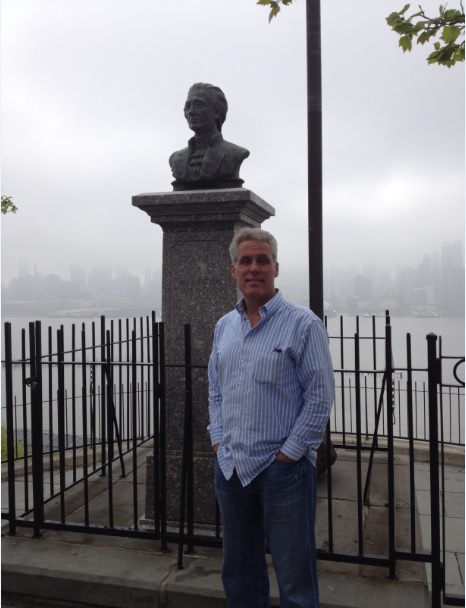 Lots were cast for the choice of position and which second should start the duel, both of which were won by Hamilton's second who chose the upper edge of the ledge (which faced the city) for Hamilton. However, according to historian and author Joseph Ellis, since Hamilton had been challenged, he had choice of both weapon and position. Under this account, it was Hamilton himself who chose the upstream or north side position. All first-hand accounts of the duel agree that two shots were fired; however, Hamilton and Burr's seconds disagreed on the intervening time between the shots. It was common for both principals in a duel to fire a shot at the ground to exemplify courage, and then the duel could come to an end.
Hamilton apparently fired first, and into the air, though it is not clear whether this was intentional, much less that Burr perceived him to be "throwing away his fire" (as it did not follow the standard protocol). Burr returned fire and hit Hamilton in the lower abdomen above the right hip. The musket ball ricocheted off Hamilton's second or third false rib—fracturing it—and caused considerable damage to his internal organs, particularly his liver and diaphragm before becoming lodged in his first or second lumbar vertebra. According to Pendleton's account, Hamilton collapsed immediately, dropping the pistol involuntarily, and Burr moved toward Hamilton in a speechless manner (which Pendleton deemed to be indicative of regret) before being hustled away behind an umbrella by Van Ness because Hosack and the rowers were already approaching. It is entirely uncertain which principal fired first, as both seconds' backs were to the duel in accordance with the pre-arranged regulations of the duel (and also so the men could later testify that they "saw no fire"). After much research to determine the actual events of the duel, historian Joseph J. Ellis gives his best guess: Hamilton did fire his weapon intentionally, and he fired first. But he aimed to miss Burr, sending his ball into the tree above and behind Burr's location. The bullet only skimmed Burr's ear. In so doing, he did not withhold his shot, but he did waste it, thereby honoring his pre-duel pledge.
In a letter to William Coleman, Dr. Hosack gives a very clear picture of the events: When called to him upon his receiving the fatal wound, I found him half sitting on the ground, supported in the arms of Mr. Pendleton. His countenance of death I shall never forget. He had at that instant just strength to say, 'This is a mortal wound, doctor;' when he sunk away, and became to all appearance lifeless. I immediately stripped up his clothes, and soon, alas I ascertained that the direction of the ball must have been through some vital part. His pulses were not to be felt, his respiration was entirely suspended, and, upon laying my hand on his heart and perceiving no motion there, I considered him as irrecoverably gone. I, however, observed to Mr. Pendleton, that the only chance for his reviving was immediately to get him upon the water. We therefore lifted him up, and carried him out of the wood to the margin of the bank, where the bargemen aided us in conveying him into the boat, which immediately put off. During all this time I could not discover the least symptom of returning life. I now rubbed his face, lips, and temples with spirits of hartshorn, applied it to his neck and breast, and to the wrists and palms of his hands, and endeavoured to pour some into his mouth.
The mortally wounded Hamilton died the following day and was buried in the Trinity Churchyard Cemetery in Manhattan ( Visited in a prior Mike and Bone Adventure). Gouverneur Morris, a political ally of Hamilton's, gave the eulogy at his funeral and established a private fund to support his widow and children. Burr was charged with murder in New York and New Jersey, but neither charge reached trial. In Bergen County, New Jersey, a grand jury indicted Burr for murder in November 1804, but the New Jersey Supreme Court quashed the indictment on a motion from Colonel Ogden. Burr fled to South Carolina, where his daughter lived with her family, but soon returned to Washington, D.C. to complete his term of service as Vice President. The first memorial to the duel was constructed in 1806 by the Saint Andrew Society, of which Hamilton was formerly a member. A 14 foot marble cenotaph, consisting of an obelisk topped by a flaming urn and a plaque with a quote from Horace surrounded by an iron fence, was constructed approximately where Hamilton was believed to have fallen. Duels continued to be fought at the site and the marble was slowly vandalized and removed for souvenirs, leaving nothing remaining by 1820. The memorial's plaque survived, turning up in a junk store and finding its way to the New York Historical Society in Manhattan, where it still resides.
In 2004, for the duel's bicentennial anniversary, kins of Burr and Hamilton held re-enactment of the famous duel, near the Hudson River. In the re-enactment, Douglas Hamilton, fifth-great-grandson of Alexander Hamilton, faced Antonio Burr, a descendant of Aaron Burr's cousin. More than 1,000 people attended the re-enactment, including an estimated 60 descendants of Hamilton and 40 members of the Aaron Burr Association. Next stop, Hamilton's home in the City.
The Grange: Hammie's Harlem Hangout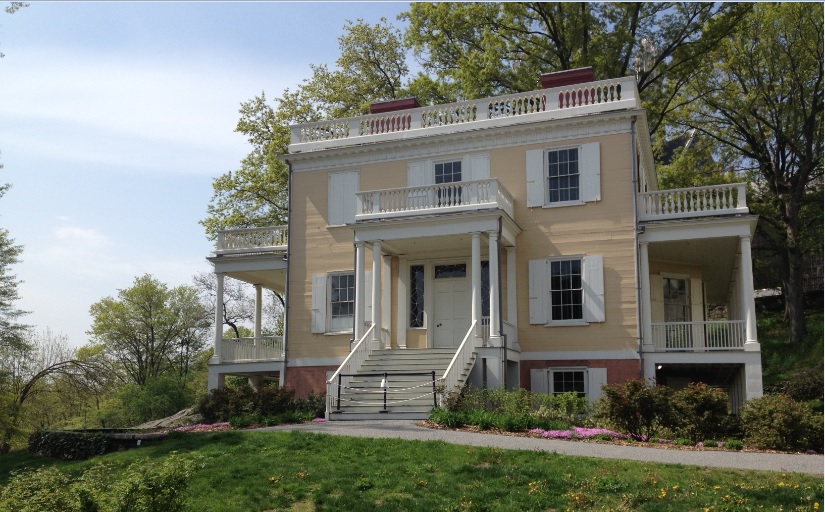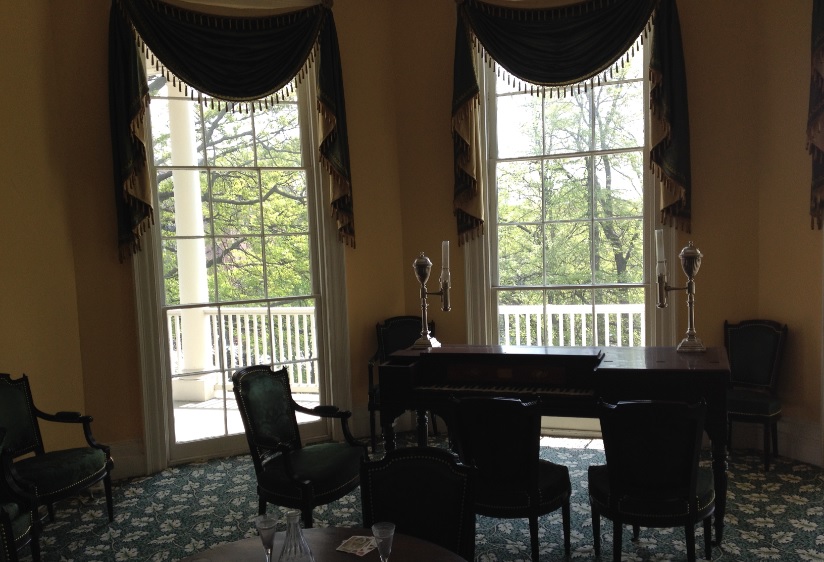 Hamilton commissioned architect John McComb, Jr. to design a Federal-style country home on a 32-acre estate in upper Manhattan. This house was completed in 1802 and named "The Grange" after his father's ancestral home in Scotland. Convent Avenue location.
The house was sold by Hamilton's wife Elizabeth in 1833 and was relocated and stripped of some original features, including its porches and a grand staircase, by successive owners.
Meanwhile, Harlem developed around the Grange until 1889, when the house was moved to accommodate the Manhattan street grid. Finally,
In 1962, it was deeded to the National Park Service and in that same year was authorized a national memorial by the United States Congress, a designation used to protect places that are commemorative. The legislation that created the memorial required the house be relocated and restored to its 19th century appearance. These provisions were fulfilled in 2008 when the Grange was moved to West 141 St. Nicholas Park in 2008 and restored to its 19th century look where it is now fine example of early Federal Period architecture.
The parlor level is now restored and furnished as it would have been when Hamilton lived there along with Hamilton's piano forte in the drawing room was played regularly by his daughter Anjelica. Mike and Bone checked how they picked up the Grange, and moved it OVER a large Church, then two blocks south to its current location. As the hangin boys started to wilt in the Harlem summer heat, they remembered the original purpose of the trip,,, Hamburgers, Hot Dogs, and Pizza! So they boogied down for a quick pic of the famous Apollo Theater on 125 Street in Harlem then booked up I-95 towards New Haven!
A Harlem treasure: The Venerable Apollo Theatre !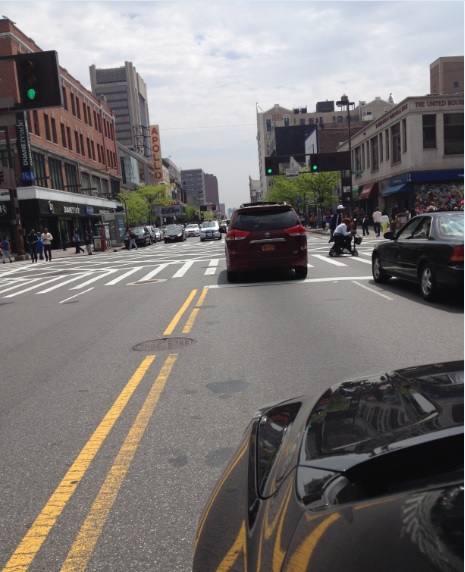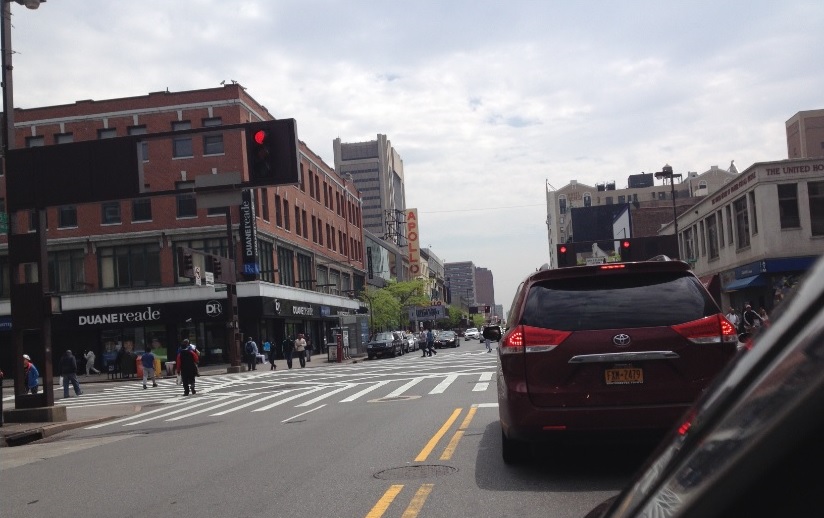 Are we there yet !?!? The Insufferable Drive Up
Typically the drive from Harlem to Fairfield (Suburban New Haven) is just about an hour. Unfortunately for some reason on this afternoon, the traffic was more stop than go, leaving the hangin and hungry Mike and Bone irritated with fruitless alternatives like US-1 that were equally jammed. Finally after two and half hours, the Boys made it to Fairfield, the home of the world's famous Super Duper Weenie!!
Breakfast: Super,,, Duper,,, Weenie !!!!! (Nottin' else need be said!)
It all started with the Super Duper Weenie truck in Norwalk, Connecticut. The truck was originally owned by Robert Turner, who currently resides in Carlsburg, California. Turner sold the truck to Neil Farans, who operated a Texaco station in Norwalk where it sat, not being used.
It sat for a few more years, getting bedraggled at the station, until a savior came along and purchased the truck in February 1992. His name was Gary Zemola. Gary was a recent graduate of the Culinary Institute of Arts (a VERY prestigious culinary college.) Gary renovated the Truck to its former glory. When it was completed to his satisfaction, Gary and his Super Duper Weenie truck began operations.
For the next seven years, Gary operated the truck seasonally from different locations in and around Fairfield, Connecticut. He established a following of customers who would search out the truck around town and would sometimes wait up to an hour to be served.
By the seventh year, the popularity of the homemade relishes and chili that made the weenies super duper, along with the fresh-cut fries, created a demand that outgrew the capacity of the truck.
Super,,, Duper,,, Weenie !!!!! (Nottin' else need be said!)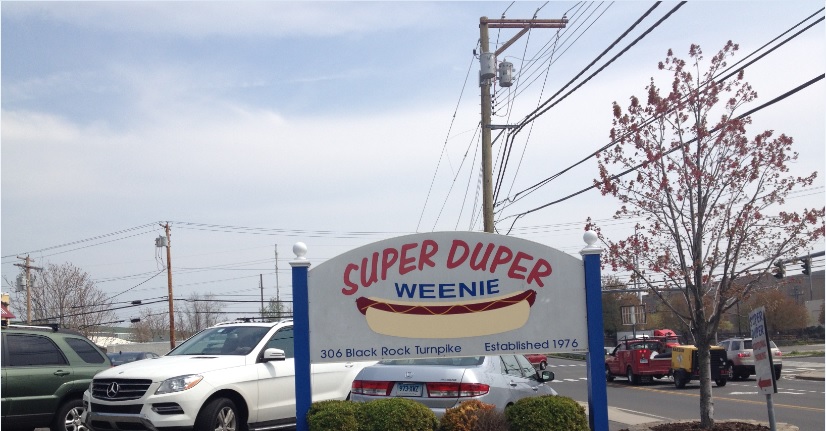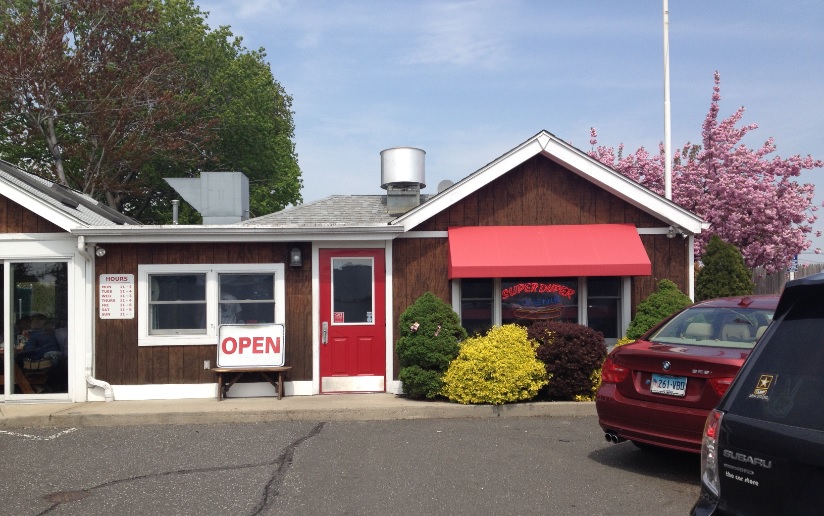 So in the summer of 1999, Gary along with his Duka Street neighbors, John and Lorin Pellegrino had an idea. They approached the parents of John and Lorin about the possibility of transforming a little old building on Black Rock Turnpike in Fairfield into the permanent location for Super Duper Weenie. Theresa and John Pellegrino enthusiastically agreed and even financed the boys in their endeavor.
From the start, the boys decided that they wanted their new place to be quaint, open and inviting. They agreed that nothing would change from the operation of the truck. All the condiments would be made from scratch on the premises, the fries would still be pressed from fresh potatoes daily, the produce would be purchased only from local farms and purveyors, and the hot dogs and rolls would be made to their specifications.
From there, Super Duper Weenie has continued to serve their customers and gained national fame. The "Hot Dog Program", David Letterman," Jane & Michael Stern's "Road Food Book," and the Prism Award winning movie, "Bobby Dogs". The Gary and Team have catered for Martha Stewart Living, Sandra Lee and Guy Fieri of "Diners Drive-ins and Dives."
Entering Super Duper Weenies, the Mike and Bone observed that the place was PACKED, and back behind the grill was Gary orchestrating his weenie magic !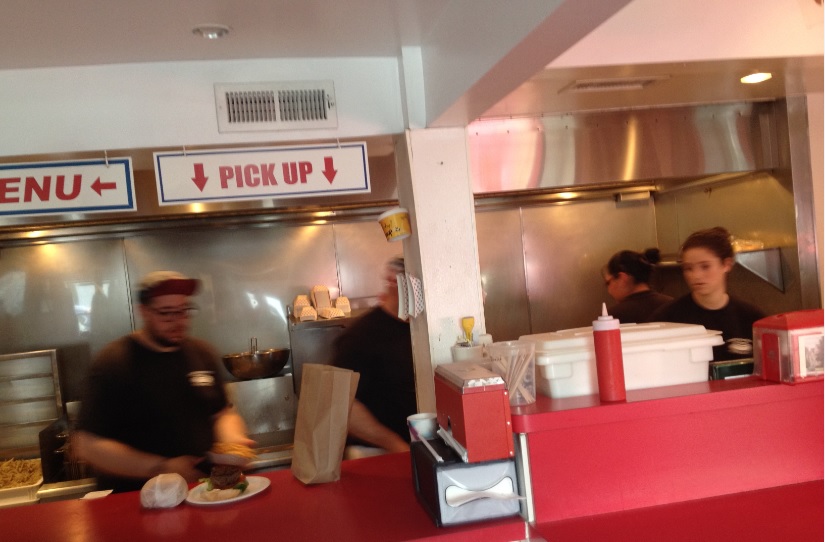 Mike and Gary (with the American Flag Bandana!)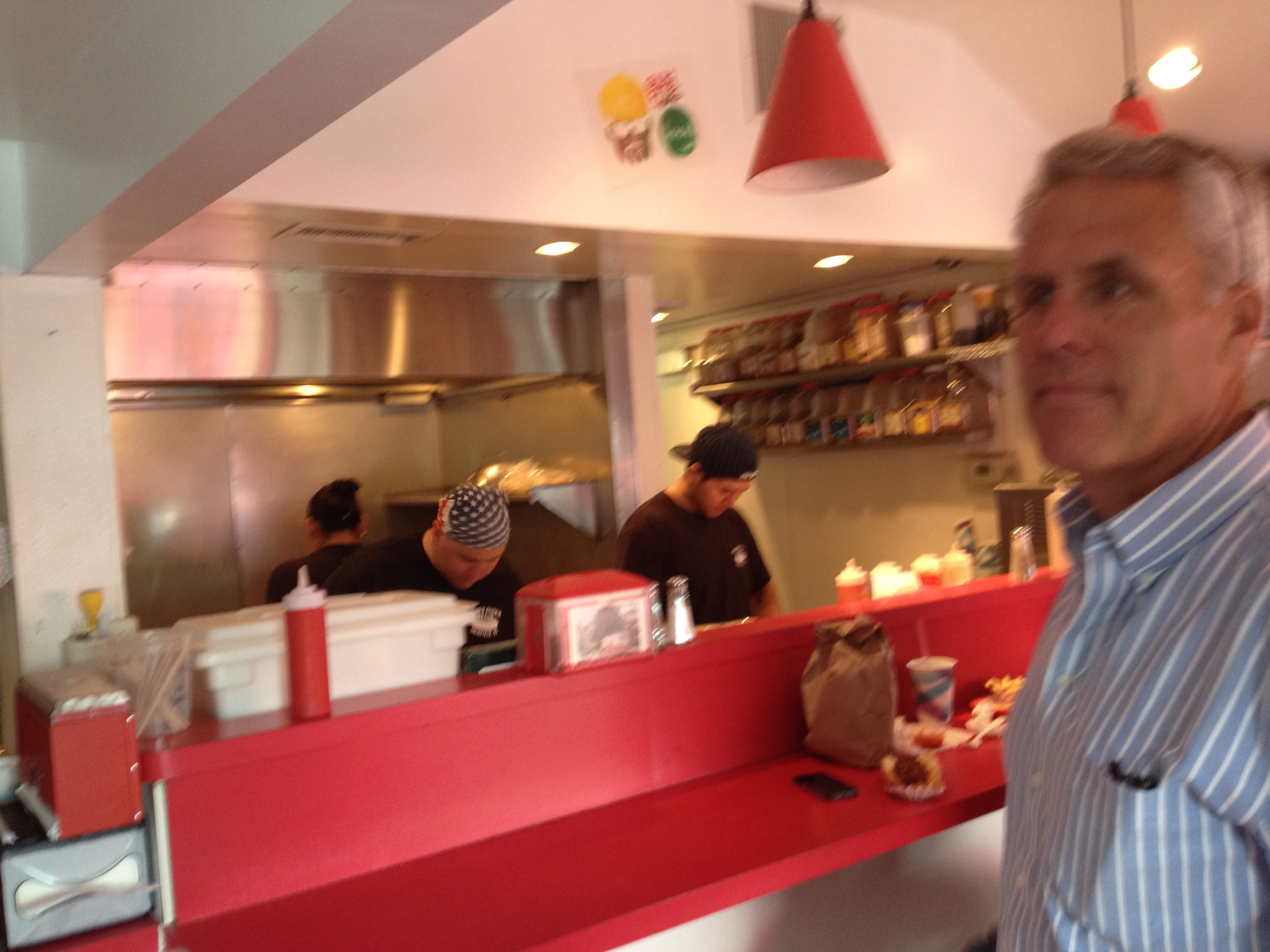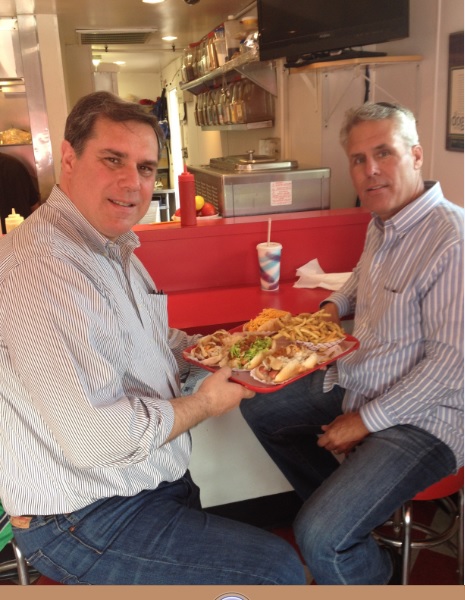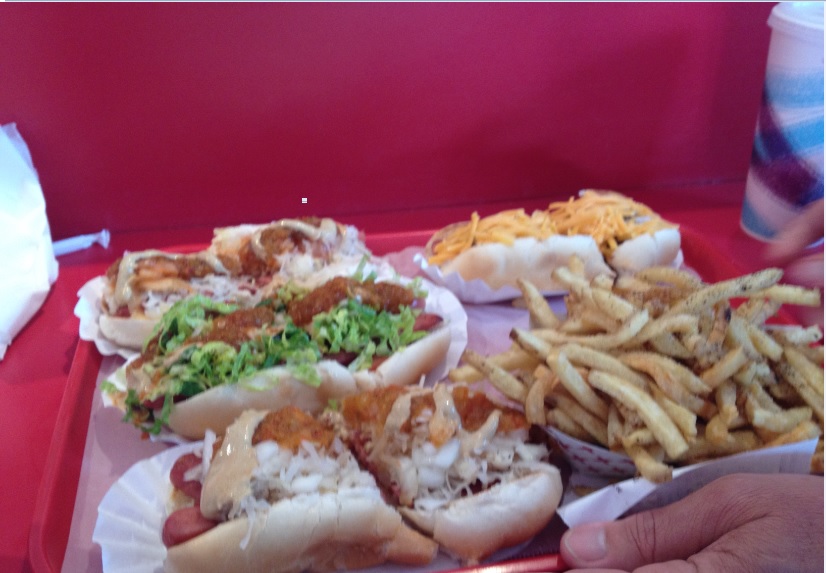 Despite being very busy the line moved quick and Mike and Bone ordered four of Super Duper Weenies specialty dogs, which included:
A New Englander - Sauerkraut, bacon, mustard sweet relish & raw onion

A Chicagoan - Lettuce, tomato, mustard, celery salt, hot relish & pickle

A Dixie - Homemade meat chili & homemade Cole slaw

A Cincinnatian - Cincinnati style chili, cheddar cheese & chopped onions
As they were paying, Bone asked Gary to cut them in half so they could perform a taste test, As Gary was cutting them asked "why for" and when Bone told him that he and Mike flew all the way from Michigan to try his Super Duper Dogs, he turned red and said "Ah C'mon really?!?" and seemed very flattered and humbled. A very cool dude.
As the Boy's tasted each dog, you could tell the culinary excellence and care Gary has with his recipes, with the New Englander being the favourite of both Mike and Bone.
The Weenie's truly were Super Duper with two huge thumbs up and another Hot Dog Program Stand down !
Thoroughly sated, the Boys drove up to Hartford to check out the old statehouse before grabbing a burger at Ted's !
No Heart for Hartford: More Driving Fun
Driving up to Hartford fortunately was no hassle, unfortunately the State House, a historic build only, is not open on the Weekends!! Why wouldn't a museum be open on a Saturday !? To work off the super duper weenies from breakfast, they walked in a very hot and muggy day down to the Connecticut River. As the boys looked south, they heard the sounds of Thunder and saw a completely black sky !
The Boys boogied back to the car just in time to miss the utter deluge that erupted from the Sky. With other reason to be in Hartford, they headed down to Meriden. En route the storm must have caused something bad because traffic slowed to a stop. Fortunately it was right at the exit before the exit they needed for the Steam Burger Place. No problem right !?!
"Finding Tom's?". The windy, hilly road was strewn with fallen branches and water was running like rivers everywhere. As Bone was navigating the debris, he told Mike to punch in Tom's on the iPhone Map App. The Map told them it was 20 minutes ( !?! ). So they navigated up and down hilly terrain, through quaint little New England towns, but no Burger joints! Finally, at the bottom of a now washed out road was Tom, which unfortunately the wrong place. OH S**T Ted's, not Tom's ! exclaimed Bone, which now caused another 20 minute drive on bad roads, till finally they pulled up to Ted's Steamed Hamburger Restaurant.
Lunch: Steamed Burgers at Ted Restaurant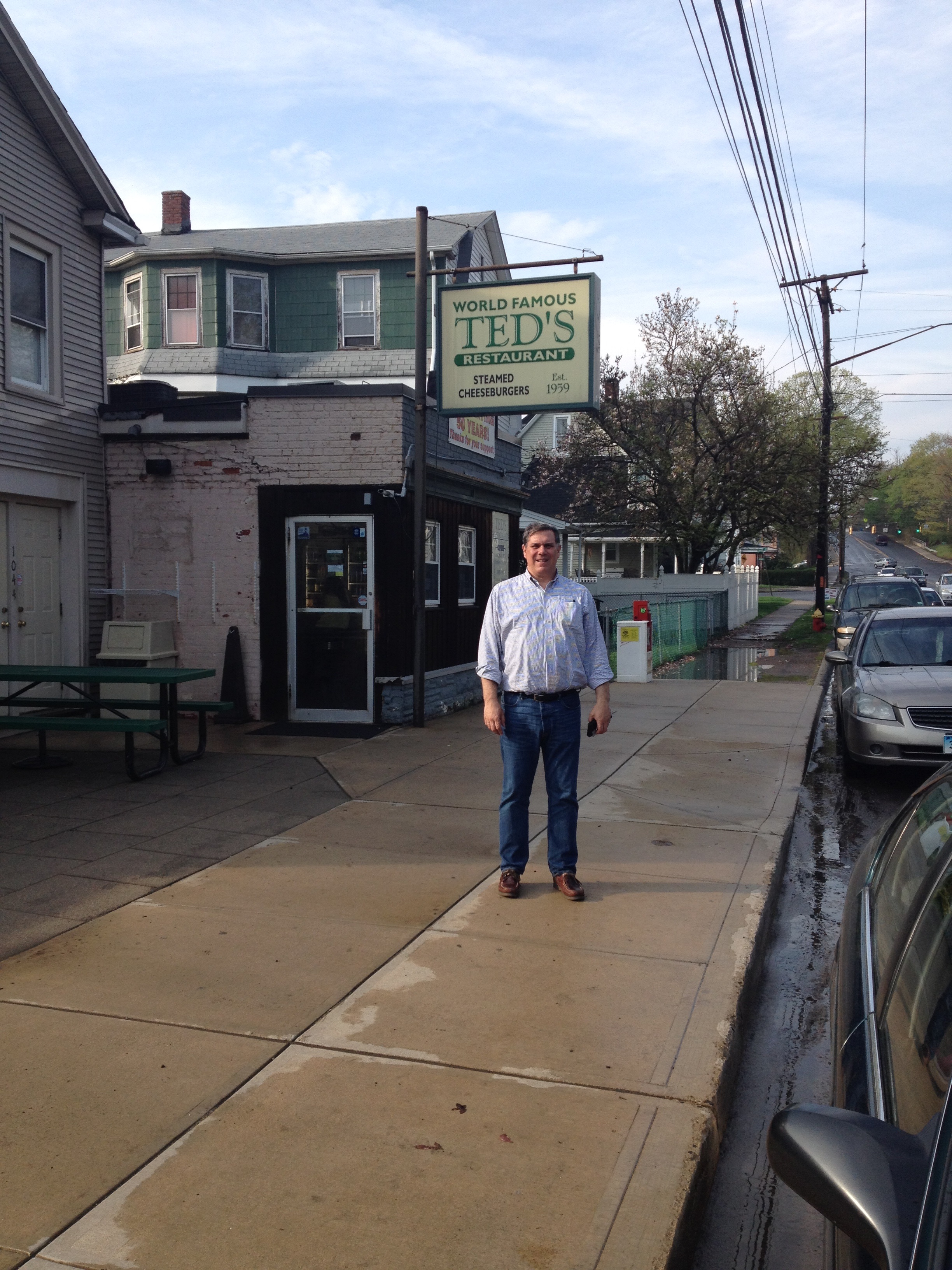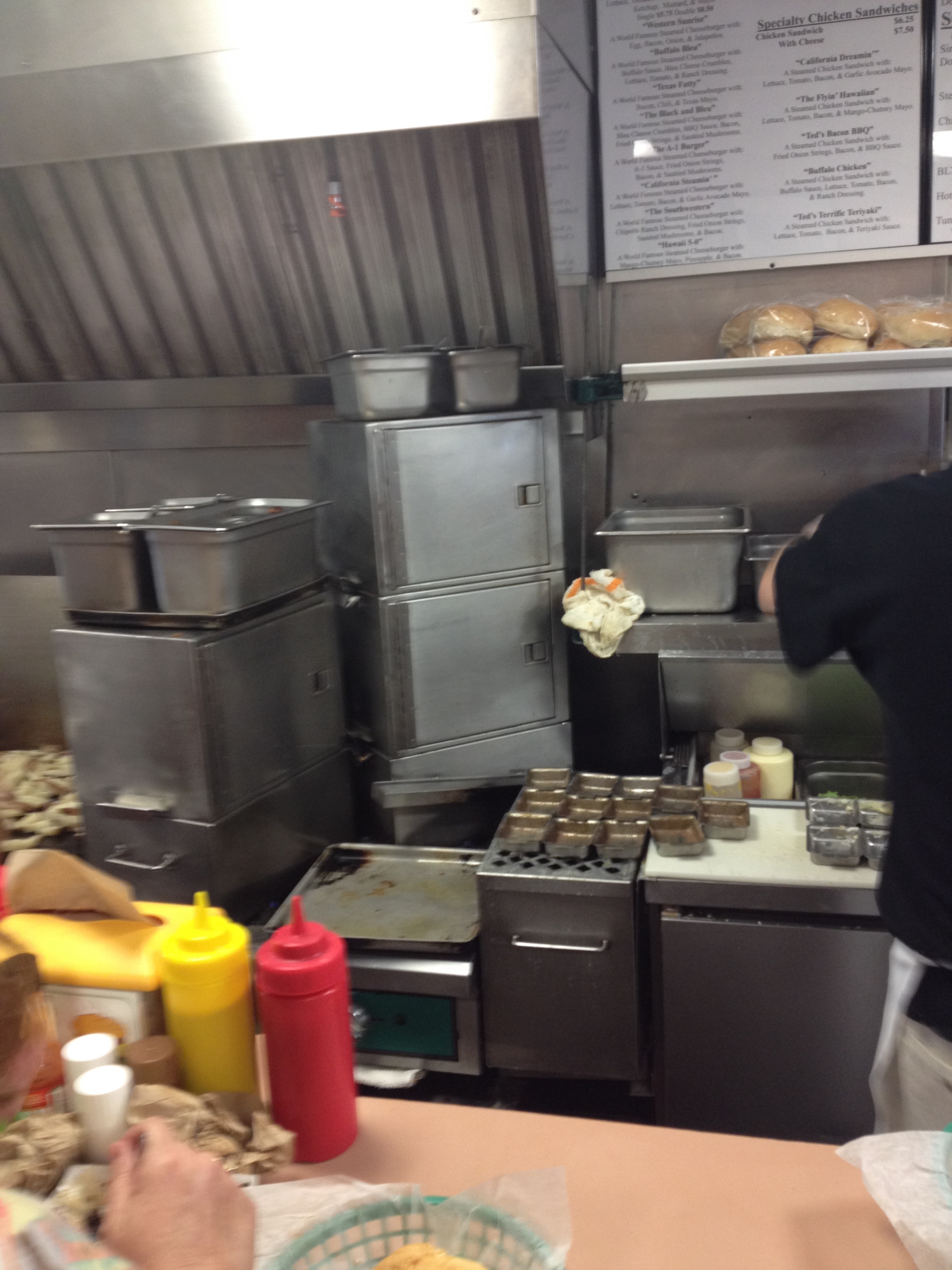 Ted's Restaurant opened in 1959, in Meriden, Connecticut is a hamburger joint that is known for their steamed cheeseburger. Steamed cheeseburgers are a regional food particular to very few establishments in Meriden, Connecticut where it was invented in the early 1900's. The steamed cheeseburger is cooked in a stainless-steel cabinet which contains small trays that hold either an individual hamburger or a chunk of cheese to be melted. The cheeseburger is served by scooping the meat onto a bun and pouring the melted cheese over the meat. In addition to a strong local following, Ted's has attracted more widespread attention with its appearance in the documentary Hamburger America, as well as national publications including US News and World Report, Yankee Magazine and Connecticut Magazine. It has also been featured on "Hamburger Paradise", a part of Travel Channel's newest Food Paradise series along with a feature on Man vs. Food. Ted's has also claimed a number of awards including; "Best Burger in CT" from The Food Network Magazine and "Best Burger" from Connecticut Magazine.
The restaurant has been family owned and operated since its inception. When Ted passed away, the restaurant was passed down to his son Paul. Over the years, Paul made very subtle changes to the cheeseburger. He began using twice ground meat so the burger held its size through the cooking process and a type of cheddar that held together when steamed. Paul also helped to develop the steam box and trays still used today. He then passed the restaurant on to his nephew Bill Foreman in March of 2008. It is the only known restaurant in the U.S. that exclusively sells steamed cheeseburgers.
Just a dollop (or whole darn tin!) of Wisconsin White Chedda !!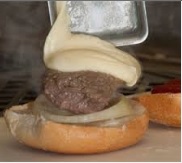 Walking into the Restaurant, Mike was tired from the drives and still full from the super duper weenies. At first he was not hungry, but after Bone order his awesome burger, Mike got one too!
They are not very pretty, being all grey from being steamed vs. broiled on a grill, but dang if they are tasty and juicy ! The white cheddar cheese really cements (in your stomach literally!) the burger together.
Now, stuffed Mike and Bone headed back to New Haven for the final objective of the day: Pizza !!!
Give Us Free: The Amistad Monument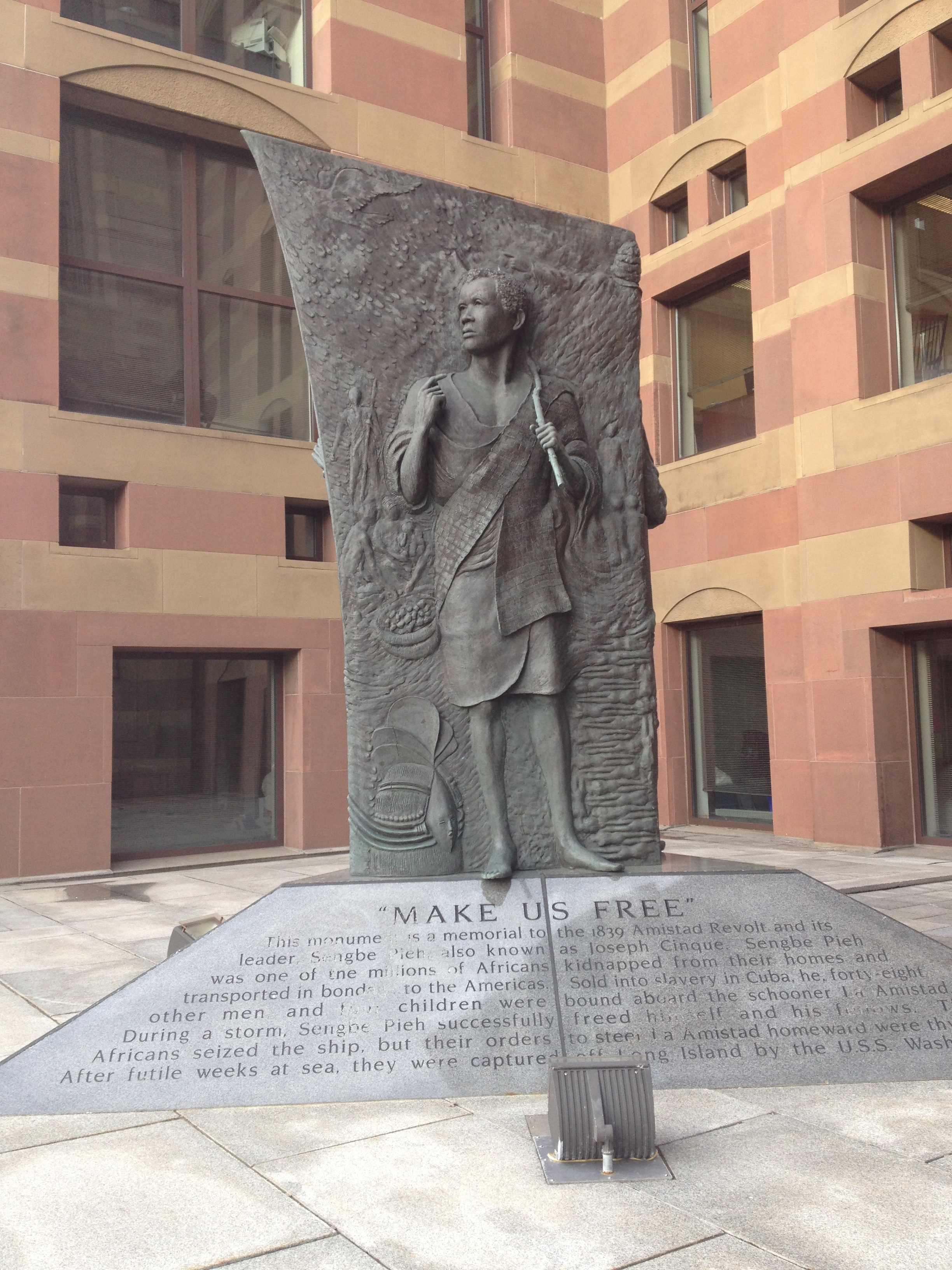 Arriving in New Haven in 20 minutes (finally! no traffic!), there was no way the Boys were ready for pizza! But in the Town Square was an interesting historical monument, one to the Menge Tribe the sailed on La Amistad!
The Amistad story prompted the 1997 film Amistad directed by Steven Spielberg. The Movie and Monument is based on the notable uprising in 1839 by newly abducted Mende tribesmen who took control of the ship La Amistad off the coast of Cuba, and the international legal battle that followed their capture by a U.S. revenue cutter. It became a United States Supreme Court case of 1841,where the Mende were defended by former President John Quincy Adams.
The Amistad Memorial was dedicated in 1992 and pays tribute to Joseph Cinque and the other Mende Africans who escaped slavery in 1839 by commandeering the Spanish ship La Amistad. The three-sided relief sculpture tells the triumphant story of Cinque's journey. On one side, Cinque is shown in his homeland, in modern-day Sierra Leone, Africa prior to his capture. The second relief depicts one of the courtroom trials in the United States where he purportedly shouted during the trial in broken English " Give Us Free!". The final monument scene shows Cinque free again, embarking on a ship for his return to Africa. The memorial, created by artist Ed Hamilton, stands where the New Haven Jail was located where the Mende African captives were housed.
After walking around for a few hours the Boys got a Hotel, and took a well deserved nap. Around 9:00 the Boy's awoke ready for some Frank Pepe Pizza Pie !!
Dinner: Pie at Frank Pepe's Pizza Napoletana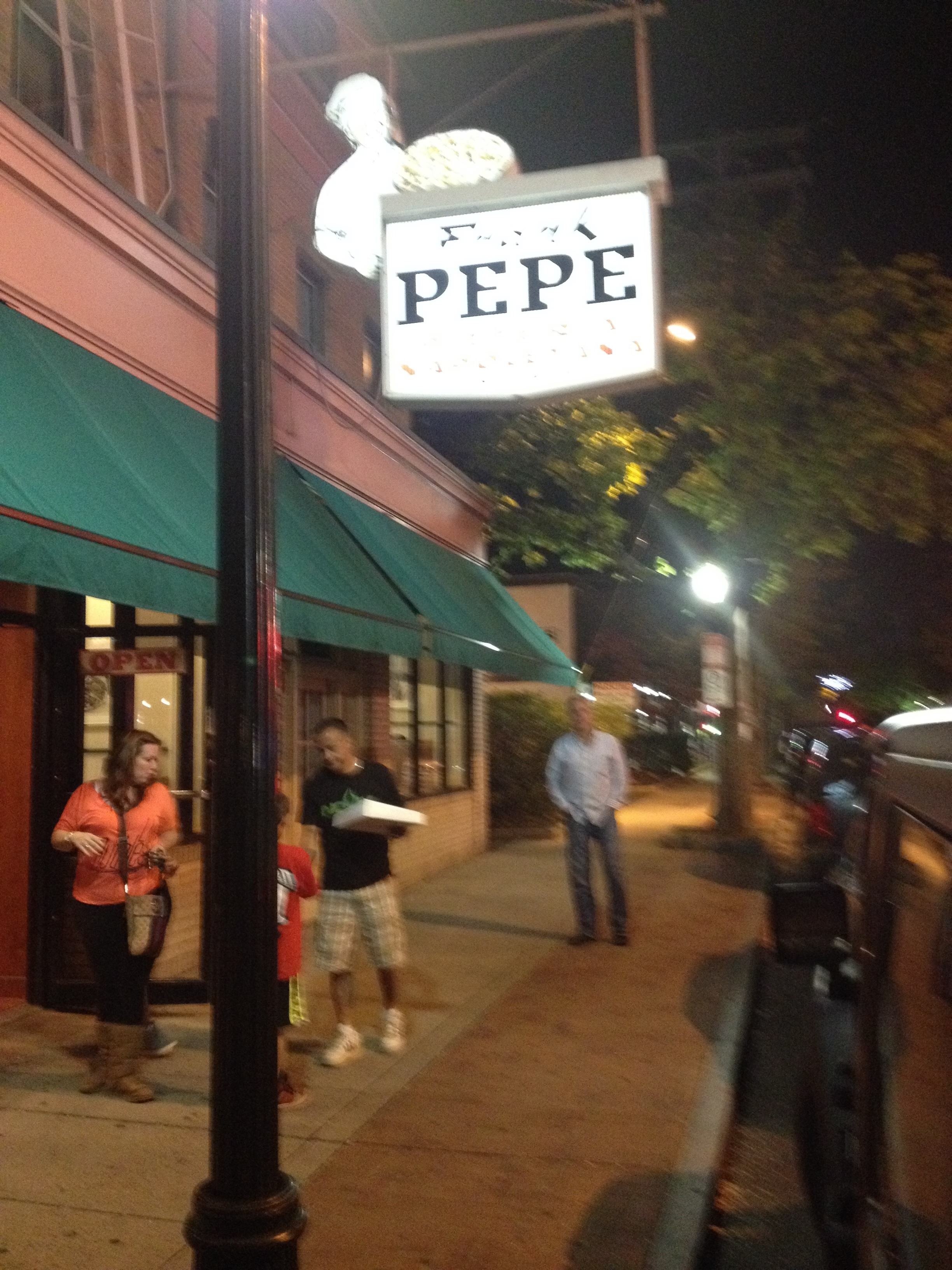 Frank Pepe Pizzeria Napoletana was founded in 1925 on Wooster Street in the Little Italy section of New Haven by Frank Pepe (b. April 15, 1893 d. September 6, 1969). Born in the town of Maiori, on the Amalfi coast, southwest of Naples, Frank Pepe was the quintessential Italian immigrant. Poor and illiterate, he immigrated to the United States in 1909 at age 16 with little more than his health and a strong work ethic.
Frank Pepe took a job at a local Wooster Street macaroni manufacturer, Genneroso Muro (the current location of Libby's Italian Pastry). He then worked for Tony Apicella at his bread bakery, also on Wooster St.
He made his first entrepreneurial move by establishing his own bakery at 163 Wooster Street — in business today as Frank Pepe's the Spot — baking his bread and delivering to the local community with a cart. Since he had difficulty documenting, because of his illiteracy, to whom he delivered and to the quantity, he soon abandoned his efforts of delivery. Instead, he made the fortuitous decision to start a business where his customers would come to him.
One Big-Ass Coal Oven!!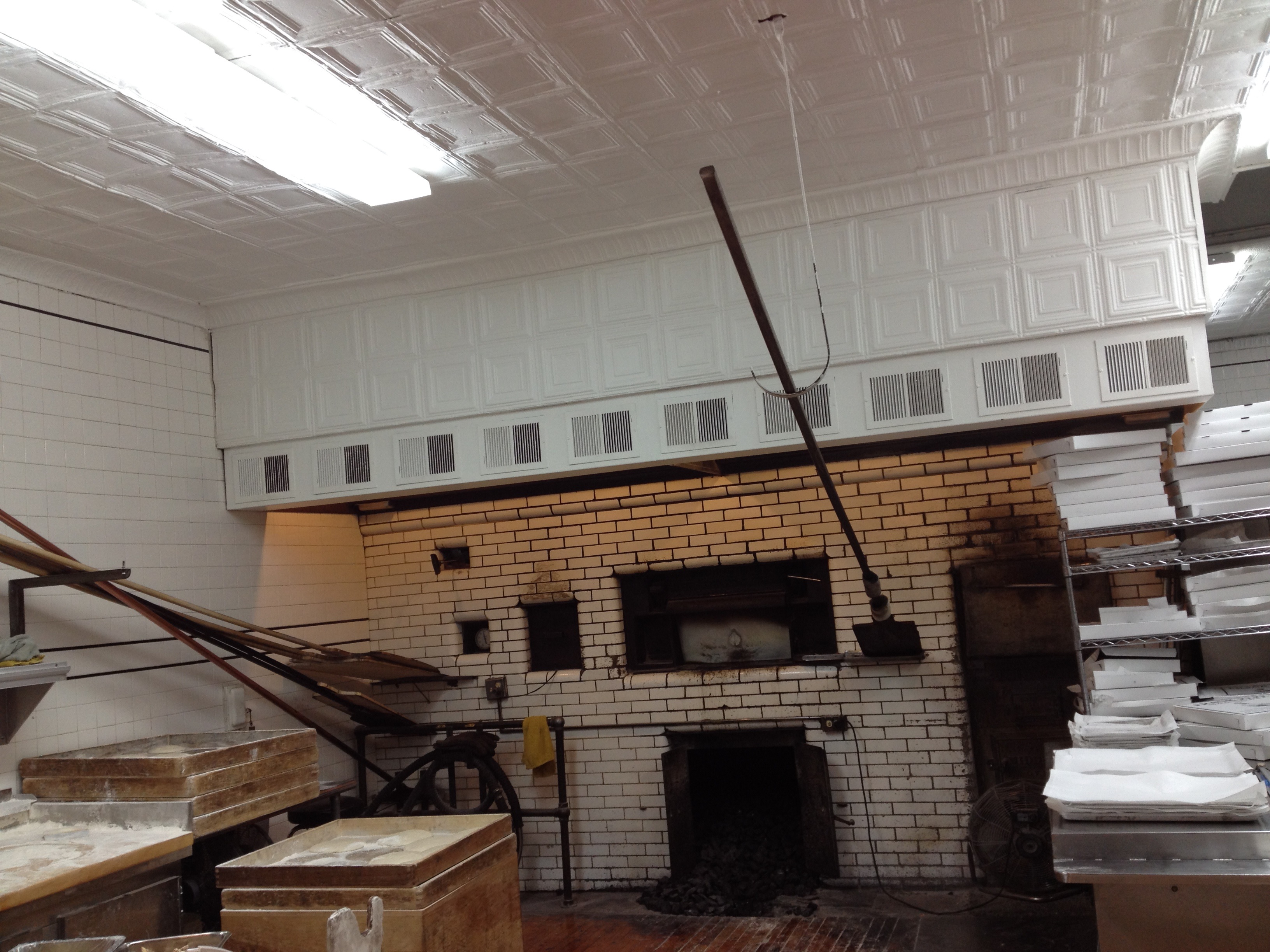 In 1925, with his wife Filomena, who was a pivotal influence on his success (she was literate and learned to speak and write English), they started making a simple and humble product from their homeland, pizza — or as they would say in their Neapolitan dialect, "apizza" (ah-beets). They baked their pizzas offering two types, tomatoes with grated cheese, garlic, oregano and olive oil and the other with anchovy. The Original Tomato Pie is still offered today and anchovy is still available as a topping. Mozzarella and additional ingredients were to follow.
In the formative years 1925 - 1937, he employed a small crew of relatives that included his half-brother Alessio Pepe and his son Mac, cousin Tommy Sicignano, nephews Salvatore and Tony Consiglio. Incidentally, Salvatore Consiglio, after learning pizza baking from his uncle Frank, eventually made the decision to establish his own pizzeria on Wooster Street, the well-known Sally's Apizza.
Like many business owners of the day, Frank Pepe lived above the pizzeria with his family that now included his daughters Elizabeth and Serafina. Everyone worked downstairs in the pizzeria. Frank Pepe became known as "Old Reliable" for his contributions to community and unwavering love for his growing family.
Pepe's reputation as one the country's premier pizzeria spread through word of mouth. In the early 1990s, Elizabeth and Serafina retired and the business passed to their children - Anthony, Francis, Lisa, Bernadette, Genevieve, Jennifer and Gary - who still operate the business today and have overseen its expansion.
Frank Pepe originated the New Haven-style thin crust pizza which he baked in bread ovens fired by coke. Coke is a byproduct of coal and it was used extensively until the late 1960's when it became unavailable and hence coal was then put into use to fire the oven.
Mike and Bone ordered a pitcher of Beer and a large with half pepperoni and half sausage.
Mike and Bone with one awesome Pepperoni and Sausage Pie !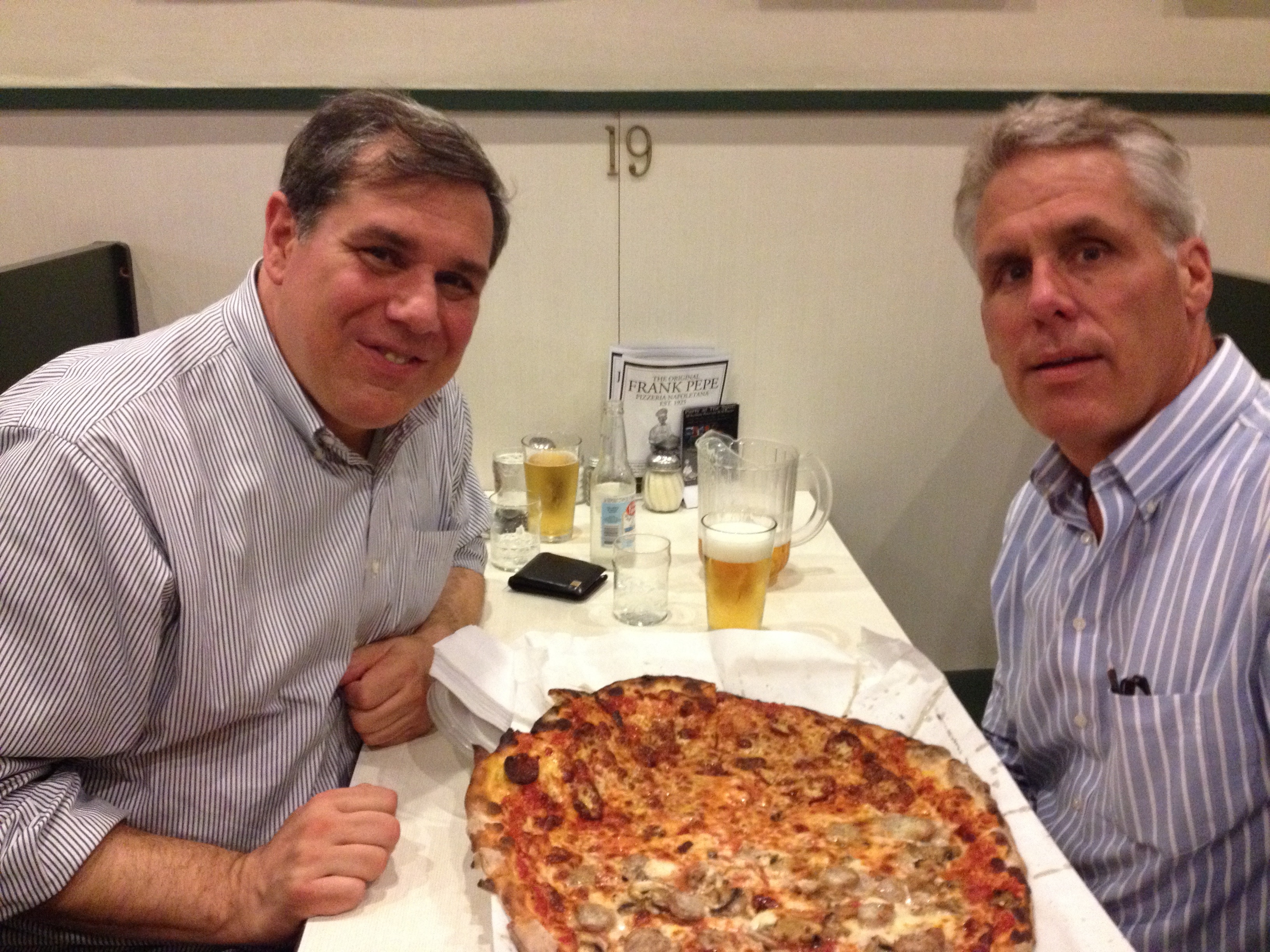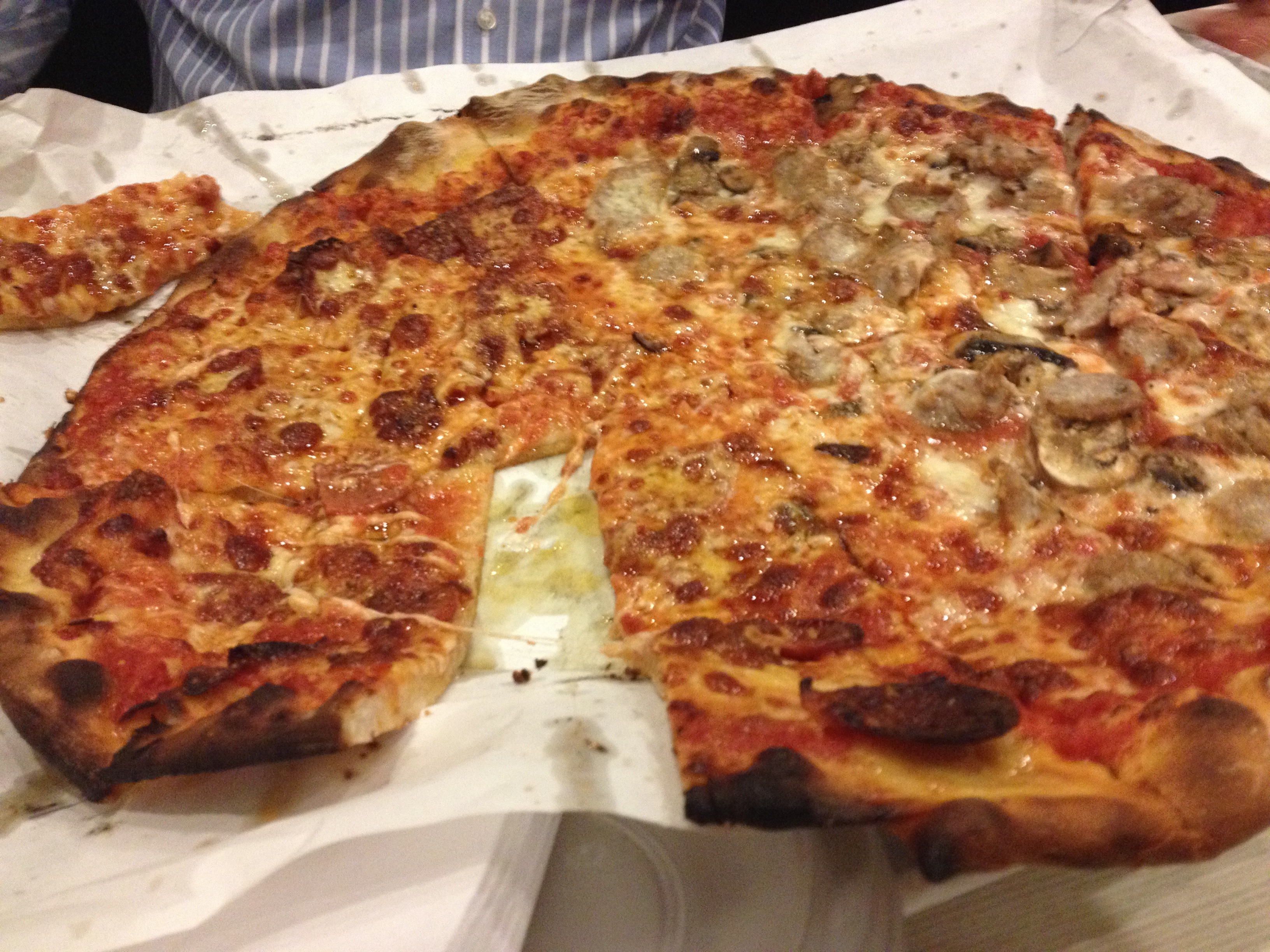 When the pie arrived, the Boys marveled at their crispy treat ! Despite the hamburgers and hot dogs, they slammed into the pizza, not leaving a slice. It was chewy with a great sauce./span> Both agreed, it is aalmost as good as John's of Bleeker Street in Greenwich Village. Afterward, the Boys split a cannoli and cappuccino and now did not have room for a wafer thin mint.
Triple Stuffed in New Haven
"Which was the best?". The prior night, the loong drive, and the day of binge eating hamburgers, hot dogs, and pizza had taken their toll. The Boys were done at an uncharacteristic 11:30 PM. However, before they put in for the night, both agreed that.... Super Duper Weenie was clearly the best with a gourmet approach to hot dogs !