Day 3: Yelling about Yale
Main Page > 2014 Hamburgers, Hot Dogs, and Pizza ! Intro >
The Boy's arose early enough (and without a hangover this day!) to check out Yale University, the Michigan of the east!.
Gee Toto !! This ain't Ann Arbor !
Mike and Bone grabbed a cup of joe in front the New Haven Public Square, which is a the border of the Campus and started checking out the classic Ivy League buildings. As they wandered they also learned that Yale University is a private Ivy League research university in New Haven, Connecticut, founded in 1701 in the Colony of Connecticut. The university is the third-oldest institution of higher education in the United States. Originally chartered as the "Collegiate School", the institution traces its roots to 17th-century clergymen who sought to establish a college to train clergy and political leaders for the colony. In 1718, the College was renamed "Yale College" to honor a gift from Elihu Yale, a governor of the British East India Company. In 1861, the Graduate School of Arts and Sciences became the first U.S. institution to award the Ph.D. Yale became a founding member of the Association of American Universities in 1900. Yale College was transformed, beginning in the 1930s, through the establishment of residential colleges.
Hallowed Halls !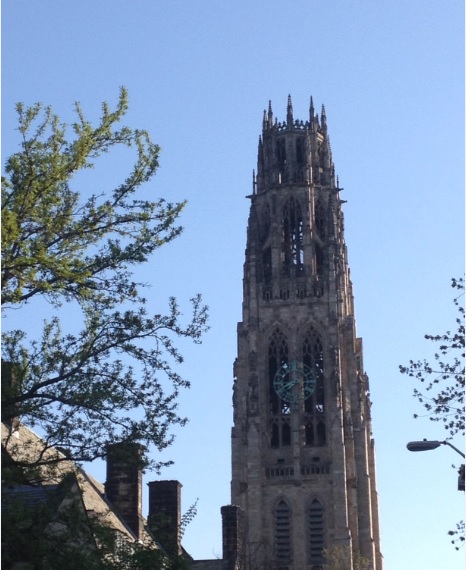 Yale is organized into twelve constituent schools: an undergraduate college, a Graduate School of Arts & Sciences, and ten professional schools; all but two schools have independent faculties and degree programs. In addition to a central campus in downtown New Haven, the university holds athletic facilities in western New Haven, a campus in West Haven, Connecticut, and forest and nature preserves throughout New England. The university's assets include an endowment valued at $20.8 billion as of 2013, the second-largest of any academic institution in the world.
Yale has graduated many notable alumni, including five U.S. Presidents, 19 U.S. Supreme Court Justices, and many foreign heads of state. Moreover, 51 Nobel laureates have been affiliated with the University as students, faculty, or staff.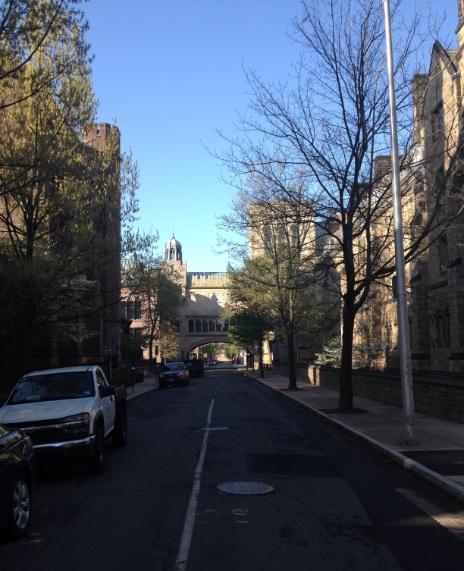 It was founded in 1718, at the behest of either Rector Samuel Andrew or the colony's Governor Gurdon Saltonstall, Boston's Cotton Mather contacted a successful businessman named Elihu Yale, who lived in Wales but had been born in Boston and whose father David had been one of the original settlers in New Haven, to ask him for financial help in constructing a new building for the college. Through the persuasion of Jeremiah Dummer, Yale, who had made a fortune through trade while living in British Raj as a representative of the East India Company, donated nine bales of goods, which were sold for more than £560, a substantial sum at the time. Yale also donated 417 books and a portrait of King George I. Cotton Mather suggested that the school change its name to Yale College in gratitude to its benefactor, and to increase the chances that he would give the college another large donation or bequest. Elihu Yale was away in India when the news of the school's name change reached his home in Wrexham, Wales, a trip from which he never returned. He did ultimately leave his fortunes to the "Collegiate School within His Majesties Colony of Connecticot".
Comparing it to Ann Arbor, it is grudgingly a beautiful campus and the Boys thoroughly enjoyed walking around the storied halls of academe, however, they had to drive back to La Guardia to drop Mike off and both were nervous about the same type of traffic they experienced the day before and started back.
"Bone! Watch the flippin' Car !!!"
Ever since Bone fell asleep driving along the windy roads next to some cliffs in Big Sur on PCH, Mike has not been a fan of Bone's driving. The typical driver on I-95 in Conniecut changes lanes without signaling, weaves into your lane, and rides your butt in the slow lane, generally not great drivers. so when a car was drifting over and Mike thought Bone was not paying attention, his yell scared the feces out of Bone who returned "the favor" by swerving into the next lane and almost flipping the car! The two drove for the next few moments with that scared smell of feces and urine wafting about !
Trip, Postscript
Fortunately there was very little traffic and no further driving excitement. Bone dropped Mike off unusually early (typically they need to run to the terminal!) and headed to Coney Island for Nathan's Famous as a good way to end a junk food trip!
P.S. Bone made it back to B'More in less than half the time it took that Friday!