2013 U of M v.s Notre Dame, Under the Lights!
Berzerkley's own Atomic Dawg
In June 2014 in Bone's own city, Berkley's opened a new hot dog joint, Atomic Dawg ! Atomic Dawg is a remodelled two floor, remodelled house designed as old-school steel and chrome diner with a vegetarian-friendly menu and laid-back vibe with beats like Bob Marley's playing in the background.
This Old House !
Owner Joel Bascow, who is in the music industry, teamed up with close friends to be his business partners to fulfil a lifelong dream of his to open a diner.
Taking on Bascow's vision to make it all happen was West Bloomfield designer Celia Block of Hand painted Rooms. She's been in the business 12 years and said when she was fixing up the 1921 house, she did things to "give it pizazz."
"We wanted to capture the Atomic Age and also make each room different," she explained, adding that the feel gets more retro as guests move to the back rooms.
Gary Brunner the chef, who used to own Café 317 in Royal Oak, promises customers are in for a one-of-a-kind experience at Atomic Dawg, with homemade everything. He says his creations there are good for the tummy and the eyes. "Everything is bright and colorful. It's good looking and good tasting," he explained, while listing off all the freshest toppings used at Atomic Dawg, such as fire-roasted peppers, sweet onions, his grandma's homemade marinara sauce and his special bean veggie burger with herbs and spices.
Mike and Bone eatin' Atomic Dawg's !!!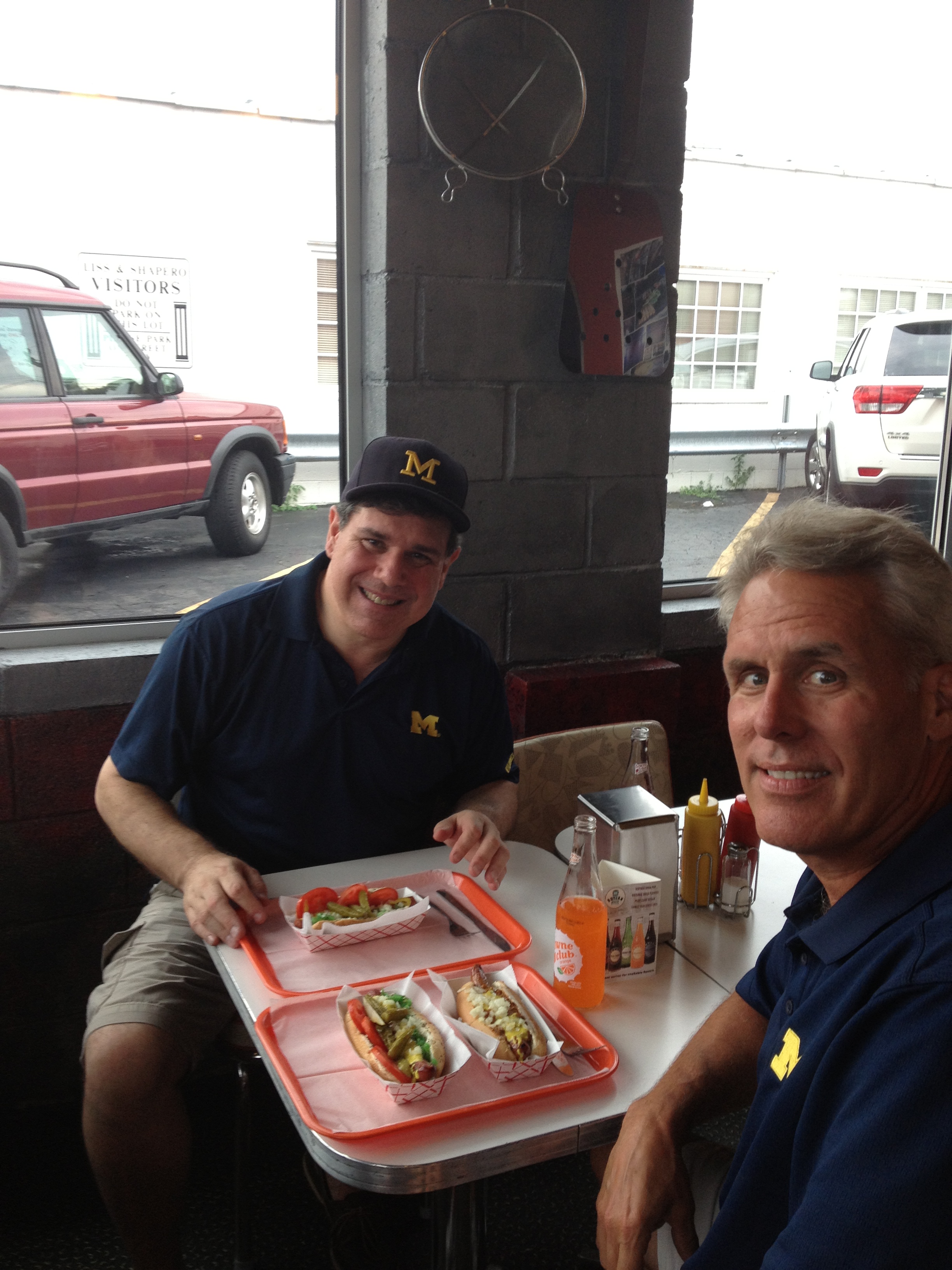 Atomic Dawg serves a series of speciality dawgs
and old local favourite Town Club soda !!
Atomic Dawg – Split and grilled!

Frankfurt Dawg – Sauerkraut and French's mustard

The D – Al's Famous Chilli and onions

Chicago Dawg – Plockmans Dusseldorf mustard, onions, tomatoes, sport peppers, pickle spears, green relish on a poppyseed bun.

Manhattan Dawg – Sauteed sweet onions and French's mustard

BBQ Hog Dawg – Grilled Atomic topped pulled pork, Canadian slaw and homemade BBQ sauce

Hula Dawg – Teriyaki sauce, grilled pineapple, grilled onions, lettuce and Japanese cherry mayo

Russian Dawg – Canadian Slaw or sauerkraut, Swiss cheese and Russian dressing

Swanky Franky Dawg – Grilled Atomic wrapped with bourbon smoked bacon and topped with jalapeno lava cheddar
A "D" Dawg and Chicago Dawg with a coupla Towne Club's !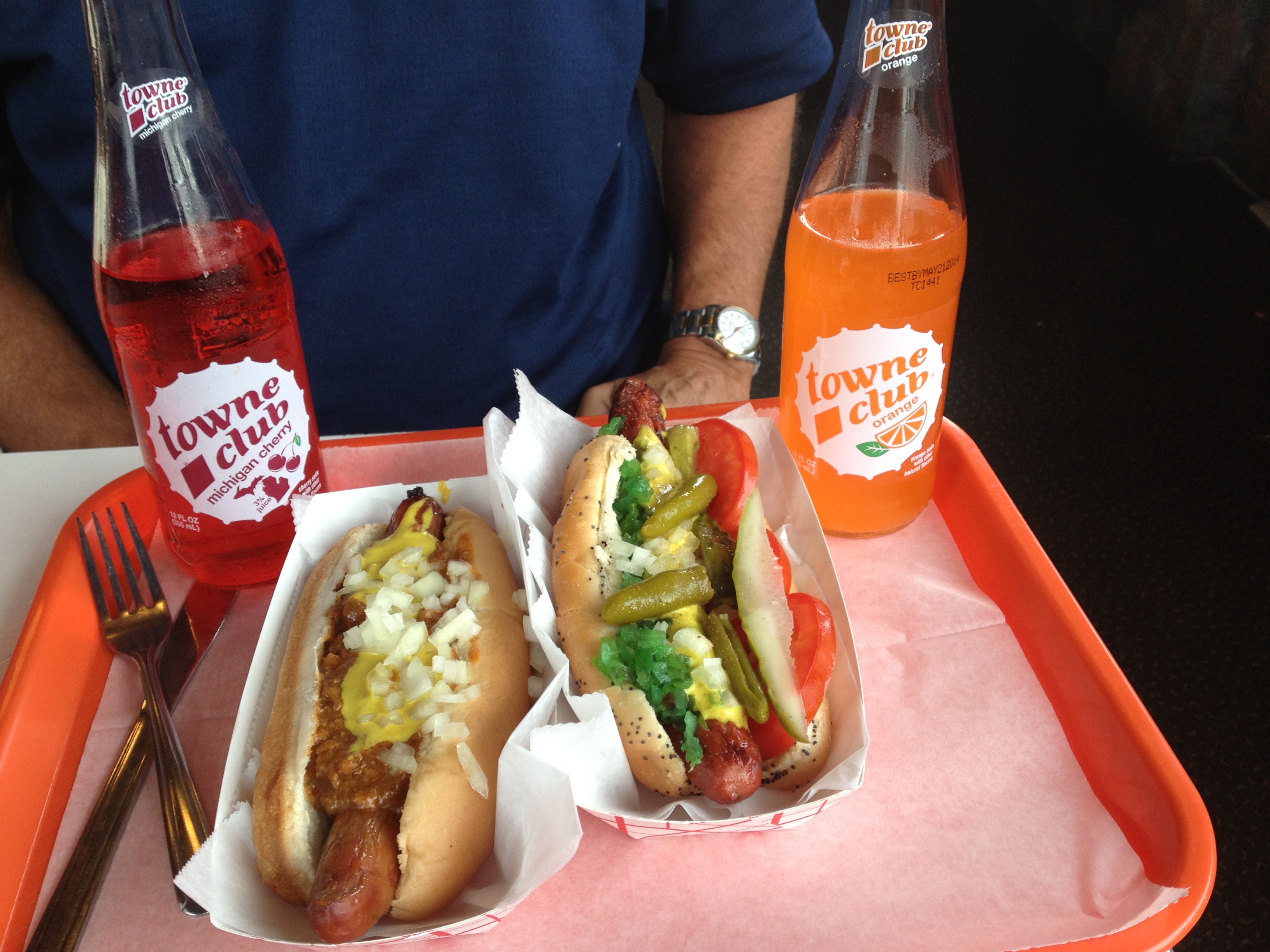 The now two world-class, critical, hot dog aficionados' chowed on the split and grilled dogs with.... Two Thumbs Up !!! Great dog, with a snappy natural casing, great condiments, and cool setting! Who'da thunk that a place that cool would be in Berkley !!!