2014 Hamburgers, Hot Dogs, and Pizza!:

@Super Duper Weenie, Fairfield Connecticut

Main Page > Hot Dogging It Intro >

It all started with the Super Duper Weenie truck in Norwalk, Connecticut. The truck was originally owned by Robert Turner, who currently resides in Carlsburg, California. Turner sold the truck to Neil Farans, who operated a Texaco station in Norwalk where it sat, not being used.

It sat for a few more years, getting bedraggled at the station, until a savior came along and purchased the truck in February 1992. His name was Gary Zemola. Gary was a recent graduate of the Culinary Institute of Arts (a VERY prestigious culinary college.) Gary renovated the Truck to its former glory. When it was completed to his satisfaction, Gary and his Super Duper Weenie truck began operations.

For the next seven years, Gary operated the truck seasonally from different locations in and around Fairfield, Connecticut. He established a following of customers who would search out the truck around town and would sometimes wait up to an hour to be served.

By the seventh year, the popularity of the homemade relishes and chili that made the weenies super duper, along with the fresh-cut fries, created a demand that outgrew the capacity of the truck.
Super,,, Duper,,, Weenie !!!!! (Nottin' else need be said!)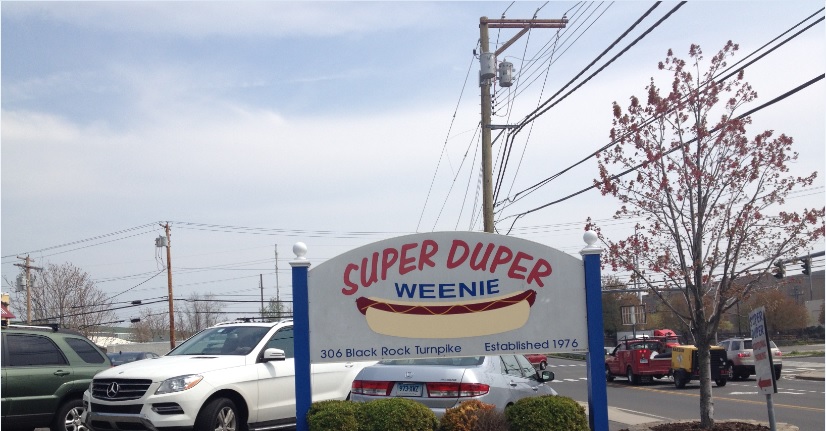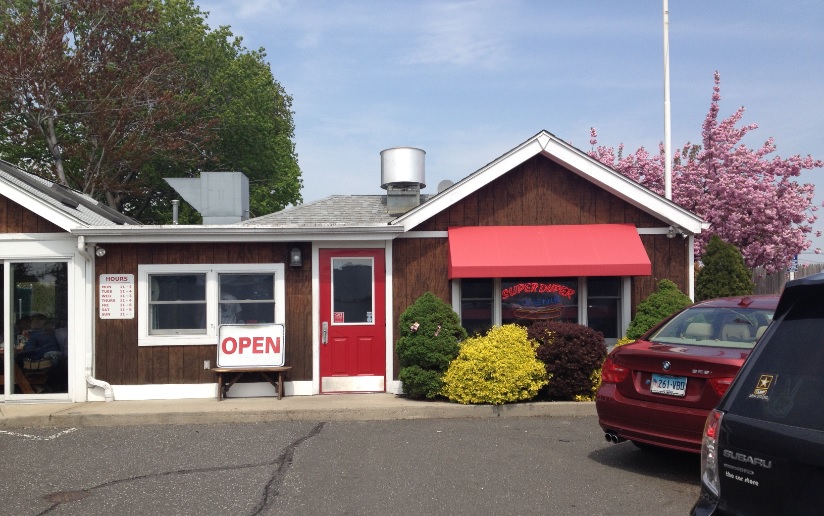 So in the summer of 1999, Gary along with his Duka Street neighbors, John and Lorin Pellegrino had an idea. They approached the parents of John and Lorin about the possibility of transforming a little old building on Black Rock Turnpike in Fairfield into the permanent location for Super Duper Weenie. Theresa and John Pellegrino enthusiastically agreed and even financed the boys in their endeavor.
From the start, the boys decided that they wanted their new place to be quaint, open and inviting. They agreed that nothing would change from the operation of the truck. All the condiments would be made from scratch on the premises, the fries would still be pressed from fresh potatoes daily, the produce would be purchased only from local farms and purveyors, and the hot dogs and rolls would be made to their specifications.
From there, Super Duper Weenie has continued to serve their customers and gained national fame. The "Hot Dog Program", David Letterman," Jane & Michael Stern's "Road Food Book," and the Prism Award winning movie, "Bobby Dogs". The Gary and Team have catered for Martha Stewart Living, Sandra Lee and Guy Fieri of "Diners Drive-ins and Dives."
Entering Super Duper Weenies, the Mike and Bone observed that the place was PACKED, and back behind the grill was Gary orchestrating his weenie magic !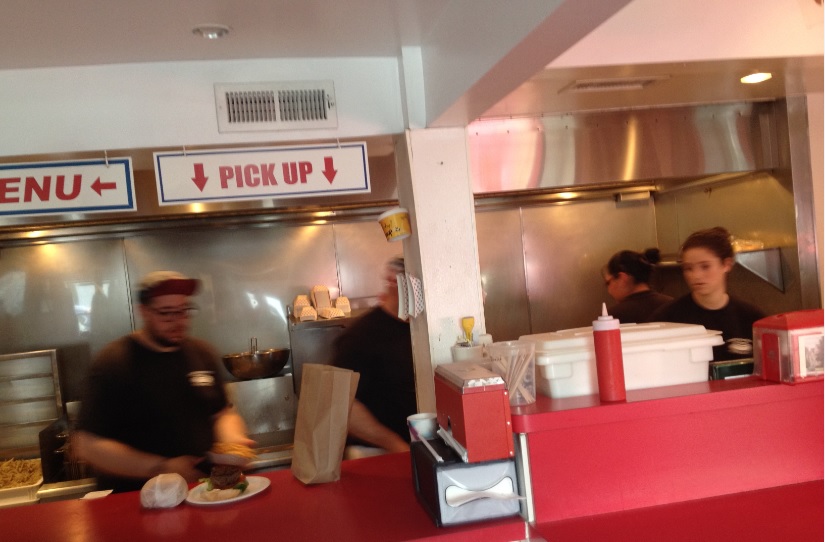 Mike and Gary (with the American Flag Bandana!)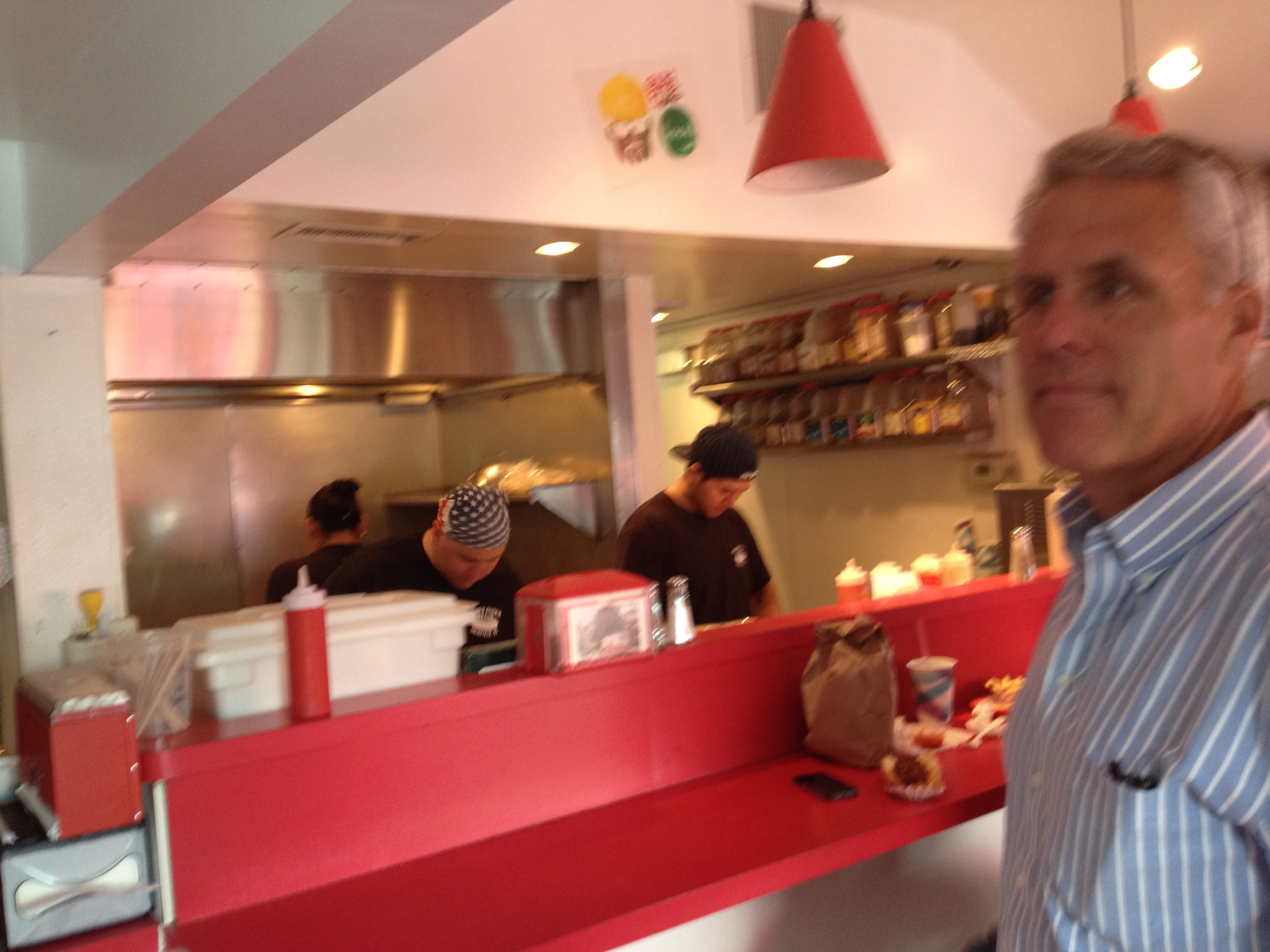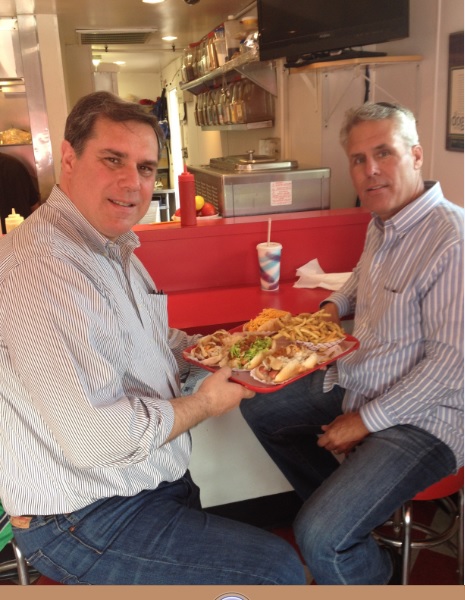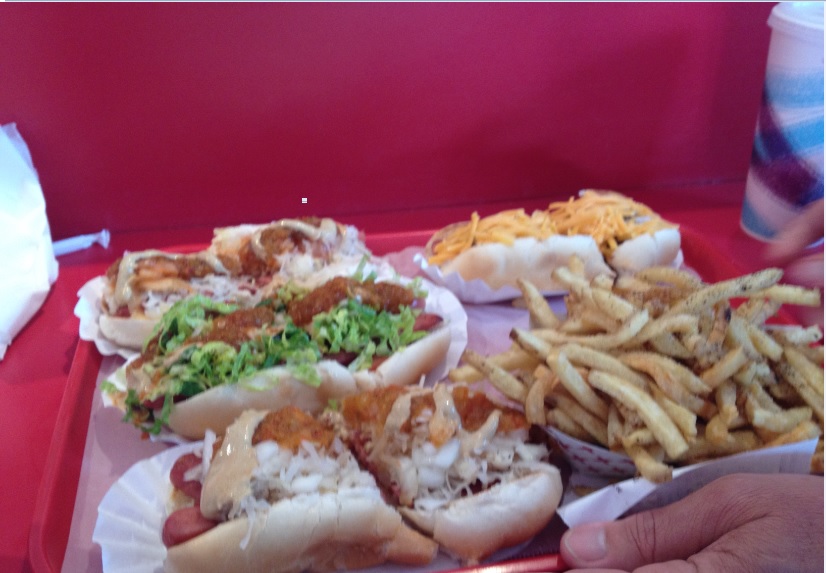 Despite being very busy the line moved quick and Mike and Bone ordered four of Super Duper Weenies specialty dogs, which included:
A New Englander - Sauerkraut, bacon, mustard sweet relish & raw onion

A Chicagoan - Lettuce, tomato, mustard, celery salt, hot relish & pickle

A Dixie - Homemade meat chili & homemade Cole slaw

A Cincinnatian - Cincinnati style chili, cheddar cheese & chopped onions
As they were paying, Bone asked Gary to cut them in half so they could perform a taste test, As Gary was cutting them asked "why for" and when Bone told him that he and Mike flew all the way from Michigan to try his Super Duper Dogs, he turned red and said "Ah C'mon really?!?" and seemed very flattered and humbled. A very cool dude.
As the Boy's tasted each dog, you could tell the culinary excellence and care Gary has with his recipes, with the New Englander being the favourite of both Mike and Bone.
The Weenie's truly were Super Duper with two huge thumbs up and another Hot Dog Program Stand down !