2008: Nebraska - 30 vs. Virginia Tech - 35: Go Big Dead !
Nebraska has two things to offer the Country; Corn and Cornhuskers ! Now Mike and Bone had threatened a Tour of Nebe for years. Mike used to live in Omaha and became a Husker Fan and one of Bone's buddy's had attended UNL and had in fact gotten into a couple of Frat brawls in Lincoln. So when one of Bone's co-workers Si Prather, offered to get tickets for a Virginia Tech Husker Game, the Boys couldn't refuse. So the term Go Big Red, would have a completely different meaning after a visit from the terrors of Mike and Bone !!
Heading to the Game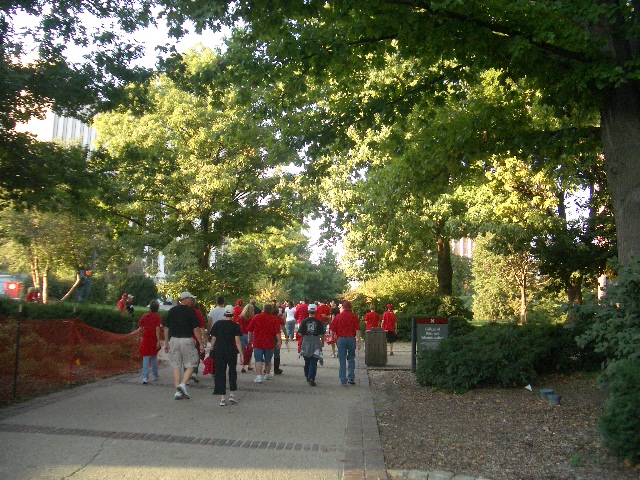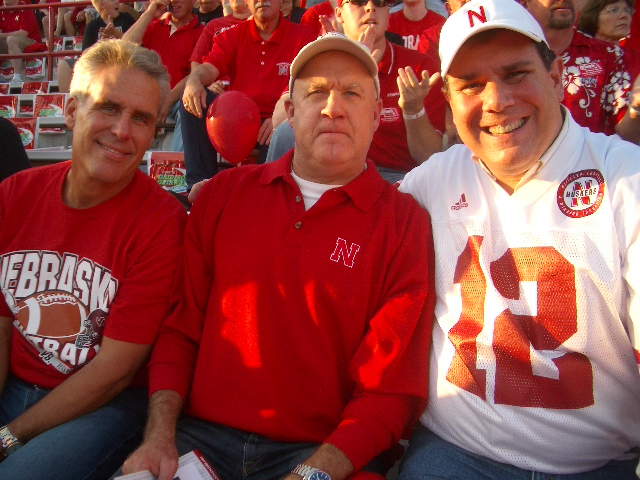 As they walked to the Game, Si regaled the Boys with stories of his time at UNL and how he loved the Huskers growing up. The walk to Memorial Stadium was fast and easy, getting to their seats,,,, it was hard to sit in their seats however ! Being an old stadium the seat space was only 2/3 the size of the Big House seat size, which is ridiculously small !
Mike is the guy dressed in Red !!!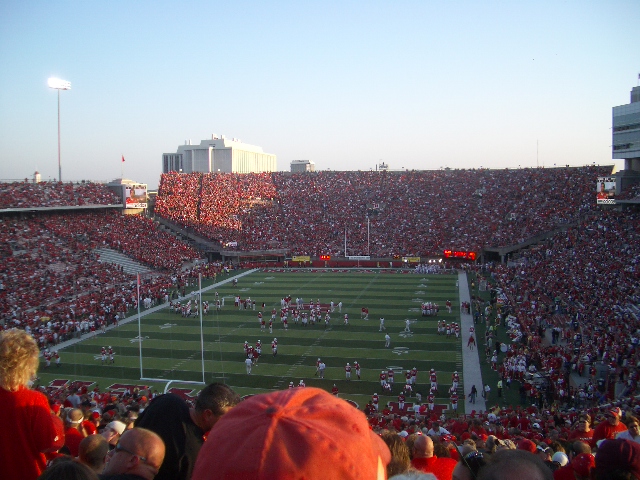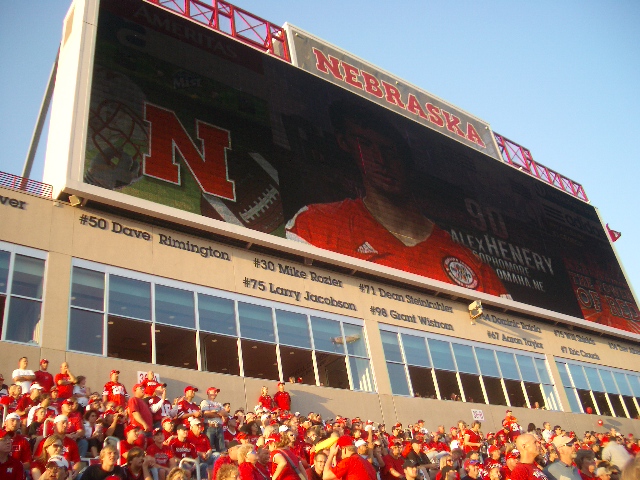 Memorial Stadium was much different from what Bone remembered in the early 80's. It was much more of a "Multi-Media" event with music and huge screen televisions.
Cornholes !!!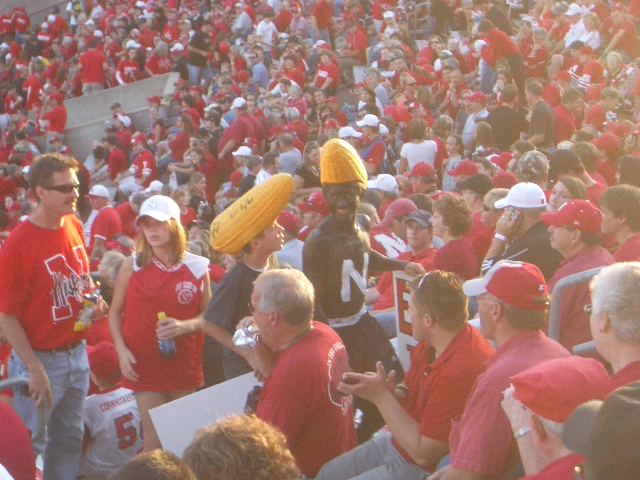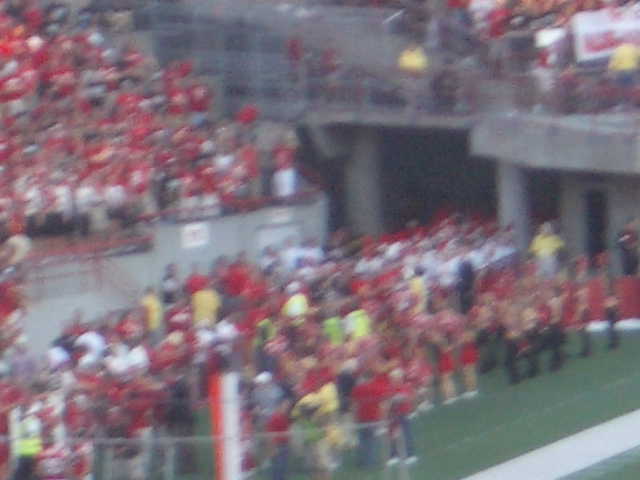 But there was still much that was familiar, throughout the stadium, people were chanting Gooooo Biiig Rayyyyd!!! and as shone above, in-breeding was still rampant in Nebraska ! After 20 minutes of warm up, the Band took the field !
Practice makes Perfect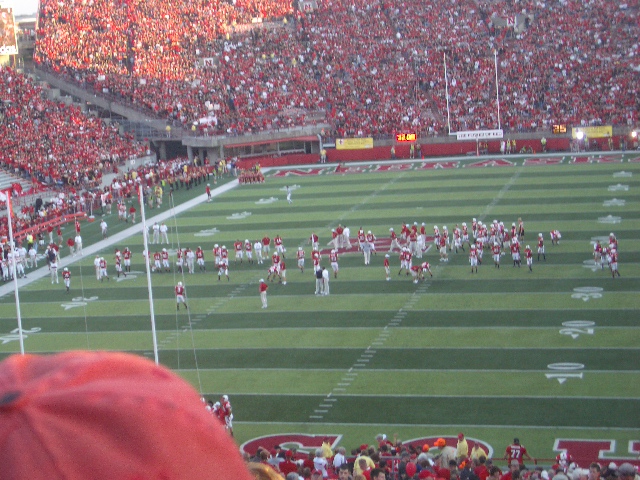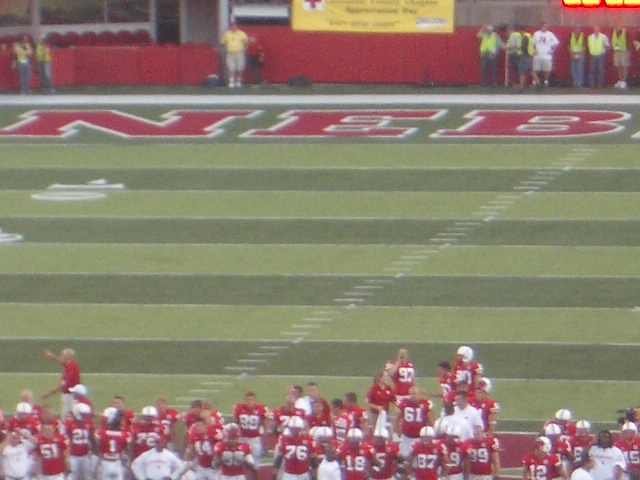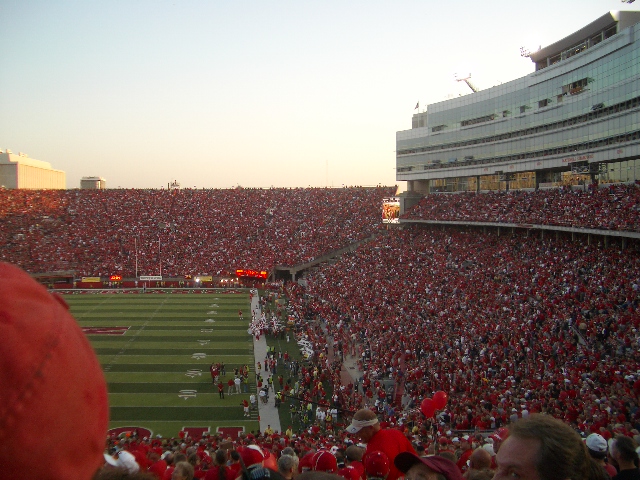 Go Huskers ! The Cornhusker Marching Band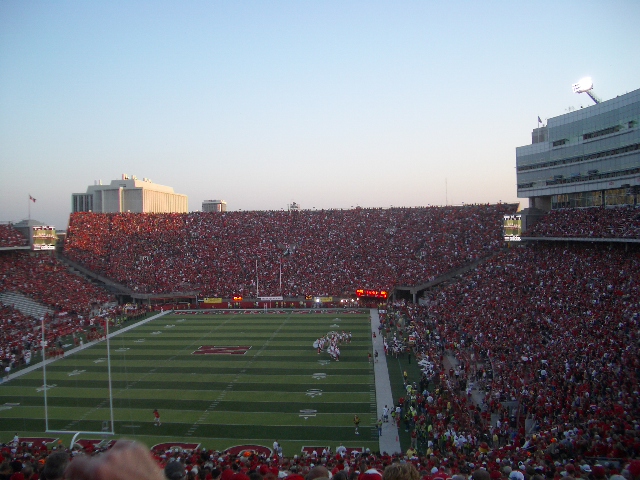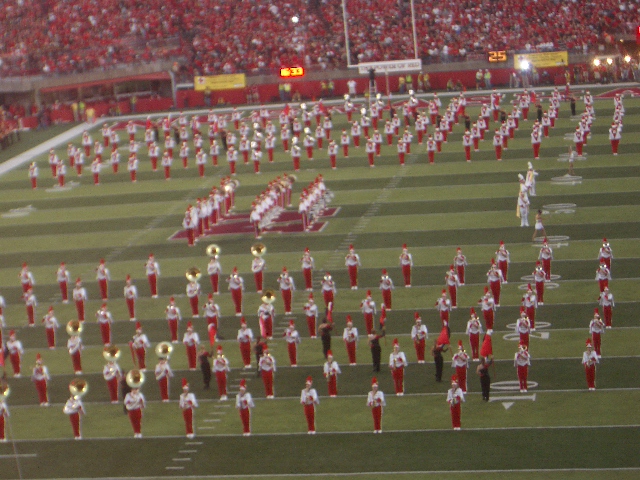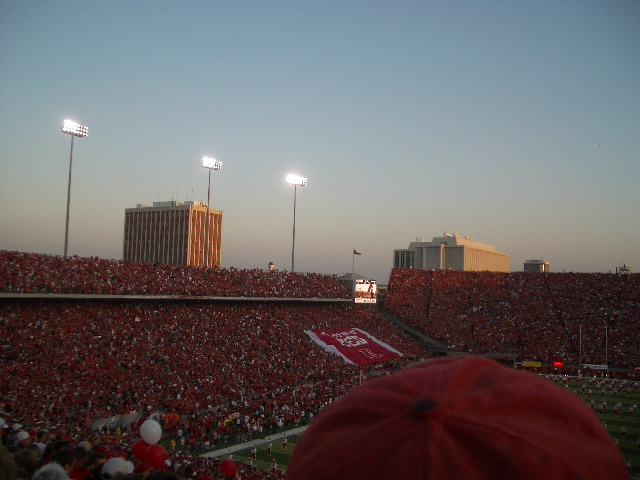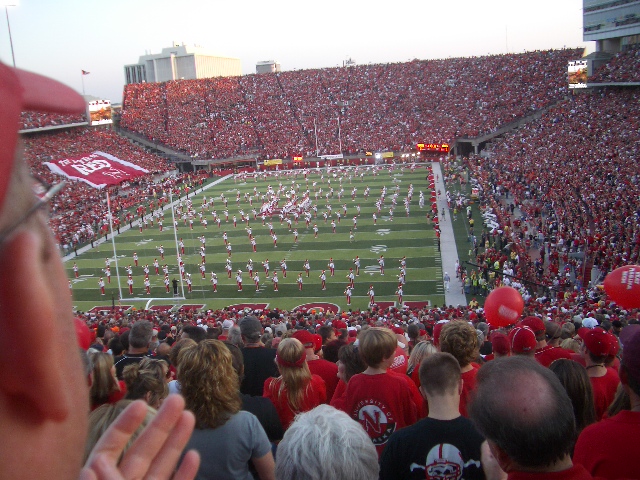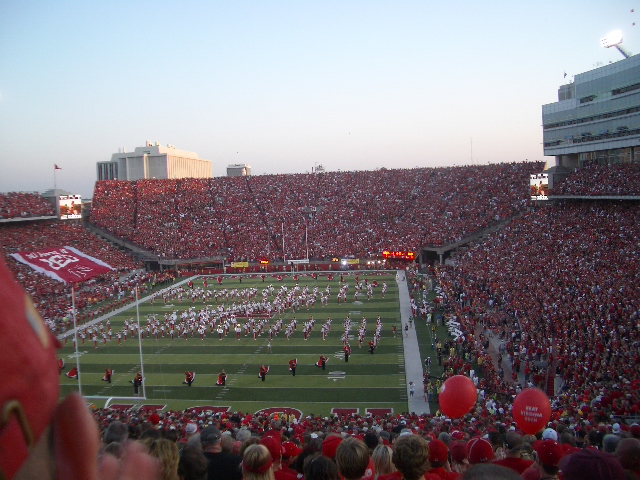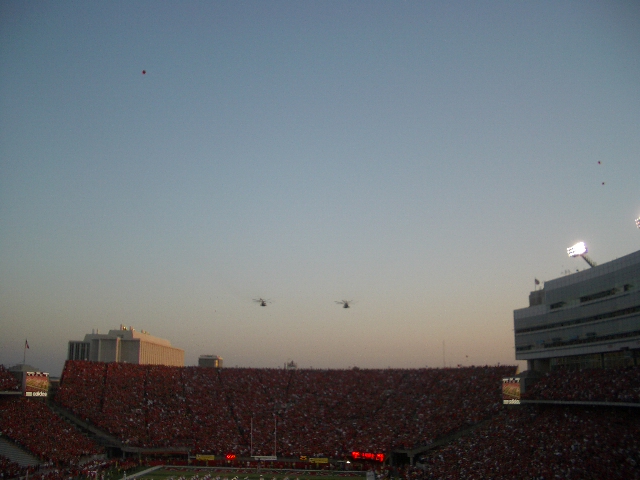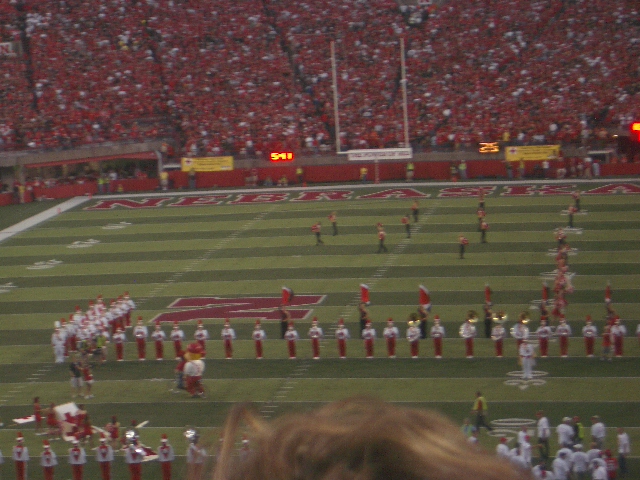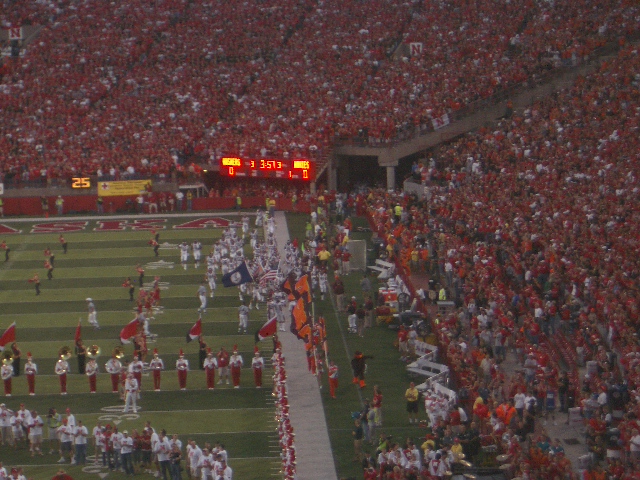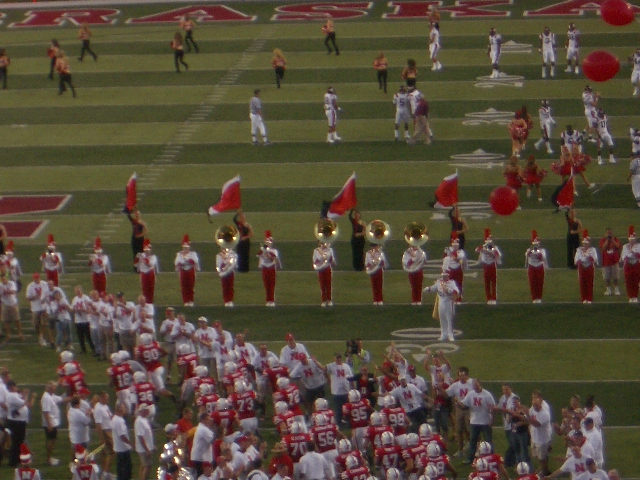 Hanging Hughey's
During the National Anthem, two Hughey Chopper flew low and slow over the Field of play.
Game On !!!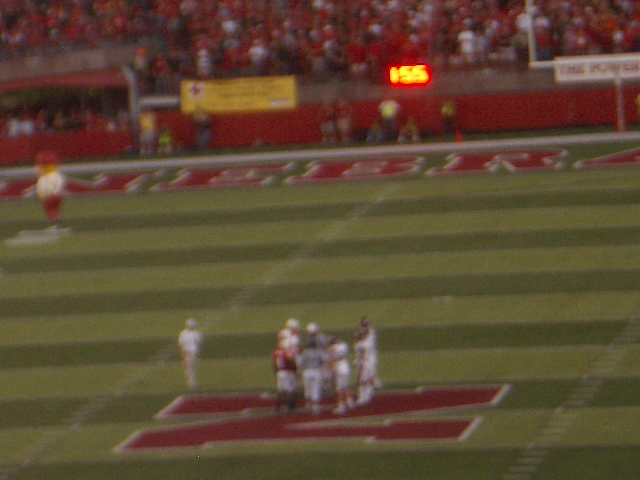 The game started with Va. Tech simply owning the Nebe Defense, with touchdown drives in their first two possessions.
Lovely Lincoln Memorial Stadium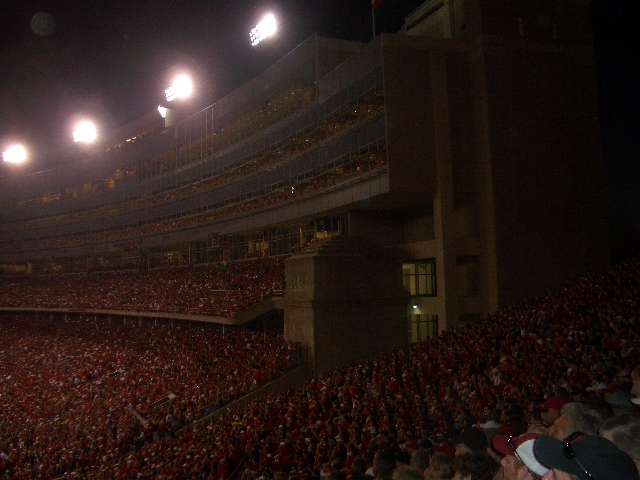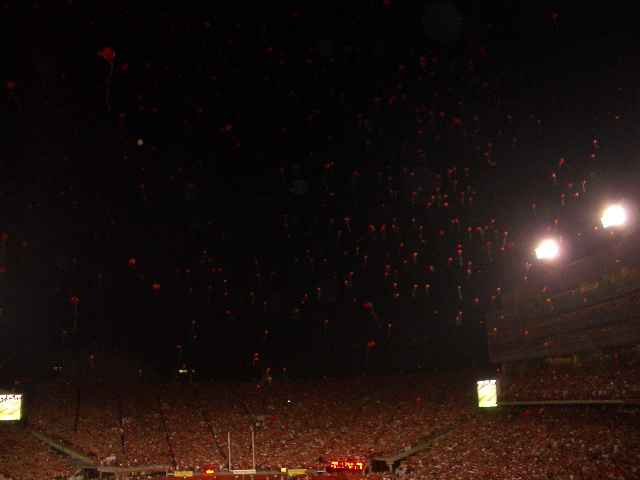 Va Tech, Too much Tyrod Taylor !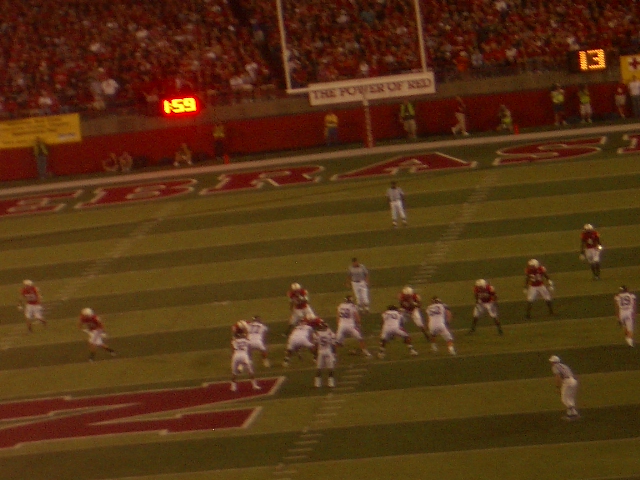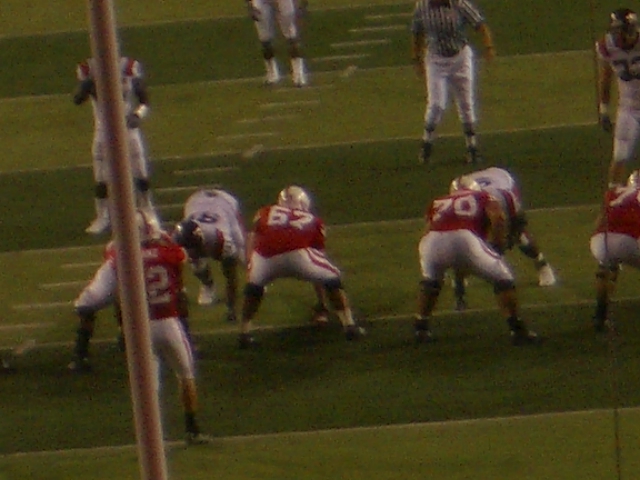 Despite having a defensive minded coach in Bo Pelini, Va Tech scored on six straight possessions in the second and third quarters and held off a late Nebraska rally to hand the Huskers their first loss of the season much to the Boys chagrin. For a while there was an eerie similarity to the Michigan Wisconsin Game, except this time, the home team lost.
Nebraska trailed 28-10 late in the third quarter but rallied to cut the deficit to 28-23 with more than seven minutes remaining. But the Huskers (3-1) could get no closer, as a pair of really stupid penalties kept the decisive Virginia Tech drive going, resulting in the Hokies' final touchdown and with 2:28 left to give VT a 35-23 lead.
Despite facing a two-touchdown deficit with less than 2:30 remaining, the Huskers refused to fold. Senior quarterback Joe Ganz, who finished with 278 yards, engineered a four-play, 80-yard touchdown drive that took just 56 seconds. The drive was capped by a 17-yard touchdown strike to Todd Peterson to pull the Huskers within 35-30 with 1:32 left.
Alex Henery then took the field for an onside kick attempt that was secured by Virginia Tech tight end Greg Boone at the NU 43. The Huskers had two timeouts left and were able to force a Hokie punt. Brent Bowden, who shanked a 21-yard punt and watched Nate Swift return a punt 88 yards for his first career return touchdown on his two previous punts in the fourth quarter, lofted a 30-yard punt to stick NU at the 10 with 25 seconds left.
With no timeouts remaining and 90 yards standing between the Huskers and victory, Ganz again got Nebraska moving. He hit Niles Paul on a 21-yard pas, then found Peterson deep across the middle on a crossing route. Peterson hauled in the pass and crossed midfield before being stripped of the ball by VT cornerback Stephen Virgil at the Hokie 44. Virgil returned the fumble eight yards to Husker 48, and Virginia Tech quarterback Tyrod Taylor took a knee on the final play to secure the win for the Hokies.
Time Ran out on a comeback !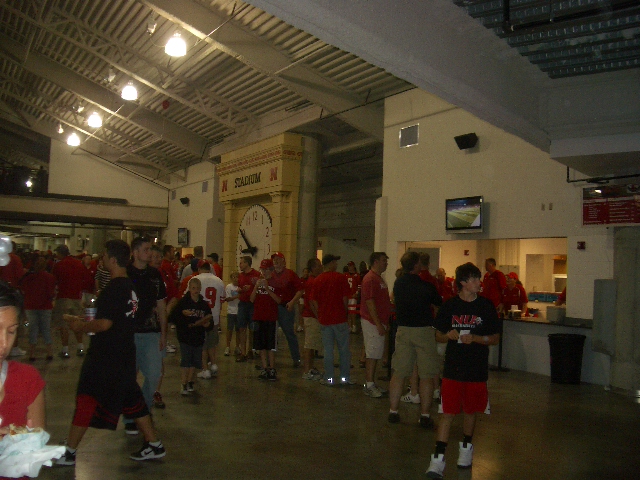 Coach Tom and Bone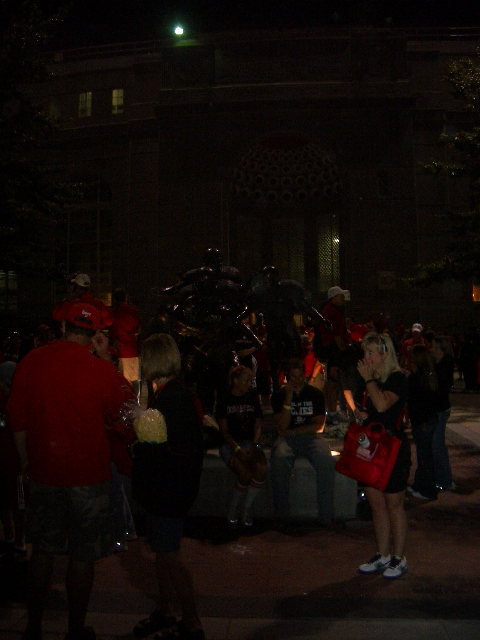 At the end of the Game Bone stopped to pay tribute to Coach Tom Osborn. Coach Tom reminded Bone of Bo and only rooted against him twice. In 1985 in the Fiesta Bowl when Tom played Bo and lost, and in 1998 vs. Tennessee where he won against a timid Peyton Manning.