The 2009 Motor City Bowl

Ma

rshall

- 21 vs.

Ohio

- 13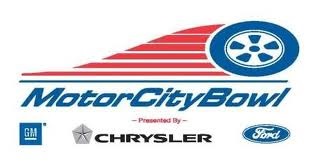 The Buddy Bowl
The day after Christmas Mike drove down from GR to meet Bone and a couple of Bone's Meechigan Football buddies for an evening of absolutely no-care football at the Little Ceasar's Pizza Bowl ( formally named Motor City Bowl). The evening's entertainment was to be provided by the Marshall Thundering Herd and the Ohio Bobcats, and a planned bar tour romp in D-Town. Mike and Bone had sequestered a Hotel Room Downtown so they could party freely in the City Limits. First, however the Boys settled in for some foootball !
Fabulous Ford Field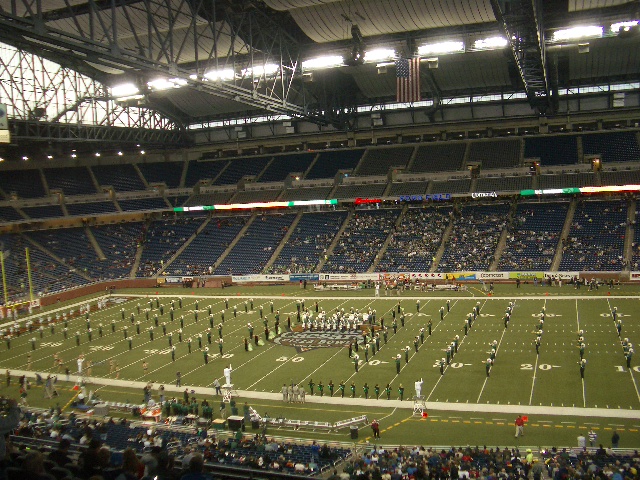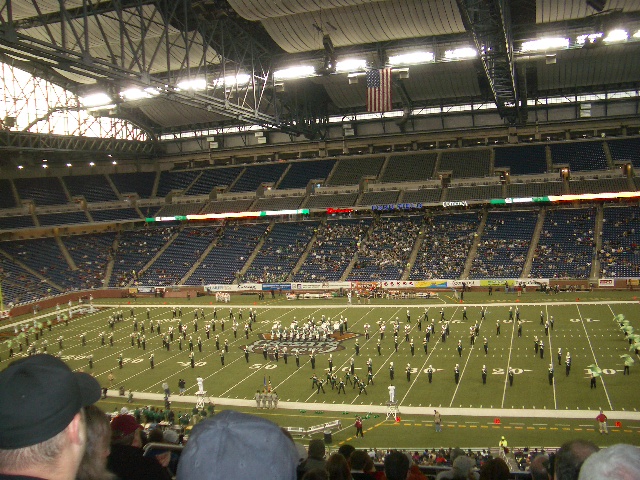 The great thing about the Motor City,,, err, sorry ! Little Caesar's Pizza Bowl is that:
You generally don't care (too much) who wins

The seats are much more comfortable than Michigan Stadium

Ford Field serves good beer !!!
Sitting the Club Section of Ford Field, the Michigan contingent settled their families in for a pretty good set of Marching Bands.
Mike and Bone jamming on Football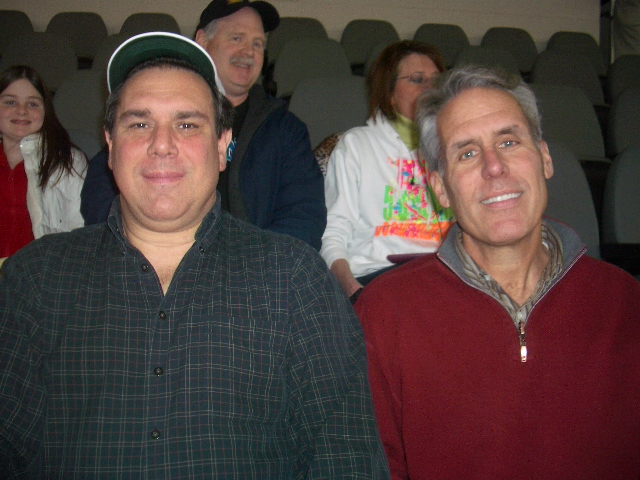 Ron and Garret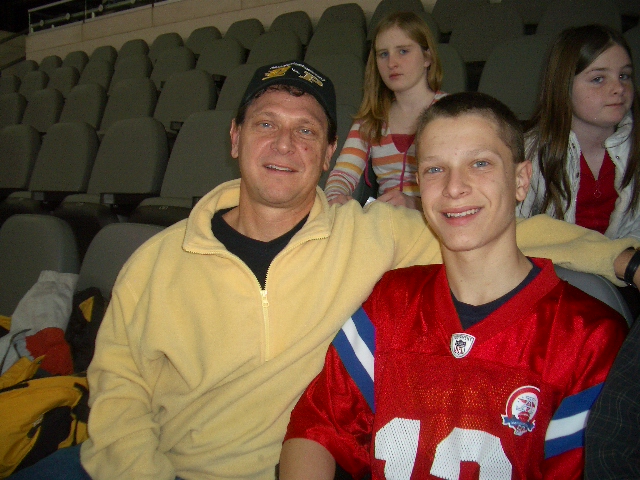 Ed & Kathy Woods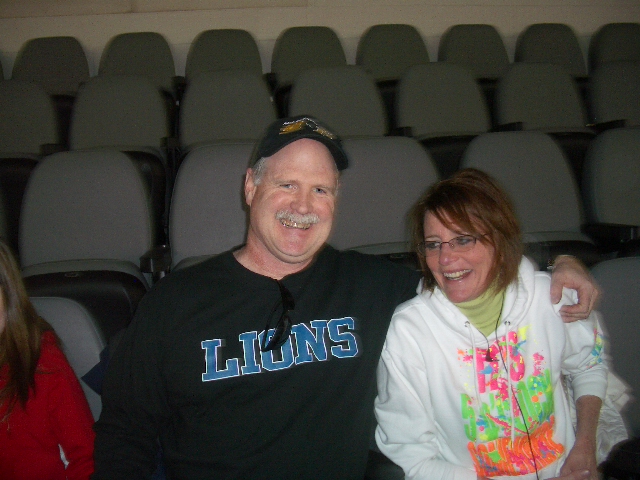 The Marshal Victory Celebration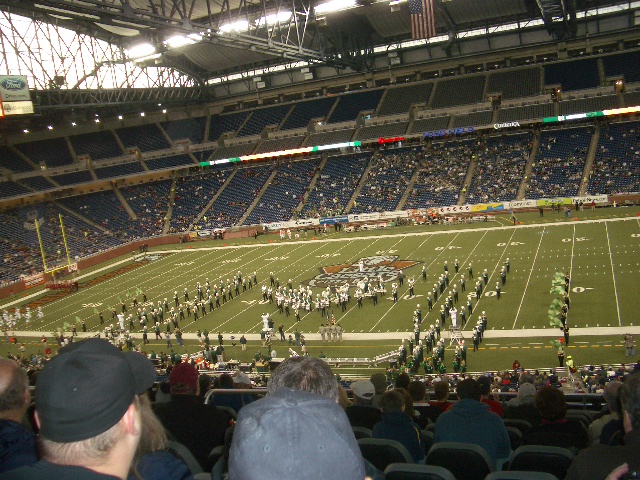 It was a good game with a number of lead changes Marshall began to dominate. Marshall senior defensive end Albert McClellan posed by the Little Caesars Pizza Bowl trophy during a luncheon earlier this month and said, "We have some of these in our trophy case back at home. We'd like to bring this one back, too." McClellan's goal was accomplished Saturday afternoon when Marshall beat Ohio at its own game in the Little Caesars Pizza Bowl at Ford Field. Ohio was known for its strong, opportunistic defense and special teams. The Bobcats entered the game with a nation's-best 36 takeaways, including 20 interceptions. They also had returned four punts for touchdowns. Well, it was Marshall's ability to force turnovers and score on special teams that made the difference in a 21-17 victory over Ohio in the bowl game, played before an announced crowd of 30,311. The Thundering Herd forced two turnovers -- a fumble recovery by McClellan in the second quarter and an interception by DeQuan Bembry in the final minute. They also scored on a 58-yard punt return by Andre Booker for their lone special team's touchdown this season.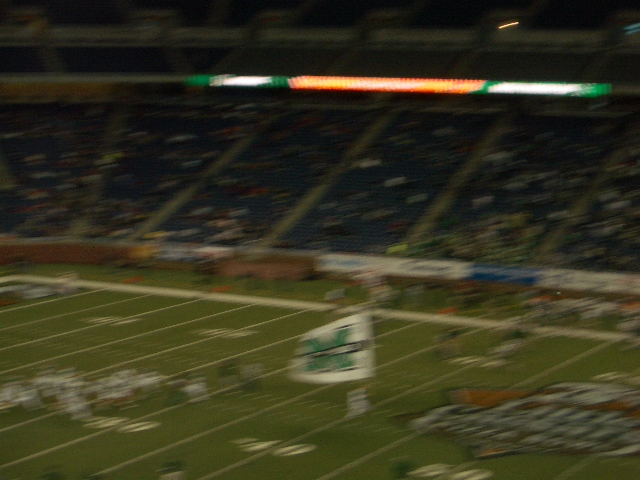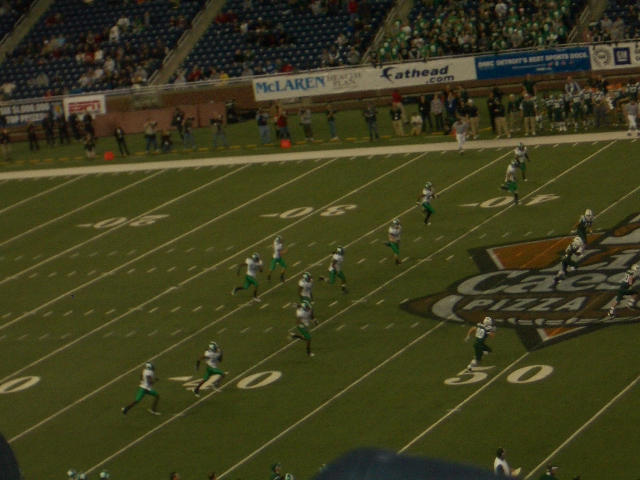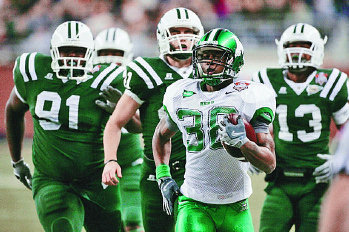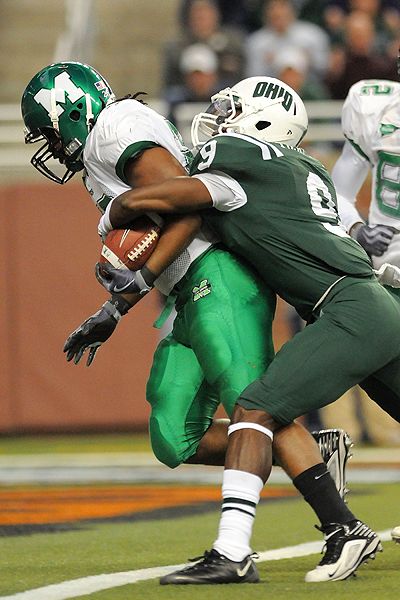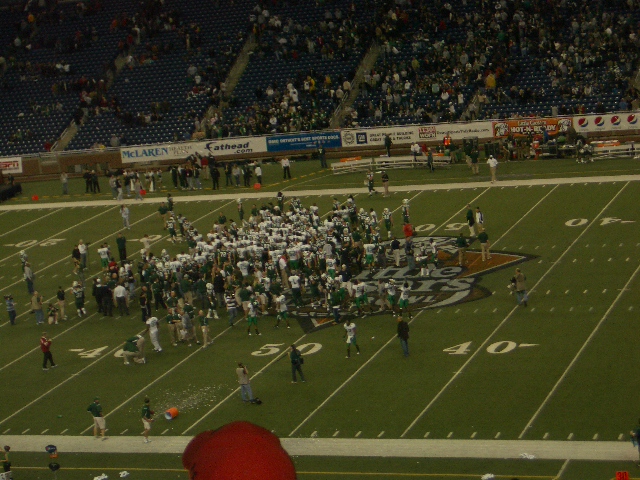 "We wanted to make sure we sent our seniors out a winner," Marshall interim coach Rick Minter said. "I told them back in August when I had a chance to talk to the team that you are going to go down as the senior class that people are going to laugh at because you never had a winning season or you are going to ultimately become the senior class that bridges the gap from also-ran football to hopefully great football. "There's brighter days ahead for Marshall football. I really believe that." The bowl victory earned Marshall a winning season. The Herd finished 7-6 and improved to 4-1 in Metro Detroit bowl games, winning the last four, including the Motor City Bowl from 1998-2000. Minter also won for the first time in Detroit after losing the Motor City Bowl in 2000 (Marshall) and 2001 (Toledo) as head coach of Cincinnati. Minter, Marshall's defensive coordinator, enjoyed his short time as the Herd's head coach. John "Doc" Holliday was named the new head coach earlier this month. Minter, who helped Notre Dame earn BCS bowl appearances in 2005 and '06 as its defensive coordinator, should have no trouble finding a job, especially after Saturday's performance. Marshall limited Ohio to 123 total yards, 12 on the ground on 24 attempts. It had quarterback Theo Scott on the run all game, forcing him into two turnovers and sacking him four times.
"Our defence came to play," Minter said. "The band of brothers on defence have been doing a great job for most of the year and they put the hammer down today when it counted the most." And Ohio's defence failed to reach its goal for once. The Bobcats wanted to leave Ford Field with an even 40 takeaways. They were able to force only one, a 75-yard fumble return for a score to cut the deficit to 21-7. Ohio rallied in the second half. It had a chance to take the lead with 10 minutes left, but Scott's third-down pass from the Marshall 12 fell incomplete and Matt Weller then missed a 29-yard field goal. Marshall redshirt freshman running back Martin Ward (nine carries, 72 yards, two TDs) was named bowl MVP. He will be remembered for his 12-yard TD run to open the scoring when he broke three tackles. Marshall left with a winning record, while Ohio will have to wait another year to try to earn its first bowl win in school history.
With the Game over, Mike and Bone bid adieu and farewell to the Nitschke and Wood Families for some much more adult entertainment in the local Deetroit pubs and dive bars.