The 2012

Little Caesar's Pizza Bowl

Central Michigan

- 24 vs.

Western Kentucky

- 21
More Football and Pie !
The 2012 edition of the funniest of Bowl Game Name's almost always gets a slice of Mike and Bone's Holiday time ! This year Mike and Bone, went sans friends, friends families, or families, as to maximize the football and beer !
Meeting on a Wednesday afternoon the customary 26th of December at Bonicello (Bone's Pad), Mike and Bone headed on down to Fabulous Ford Field !
Mike, Anticipating a nice cold, beer !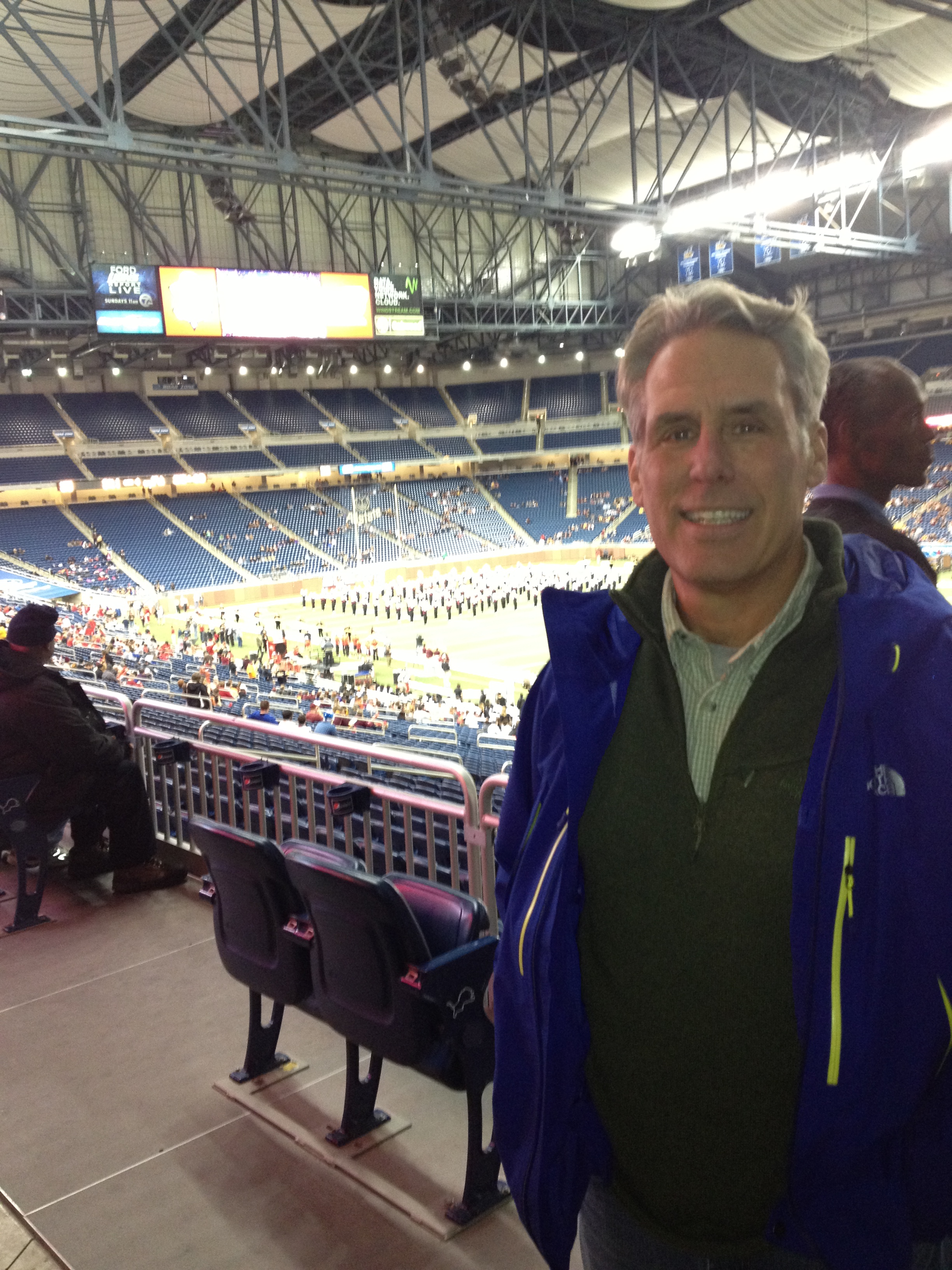 The with beers in hand, Mike and Bone grabbed their seats in the Club Section to see the local MAC Central Michigan Chippewa's against the Western Kentucky Hill Topper's !
The Central Michigan Marching Band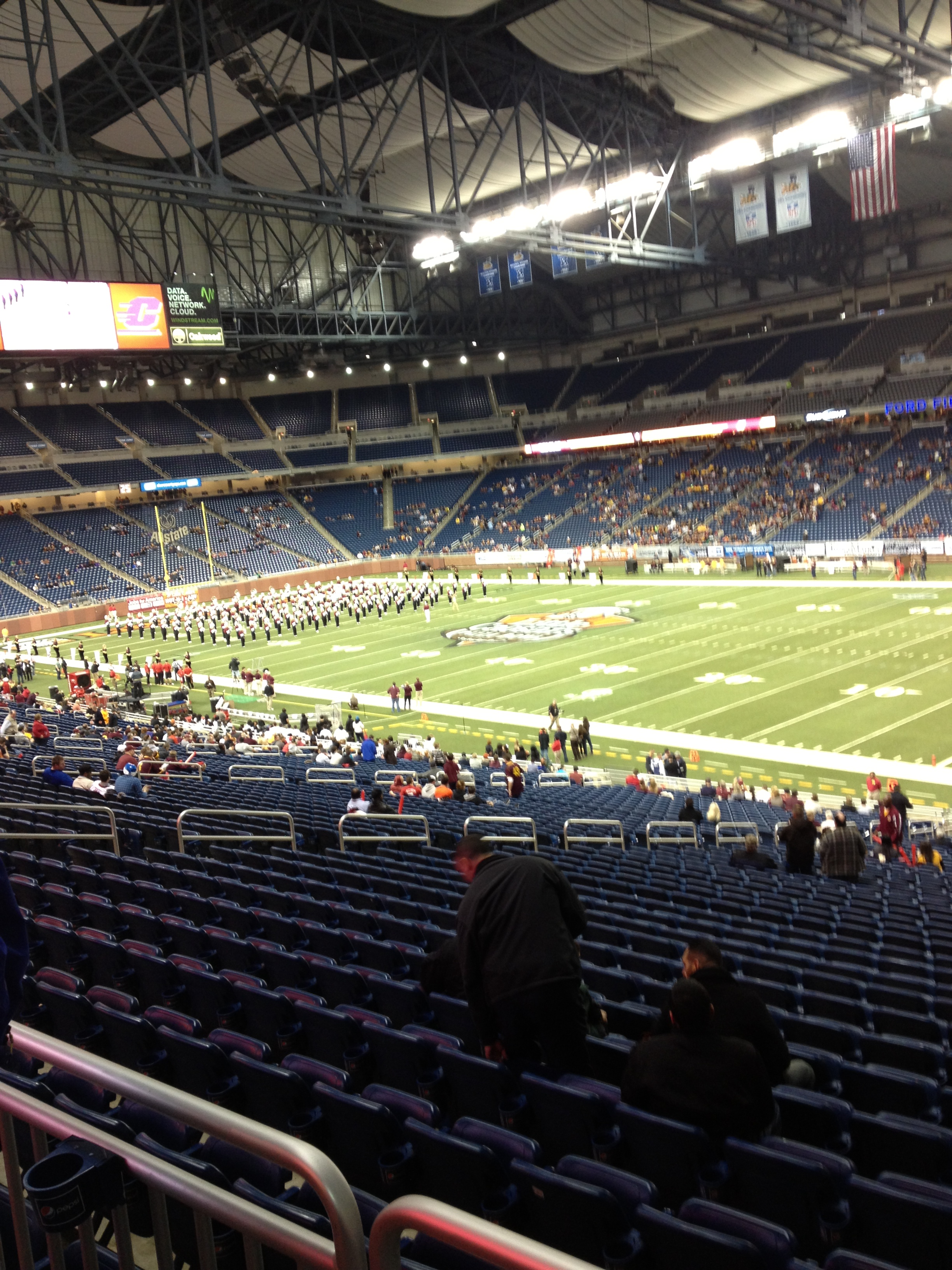 Central Michigan,,, takes the field !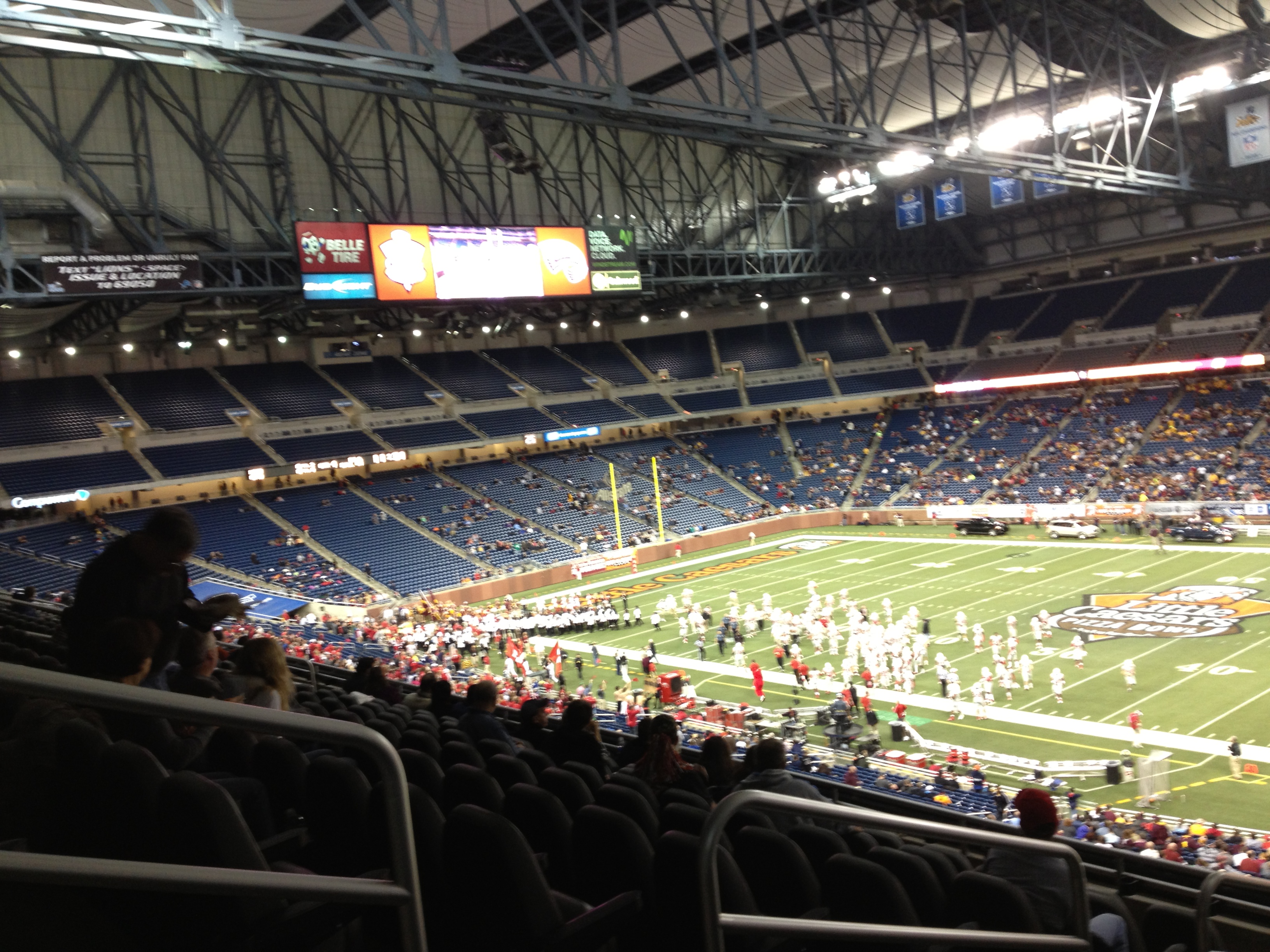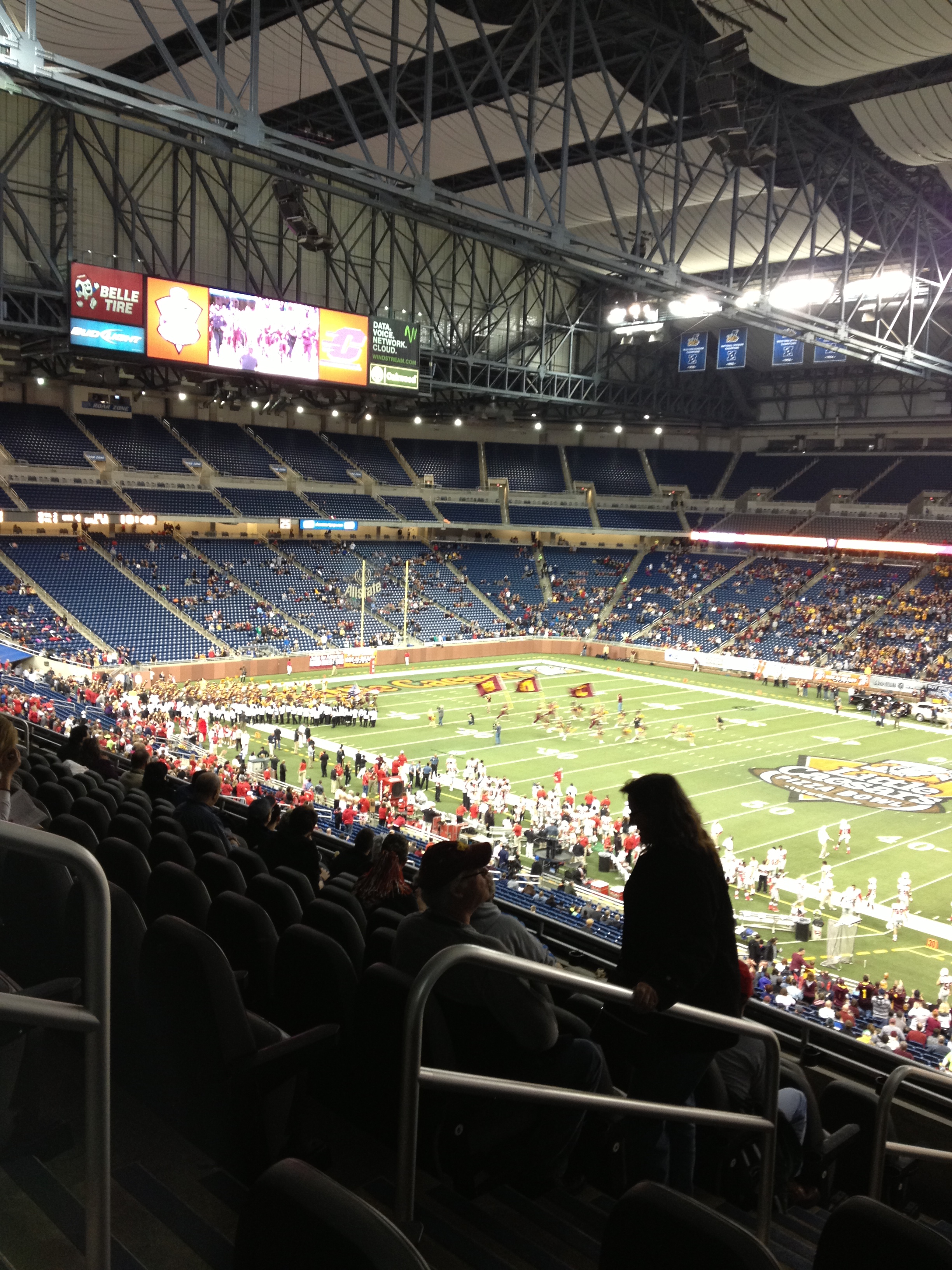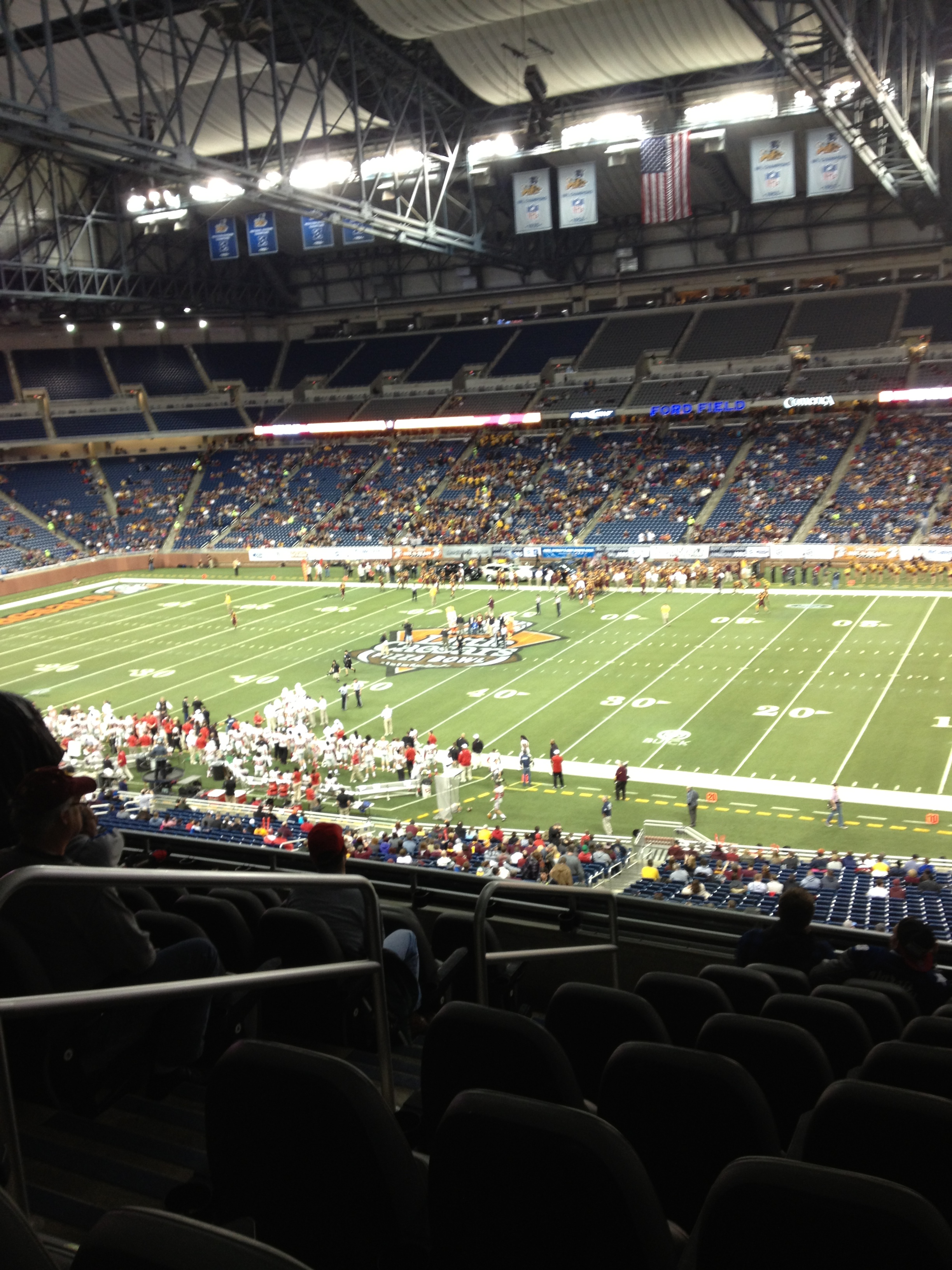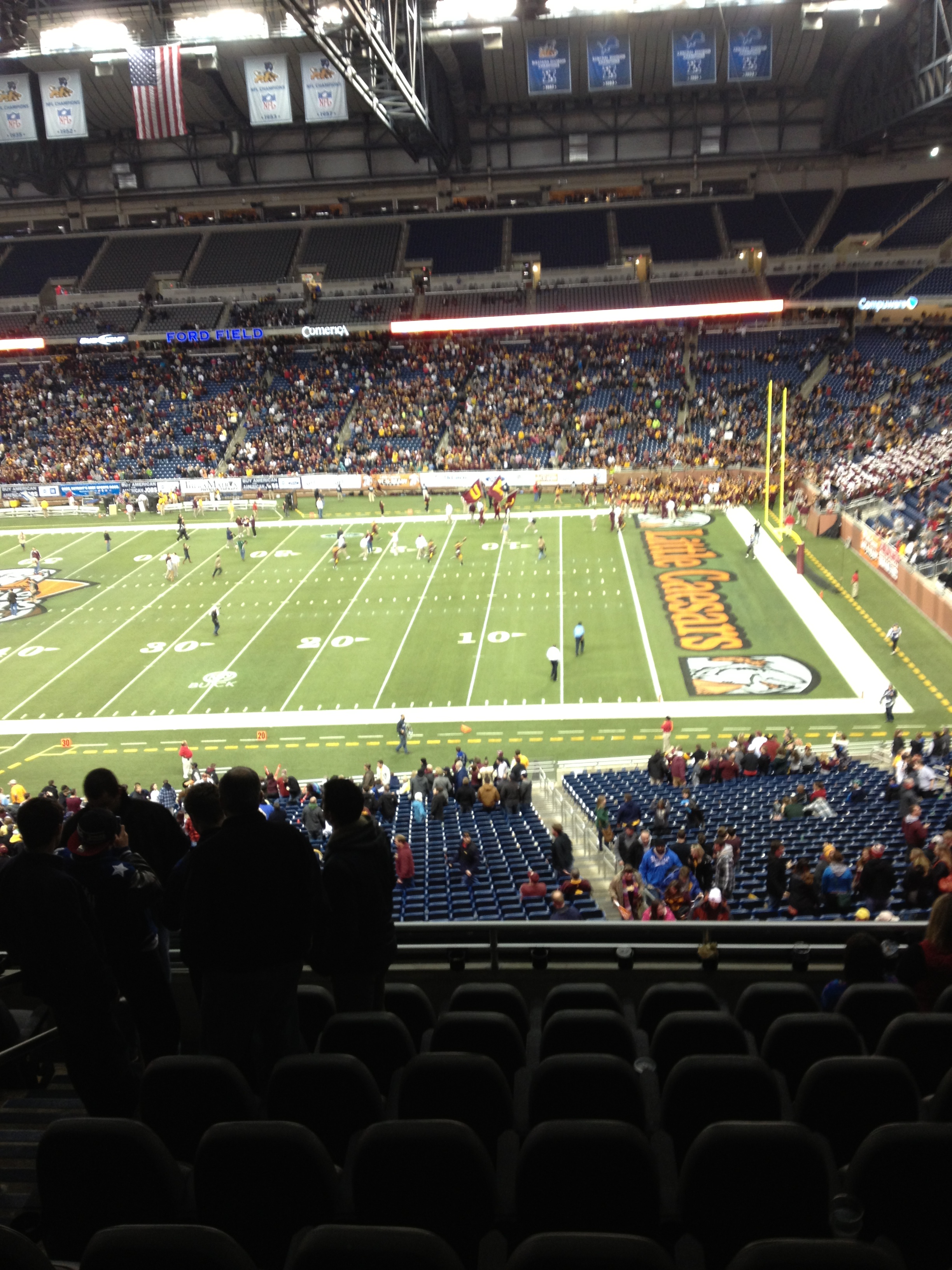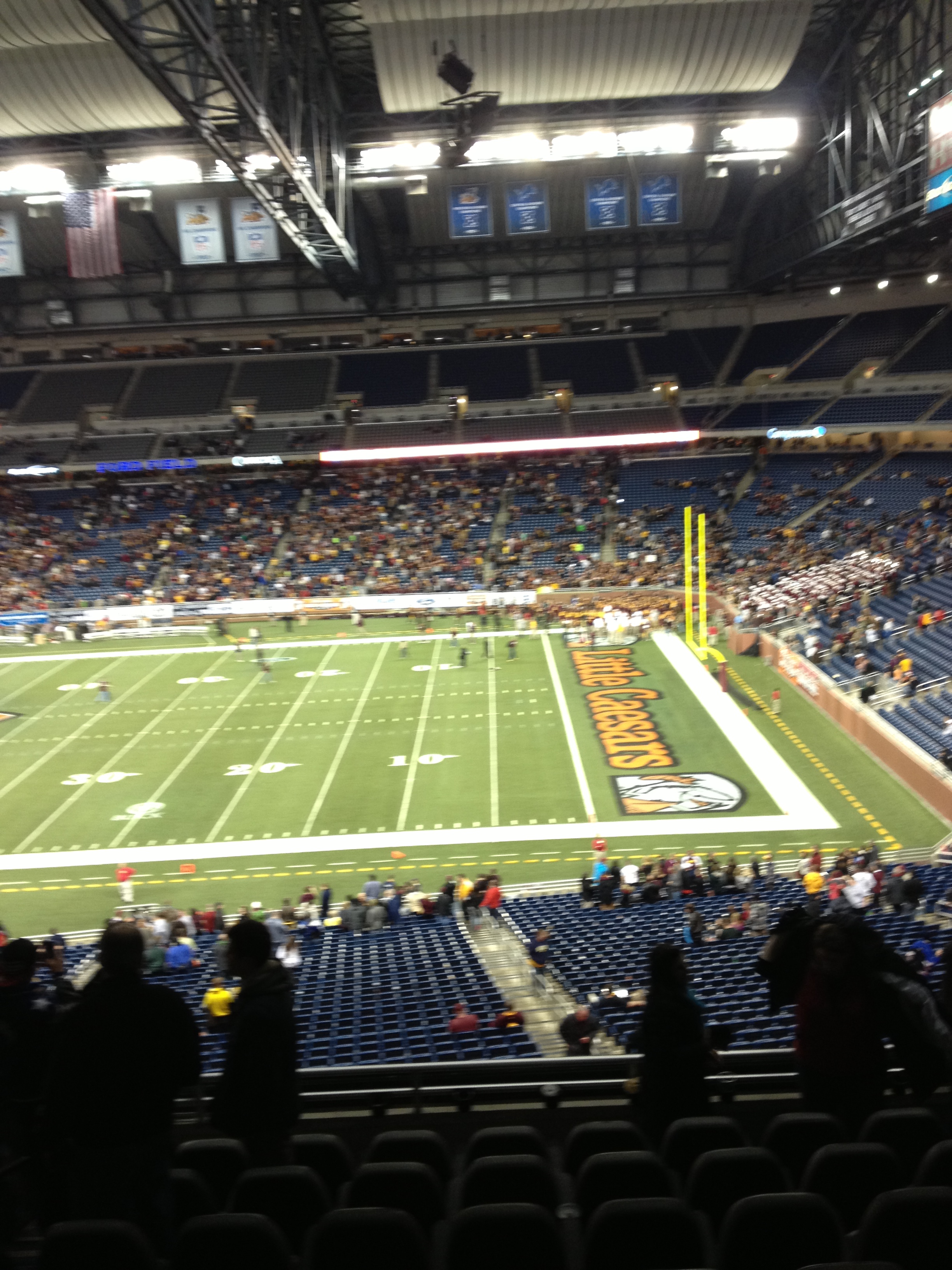 Game On !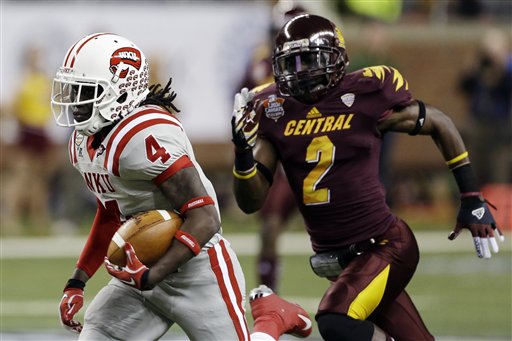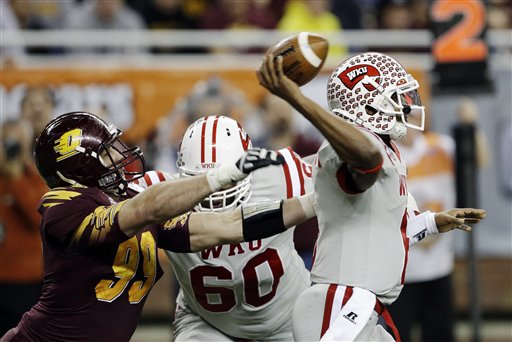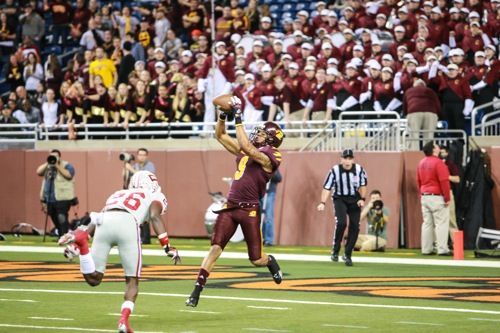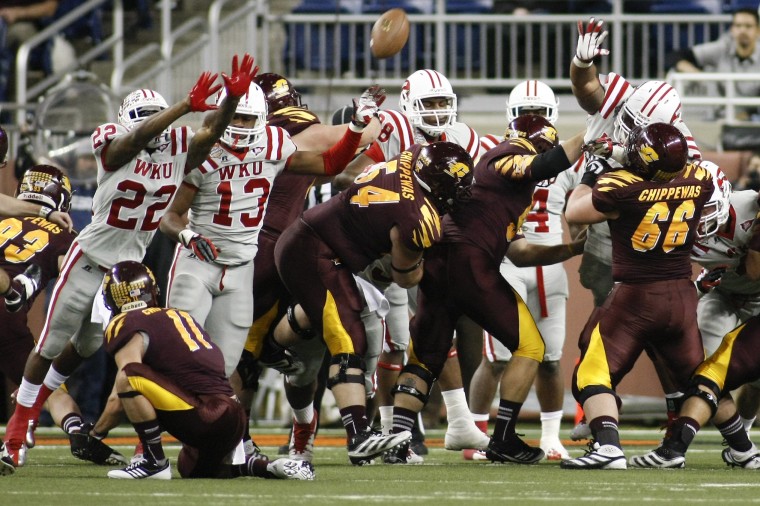 The Game was a typical wild and fun Detroit Bowl Game (No ! really !!!) Dan Enos, former Michigan State QB and current Central Michigan Headcoach led his Chippewa's held on for a 24-21 victory over Western Kentucky, stopping the Hilltoppers on fourth-and-2 in the final minute when a field goal could have sent the game to overtime.
The Chips,,, Firing Up Triumphant 1!!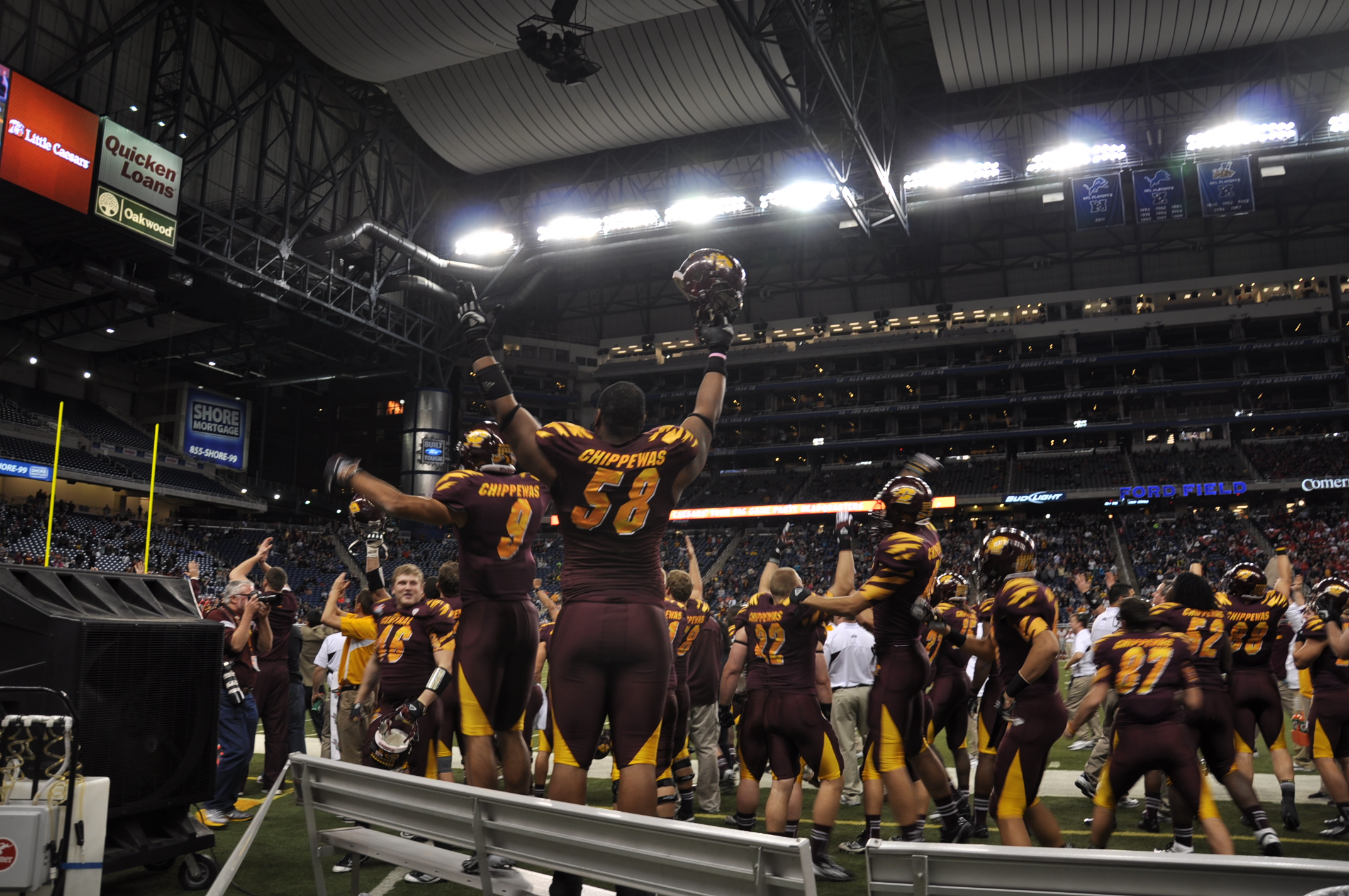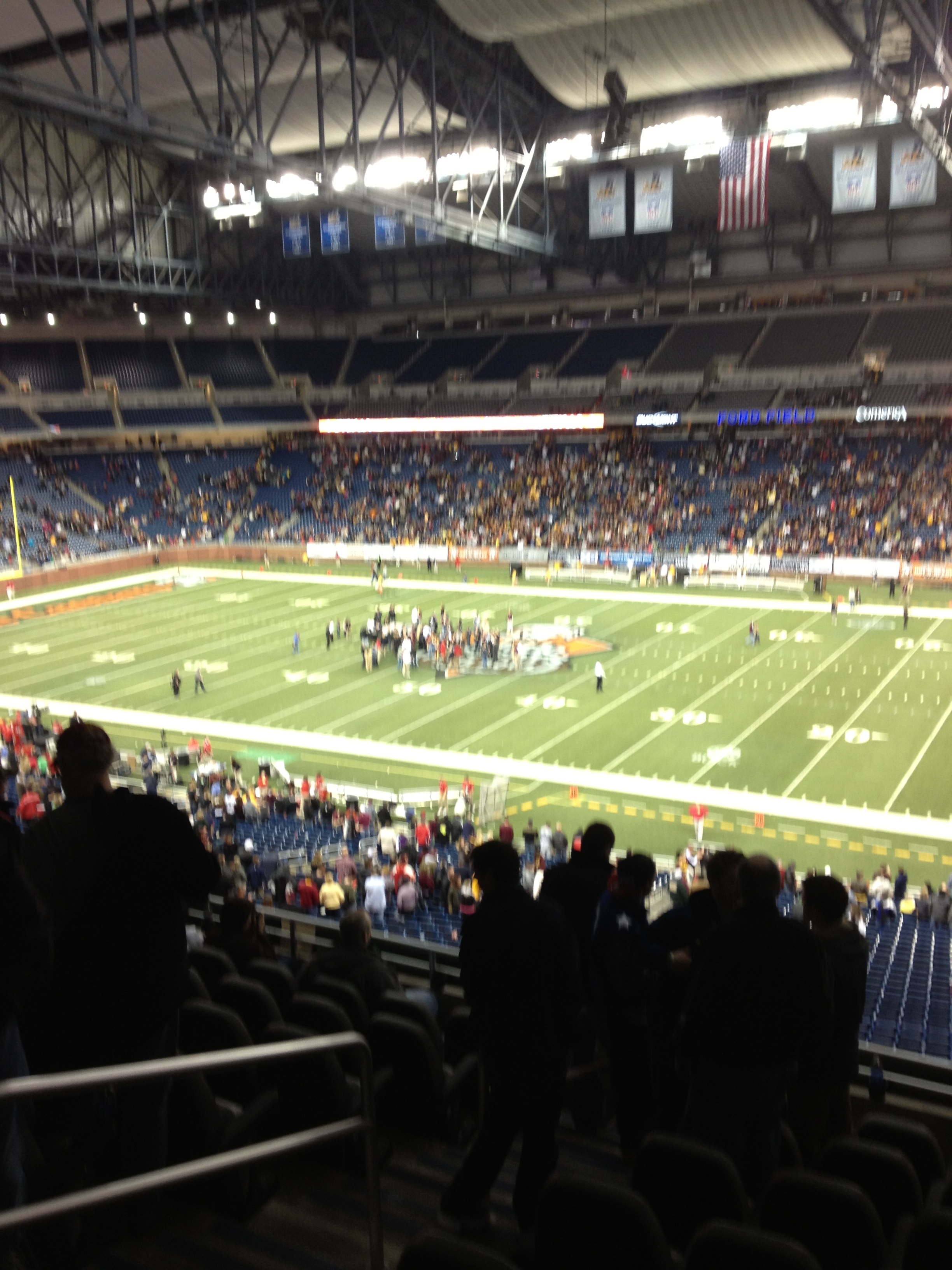 "I don't know what I would have done," Enos said. "But I will never second guess a coach for trying to win." Lance Guidry, coaching Western Kentucky on an interim basis with Bobby Petrino set to take over, went for the victory after his players made their feelings known on the matter.
"That was all the players. We were going to kick the field goal, but they told me that they were here to win the game," Guidry said. "I asked everyone and they wanted to go for it so we took the chance."
It didn't work out. On fourth down from the 19-yard line with 51 seconds left, Kawaun Jakes threw incomplete. Ryan Radcliff had thrown an 11-yard touchdown pass to Cody Wilson with 5:11 remaining to give Central Michigan the lead."I couldn't have scripted it any better than my last catch being the winning TD in a bowl game," said Wilson, a senior who had 10 catches for 101 yards on the night.
Western Kentucky (7-6) fell just short in its first bowl since joining college football's top tier in 2009. Radcliff went 19 of 29 for 253 yards and three touchdowns, but Central Michigan (7-6) needed to rally late.
"We knew we left a lot on the table in the first half, but we made a lot of those plays in the second half," said Enos, who was coaching his first bowl as Central Michigan's coach.
Down 21-17, Zurlon Tipton appeared to have put the Chippewas ahead in the fourth quarter, but his fourth-down run was ruled short of the goal line after a review.
"When we didn't get the touchdown, we knew we had to stop them right there," linebacker Shamari Benton said. "We knew that we just needed to give the offense one more shot."
Central Michigan forced the Hilltoppers to punt from their own end zone, and Avery Cunningham blocked it. Although the ball bounced around for a bit, the Chippewas finally secured it and took over with great field position inside the 30.
Radcliff found Wilson in the back left corner of the end zone for a 24-21 lead.
Western Kentucky's final drive ended when Jakes' pass intended for Jack Doyle fell incomplete.
Petrino, the Hilltoppers' coach-in-waiting, was expected to be at Ford Field watching his new team, but a snowstorm forced him to scrap those plans. Western Kentucky started aggressively.
Down 7-0, the Hilltoppers ran a flea-flicker on their first play from scrimmage, with Antonio Andrews running to his right, then tossing the ball back to Jakes, who found Rico Brown for a 70-yard gain.
Two plays later, Jakes scored on a 6-yard run to tie it.
Central Michigan answered with a 73-yard drive that ended with Andrew Flory's 29-yard touchdown reception, his second of the quarter.
The offenses settled down a bit for the rest of the quarter. Both teams were backed up by a pair of terrific punts. Hendrix Brakefield's 74-yarder pinned Central Michigan at its own 5, but Richie Hogan flipped the field position with a punt that sailed past Andrews and bounced back to the Western Kentucky 12. The 82-yard effort was returned only 4 yards.
David Harman's 50-yard field goal put the Chippewas up 17-7, but Jakes threw a 6-yard touchdown pass to Doyle, with the tight end making a one-handed catch to pull Western Kentucky within three.
The TD pass was the 51st for Jakes, breaking a tie with Justin Haddix atop the school's career list.
Harman had a field goal blocked later in the half, and although the Chippewas were in range for another attempt in the final minute, Radcliff was sacked and fumbled. He was able to recover, but the last few seconds of the half ticked off.
Western Kentucky took a 21-17 lead in the third on a 1-yard scoring run by Kadeem Jones, which capped an 80-yard drive that used 9:23.
Andrews rushed for 119 yards, but he fell short of the 274 all-purpose yards he needed to break the single-season record of 3,250 set by Oklahoma State's Barry Sanders in 1988. Andrews, a junior, had 184 all-purpose yards to finish the season at 3,161.
"I fell short this year, but I'll be going for that record again next year," he said.
Central Michigan took a 7-0 lead on a 69-yard touchdown pass from Radcliff to Flory. Western Kentucky safety Jonathan Dowling whiffed on a tackle near midfield, and Flory was gone.
Dowling had a chance to make up for that mistake early in the third quarter, but with his team down 17-14, he dropped an interception near midfield that he could have easily returned for a touchdown. It was an exciting game, for beginning to end. Being it was close to Midnight and snowing pretty good, Mike and Bone settled on wrapping up the evening at Berkley's own Blarney Stone, rather that risking the sliding and slopping in the snowy streets.