2016 Citrus Bowl:

Michigan

- 41 vs.

Florida

- 7:

Orange You Glad We Went!

Tour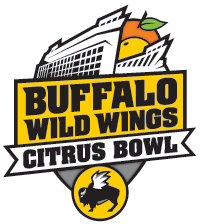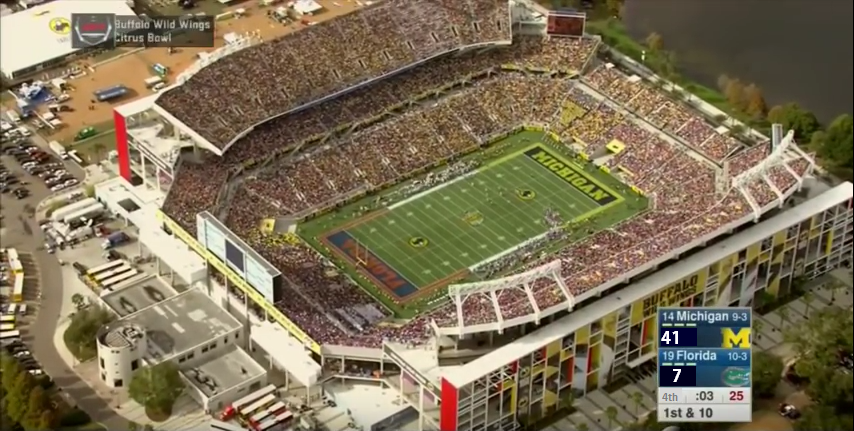 A Mike and Bone First !!!
Now Mike and Bone have been to many, many, many football games over the years, but never a Michigan Bowl Game! So with the Harbaugh-led Wolverines having a chance to show their talents against the SEC-East Champion Florida Gators they had to go. The New Years Day game started at noon where it was sunny, hot (mid-80's), and way too humid for a coupla of Midwestern Boys, which made them both worry about how the humidity was gonna affect the Maize and Blue. Driving early the Boys parked about a mile away, on their way to the Stadium they got to see the seedy part (it ain't all Disney Land!) of Orlando. Along the way Mike and Bone worried about not only the heat and humidity on the Wolverines, but that since Gainesville is only 60 miles away, it is essentially a home game for the SEC-East Champion Gators.
Michigan Moving Marching Band Bus!!!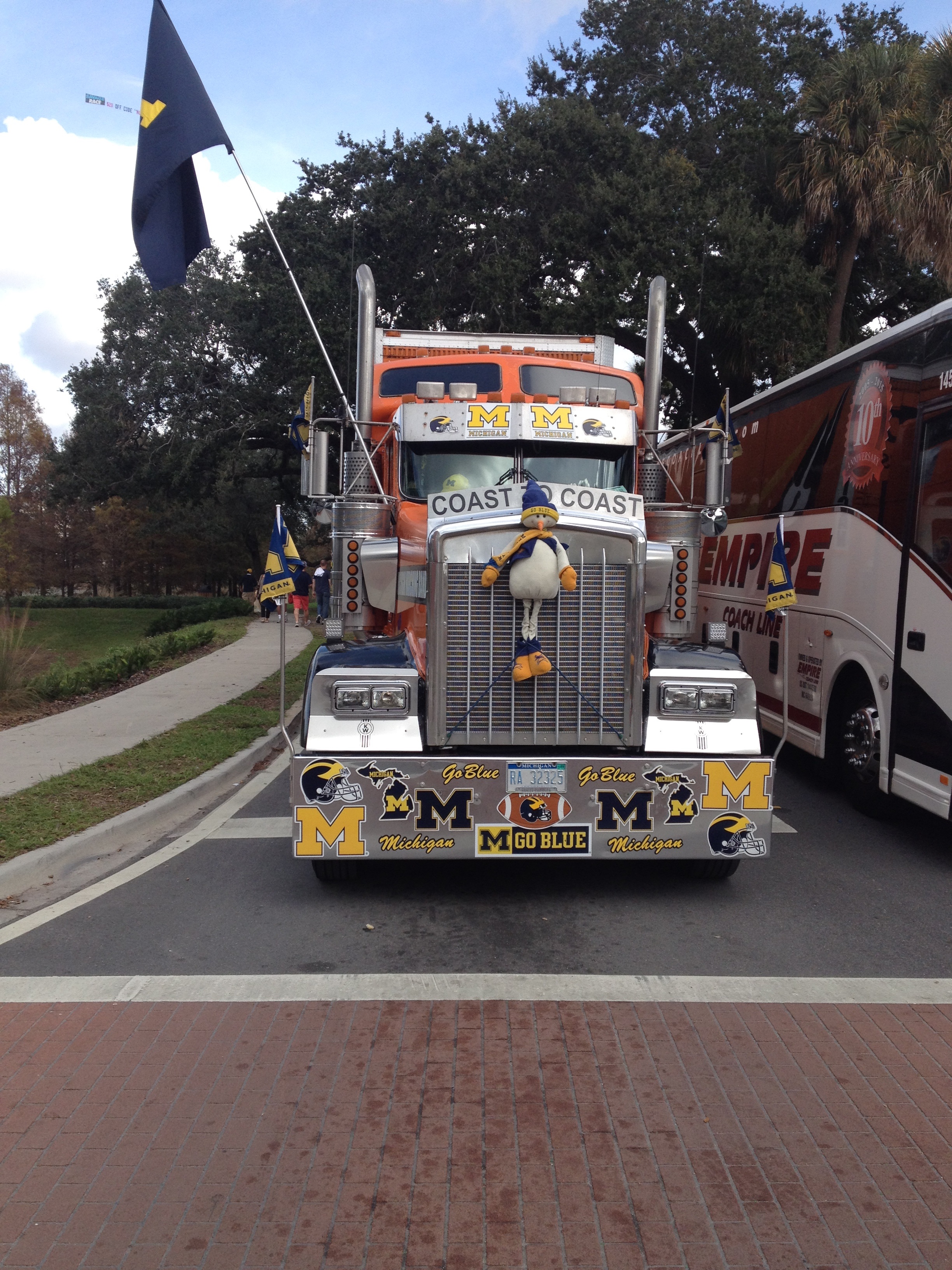 As the Boys got to the Stadium they had a good omen, They came up to the Mighty Michigan Marching Band's Moving Van! Tapping it for good luck Mike and Bone headed for the Stadium.
Mike and Bone at the scene of the impending battle ! The Citrus Bowl!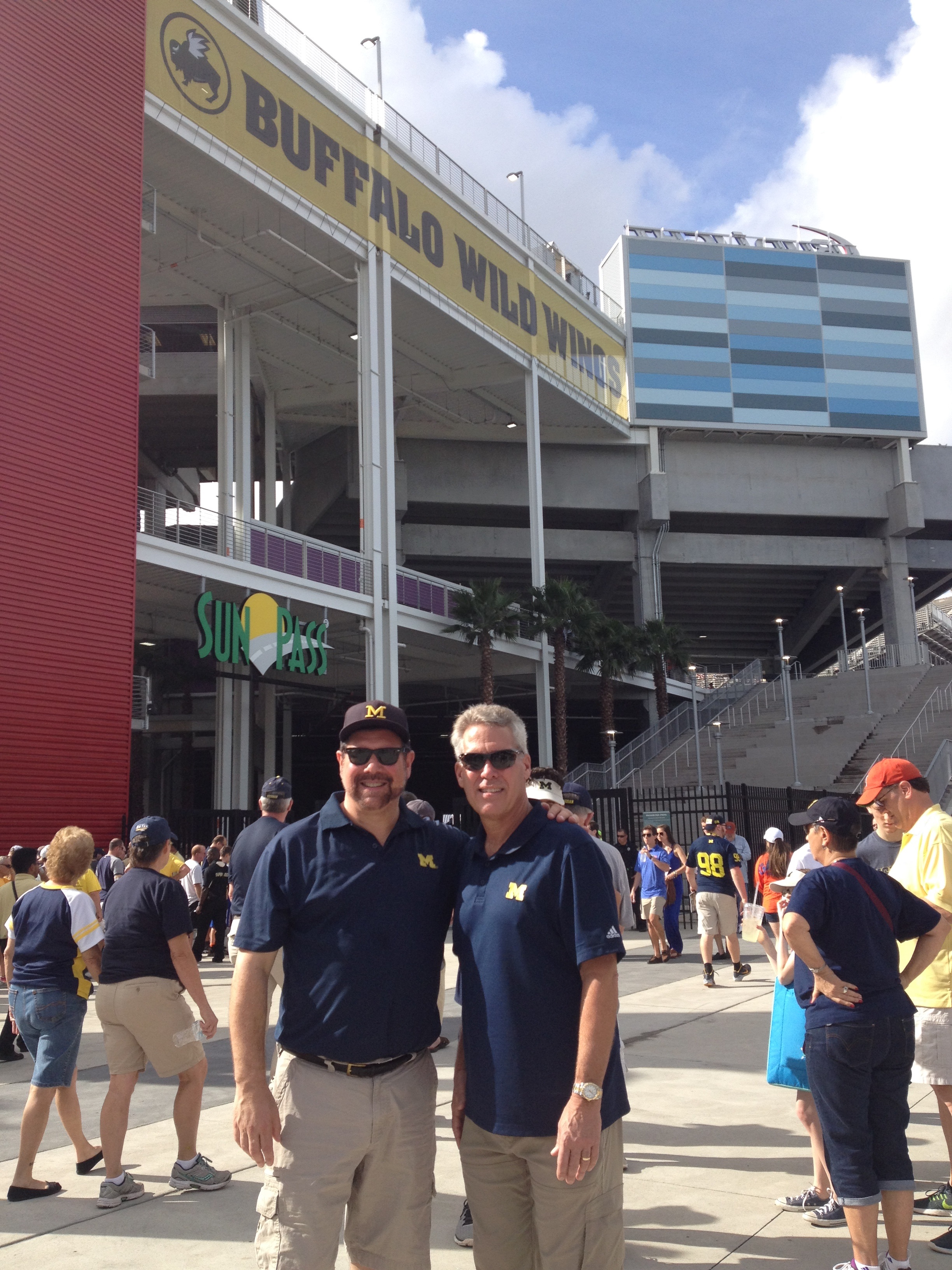 The Citrus Bowl that the Boys walked up to was very different from the stadium Bone and Sherry went to in the 2001 Michigan Auburn Citrus Bowl. In 2014 the City of Orlando invested $210 million in refurbishing the Stadium. This renovation included retaining the Stadium's upper level seating, but the entire lower bowl structure was demolished, it changing the Stadium's capacity to 60,219.
In the newly reconstructed stadium there are two 360-degree concourses, a 20,000-square-foot plaza deck ("Party Deck") in the north end zone, 41,000 all-new lower bowl seats with six additional inches of leg room & chair backs, multiple giant video displays, new team facilities including locker rooms training rooms and attached media, new stadium operations facilities to allow better efficiency in food service, security, first aid and maintenance, new concessions and restrooms, and a vibrant open-air façade. The new mezzanine is now referred to as the "Plaza level", all for a good time for the Boys. .
Mike and Bone at the scene of the impending battle: The Citrus Bowl!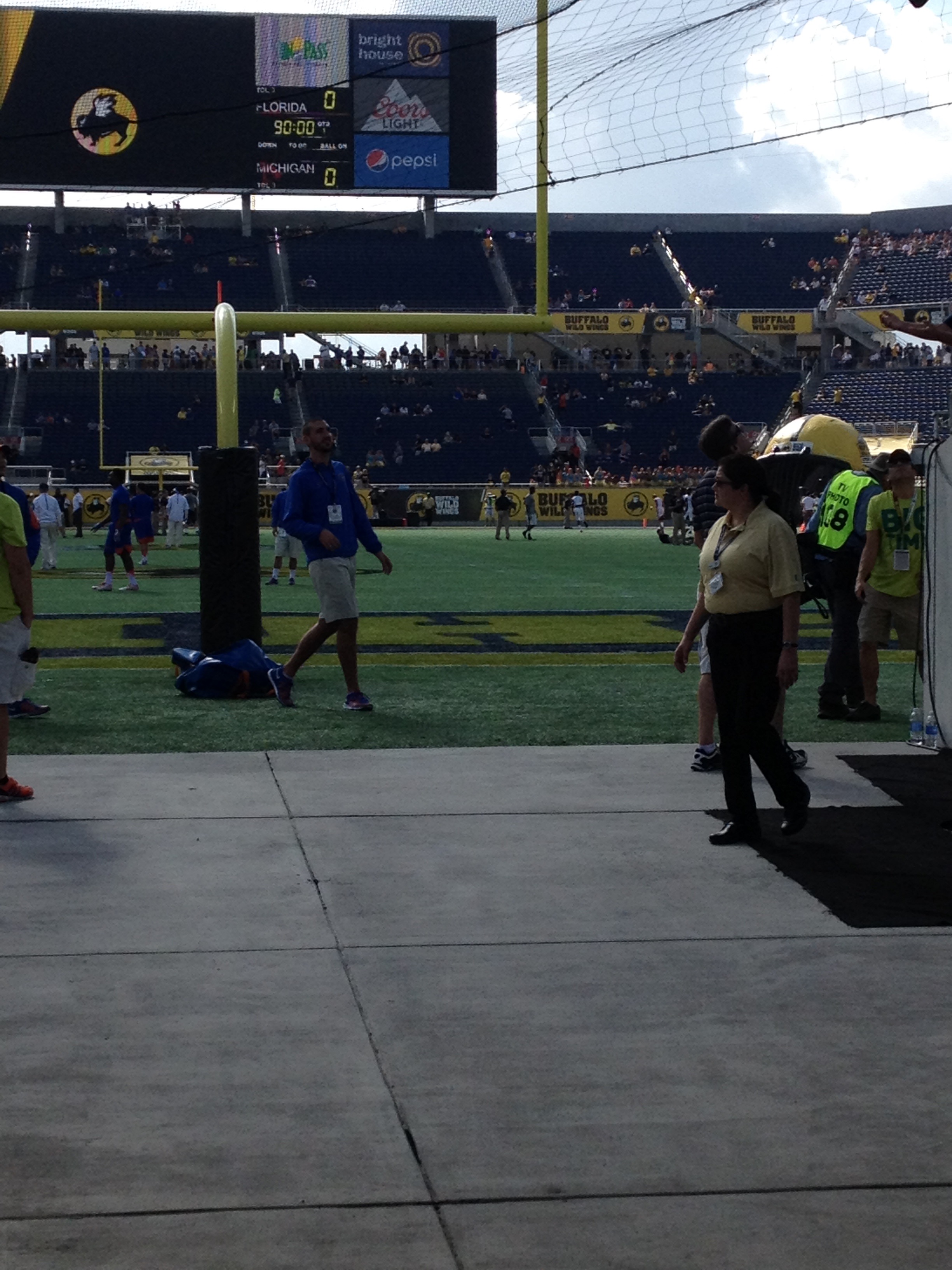 As the Boys walked around the renovated Stadium, they got a chance to peak out of the Mezzanine to check out the Team's practicing, when Mike and Bone realized that some folks wanted to go around them, the Might Michigan Marching Band!!!
The Mighty Michigan Band, marching into Battle!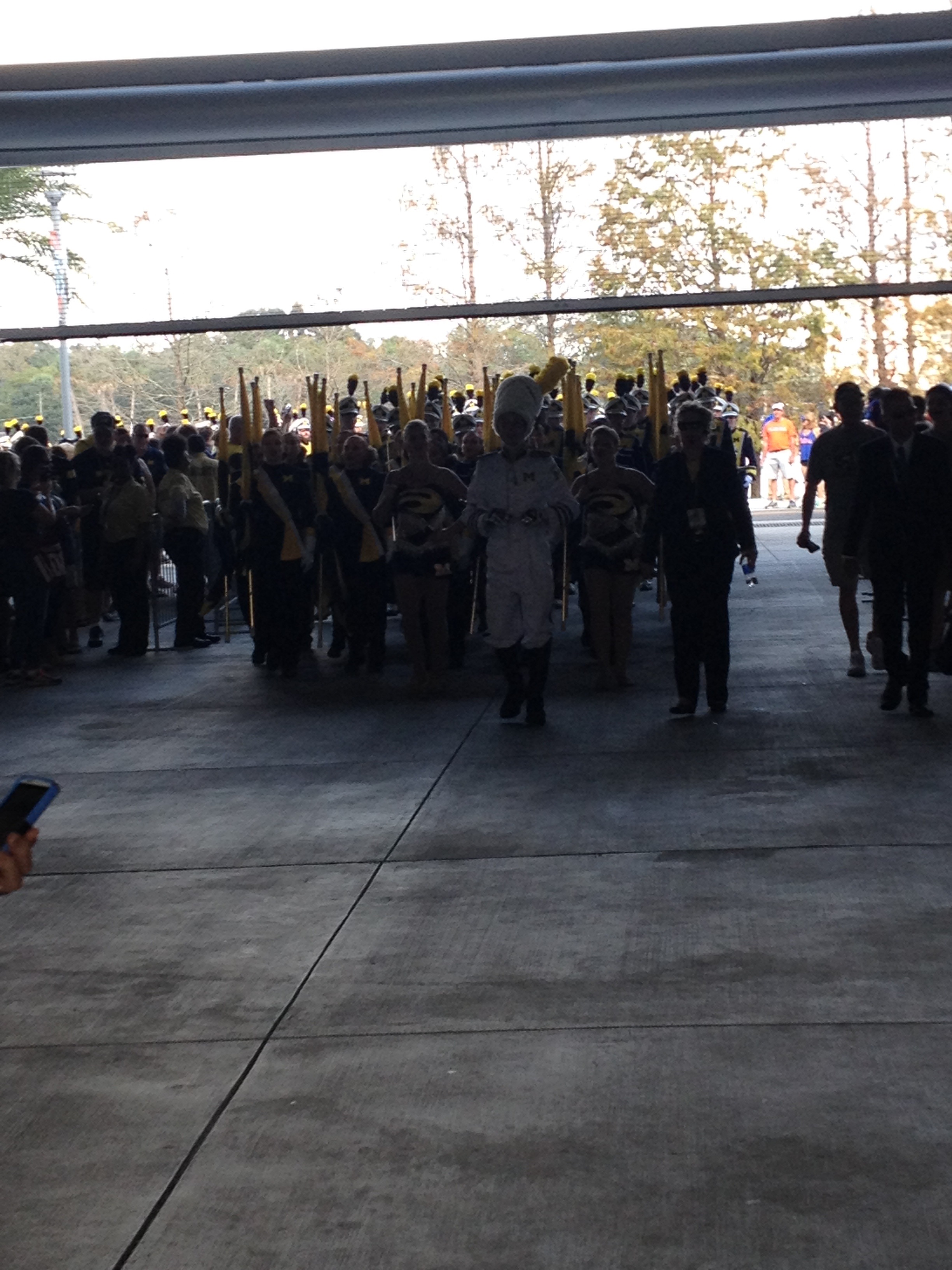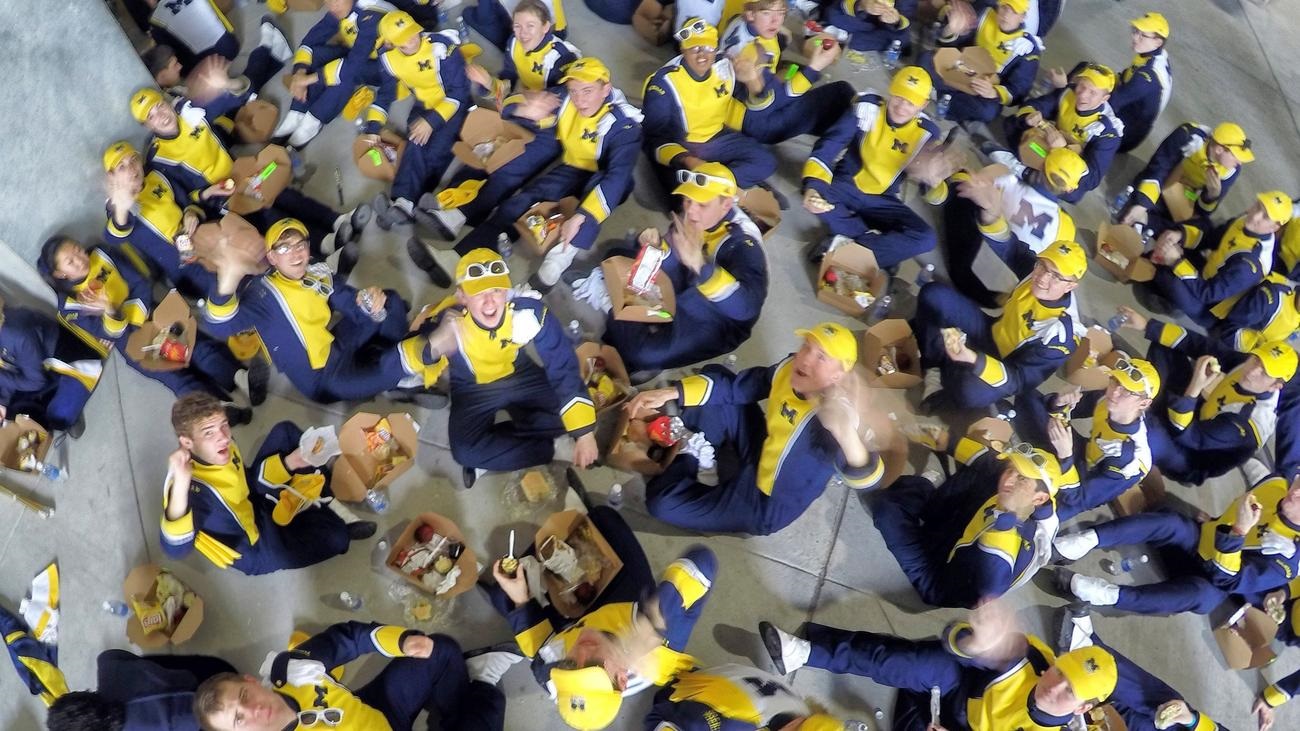 Mike and Bone Seated and Settled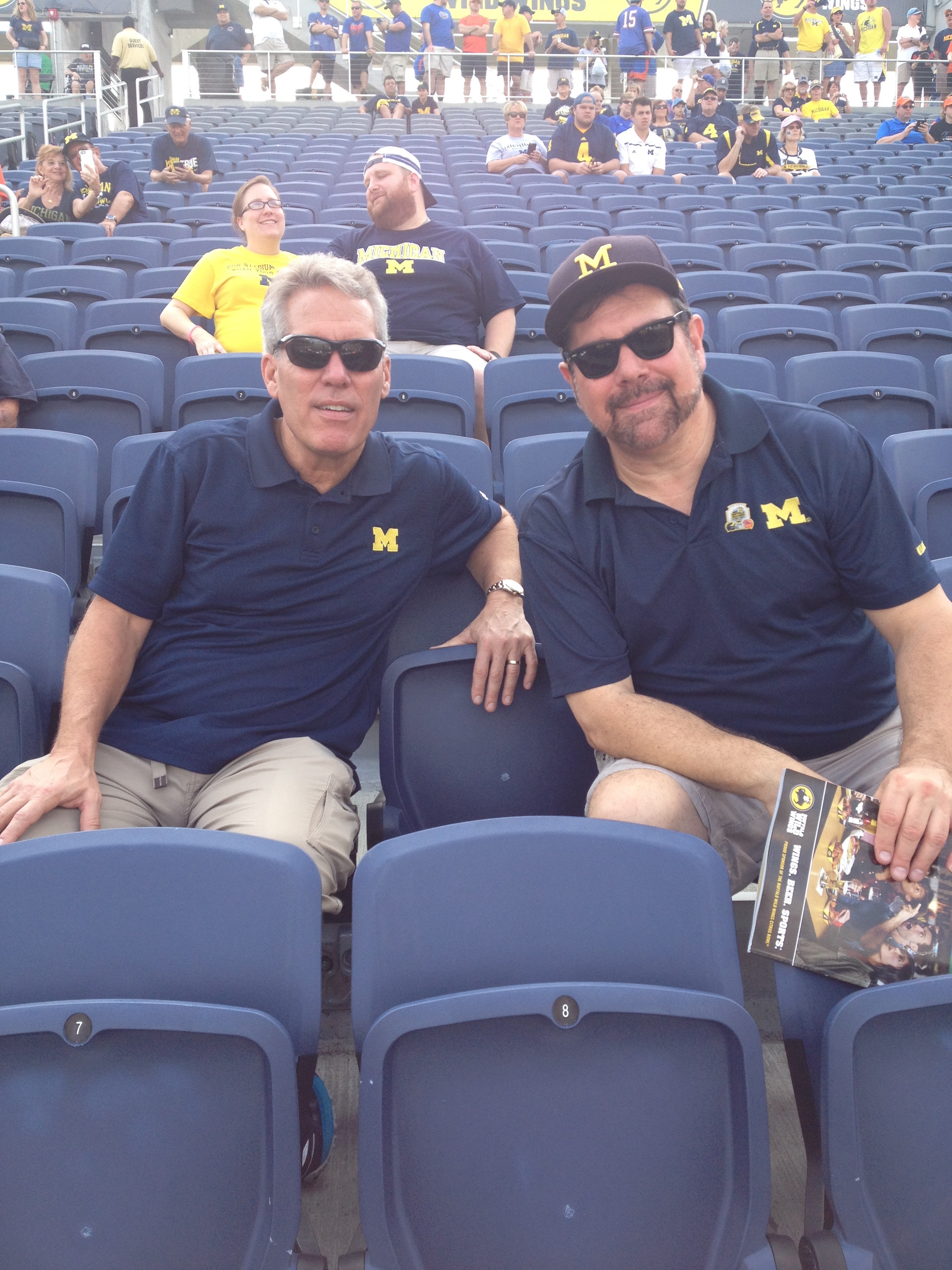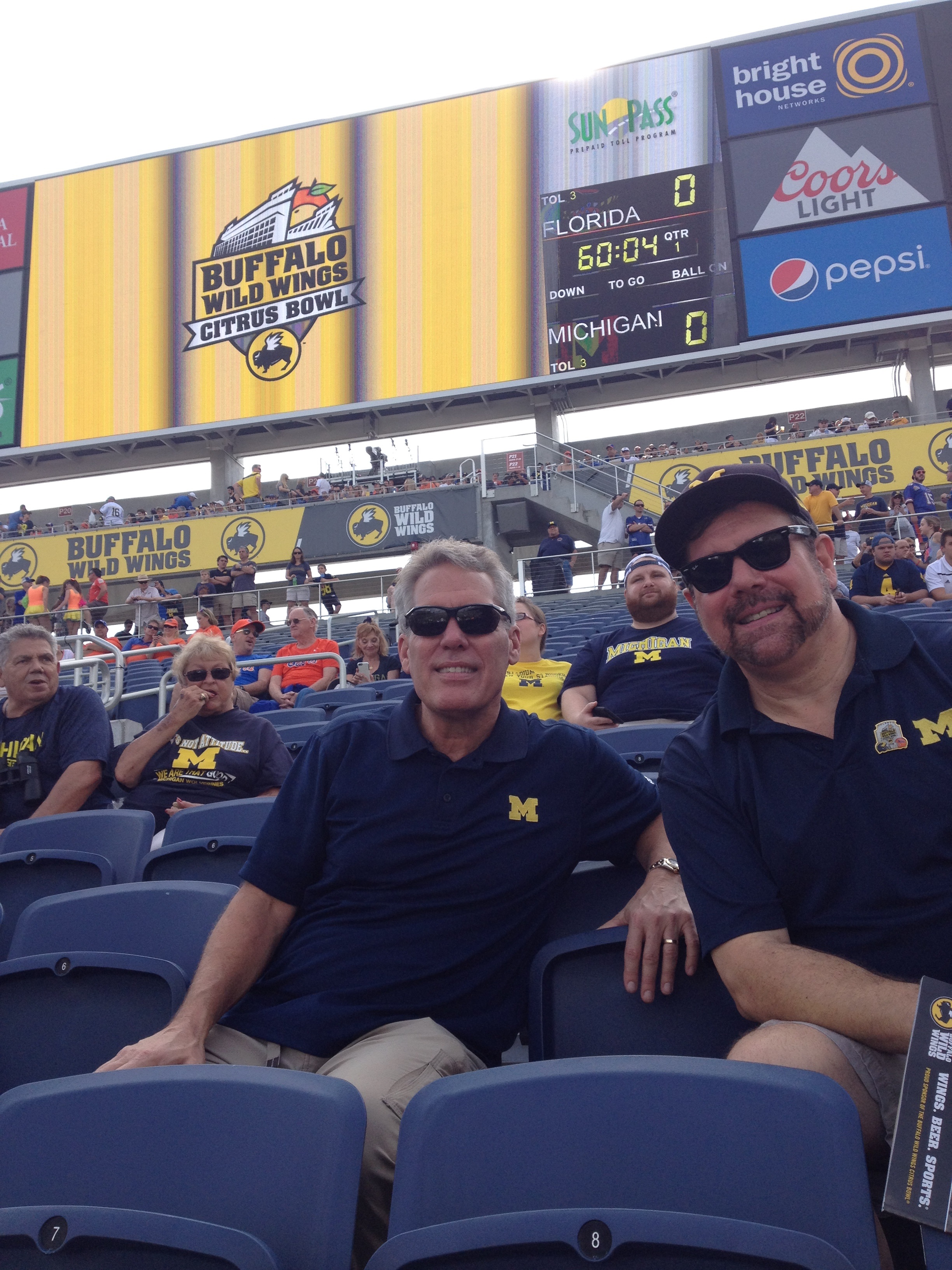 Practice makes perfect (or victories!)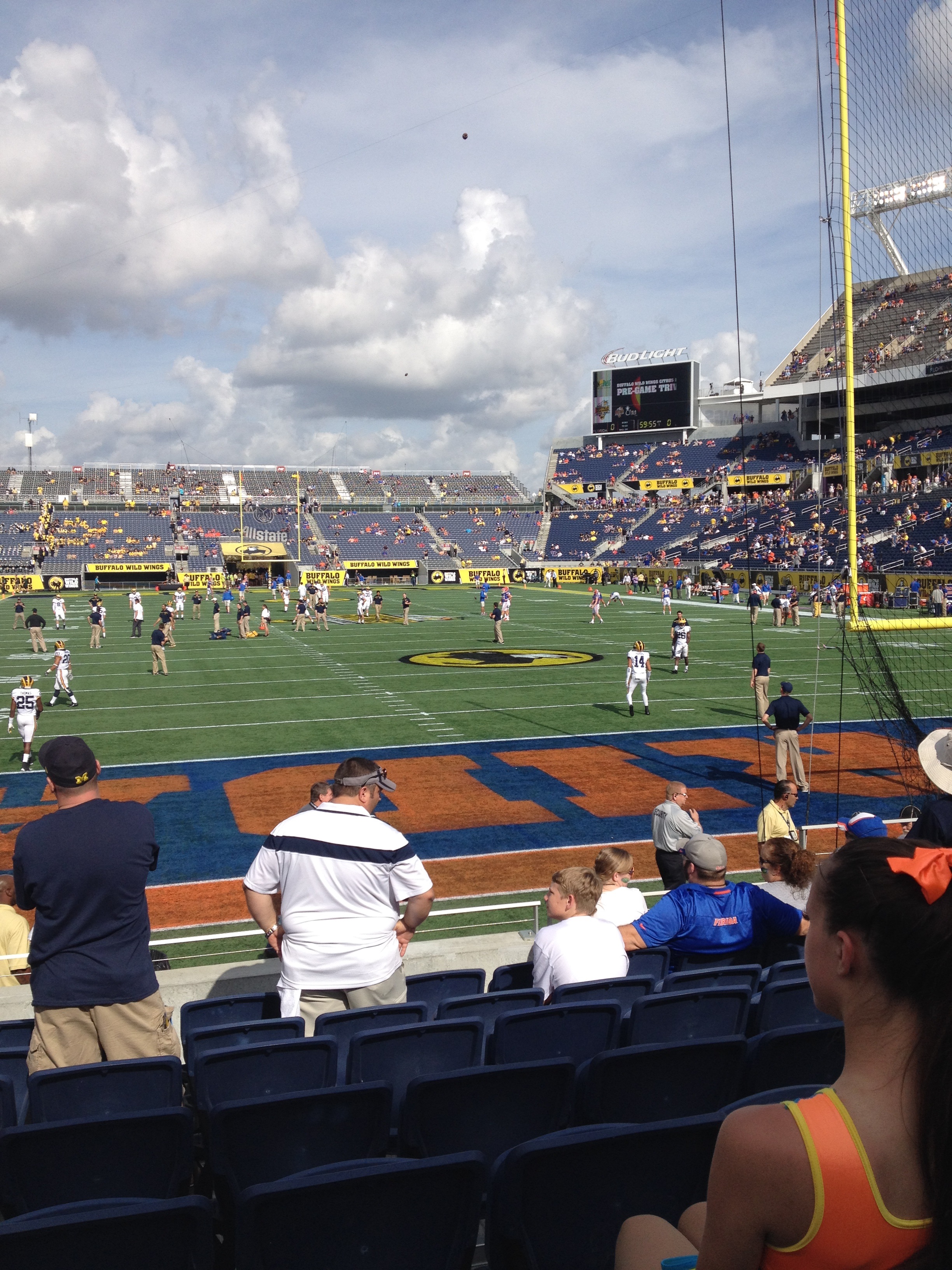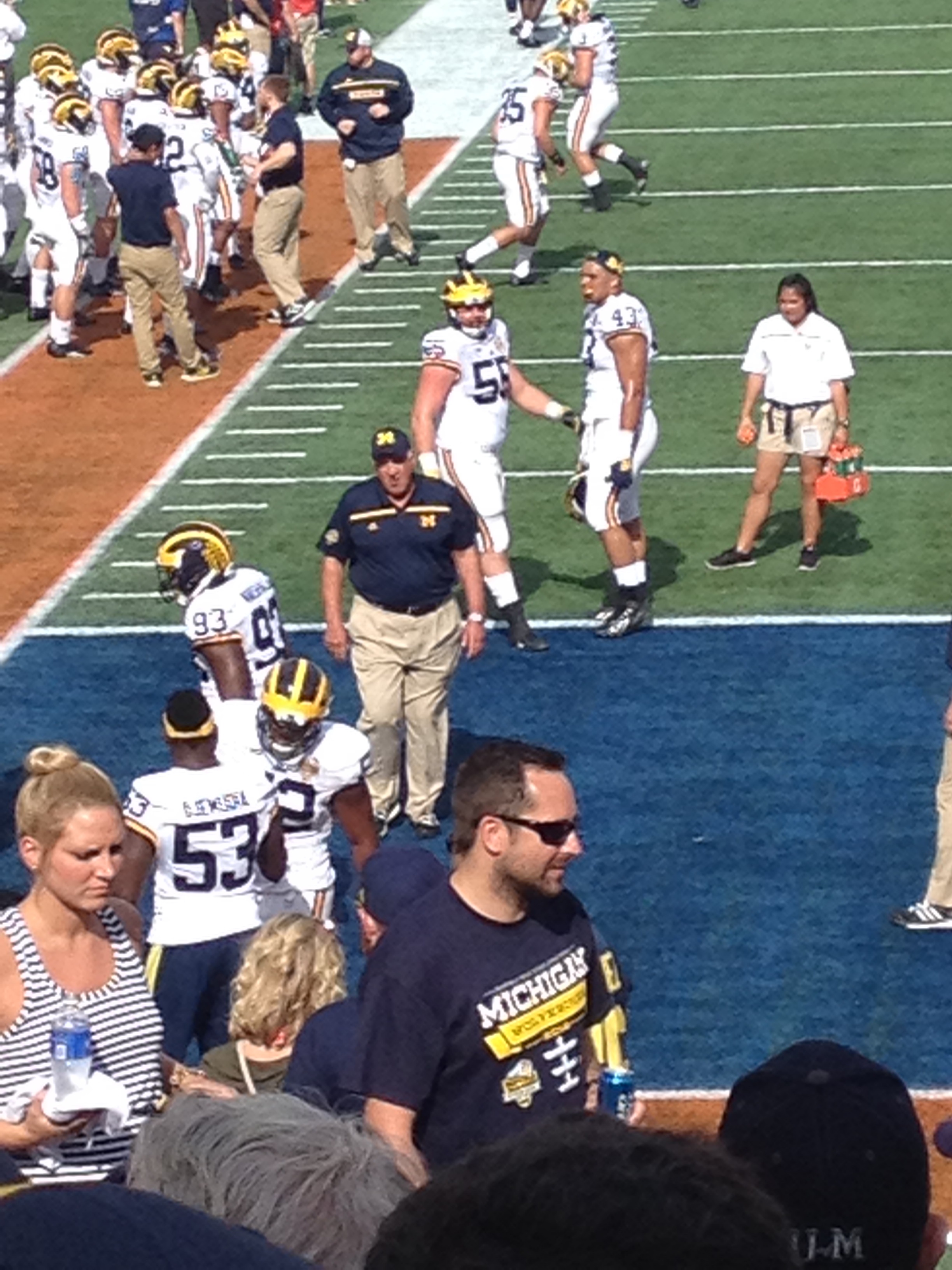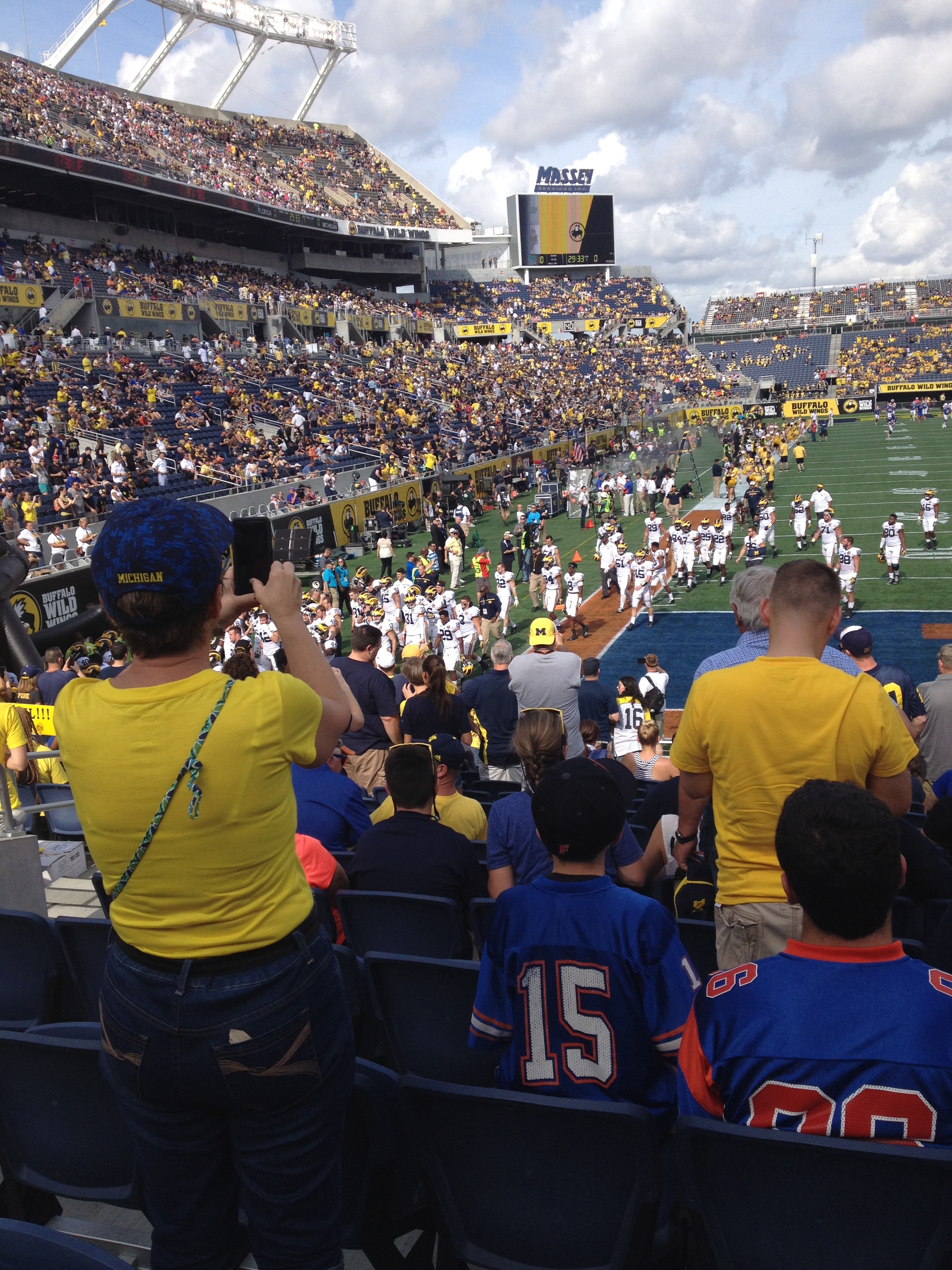 "Ladies and Gentlemen, Presenting the 250 member, Michigan Marching Band,
Band ...... Take the Field!"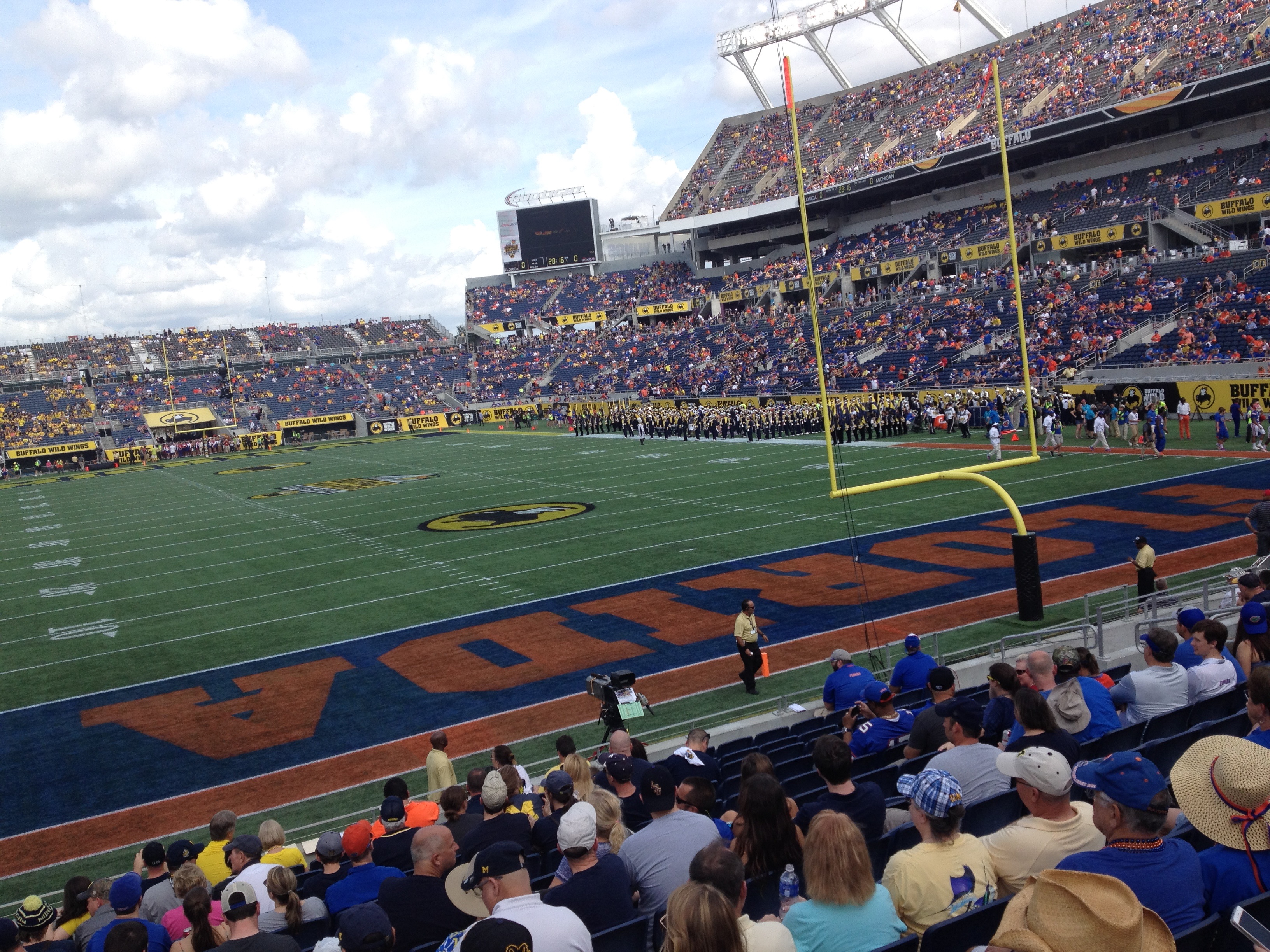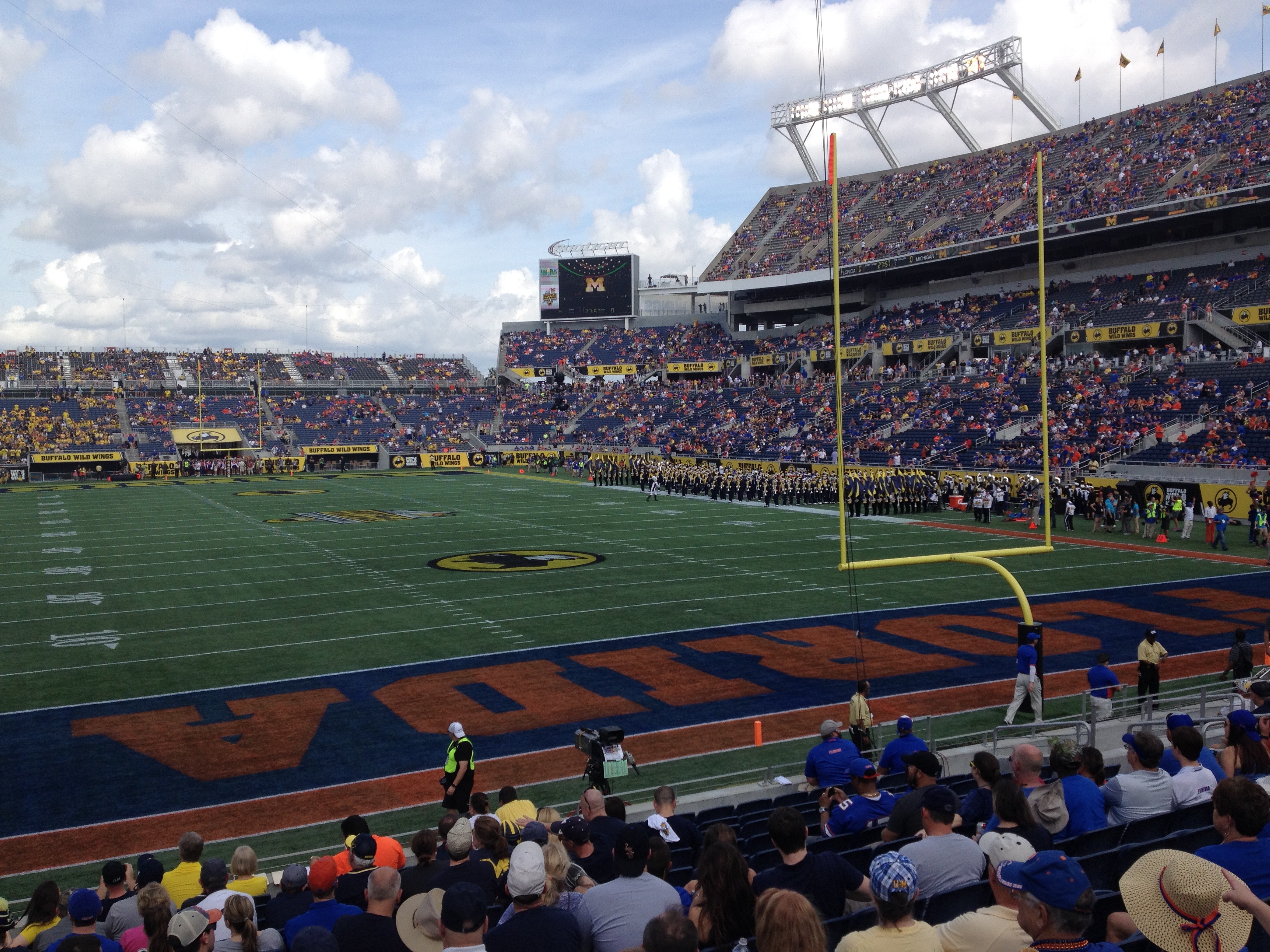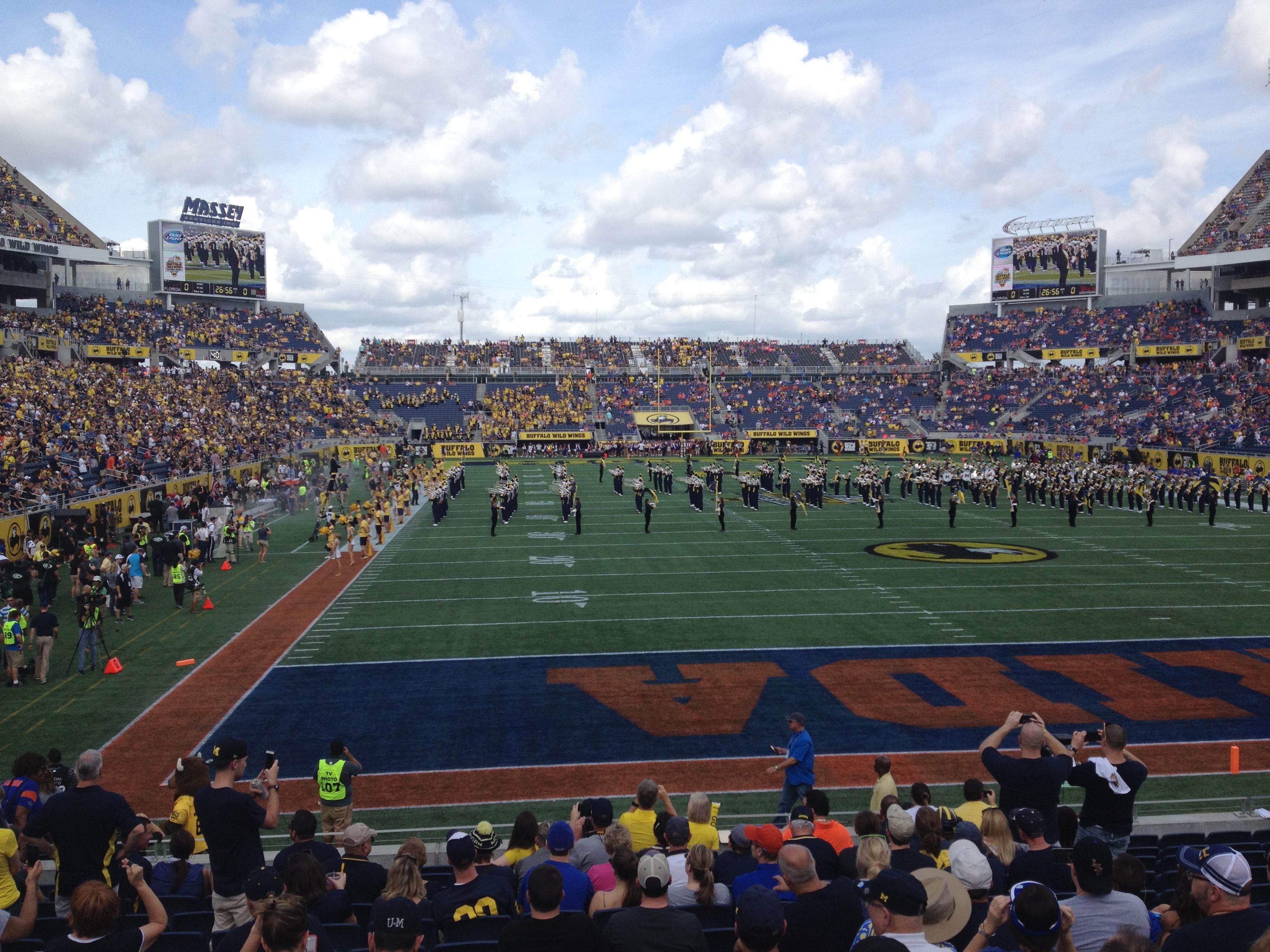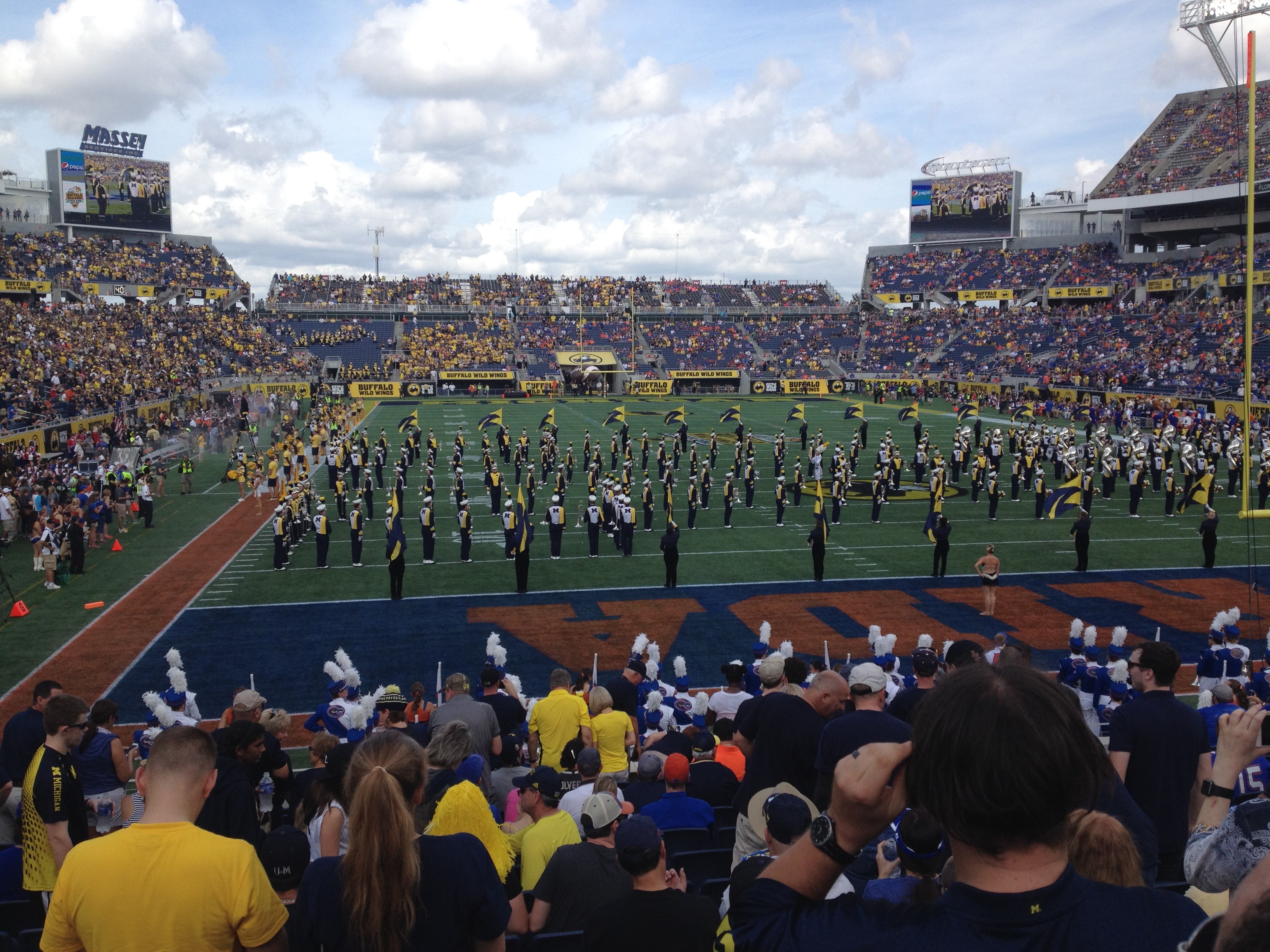 The Michigan Block "M" !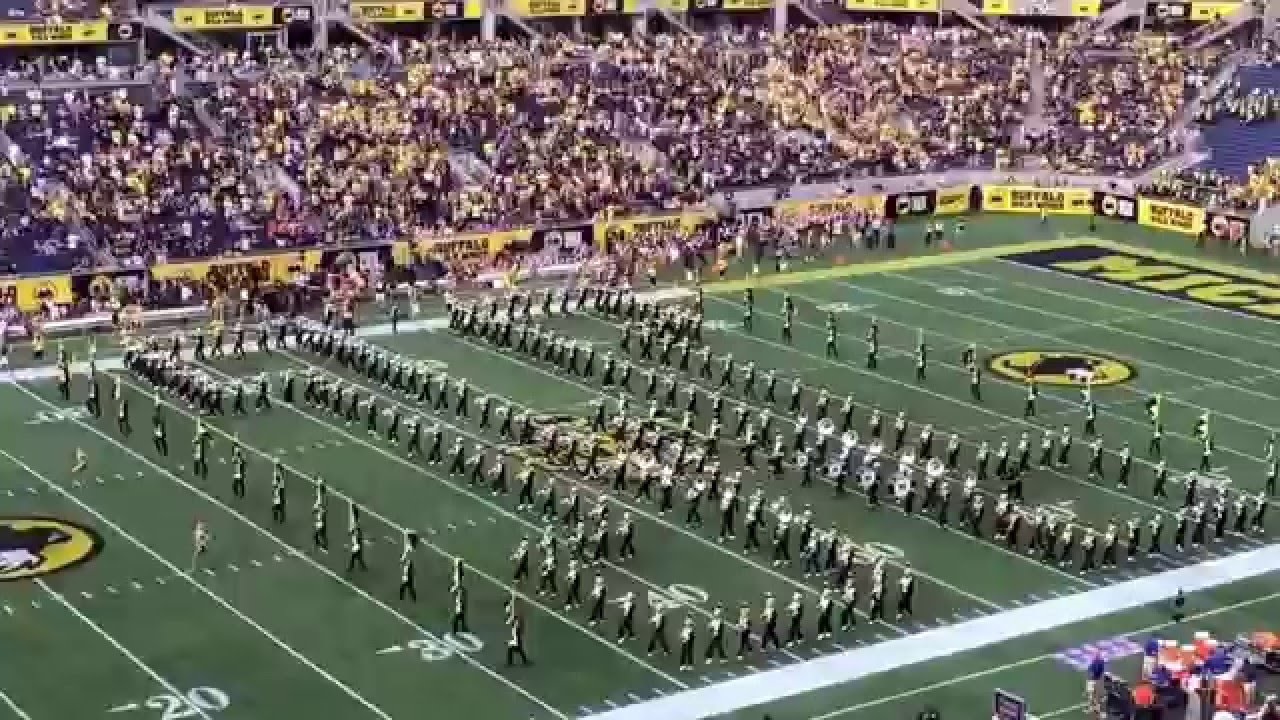 Who are these Guys!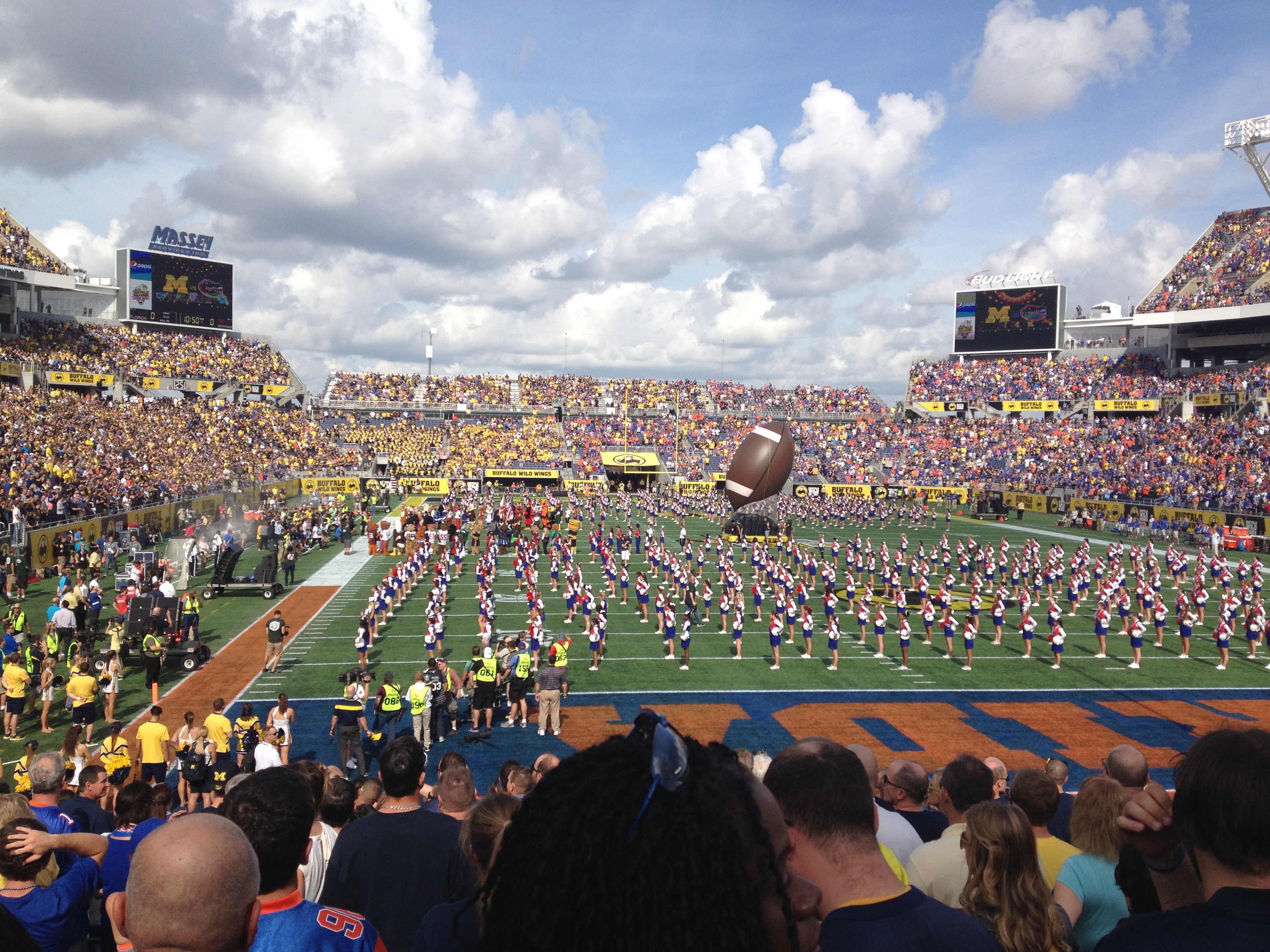 The Florida Gator Sauntering (loping?) Band
(ain't so good)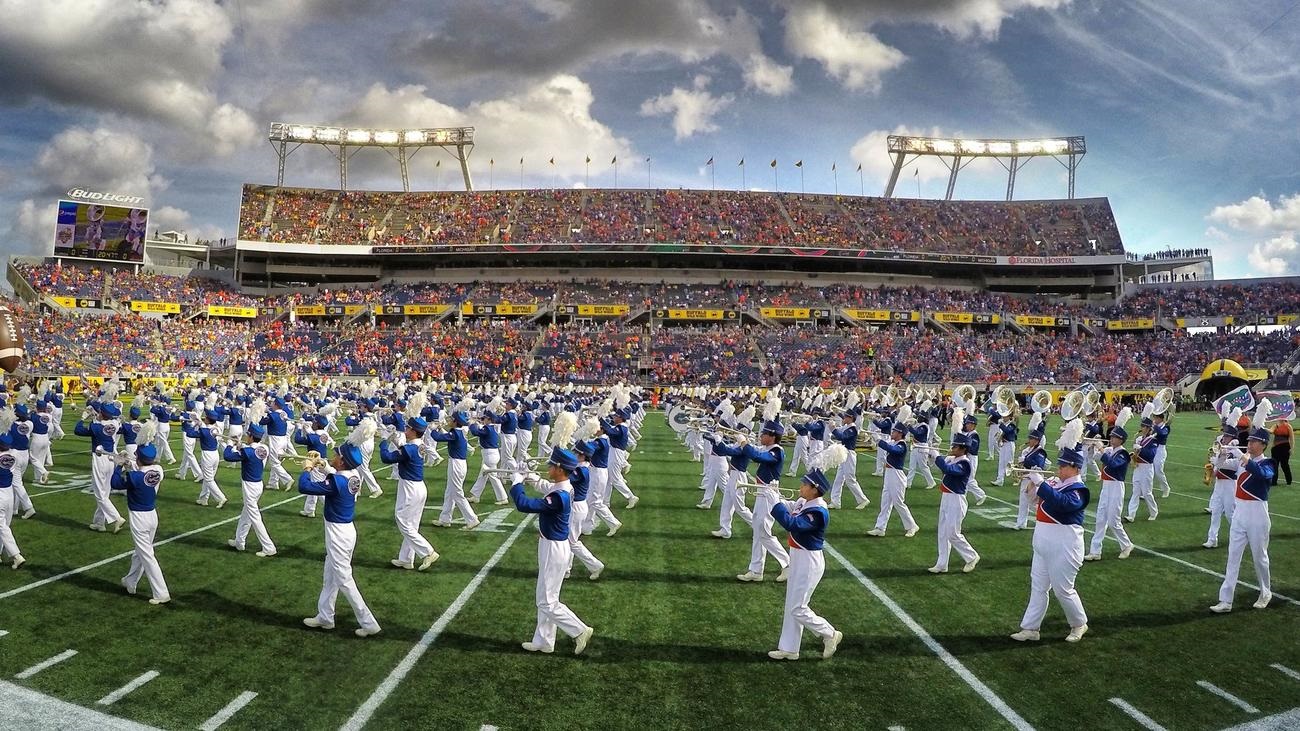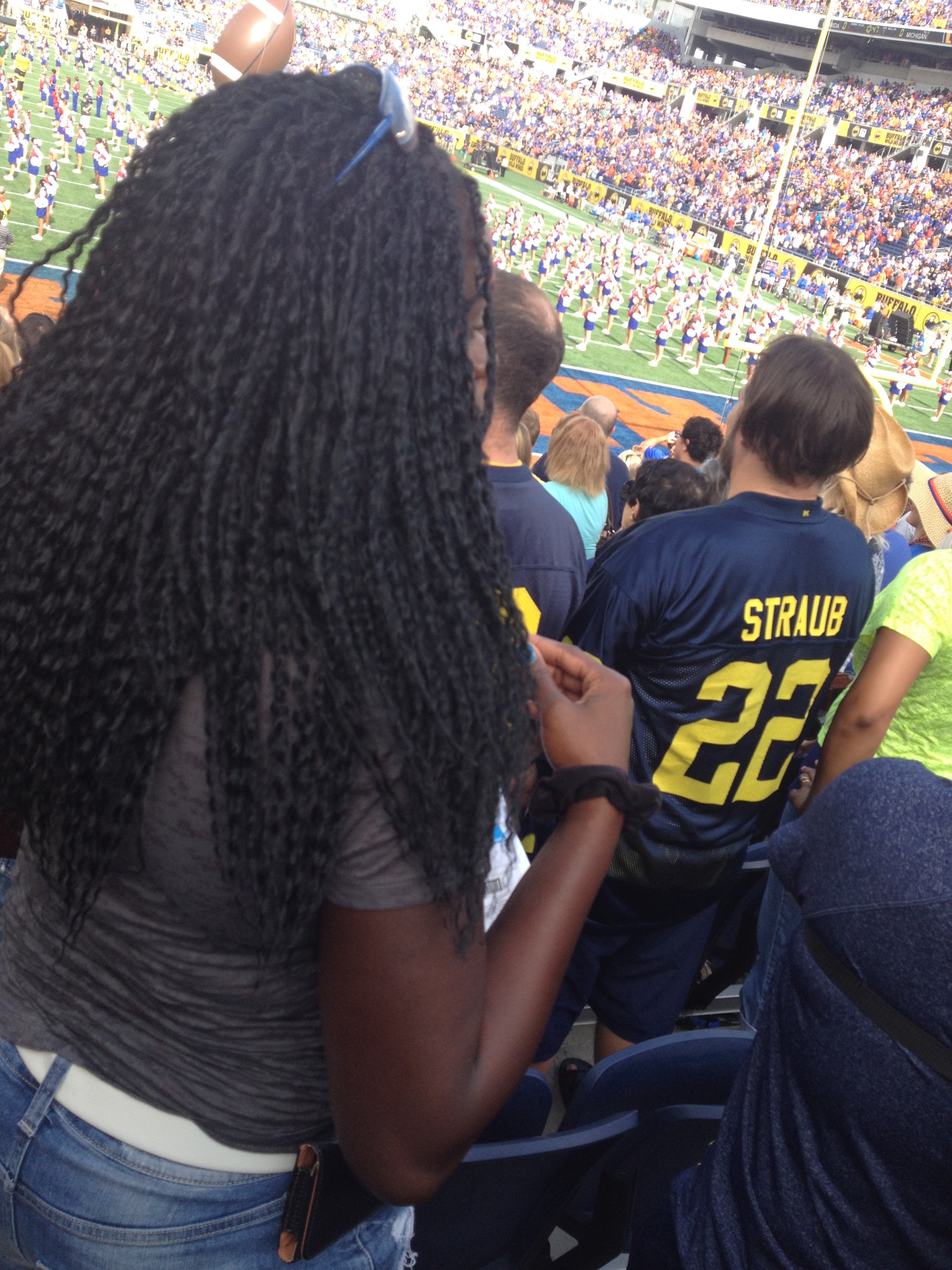 Mike and Bone had seen the tepid Florida March Band against Georgia in the World's Largest Cocktail Party. They were as unimpressed by their shuffling (e.g. NOT marching) in this game as in the first!
Hail the Conquering Heroes!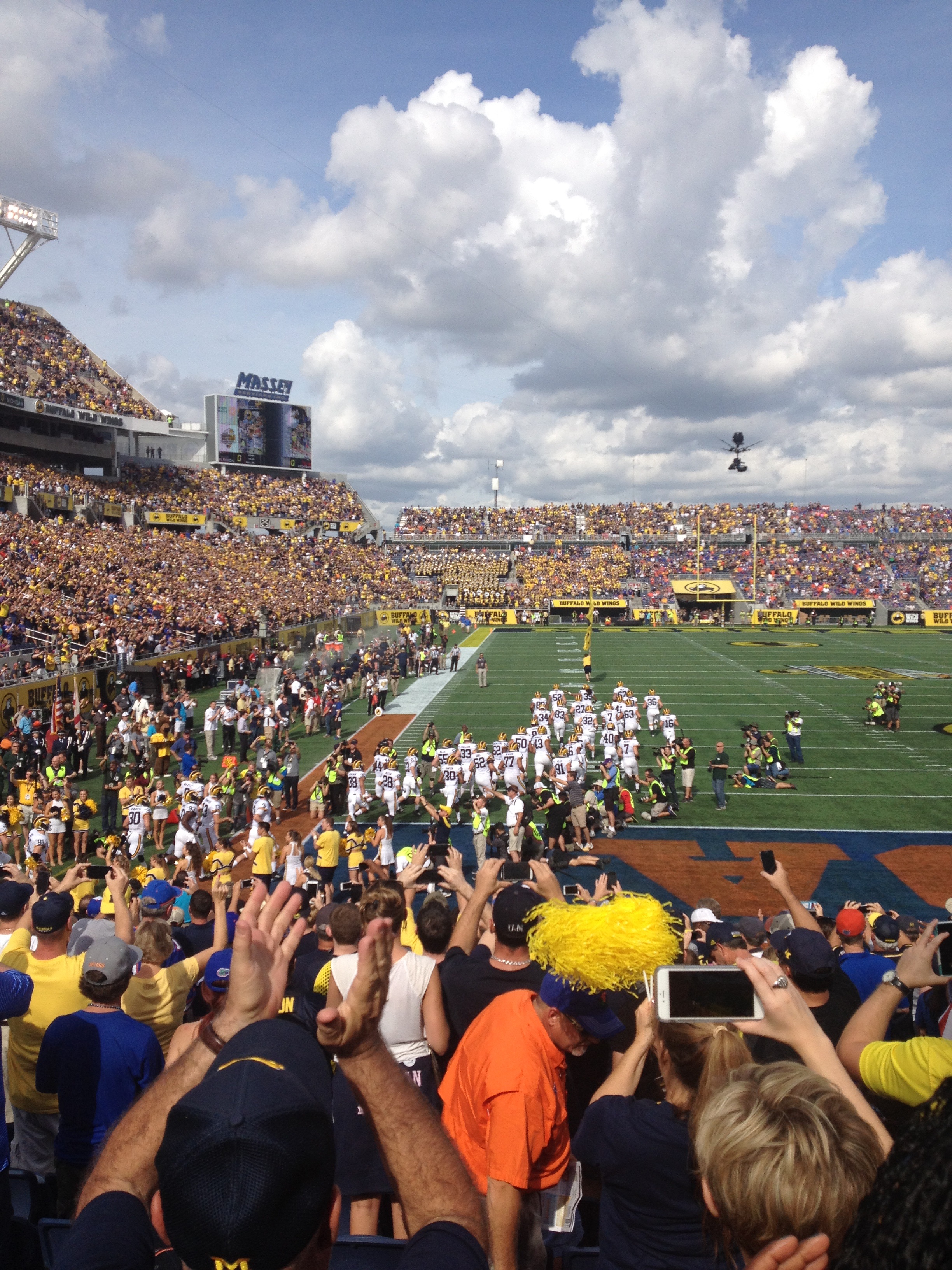 Game On with an immediate three and out for the Gators!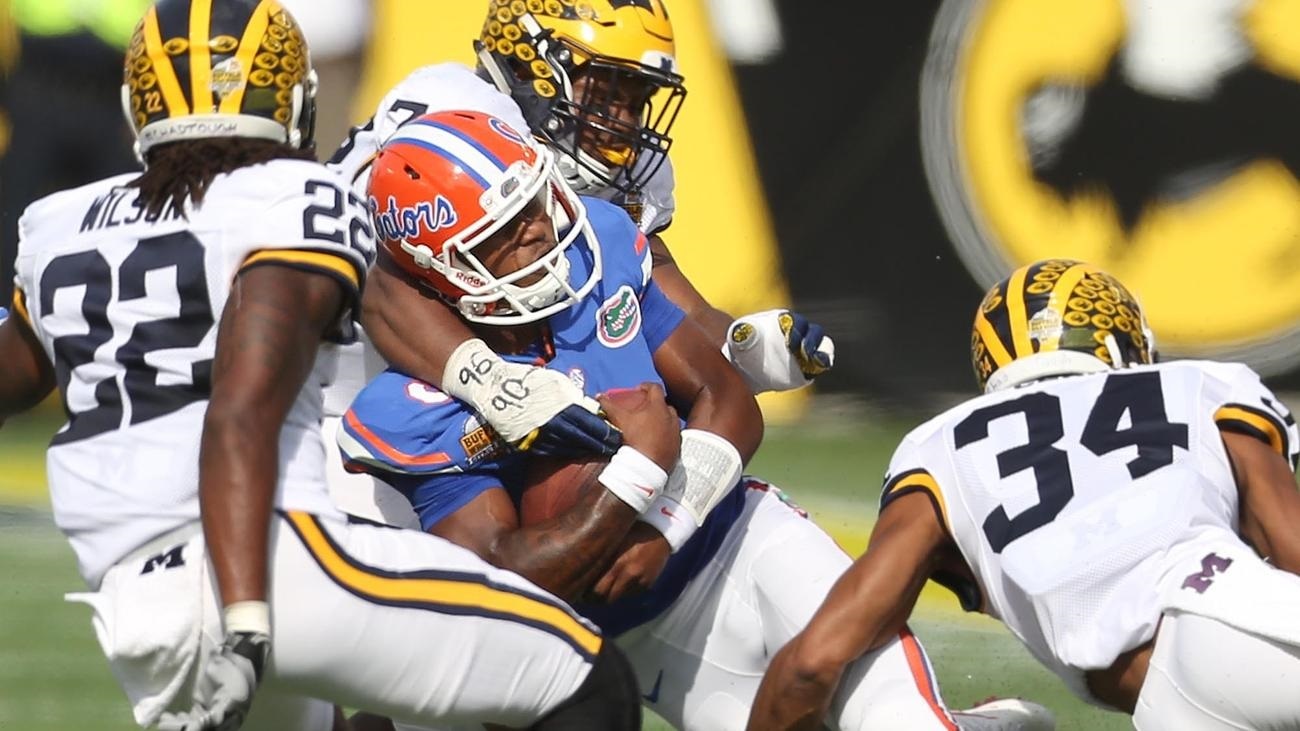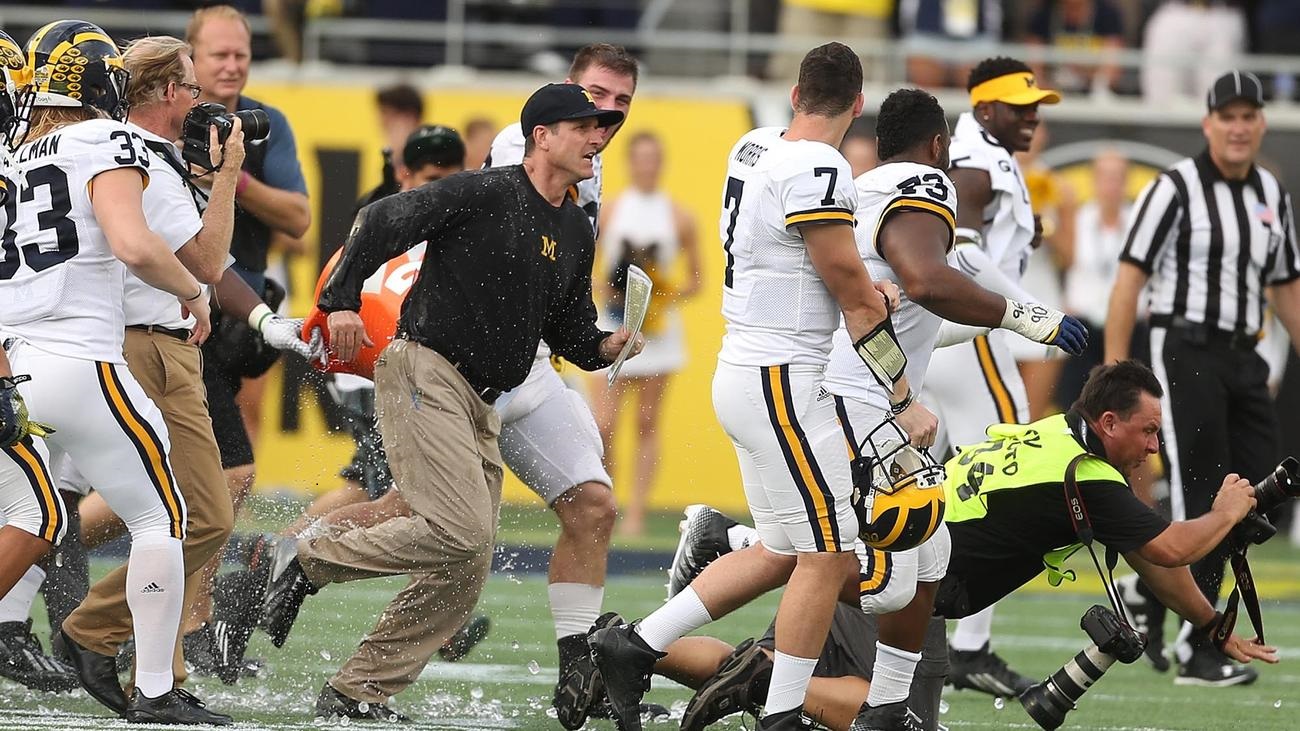 Touchdownnnnn Meechigan !!!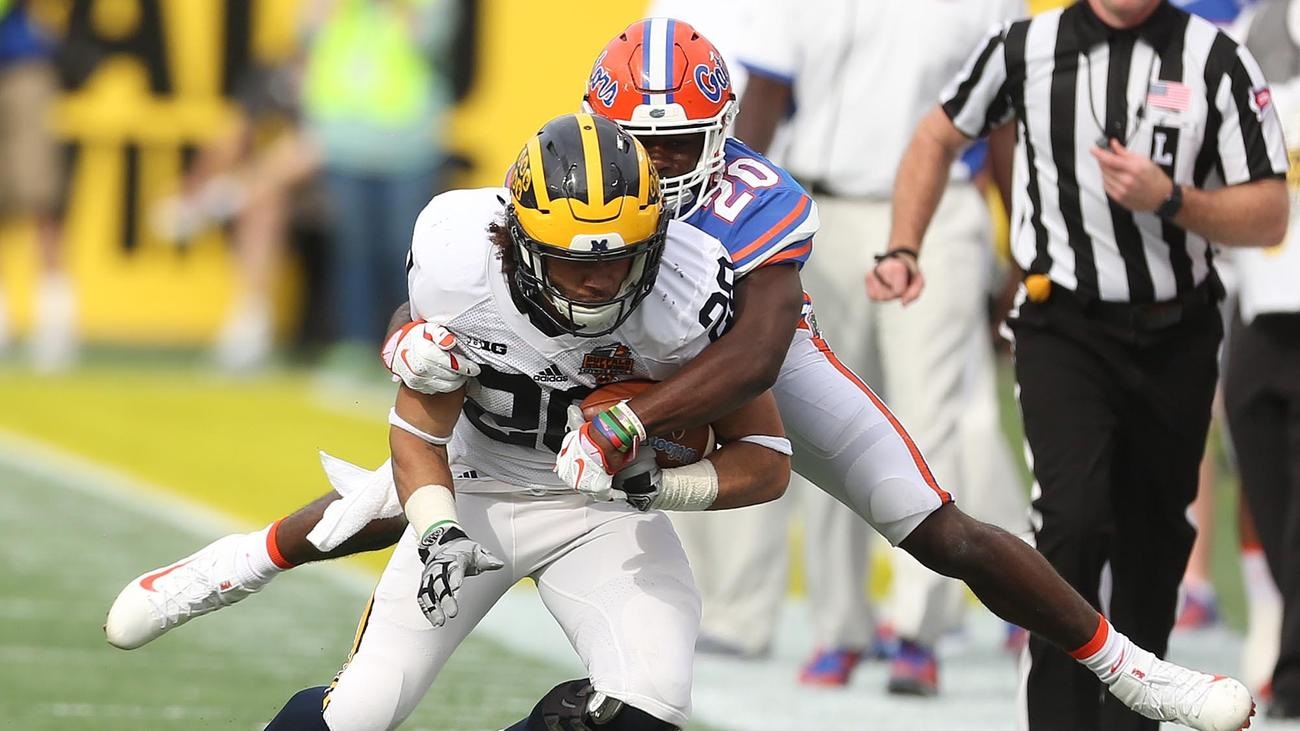 The Game started well with Michigan scoring on their opening drive with a long drive that was capped by a Drake Johnson 4-yard touchdown run at 5:54. Florida responded on their second drive with a lot of slant passes and quarterback read-option runs to the 4 yard line, where Florida's Treon Harris feigned confusion and a direct snap to the running back lead to a Florida score. While Treon Harris had his moments early, he also had a costly interception in the end zone late in the first half that stifled the Gators' attempt to stay in the game.
Touchdownnnnn Chesson !!!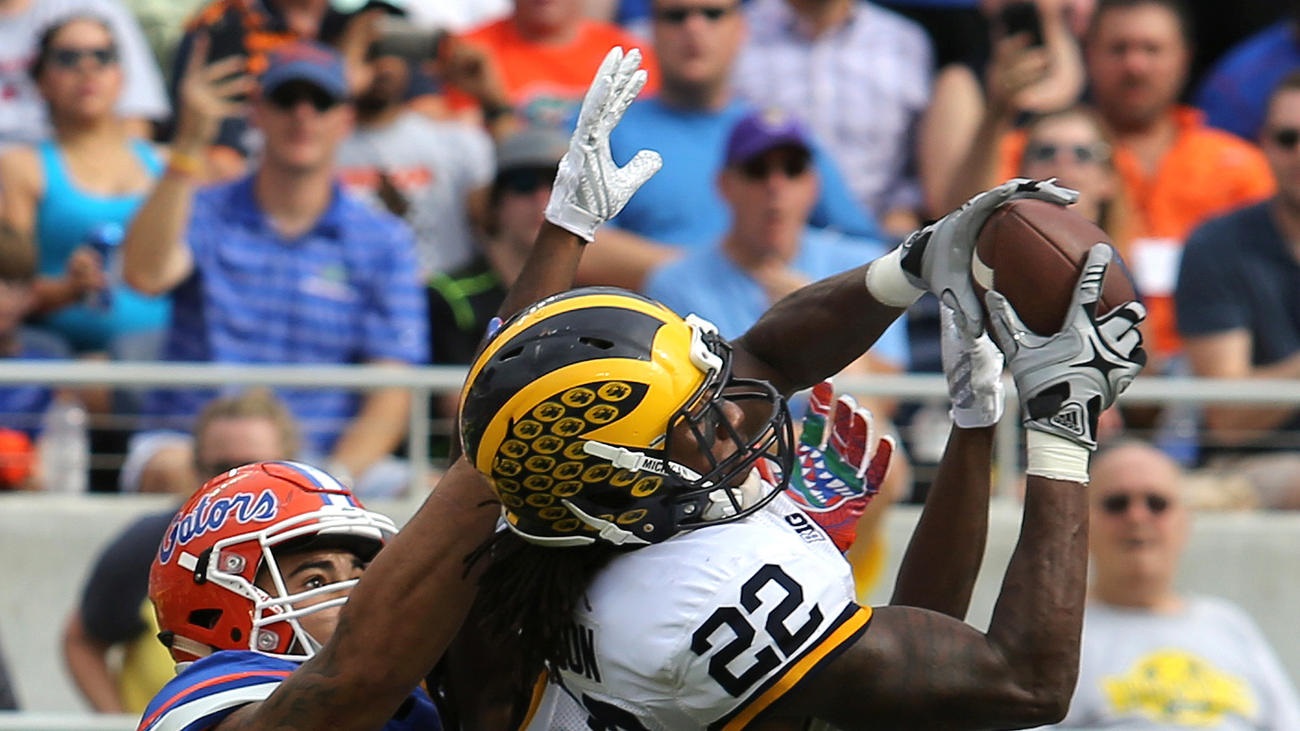 Michigan took a 17-7 lead into halftime thanks largely to the efficiency of the Wolverines passing attack. Michigan's receivers did a great job creating lanes for Ruddock to throw to, and ran crisp routes to open up deep-play opportunities. The best example was on Ruddock's 31-yard touchdown pass to Jehu Chesson early in the second quarter that put Michigan up 14-7. Jehu used a double move, initially faking an inside slant, to strand and separate from cornerback Vernon Hargreaves III. Despite some unsteady outings to end the regular season, Harris managed the Gators' offense well for most of the first half. Florida seemed poised to keep pace early on, tying the game at 7 in the first quarter with an efficient eight-play, 75-yard drive. The series was capped with a fake reverse pass from receiver Antonio Callaway to Harris. But on the series following Chesson's touchdown, Harris made a poor decision while getting chased toward the sideline, tossing a third-down pass from just outside the red zone into a crowded end zone. The pass was intercepted by Jarrod Wilson. The Wolverines drove down on the next series and added a field goal to extend their lead to 10.
Rocking Ruddock !!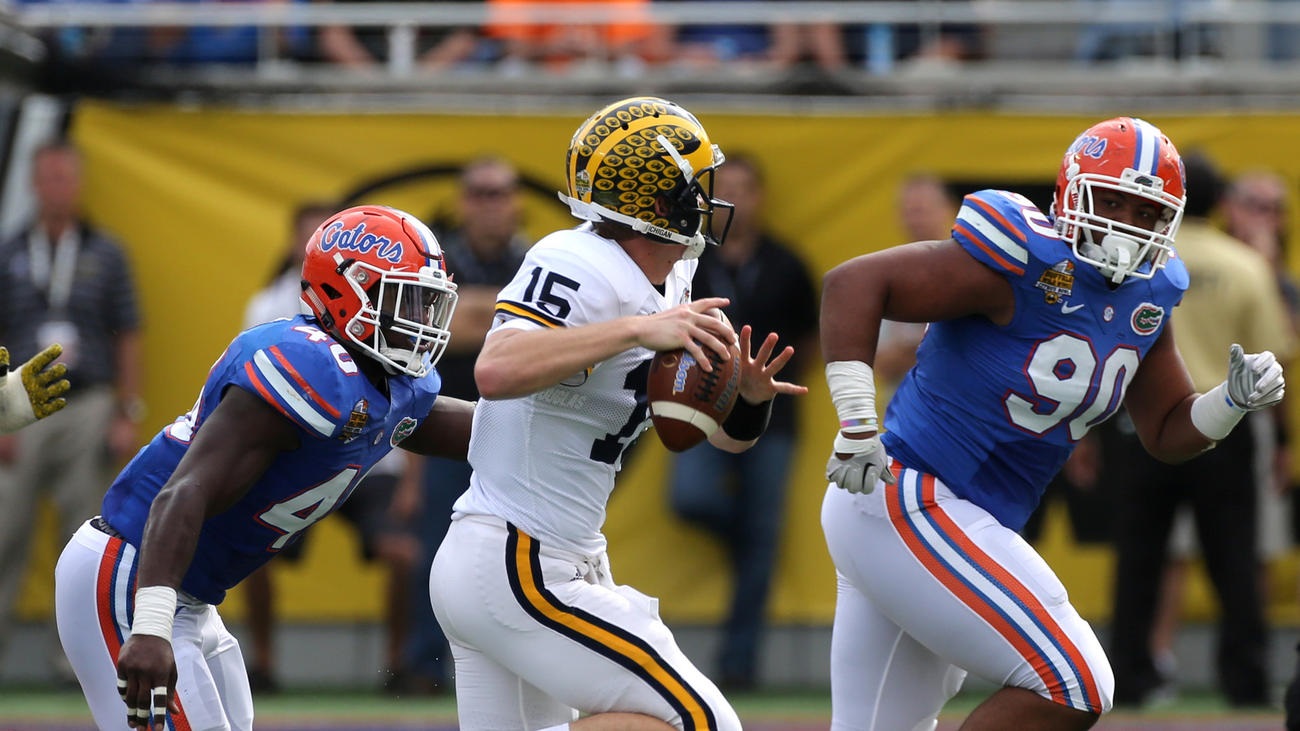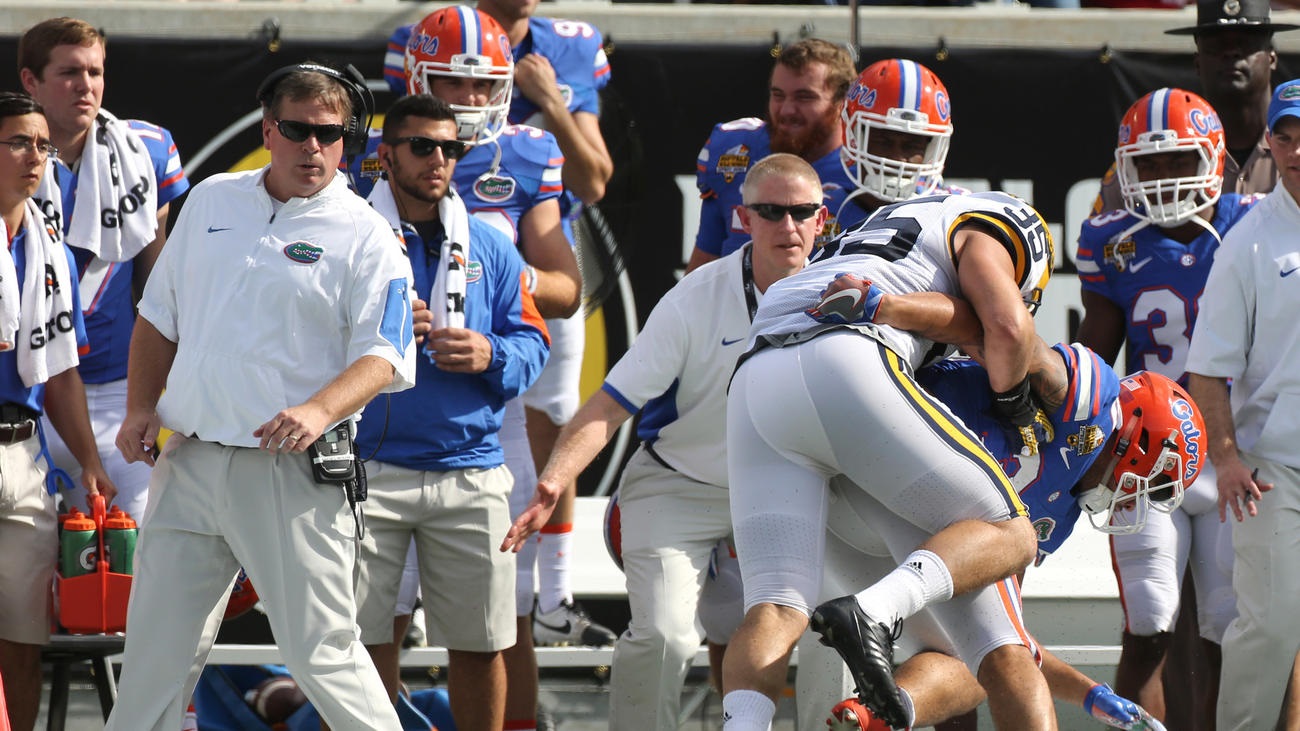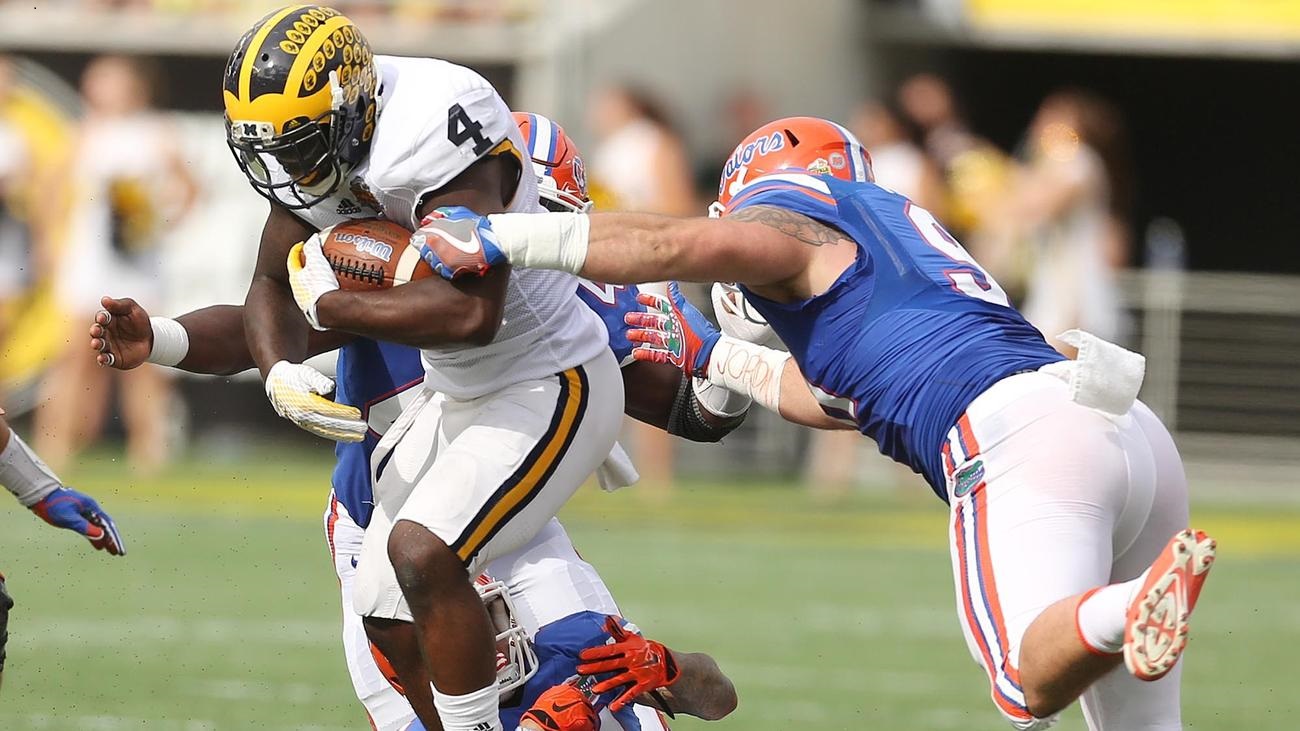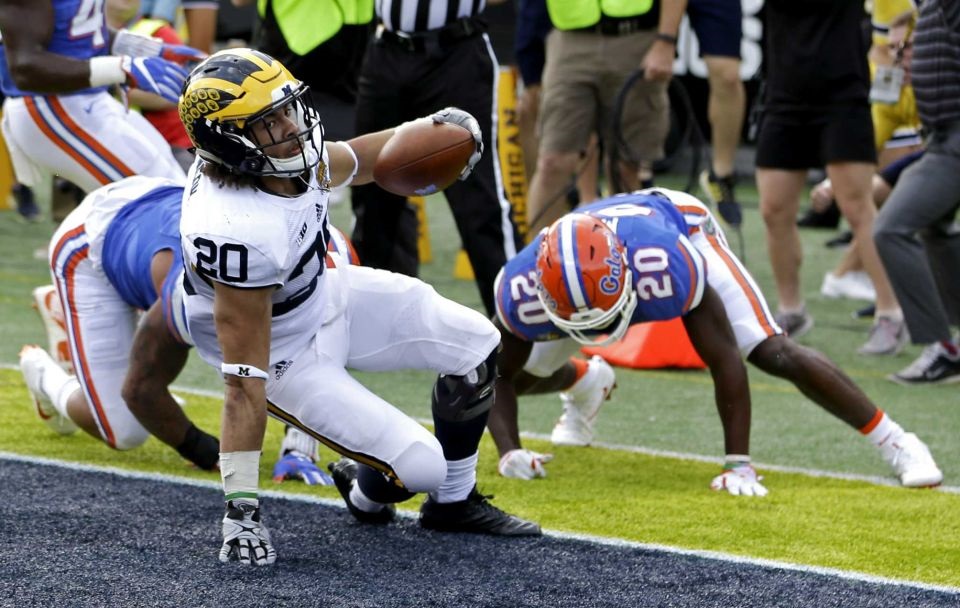 Leading by 10 at the half, Michigan scored on each of its first two possessions in the third quarter to take a 31-7 lead. Michigan's defense played without safety Jabrill Peppers, who sat out with an undisclosed injury. But the Wolverines didn't miss him, holding the Gators (10-4) to 28 total yards in the second half. The Game ended with a dominating 6 minute drive with Michigan hanging onto the ball, and owning the time of possession. After the Game Florida coach Jim McElwain said "It was a case of getting your rump kicked in. That's' what it was," "They really took it to us on both sides of the ball."
The VERY ironic Gatorade Bath for the Victorious Harbaugh!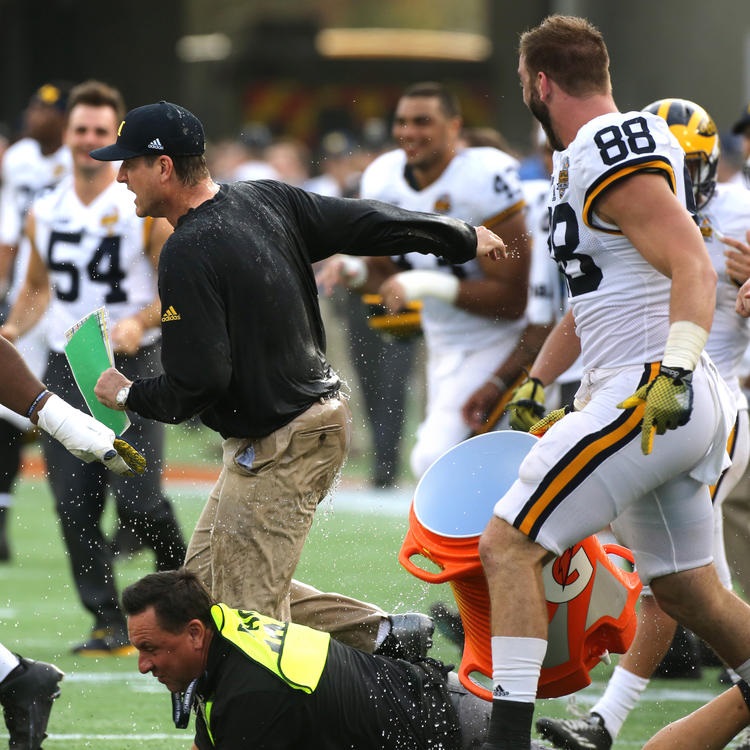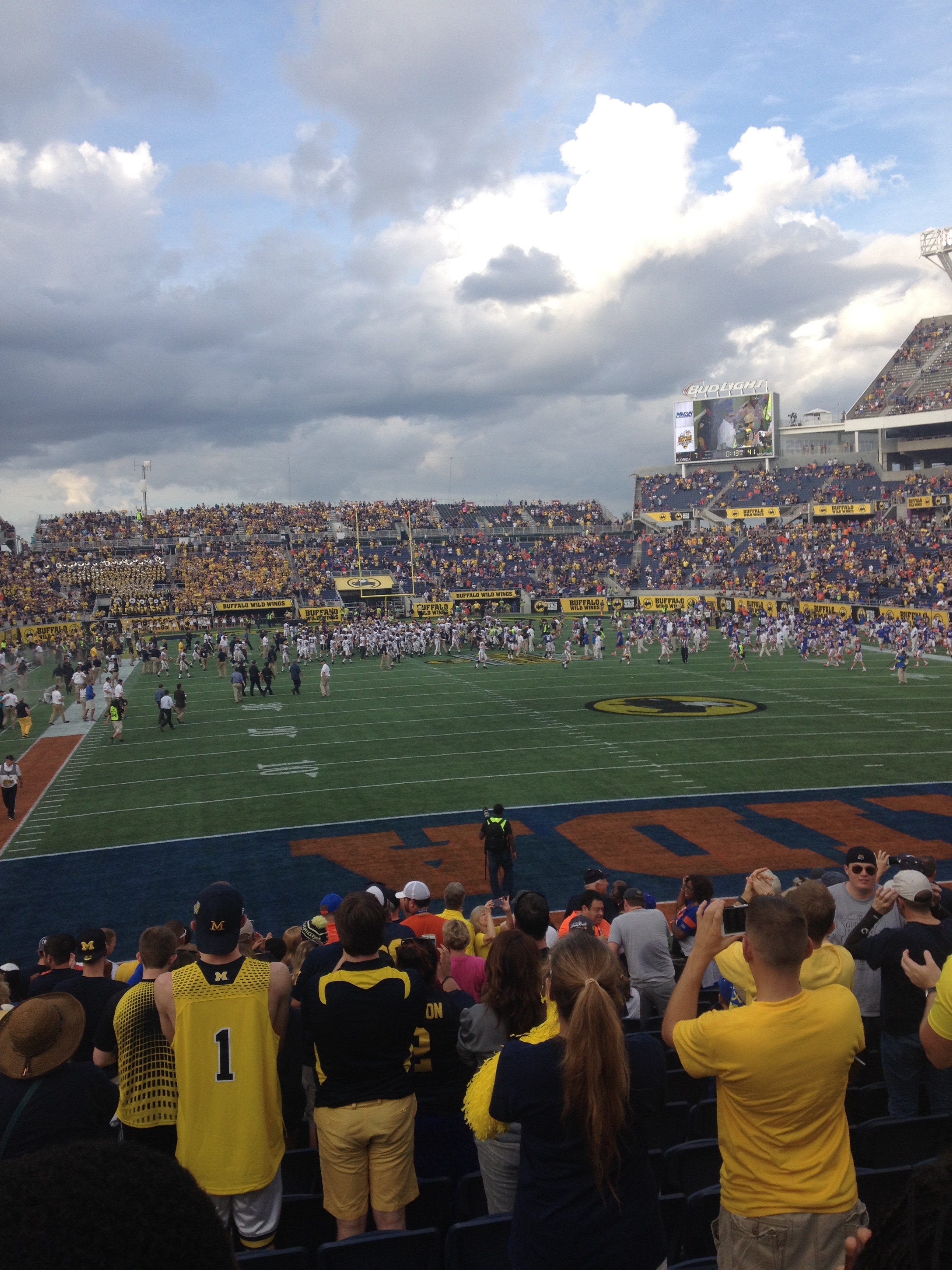 "I would say this was the best game we've played all year," Michigan coach Jim Harbaugh said. "I don't think I've ever seen our offense play better. Our defense was magnificent. ... The three and outs, the stops, the play on third down, everybody playing great team defense. It was really good." There were some questions surrounding how effective Ruddock would be after being knocked out of Michigan's regular-season finale against Ohio State with a left shoulder injury. He dismissed any notions about his health almost immediately in the Wolverines' first bowl victory since 2012. Michigan (10-3) had three touchdown drives of at least 70 yards and finished with 503 yards of offense against a Florida defense that entered the game ranked sixth nationally. Ruddock credited the coaching staff's game plan and scouting efforts with putting him and his teammates in optimum situations. "We understood how they played -- they play fast and they play physical," Ruddock said. "I had an easy job. I just had to get it out there to them." He also had lots of support on the ground from tailback De'Veon Smith, who finished with 109 yards rushing and two scores. "We just came out there and competed today. It just shows that hard work pays off," Smith said.
Citrus Bowl Champion Michigan Wolverines !!!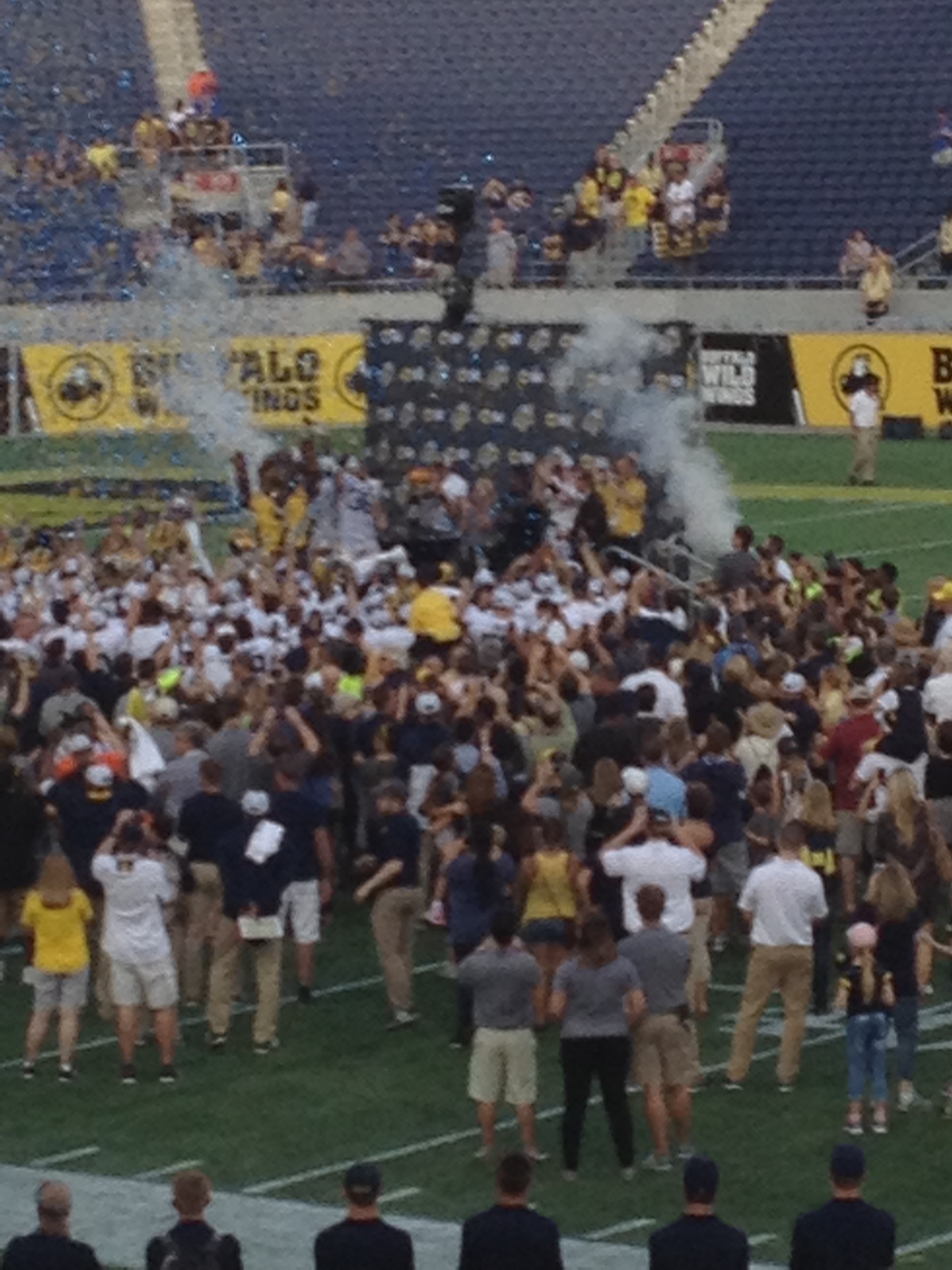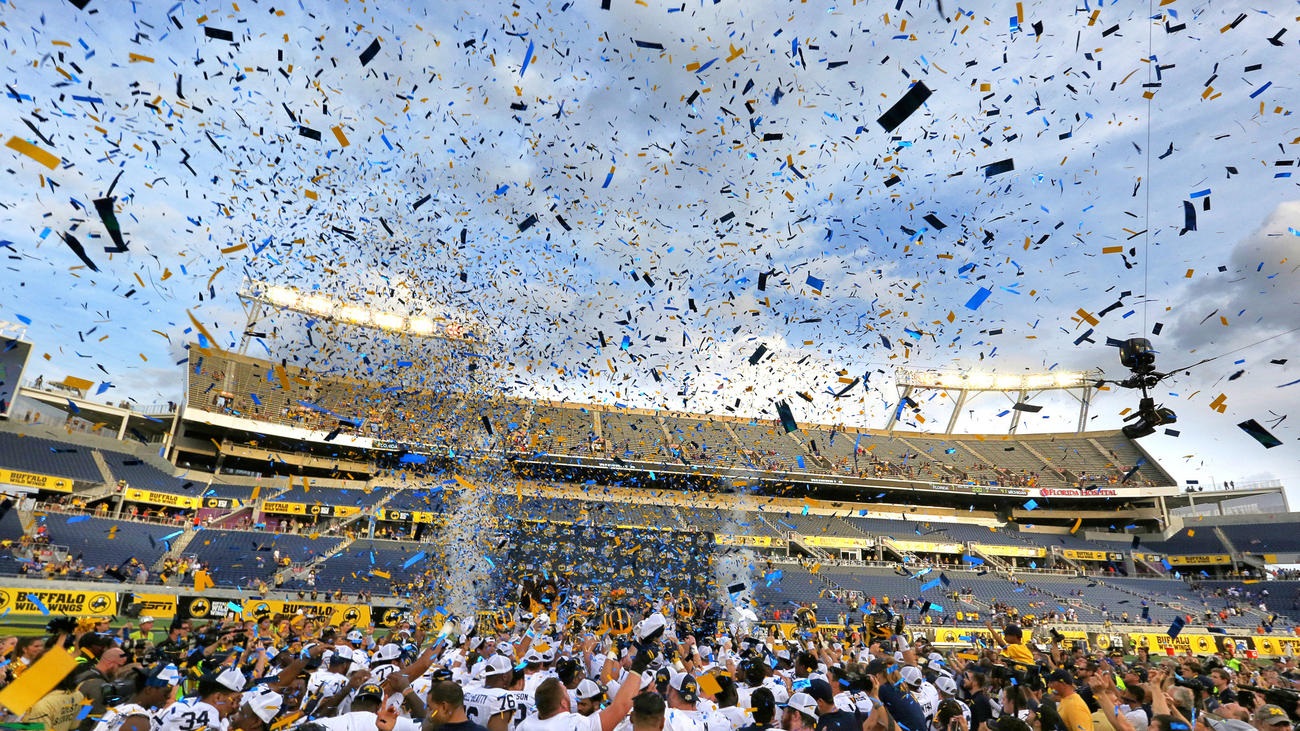 A very Happy Bone and Kenny Gibbons (2011 Sugar Bowl Kicker and Game Winner!)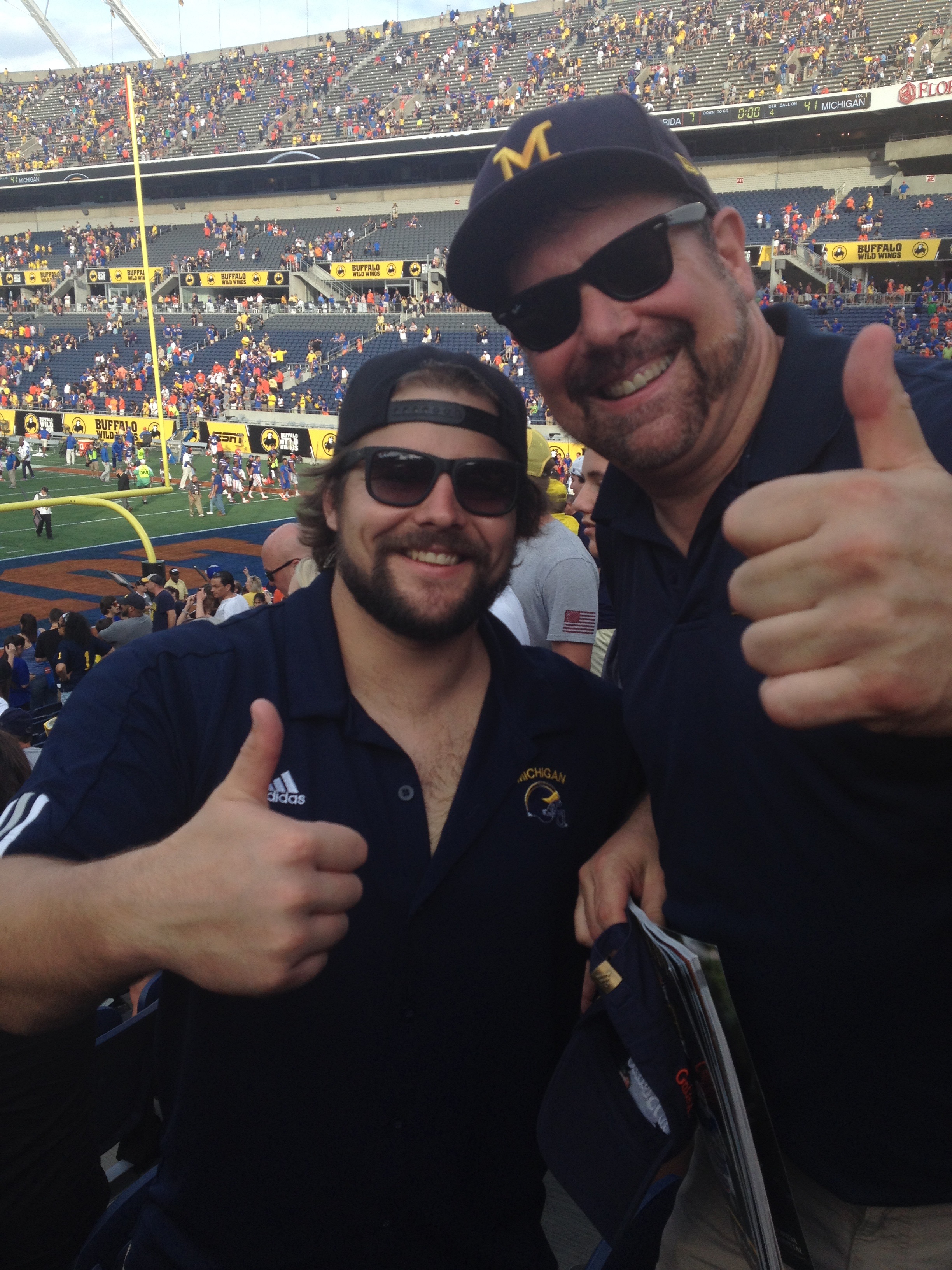 Right in front of Mike and Bone was ex-Wolverine Kenny Gibbon's (a native Floridian) whose kick won the overtime victory against Virginia Tech in the 2011 Sugar Bowl. During the game an old fat Gator fan, became increasingly PO'ed by Michigan's utter dominance of his Gators, started chanting Ohio State crap. Bone used a few pithy comments which Gibbons like and the two struck up a dialogue about the Gator fan and the game.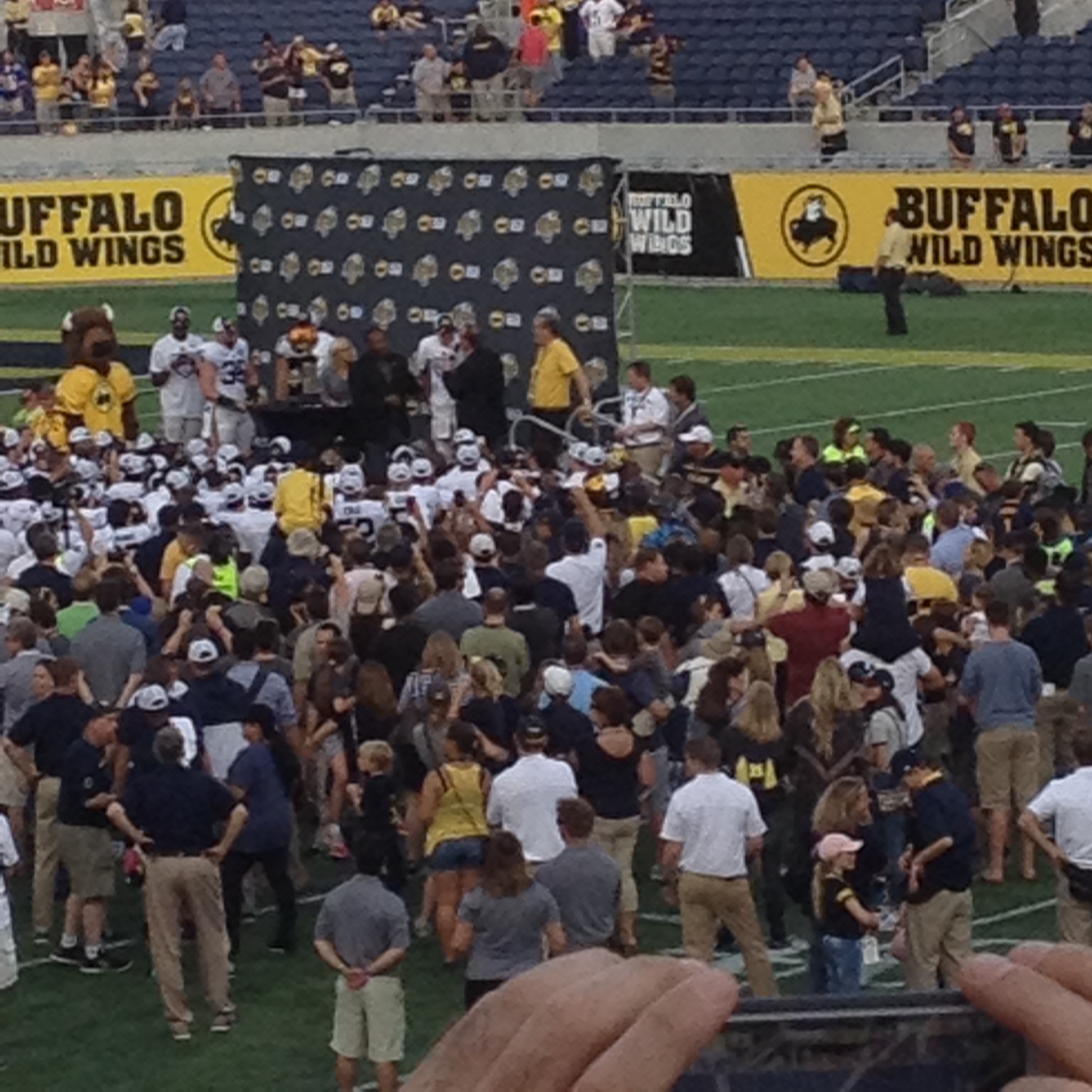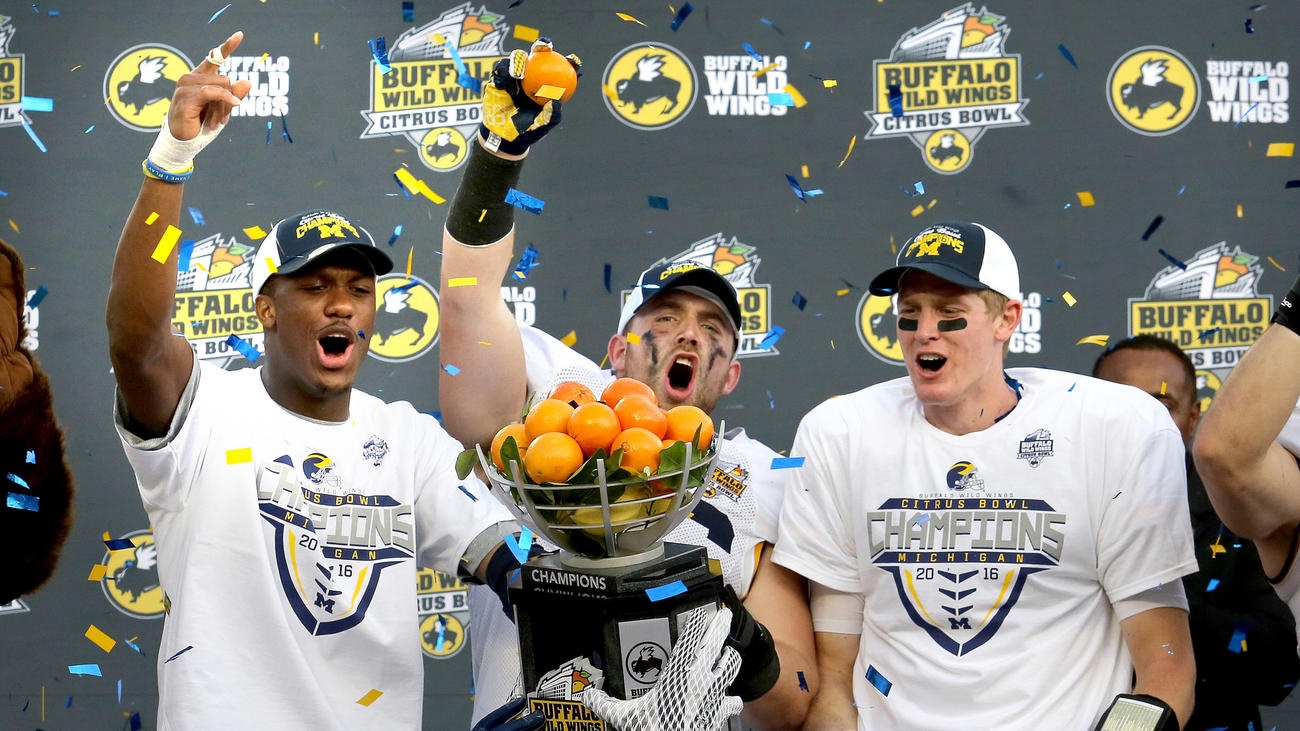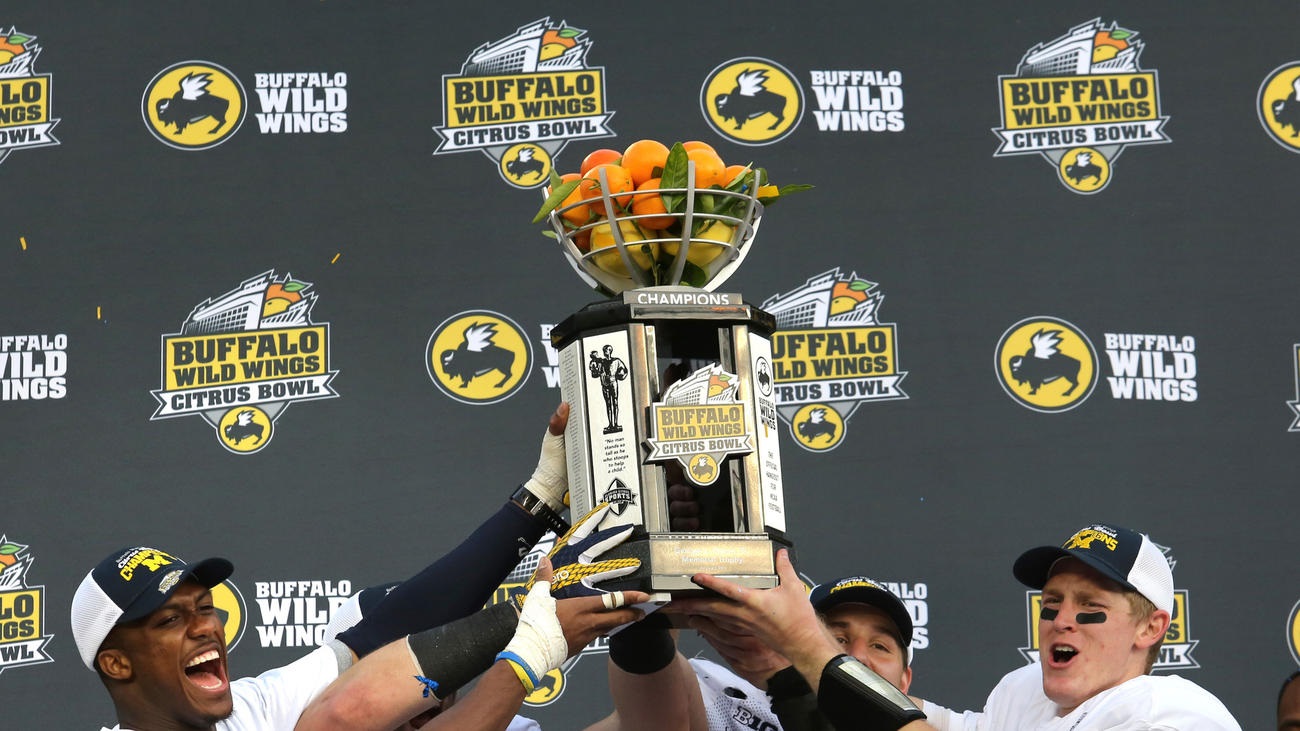 Game MVP , , , Jake Ruddock !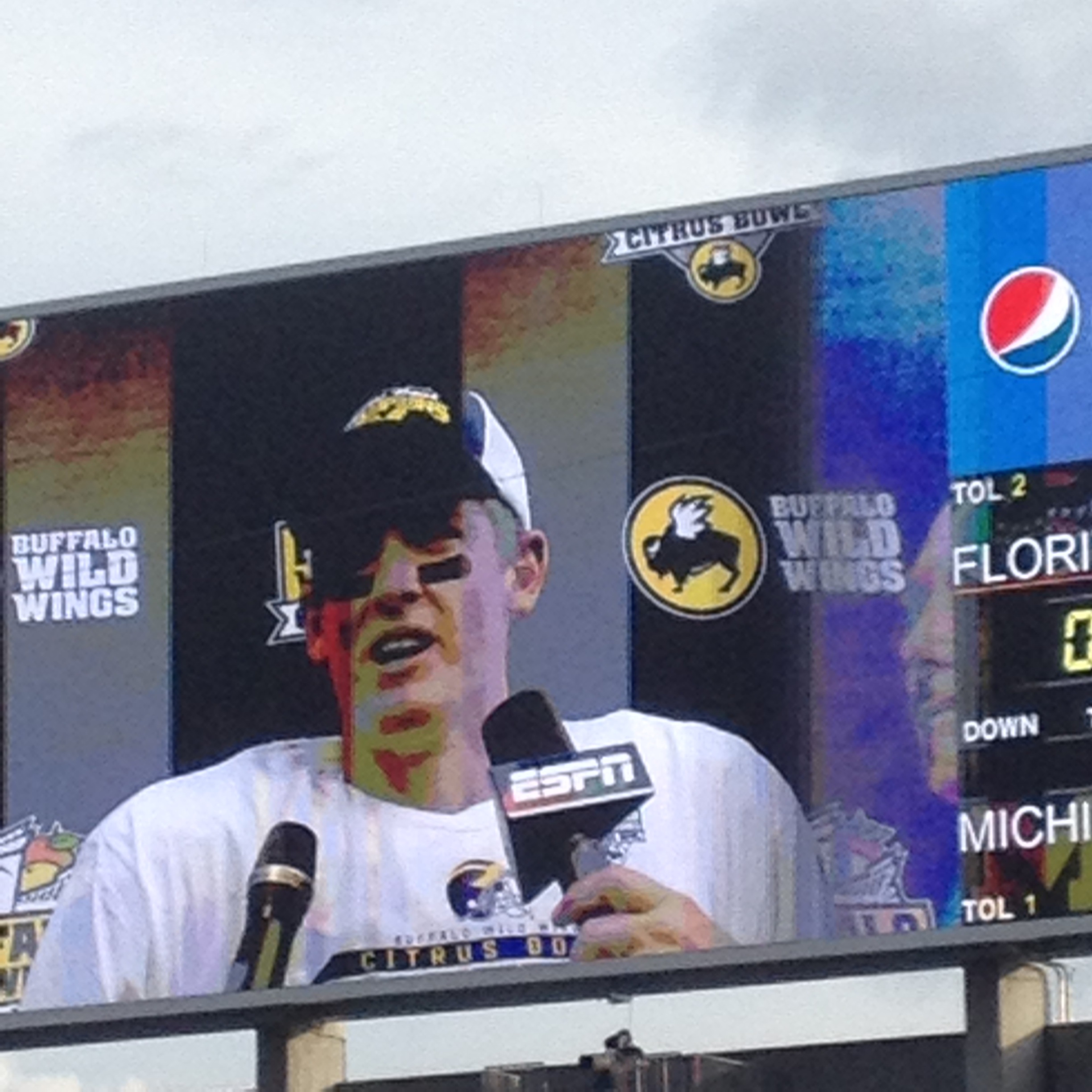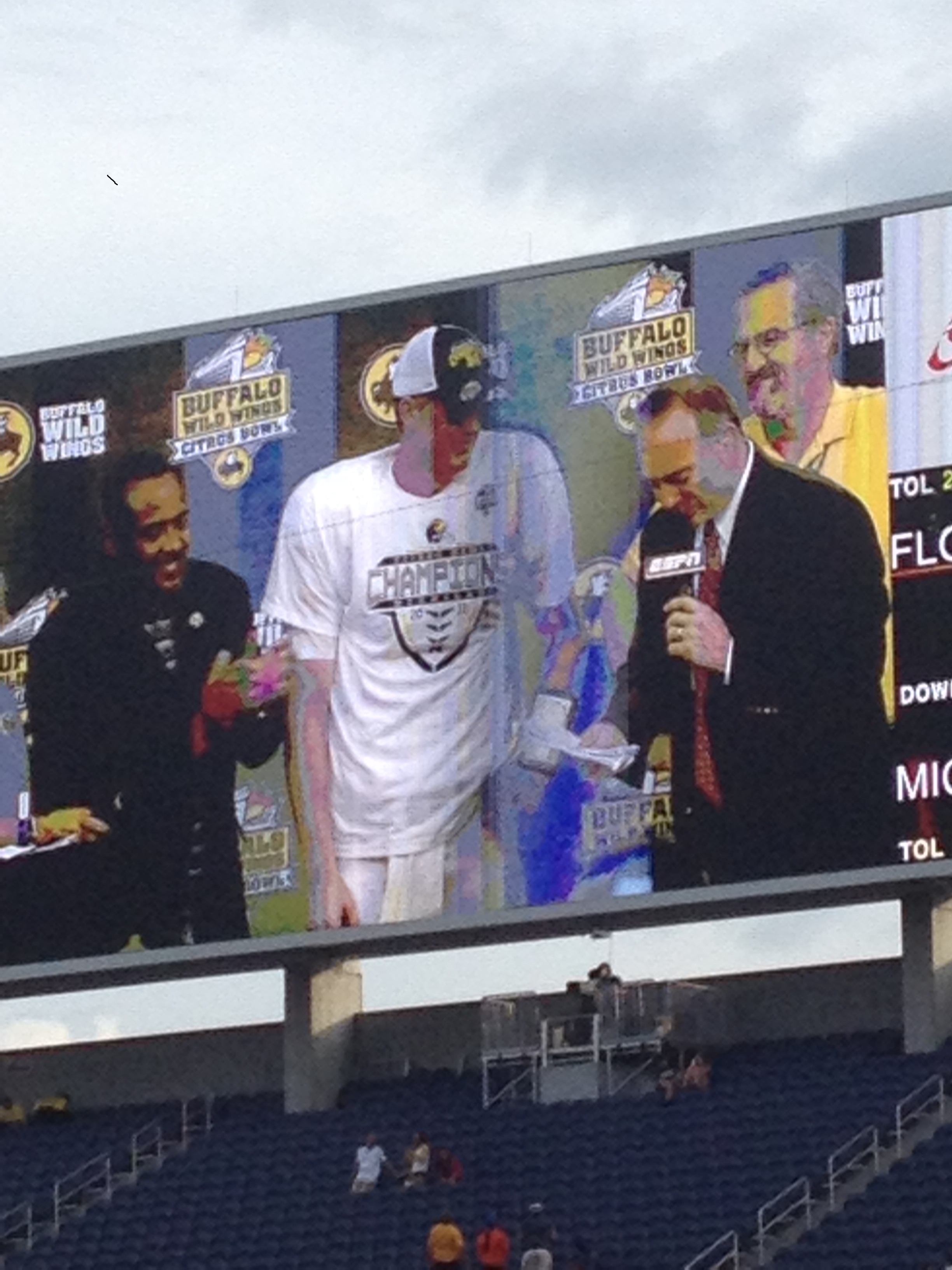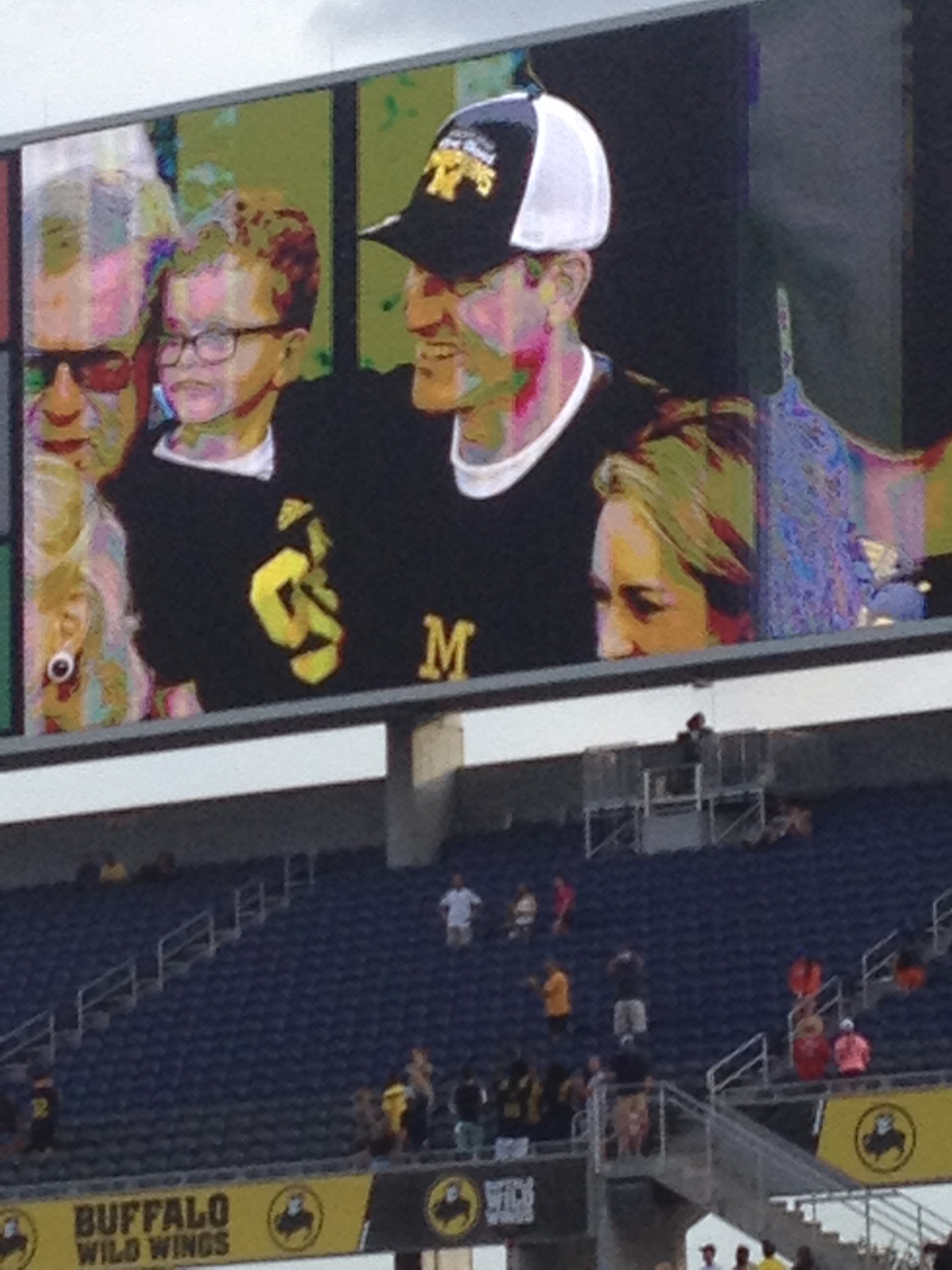 Game MVP Jake Ruddock threw for 278 yards and three touchdowns and Michigan's defense dominated throughout in the No. 14 Wolverines' 41-7 victory over No. 19 Florida on Friday in the Citrus Bowl. "I'm just really excited about what we were able to do," Ruddock said. "Ten wins is no small feat in college football. It's very difficult to get there. I'm just so thankful and grateful we were able to get there as a team."
During the Game, the people behind Mike and Bone were cousins and relative of Jake Ruddock, they told Mike and Bone that Jake considered his coaching from Harbaugh his "first year in the NFL."
All in all a major beat down on the Gators !!!! Ready to celebrate, Mike and Bone headed back to the car and off to party in downtown Orlando with their fellow Wolverine Nation !!