Day 2: Yes Sur, it's a Big Sur!
Main Page > 1988 California Screamin' Tour >
The bright and sunny day began with a massive headache and plans for a trip south along the picturesque Pacific Coast Highway (PCH). By 9:00 AM the Boys left the sleazy dive in Haight-Ashbury (and also leaving some brain cells) through downtown San Fran for a quick breakfast of sourdough bagels meant to sop up some of the alcohol left in their systems.
Queasy and Easy on Lombard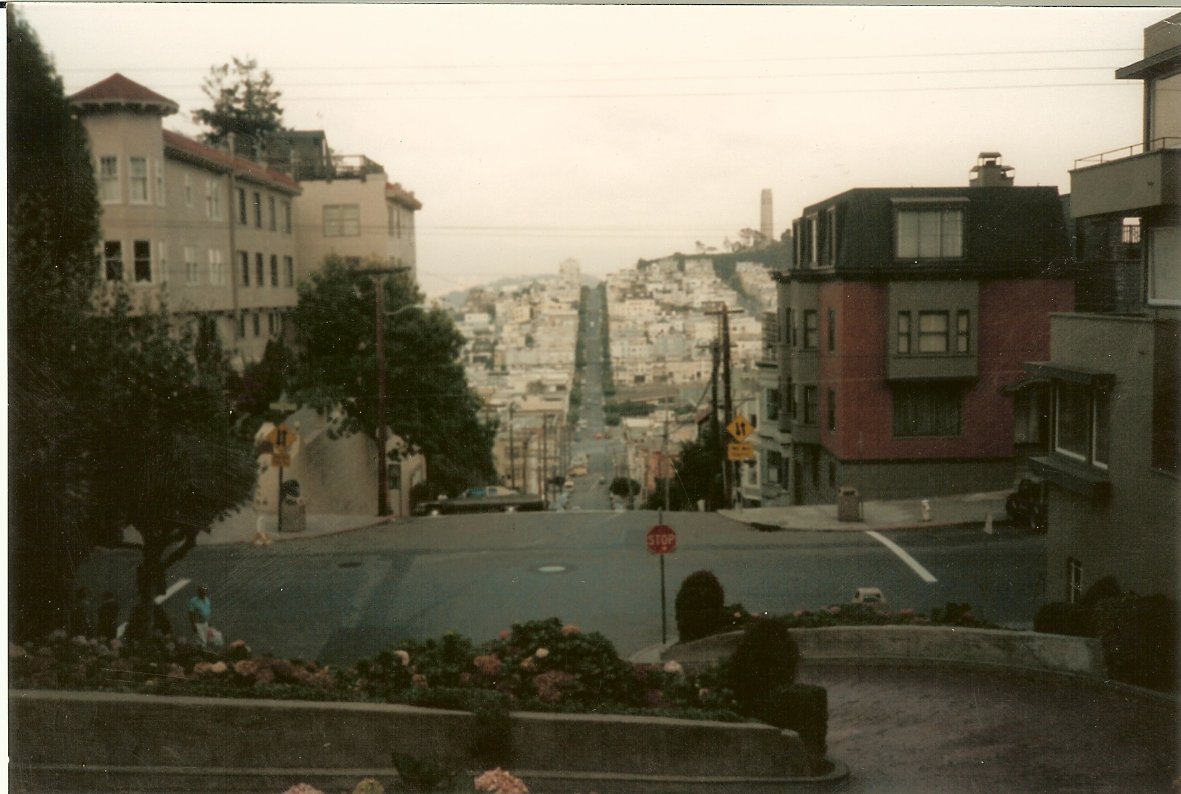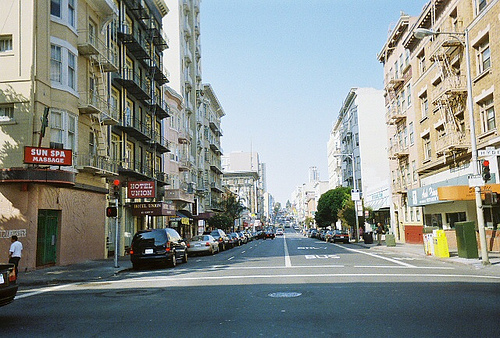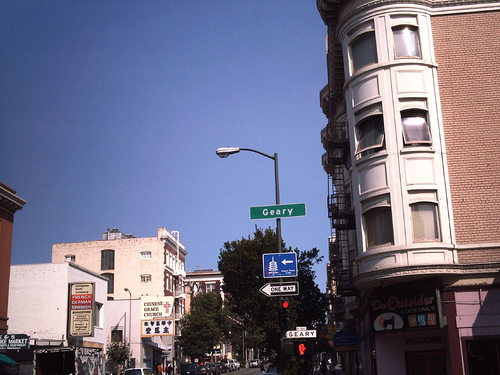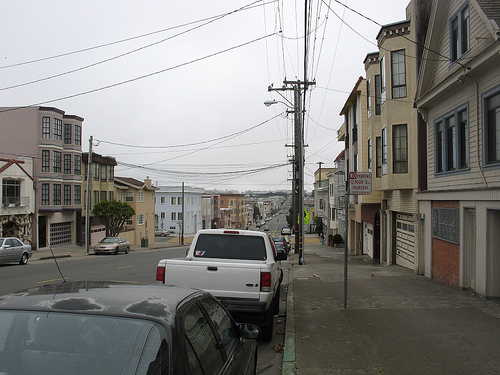 After being supplied (albeit for only a short time) the Trio of Terror and drove down Lombard to Pacific, then onto Geary Street, smelling the sweet, sweet air of the real Pacific !!!
Pacific Coast Highway @ Seal Rocks in San Fran !!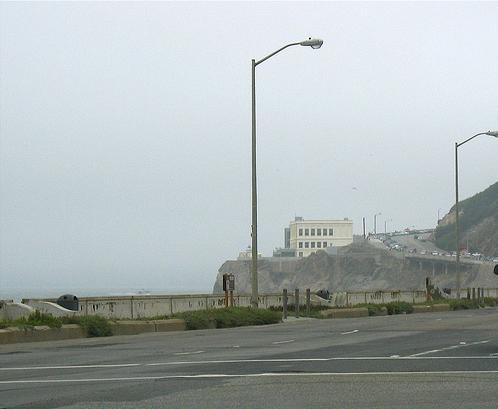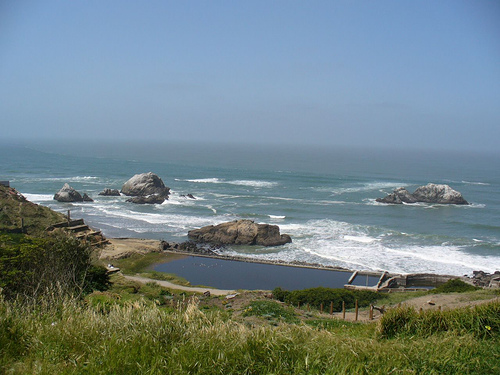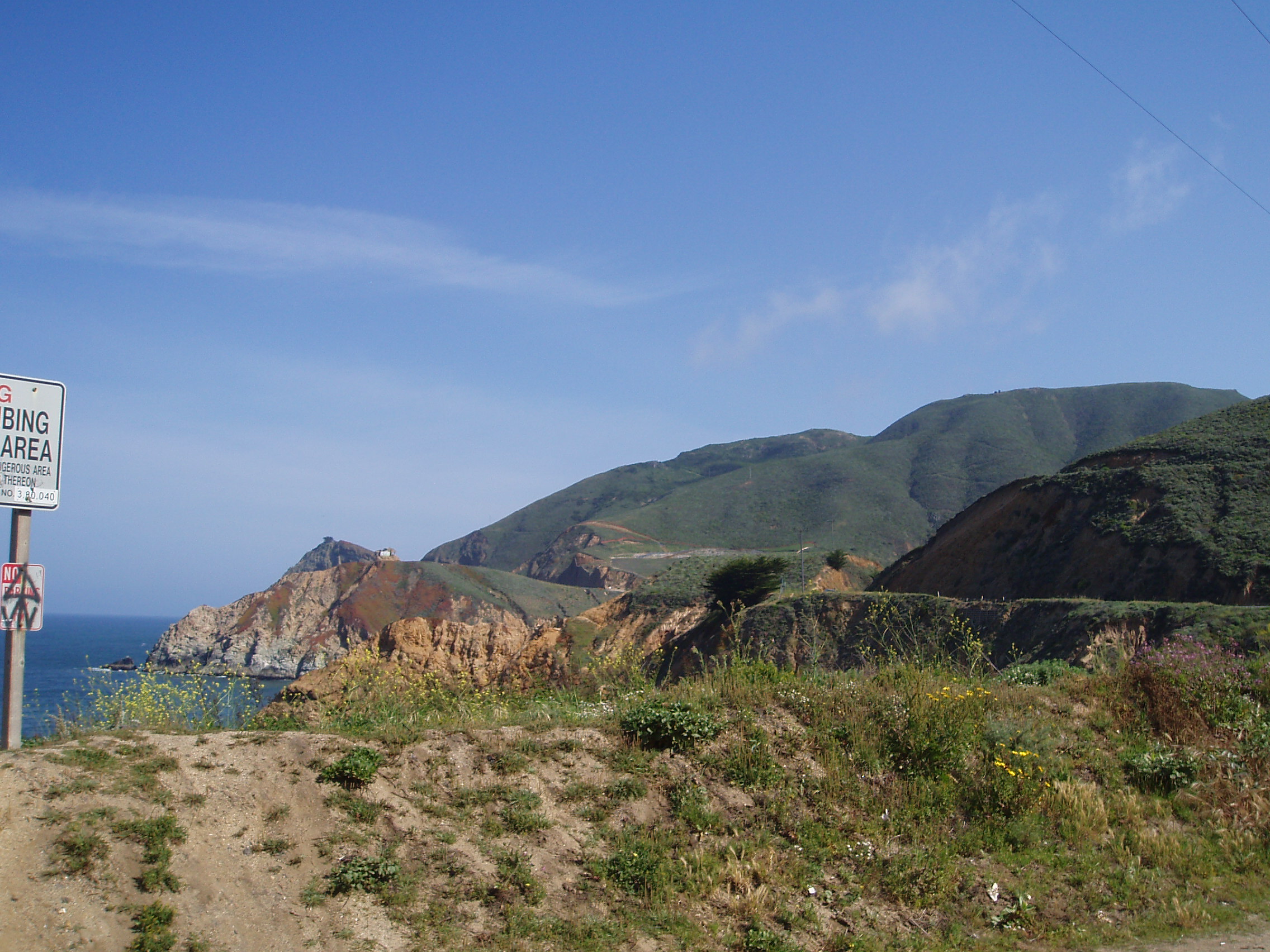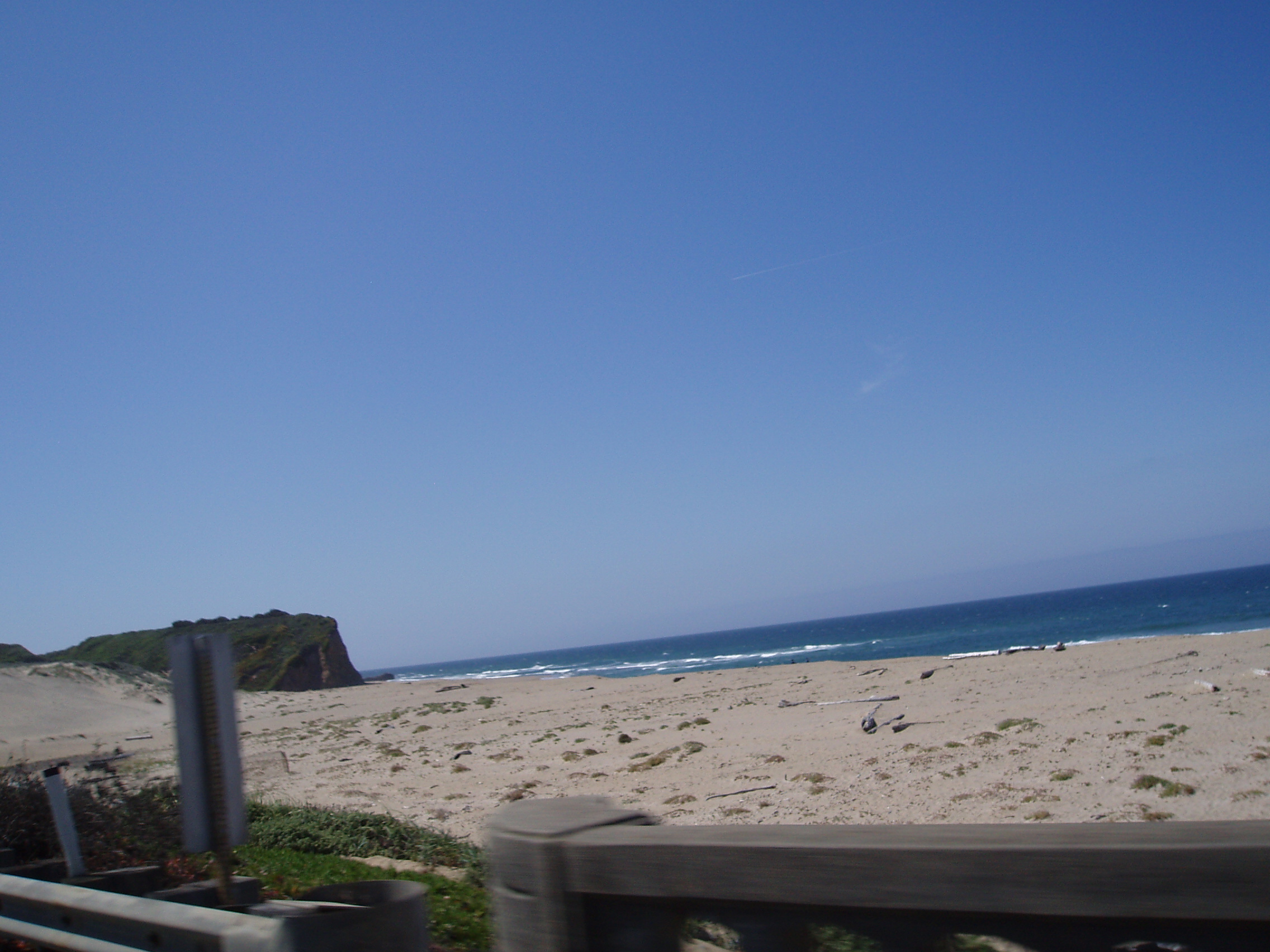 Geary dead-ends at the beach right by renown Seal Beach, where the boys picked up PCH. Now as PCH winds south of San Francisco it turns into a road with more angles than a toothbrush salesman ! It is both picturesque and scary at times to drive during the day, much less at night !
Stocking up on Sud's in Santa Cruz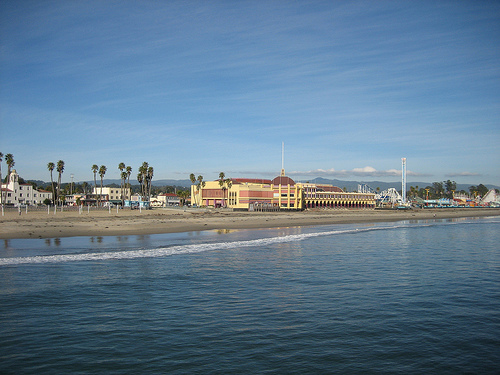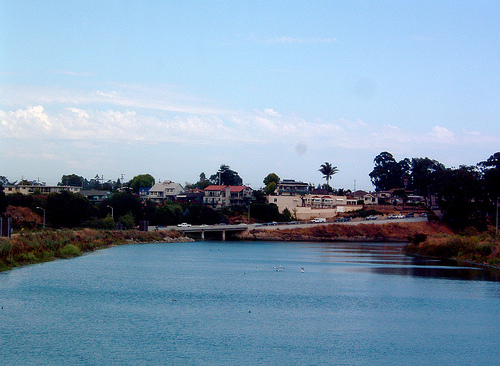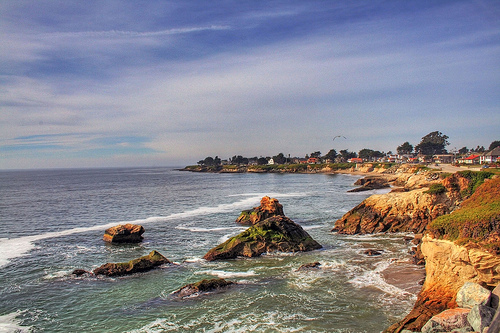 The drive was going along innocently enough, until Hadrian mentioned that it was approaching 9:30 in the morning and they had yet to drink a beer!! By this time they were upon the lovely town of Santa Cruz, a town of breath taking little pastel colour homes nestled against the cliffs of the Pacific. An interesting side note is that the University of California Santa Cruz's official mascot is the banana slug. Why this is interesting is at that very moment, our three slugs entered the town, the local stock of Mexican beer started to geometrically diminish. Stocking up on a case of Pacifico's, a case of Dos Equis'es, and a Case of Bohemia, the boys felt that they had sufficient provisions of Hispanic culture to last at least until lunch. Along with the beer, Bone decided to purchase a camera to capture the remainder of the trip on camera, if for no other reason, than to provide a credible defence to any criminal or civil litigation.
Heading Down 17 Mile Drive on PCH!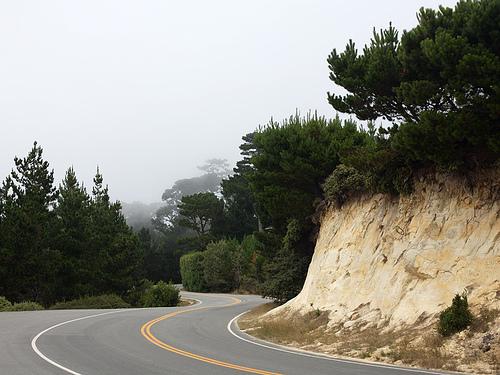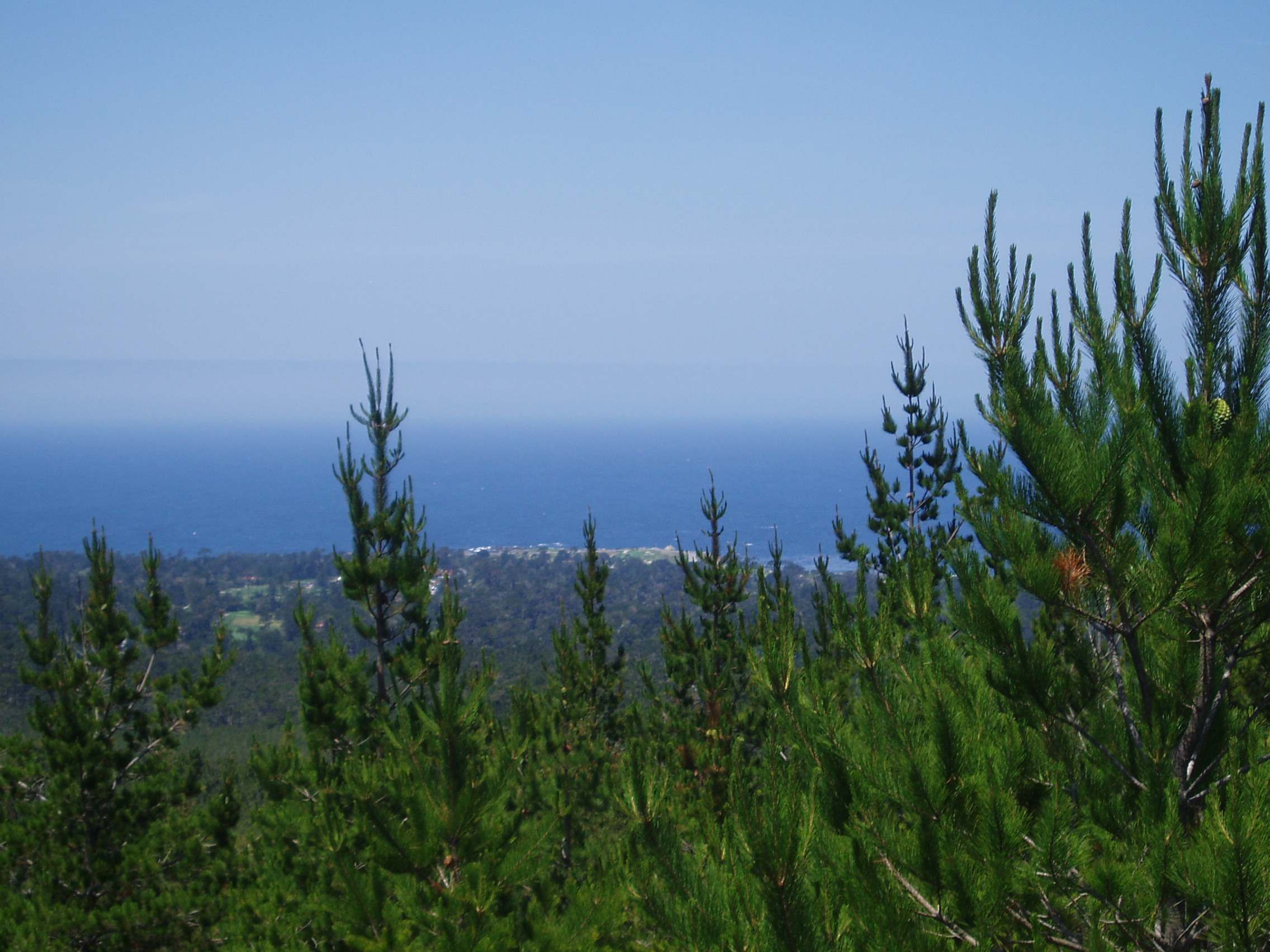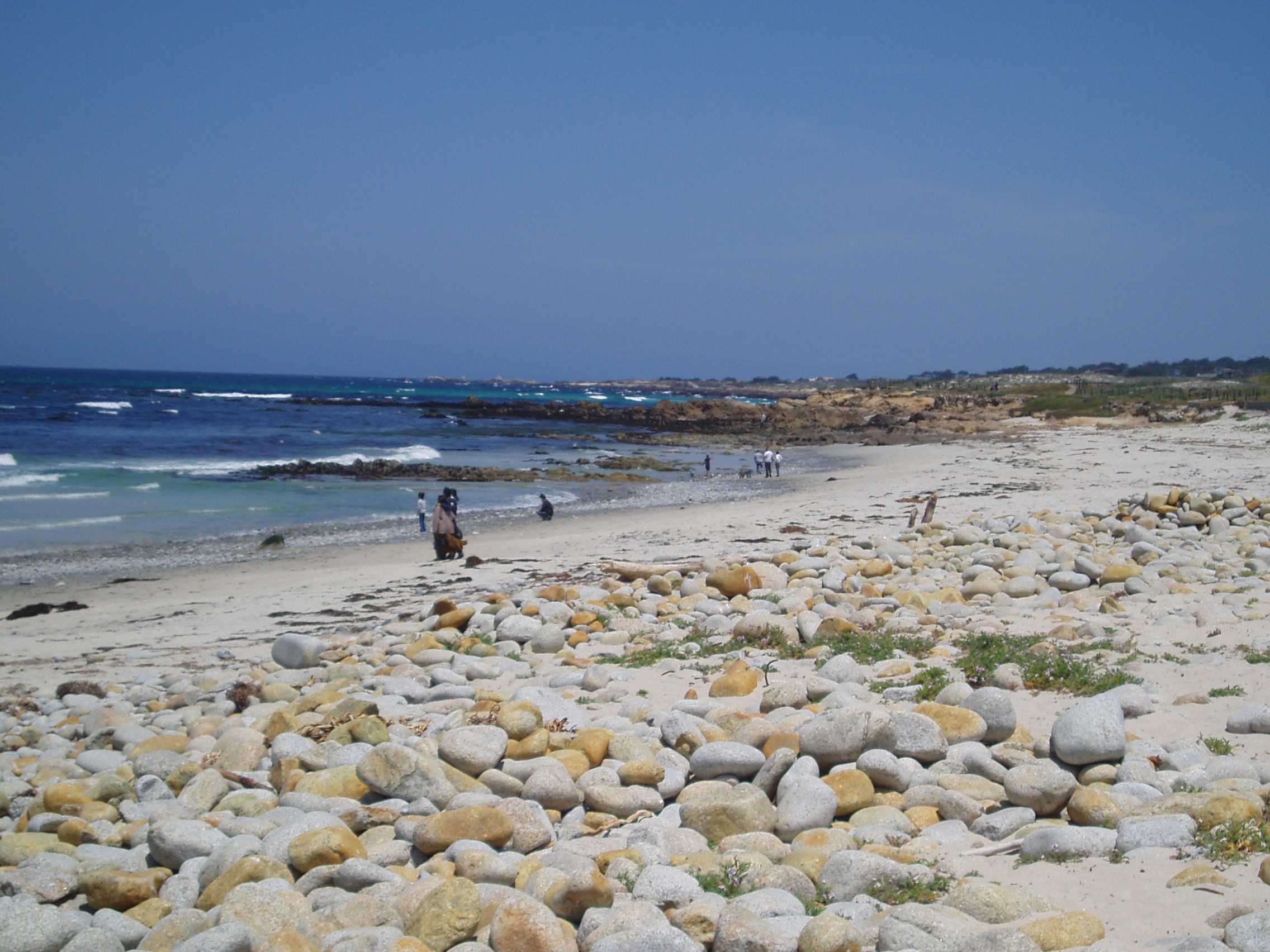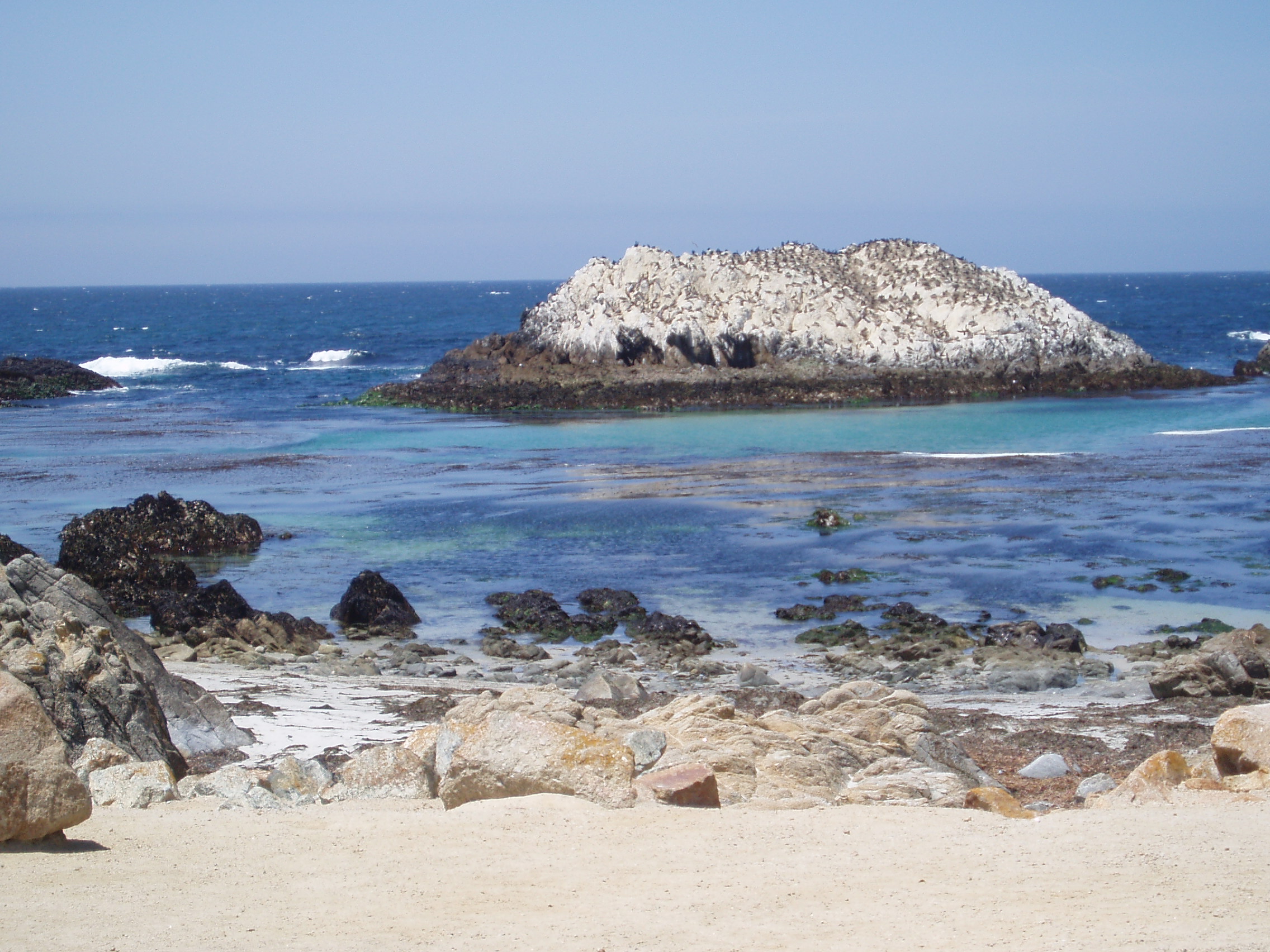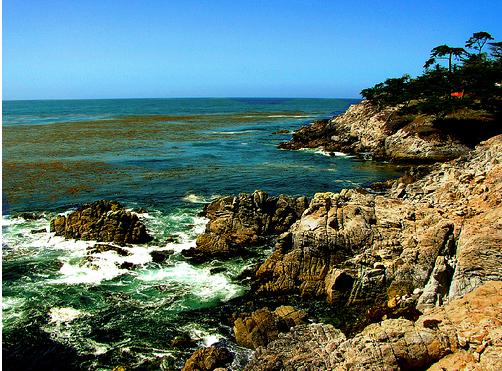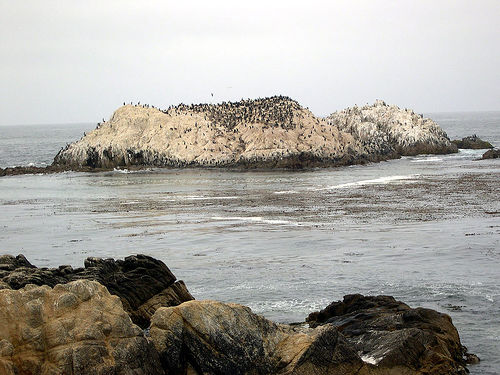 The Boys toured through the Monterey Peninsula through the town of the same name enjoying the bay, the breeze and the brew's. Driving through the highly exclusive 17 Mile Drive, our feckless friends descended onto one of Golf's holy of holies, Pebble Beach.
Putzing around on Pebble Beach !!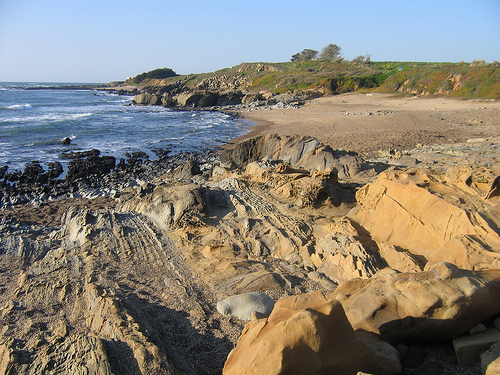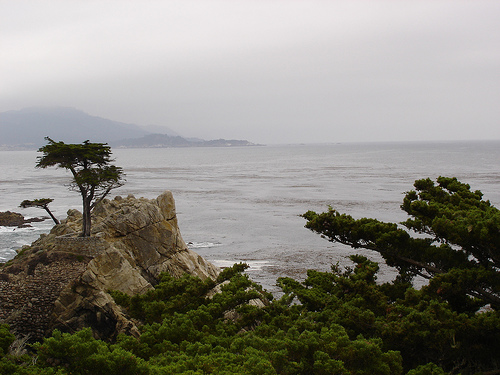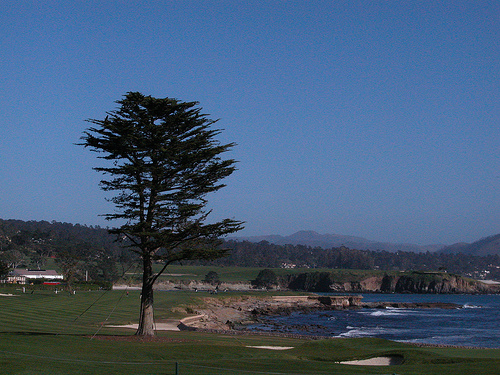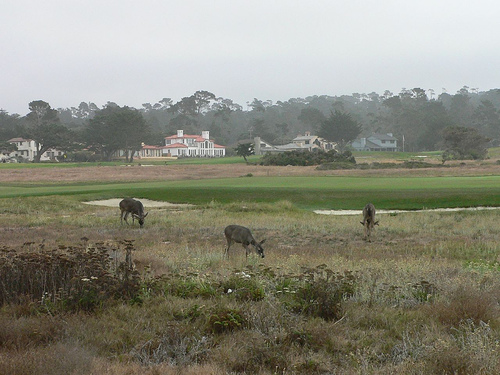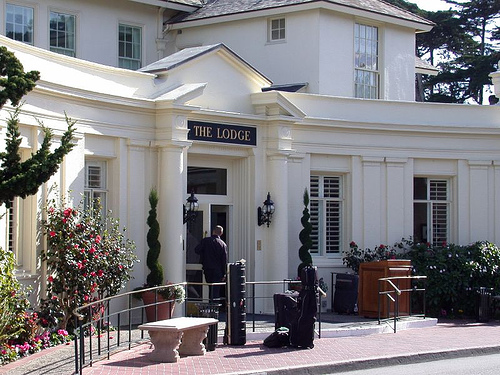 Entering the course the boys decided to check things out while seeing how far they could go before being thrown out for being the bums that we know they are. They wandered around the course acting at they belonged (since they obviously did not dress like they belonged!) About the time they were completing their tour, Bone remembered that the College Football Season was about to start with the Kick-Off Classic, featuring Nebraska and Florida State. They decided to inhabit the Club House for a few burgers, brews and 'ball. By half time the boys tab was up three burgers and twelve beers, while Nebraska (one of Bone's favorites) was down three scores and twelve points. Before the game or the check got out of hand, they cashed out and headed further south into Carmel and up into Carmel Heights, treking towards Big Sur.
Cruising through Carmel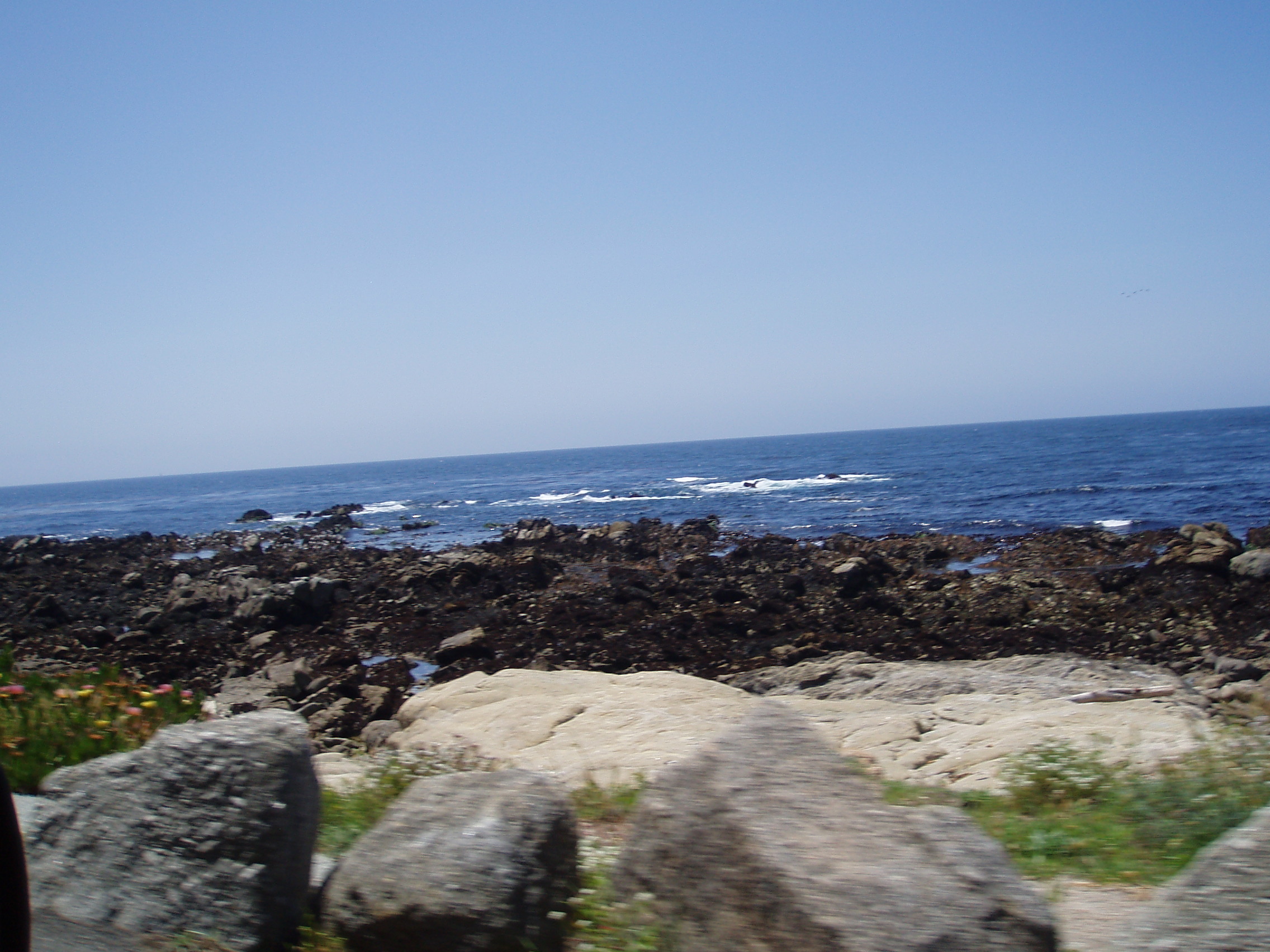 Drivin' thru Carmel Heights!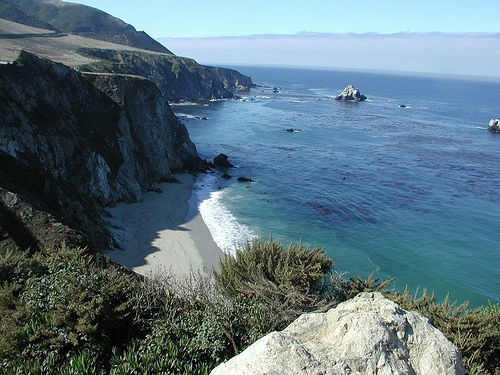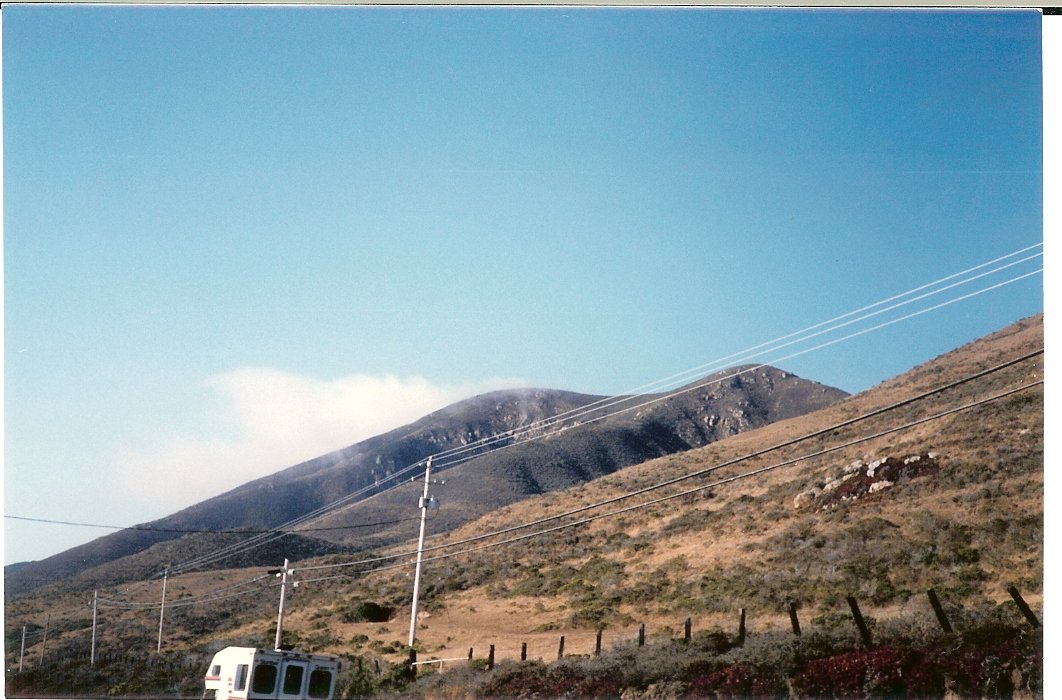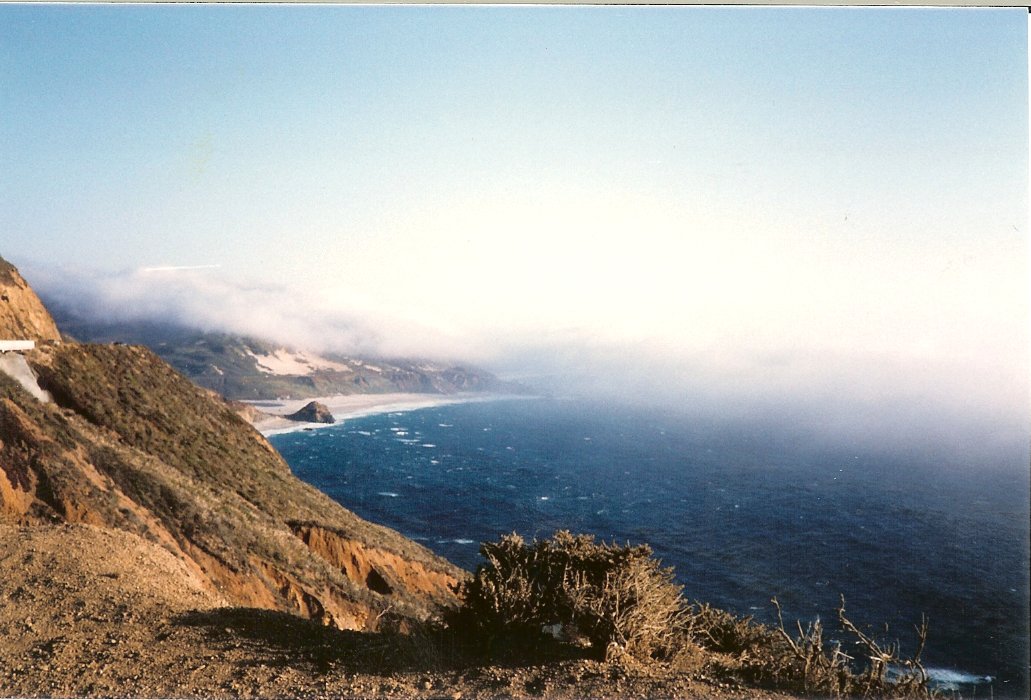 This region of California becomes even more remote, desolate, and magnificent. In this region is one of the most beautiful arch bridges in the world (often featured in car commercials).
Sailing on to Big Sur !!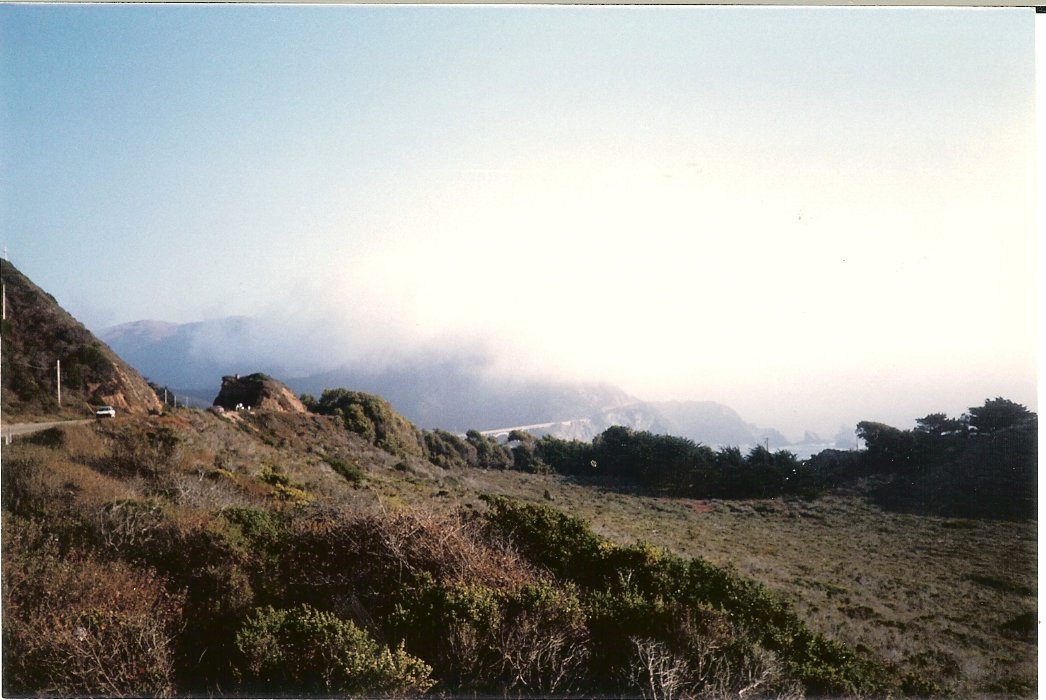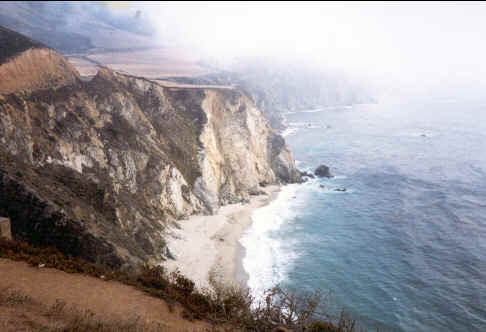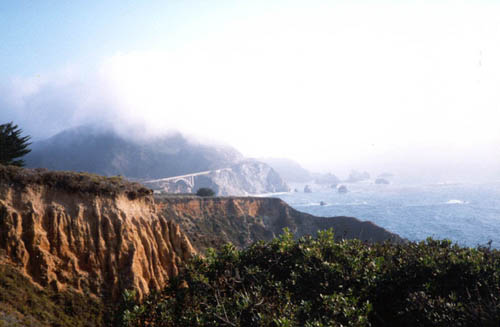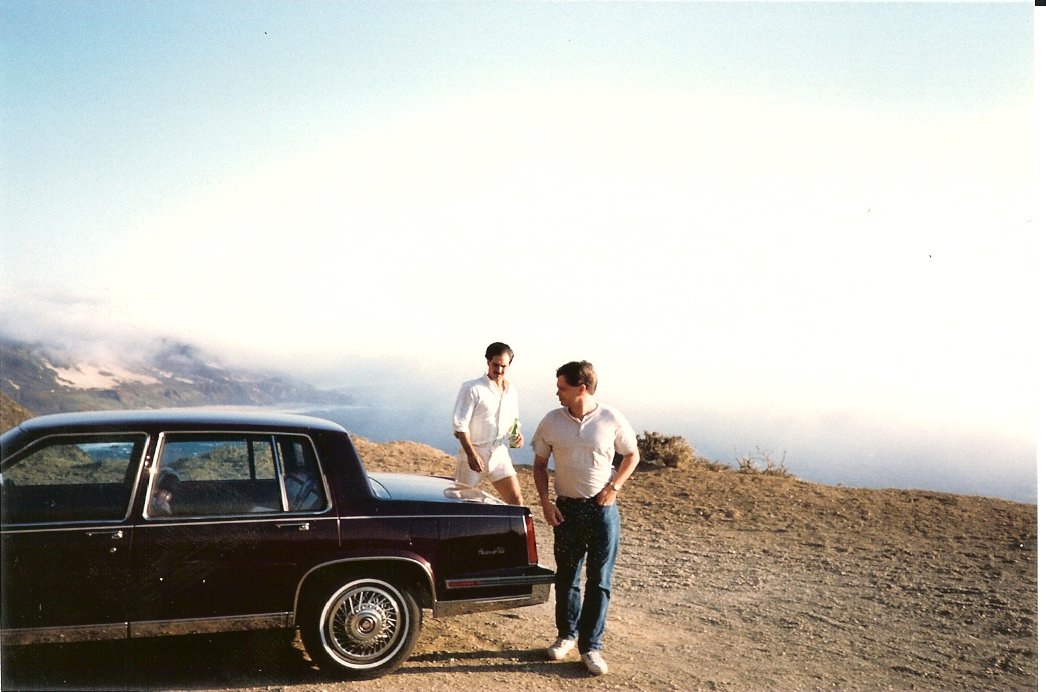 When the boys stopped for a picture, Bone got this idea, a horrible, stupid idea of the same magnitude as the film version of the Beverly Hillbillies. Bone saw a hill. Bone had to climb that hill. Bone saw the hill, had to climb the hill, and had to do it, with dire and unforeseen consequences.
"We wil cross that Bridge when we get to it !"
The Heady Climbers ready for battle.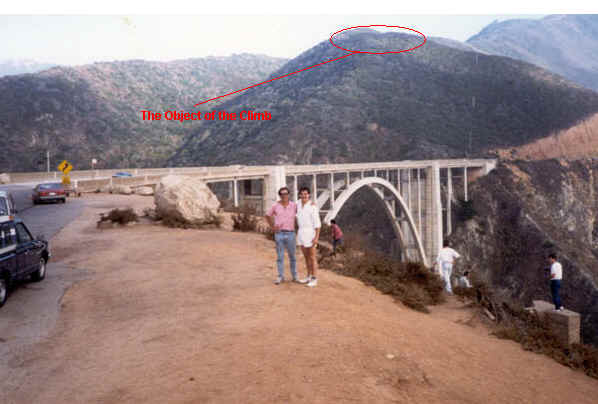 Rattle Snakes, Thistles, and Poison Oak, Oh My !!. When asked on his historic round trip climb of Mount Everest, Sir Edmund Hillary was asked "why climb the mountain", he deftly replied "because its there!" When Hadrian asked Mike and Bone why they were going to climb the hill, they replied "Huh?!!" Which was not a good sign considering the (lack) of preparation for the endeavor. Now Mike had long pants, Bone however was coming up shorts. the hill was neither steep nor long, but the tangle of thicket that as they were walking through, was similar to walking through barbed wire with a blindfold. Bone's bare legs were becoming a Jackson Pollack painting of abstract, jagged lines splattered in blood. However the terrain seemed friendly enough with a lot of hand-sized holes to grab while climbing up. It was only on the return that the boneheads found out that the hill was riddled with rattlesnake holes!!! An interesting postscript to the adventure is that in addition to the very sharp thistle, the brush contained Poison Oak! Not only did Bone get Poison Oak on his legs, but in the cuts on his legs, which ensured a lot of uncomfortable and embarrassing scratching in the days and weeks to come. With this adventure complete the boys headed into Big Sur and the Pfeiffer's Ravine State Park.
Almost Heaven: Pfeiffer's Ravine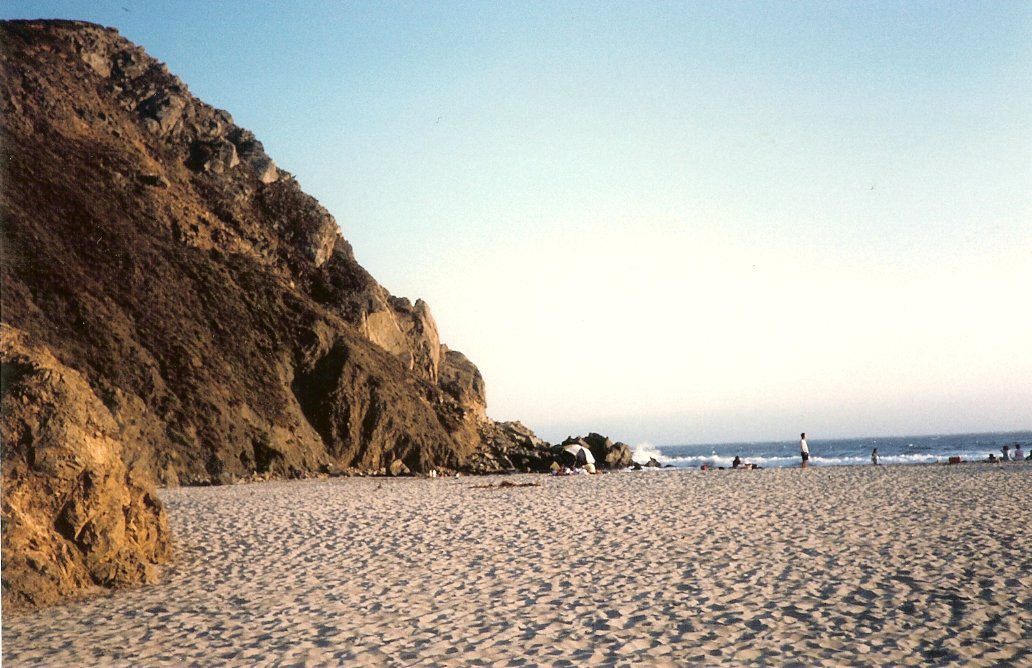 Though one of the most beautiful scenes in the world, Bone was disappointed, Pfeiffer's Ravine was not what he expected, it was not Michelle Pfeiffer's ravine. What the boys did see was stark green cliffs reaching down to the Pacific and craggy rocks jutting up from the sandy shore, being battered by a treacherous surf. Where would there be a better place in the world to play on rocks than Big Sur, so they did! (As shown below)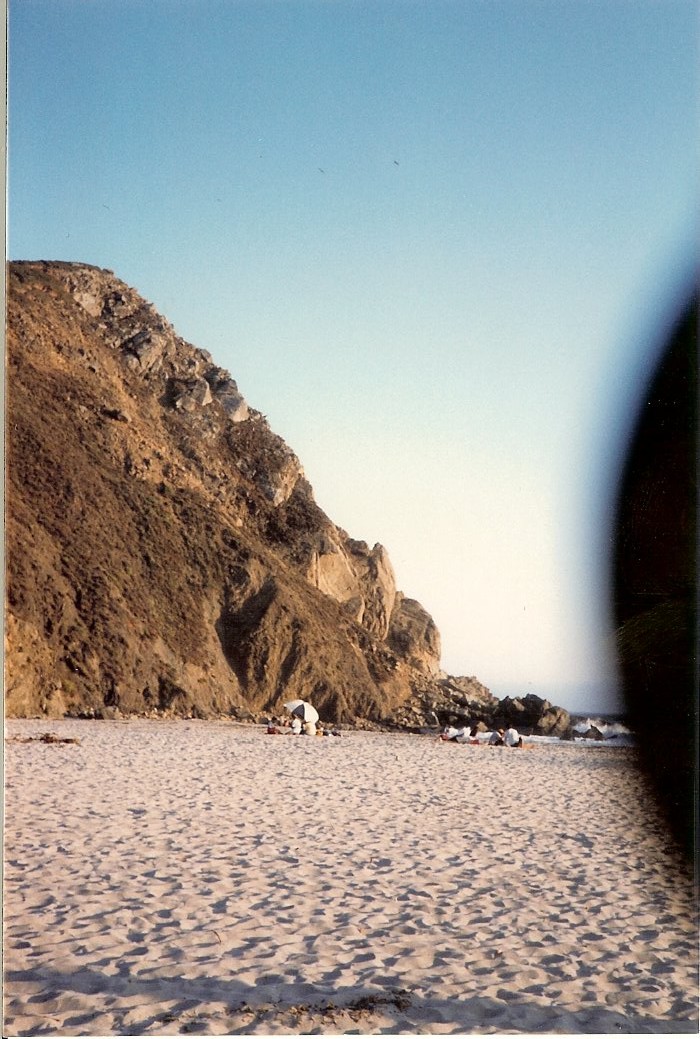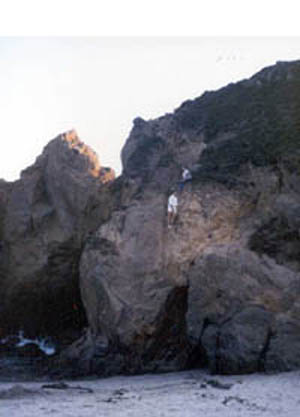 Michael and Mikhail !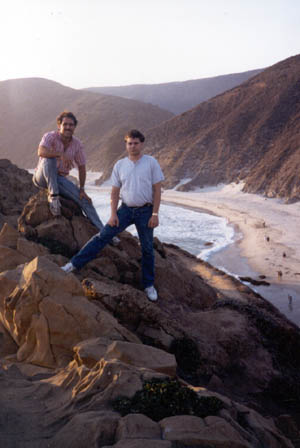 Mike and Bone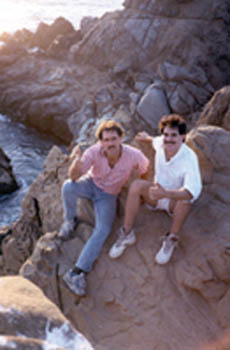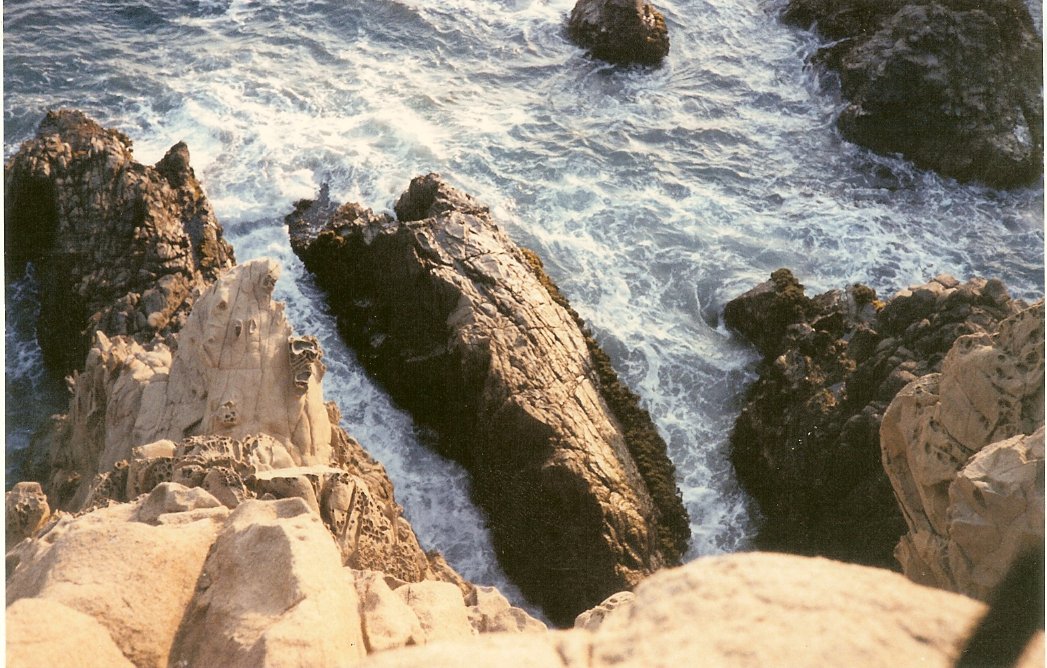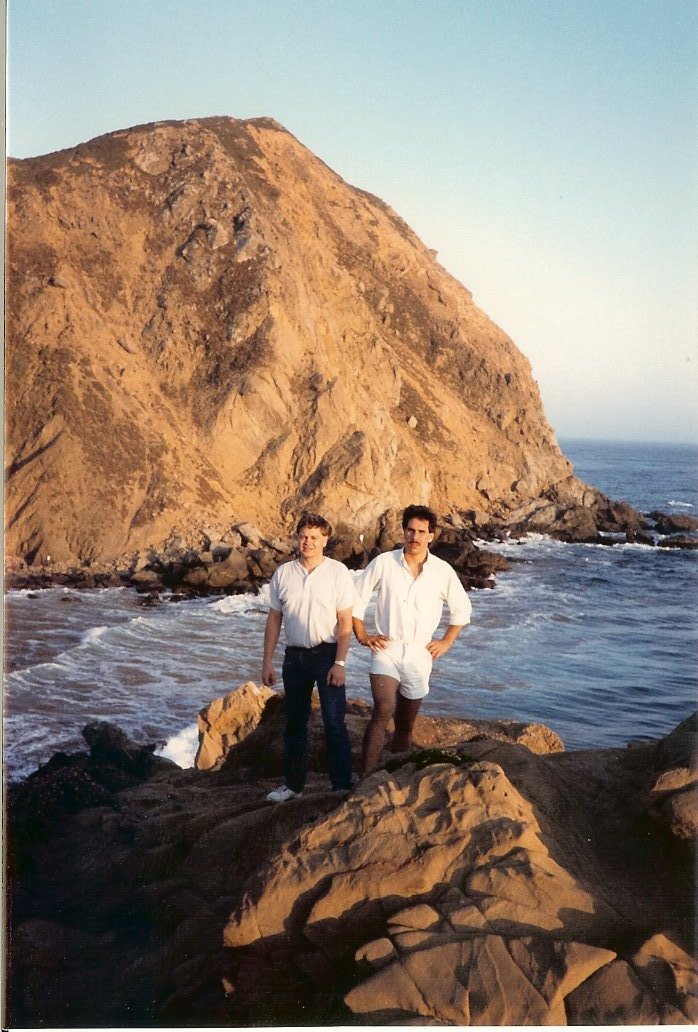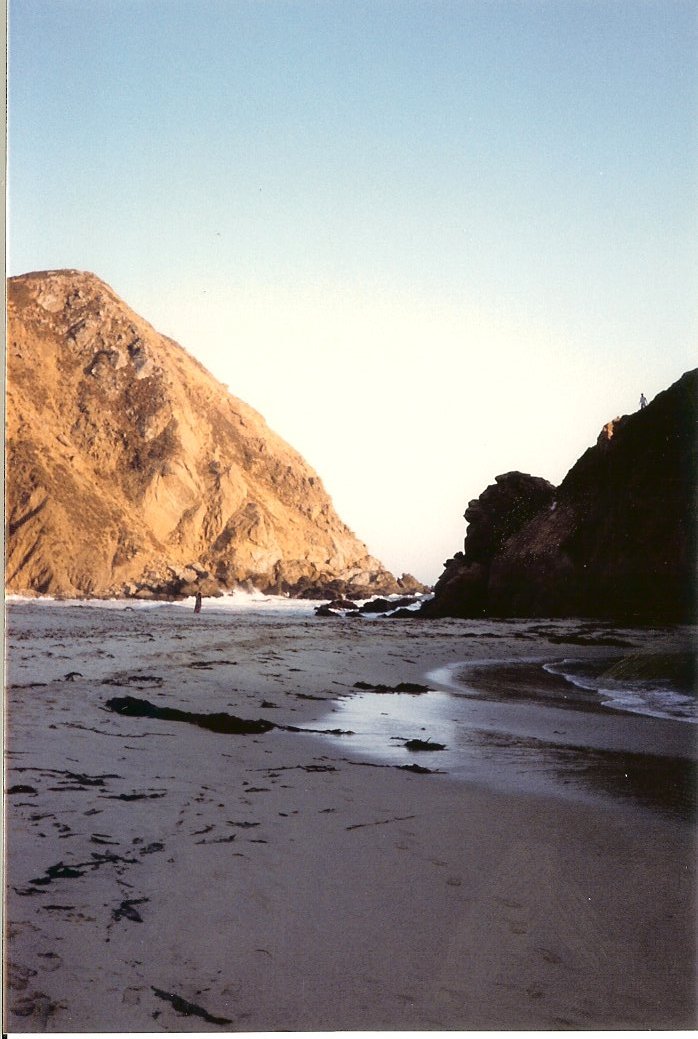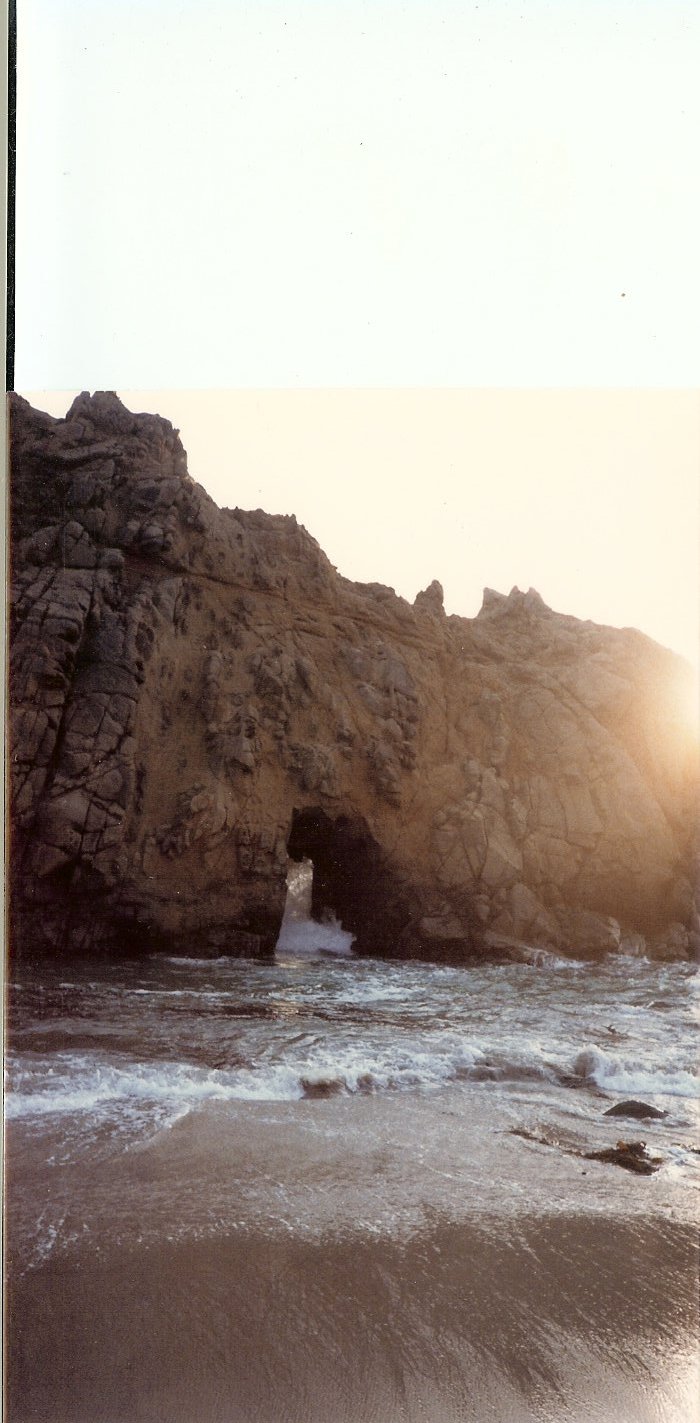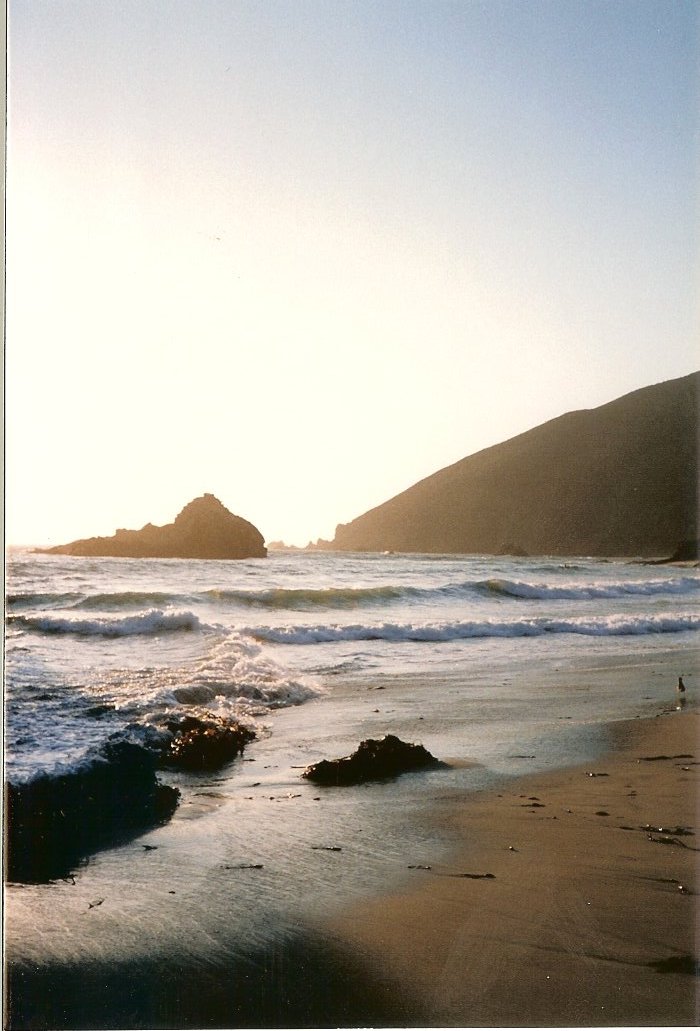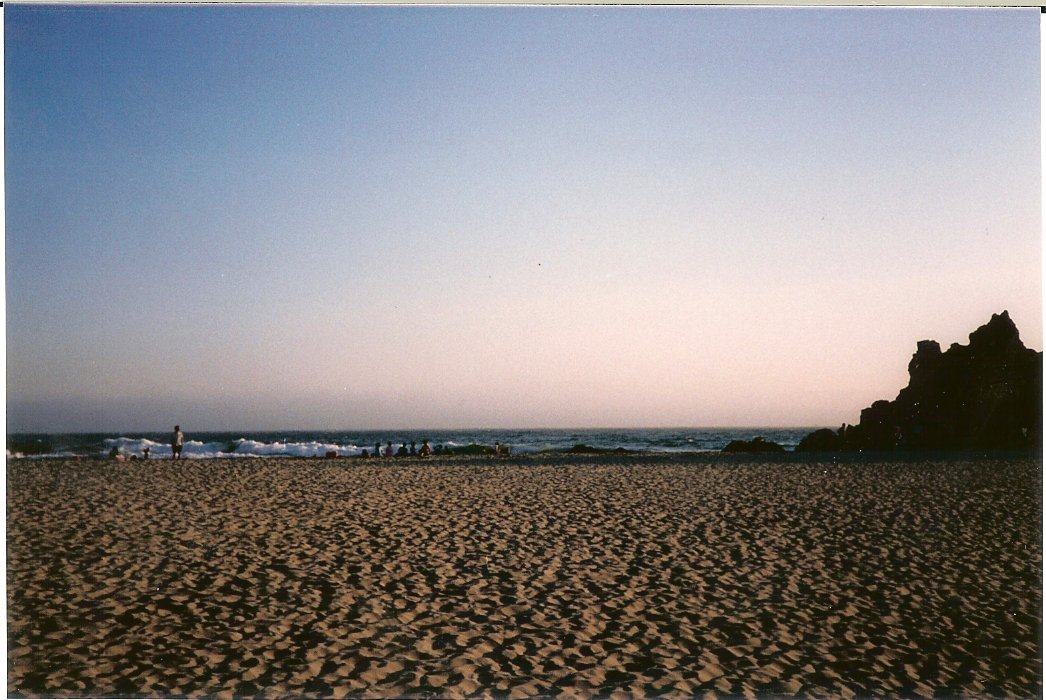 "Whip it Good !!"
Devo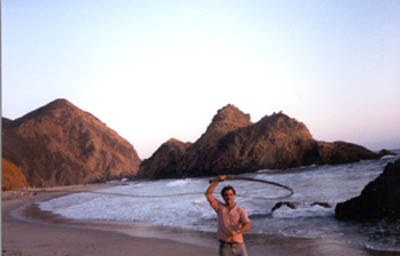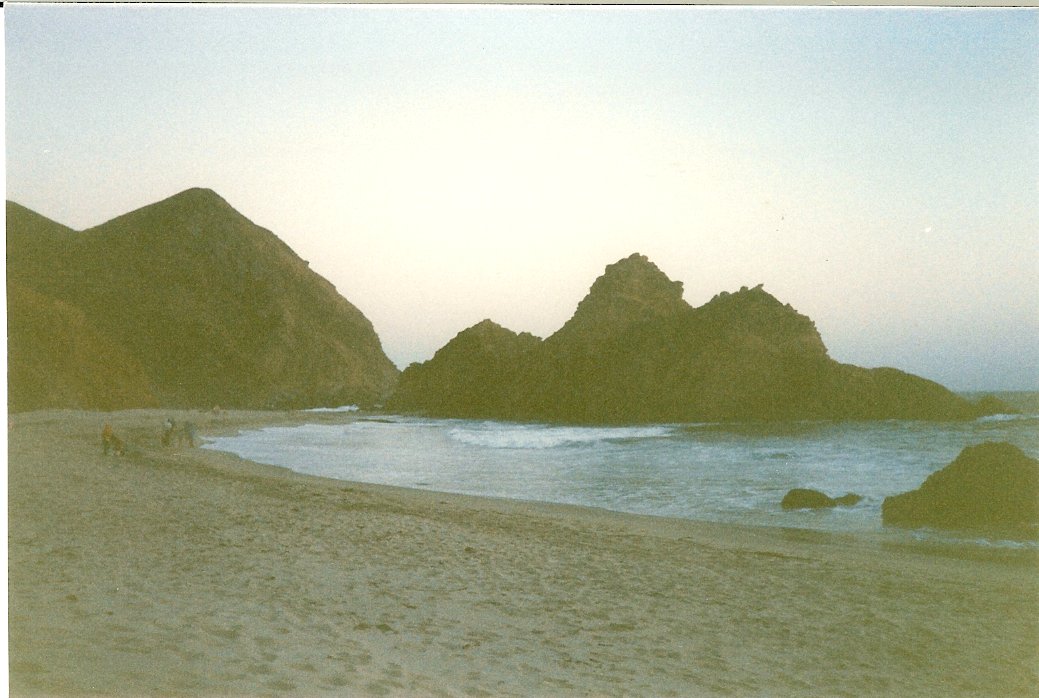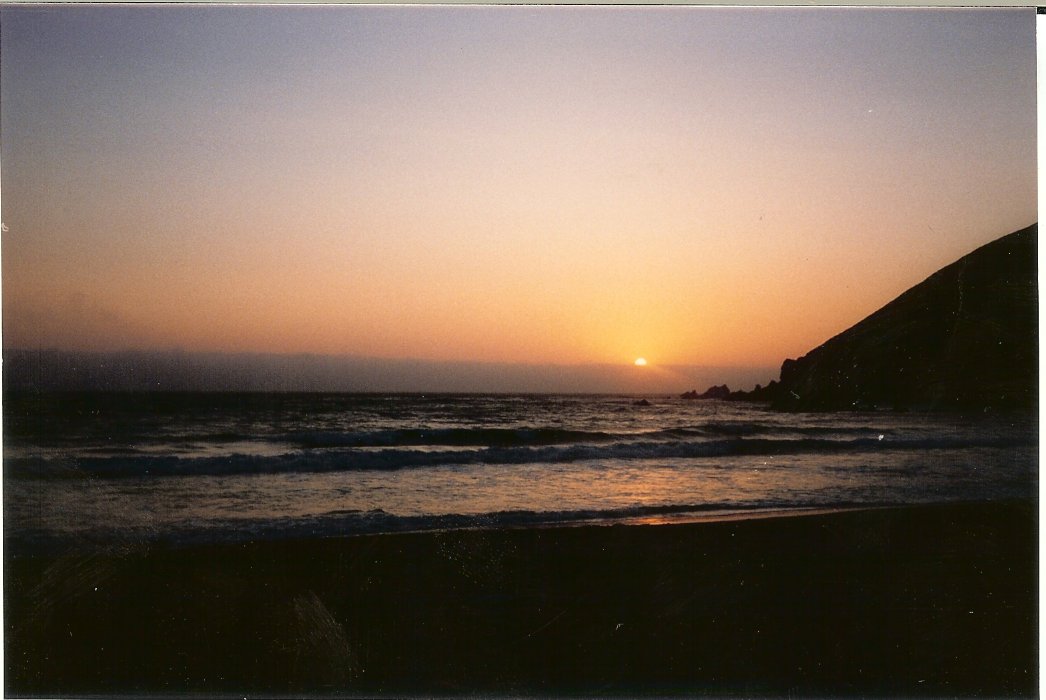 A Mike Sunset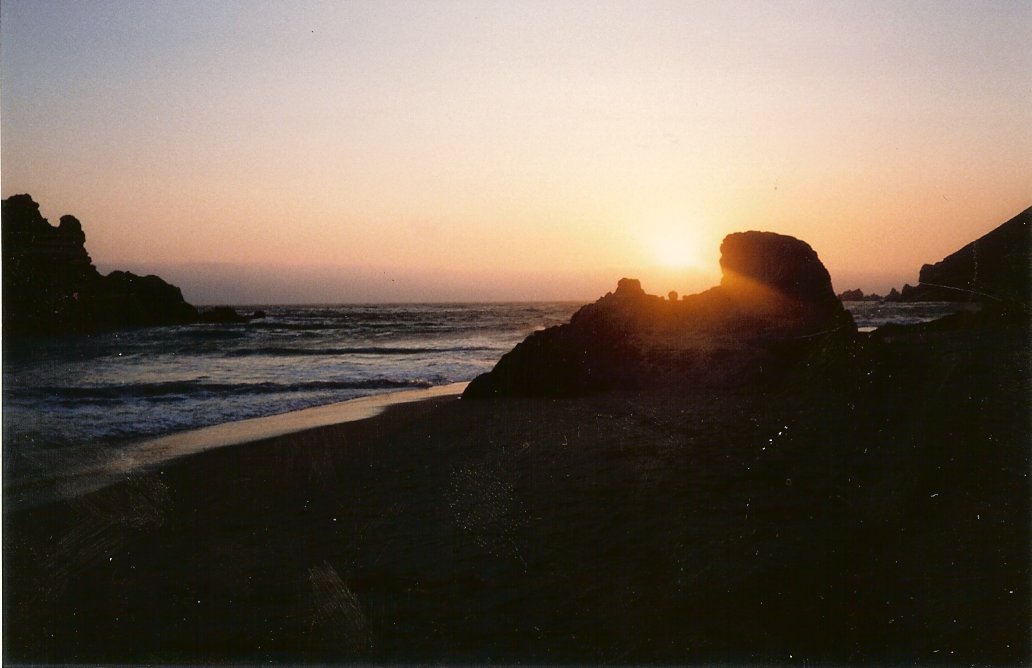 Poseur Bone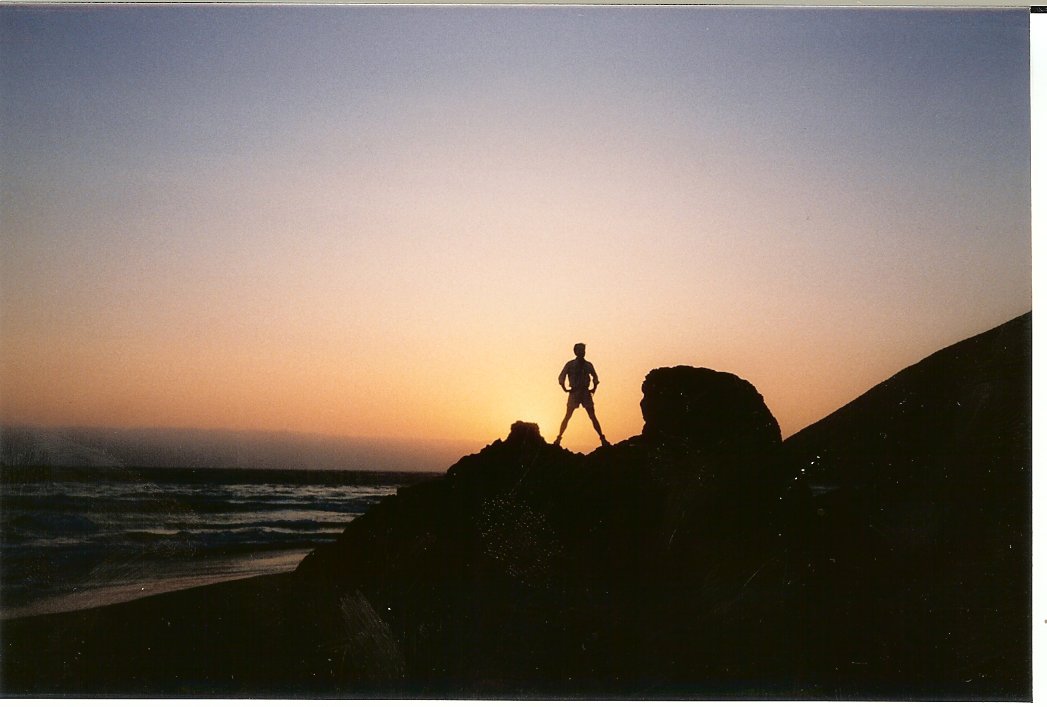 "Play Misty for Me" The Weird, Weird Dinner at Nepenthe's !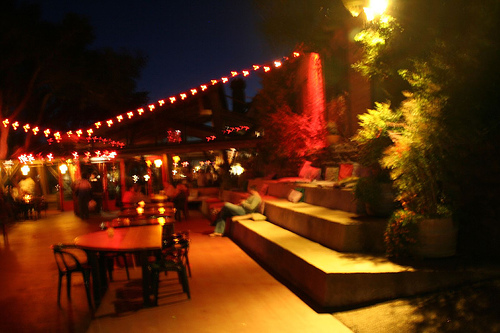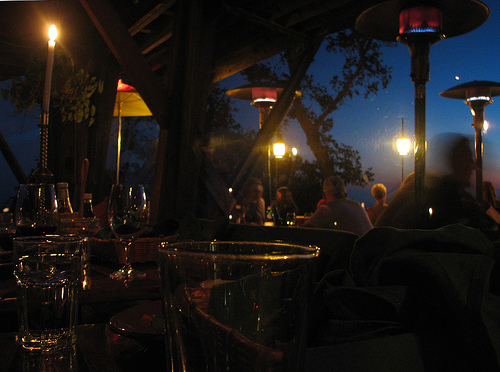 After the rock climbing and awesome drive, at dusk the boys decided it time to eat. Just outside of the State Park is simply one of the most beautiful restaurants in the world, Nepenthe. Nepenthe is perched on top of a mountain with a immense outdoor bar and dining area over looking the Pacific Ocean. The boys steered themselves into three, thick, juicy steaks and ice-cold Bass Ales (alas, the Mexicano cerveza's were loong gone!). With their regular aplomb and boorish behaviour the boys struck up a conversation with their waitress, Darlene. Now Darlene was a local college student that was renting a three-bedroom house in the Big Sur hills by herself. She was complaining to the boys about making ends meet when Bone came up with a great idea, lets spend the night at Darlene's!
Lets make a Deal, Not!!!. Now we should preface this next little episode in that the nearest hotel was at least a hour away in Monterey, it was getting foggy (as were the boys!!) and Darlene said that she wanted to party. Darlene offered the boys a deal $150 bucks for a room and they bring the beer. Such a deal!! It was far better than driving all the way back to Monterey. BUMMER, as they all got ready to leave, Darlene fully revealed the "deal", $150 bucks per person. After thinking it over for point two nanoseconds, the bleary-eyed boys started back towards Monterey.
"They'll be coming around the Mountain when they come "!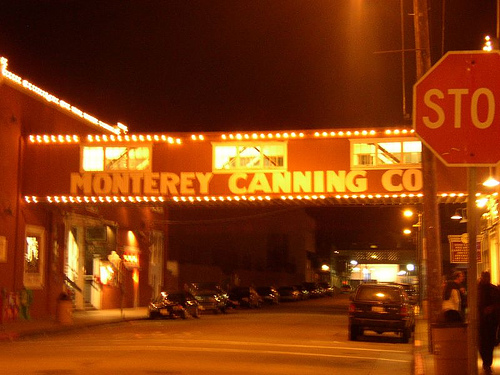 The drive back was closer to a drive into Dante's Inferno. Now Mike and Bone are adamant Mid-Westerners, Hadrian however had acclimatized to the West Coast. So for Hadrian driving and sliding the Cadillac around hairpin Mountain corners with no guardrail, in the fog, drunk, and tired didn't bother him, but Bone became quite incontinent. When they finally arrived quite late in Monterey, there was a mysterious yellow puddle on the Caddy's car seat.