Day
4
:
Havin No Fun, Hungover on US 1
Main Page > 1994 Wasting Away in Margaritaville >
"Ahhhh ??? What Time Is It Anyway ??
One of the unfortunate side effects of partying late, is sleeping late. After going to bed at 3:30 in the morning, the boys had hoped to wake up at 7:00 to start the four hour trip back. Unfortunately they woke up at 8:00 AM with a Noon flight home looming, the bleary-eyed boys knew that they were in trouble. After quickly grabbing their things, they checked out of the West Winds at hit the road hard, leaving paradise for the open road of US 1. Being early in the morning they did not encounter a lot of traffic, but Miami was still over 130 miles away on a two-lane road, the outlook did not look good.
Way, way too freakin early in the morning on US 1!!!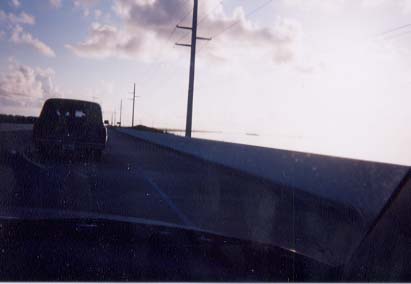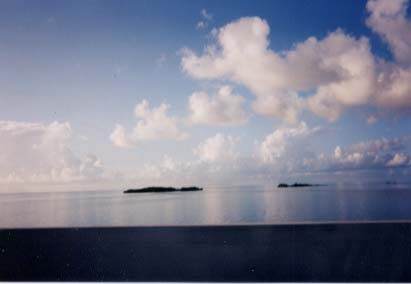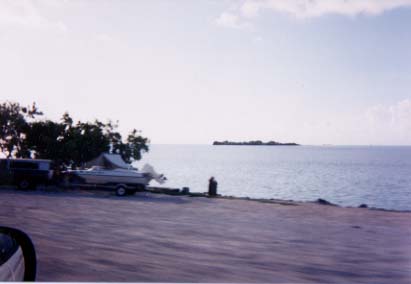 As Mike fought the road, the traffic, and nausea from the night before, Bone snapped some shots of the scenery, the open road, the beautiful blue, blue water of the Caribbean, and how darn early it was !!!!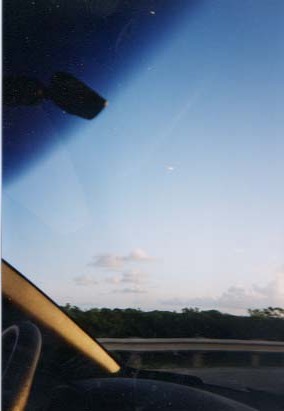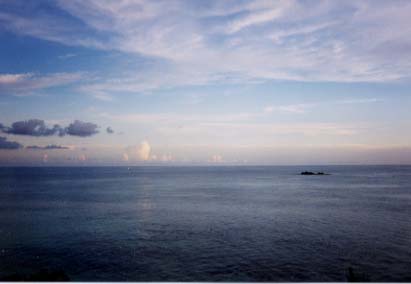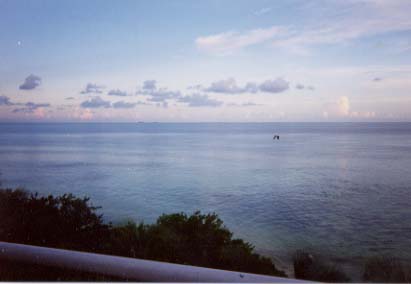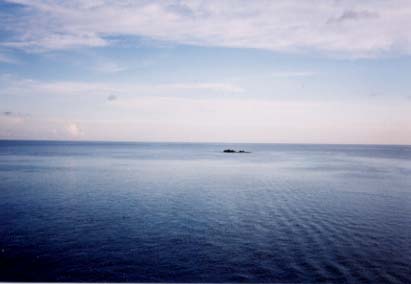 Trip Postscript: A Blowout Ending
Miami Vice Grips Three hours later it was coming down to the wire,,,, Mike and Bone's flight back was under an hour of leaving, and the boys did not want to miss their flight home. Mike was pushing the little rental car for all it was worth around a corner and into the Hertz Rental Lot when the security teeth (to ensure that you don't back out of the lot) caught the two back tires and blew them both out !!!!
Rolling up the Hertz Counter on rims, the boys grabbed their bags, and demanded that a Hertz employee drive them to Northwest Airlines at the Miami Airport. Running up to the Northwest Check-In with just minutes to go, they luckily got their boarding passes with 1 minute to go. So despite the late start, the hangovers, and the exciting blowout, Mike and Bone ended the 1994 Tour with a bang !!!