Day
2
:
A Walk in the Clouds in Red Cloud
Main Page > Operation: Desert Storm >
Mike and Bone rose wearily at 8:00 that morning, mostly due to the fact they had only 5 hours sleep, but their little brains were still on East Coast Time, so they were wide awake but tired. Wandering through the Casino to their car they both noticed that "Grandma" was still plugging "little Billies" College Fund into the quarter slots, it was obvious that she had neither slept nor won. After observing that sad scene, it took the Boys only thirty seconds to decide that they had already experienced about as much of Lost Vegas as any Mike and Bone Trip could handle.
You see gentle reader, that Mike and Bone prefer pristine bucolic areas, that they can pollute with their special brand of lewd, loud, and proud behavior. Since Lost Vegas is already considered the modern Sodom and Gomorrah, there was very little for Mike and Bone to further degrade and denigrate.
Realizing their unique brand of services weren't needed in Sin City, they headed south to check out some natural history and most importantly, buy and stock the ubiquitous "Hall of Shame" !!!
Getting the heck out of Vegas !!!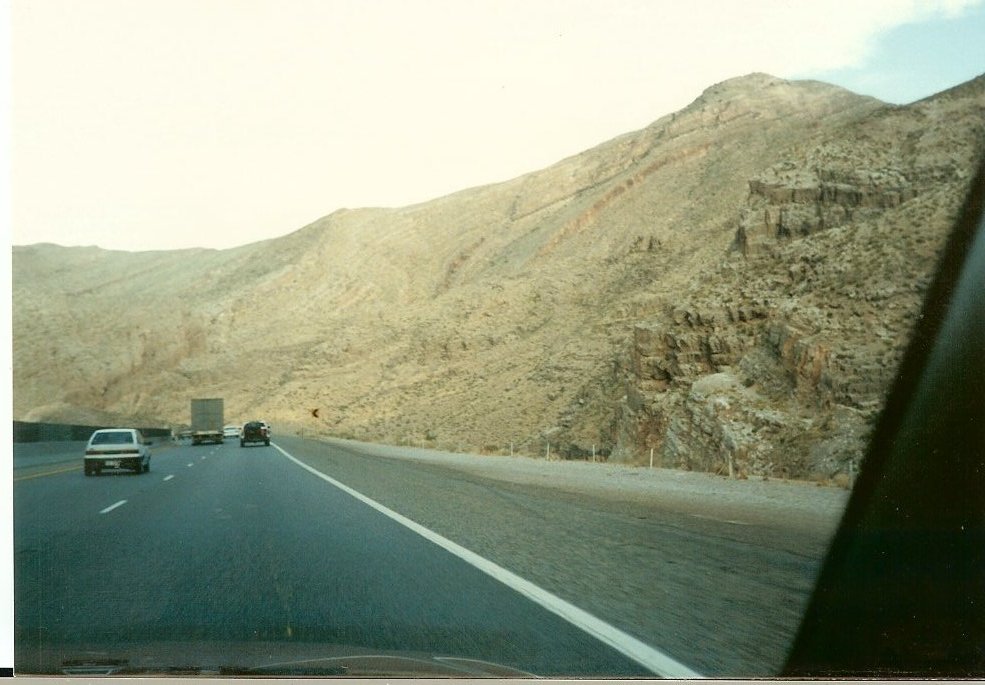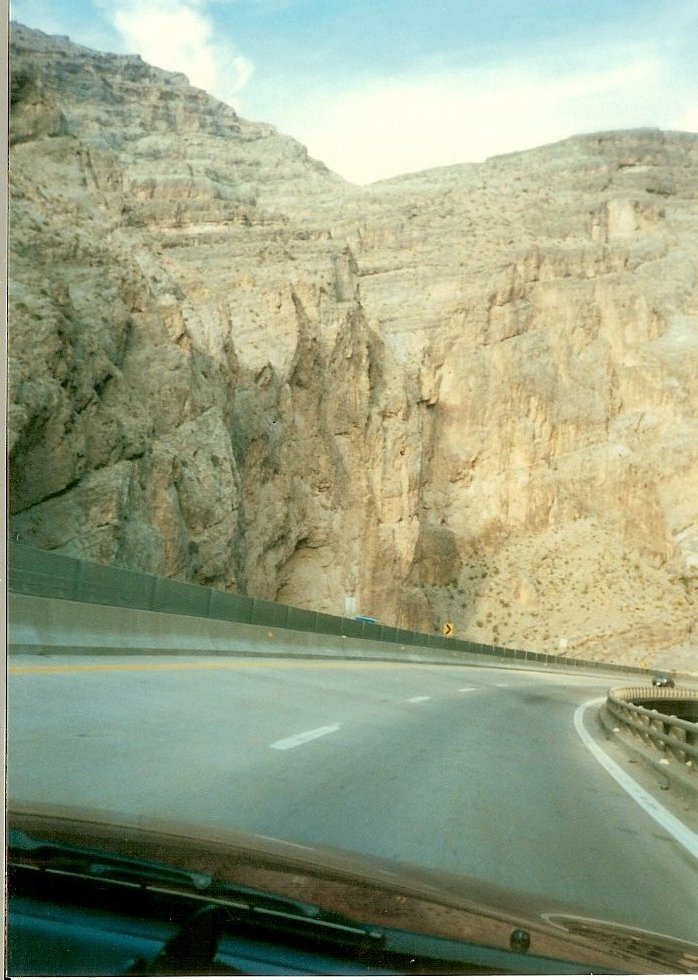 Casino gamblers, heading to their financial slaughter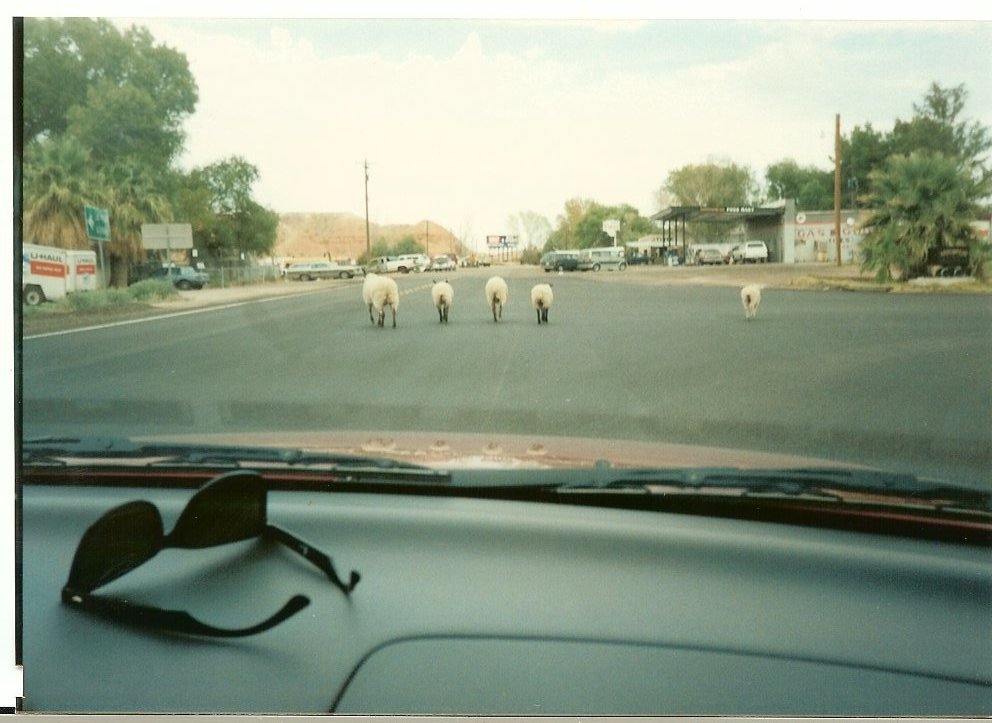 "Frankly my Dear, I don't give a Hoover Dam !!"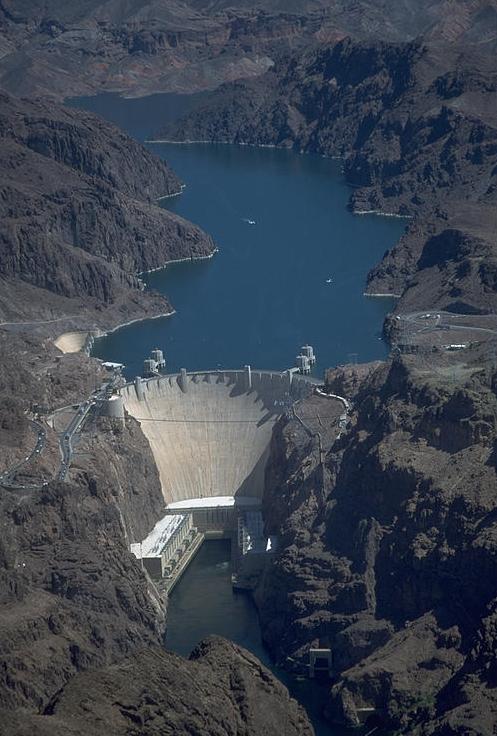 With a fully stocked (sporting a case of Sierra Nevada's Micro-Brew !!!) Hall of Shame, the boys meandered down to Hoover Dam. Stopping in for the National Park Tour the boys learned that the Hoover Dam rises more than 726 feet over the raging waters of the Colorado River, it was called one of the greatest engineering works in history.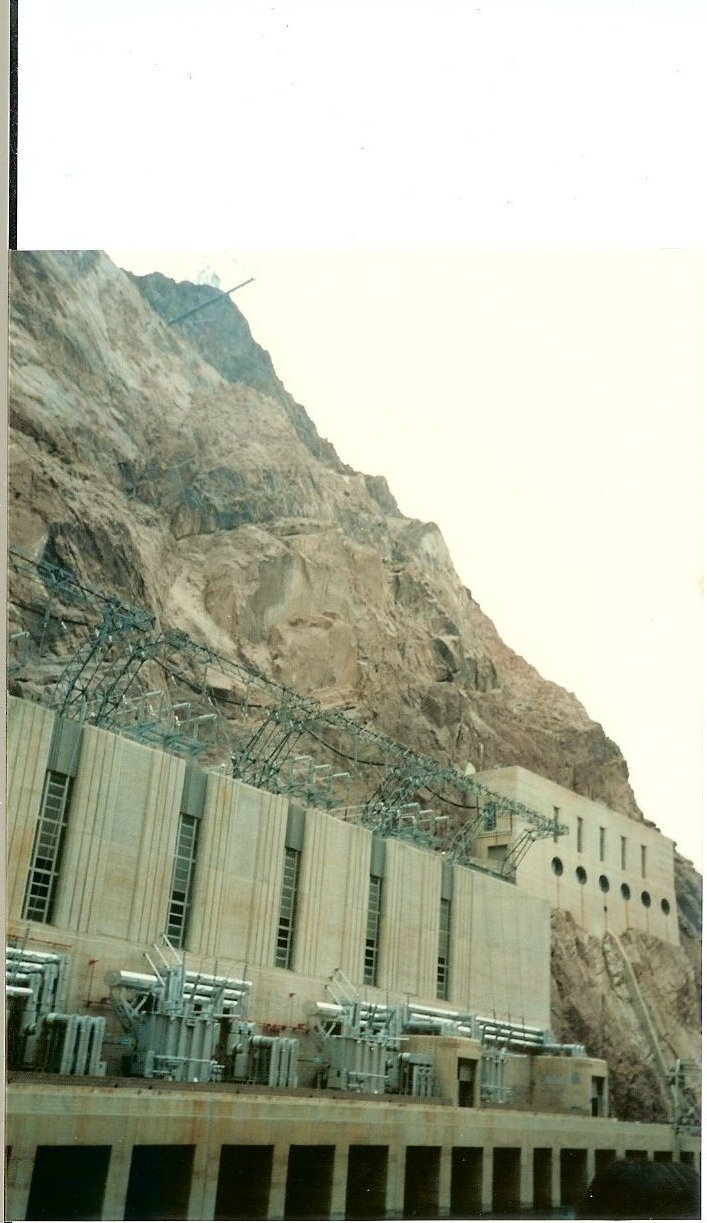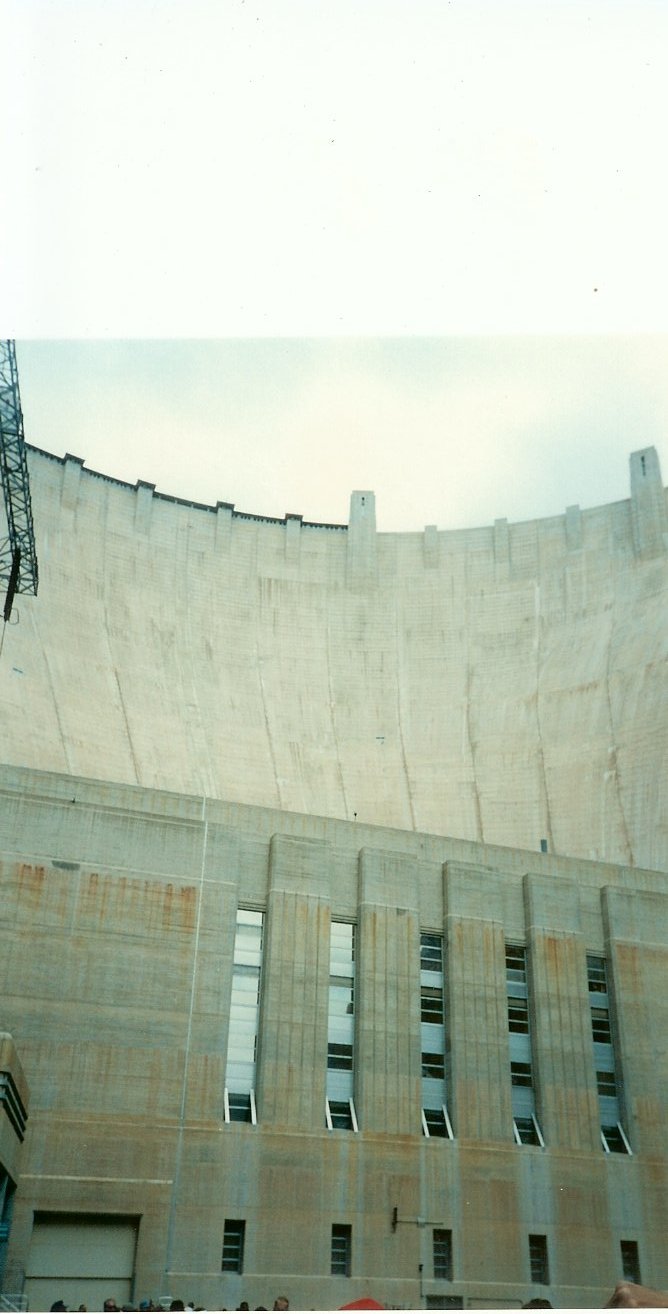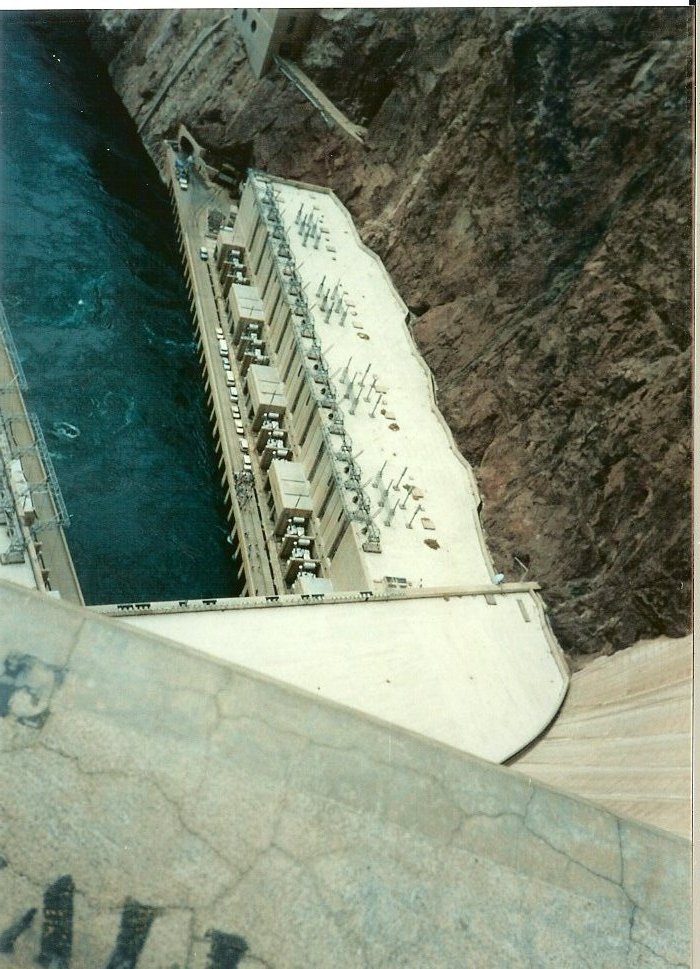 The Hoover Dam was built during the Great Depression, from 1931 to 1936 at a cost of $165 million dollars, and drew men desperate for work to a remote and rugged canyon near Las Vegas. There they struggled against brutal heat, choking dust and perilous heights to build a colossus of concrete that brought electricity and water to millions transforming the American Southwest. Interestingly, hearing of the hardships of this epic feat did not put a tear in the eye, nor a lump in the throat of Mike and Bone, it only made them thirsty for a beer from the Hall of Shame.
During the entire Tour Mike and Bone kept saying "Damn ! is that cool !!"
Seeing Red, The Red Rock Canyon outside Las Vegas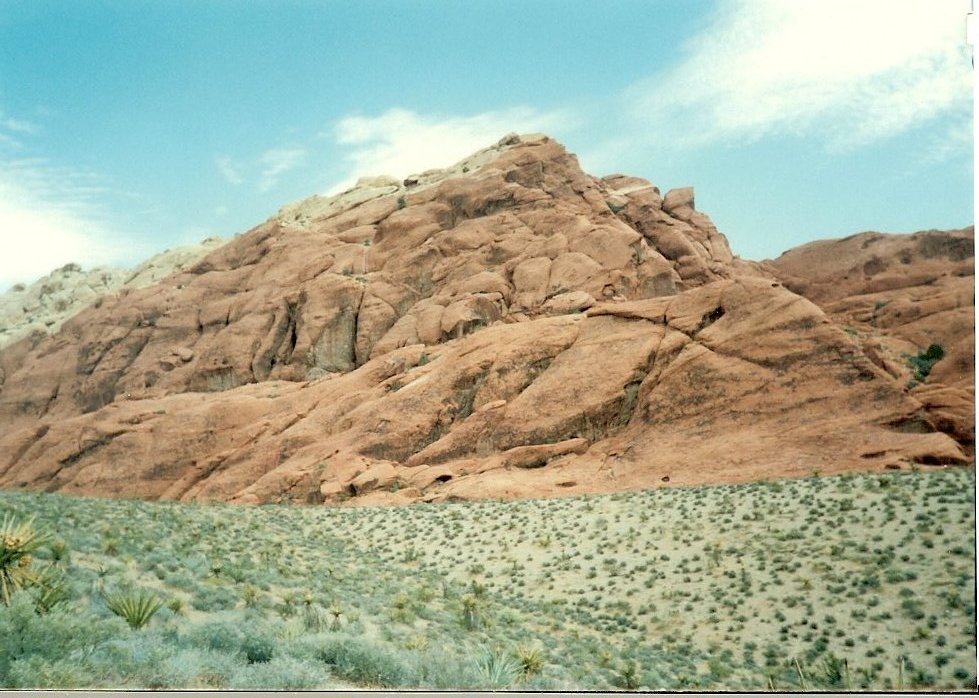 Bone enjoying a Rona in Red Rock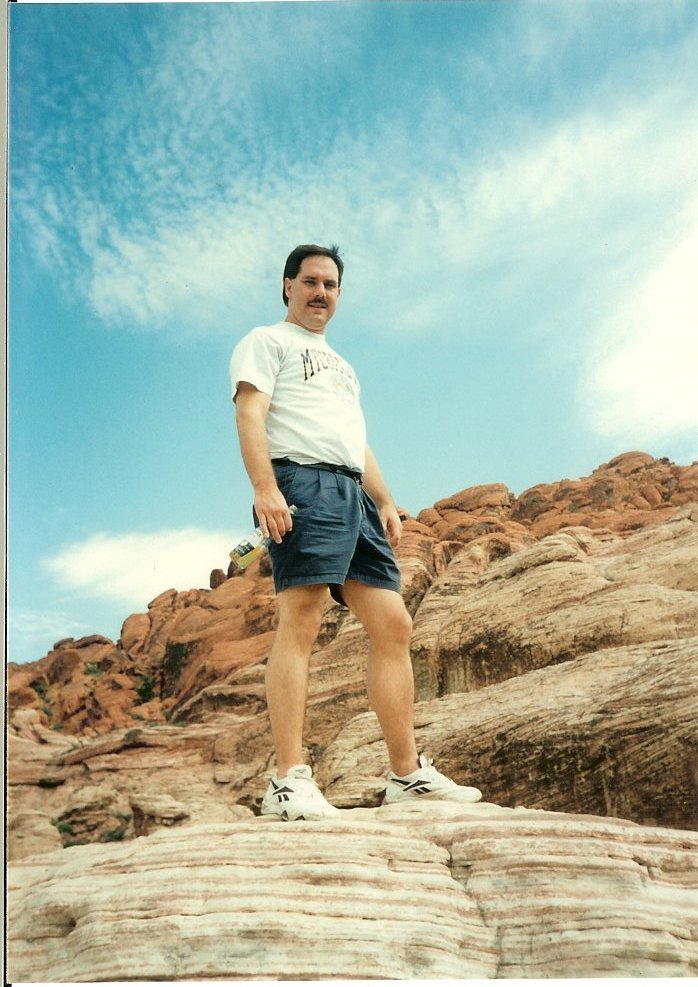 After visiting Hoover Dam the boys slowly headed back to Vegas with as of yet, no clear direction of where they were going. Along the freeway they saw a sign for the Red Rock National Preserve. Stopping in to check it out the boys loaded up with a couple beers each (hey, they were in the desert and needed the liquid as to not dehydrate !) to hike into the rolling red rock foothills. Their first glimpse of the rich, red sandstone found throughout the Southwest was both beautiful and stunning. After twenty minutes of hiking and hopping along cliffs (for which the boys really should not have been doing, dressed the way they were with glass bottles!), they headed headed back to the car, not because of the potential danger of falling with glass, but because they were outta beer !!
At this point in the day, they were still uncertain whether to try and go southeast to the Grand Canyon or east to Zion and Bryce. They really hadn't made up their minds, but they knew that they had no interest in sticking around Las Vegas, so they jumped on the Freeway and boogied East.
Getting out of Nevada as fast as possible !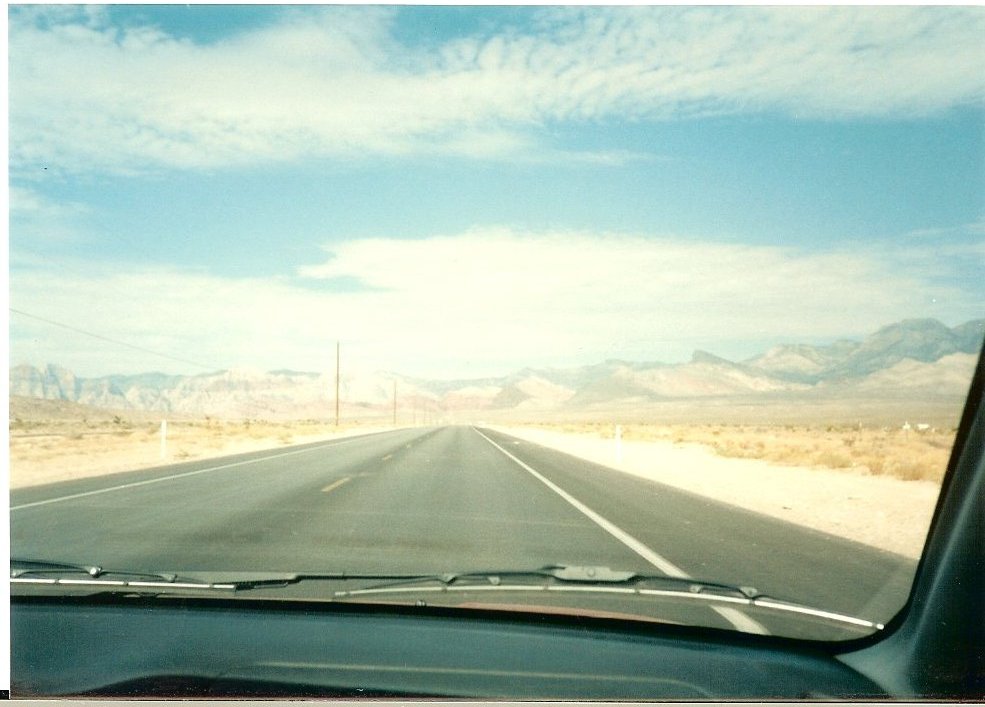 Having No Fun in Area 51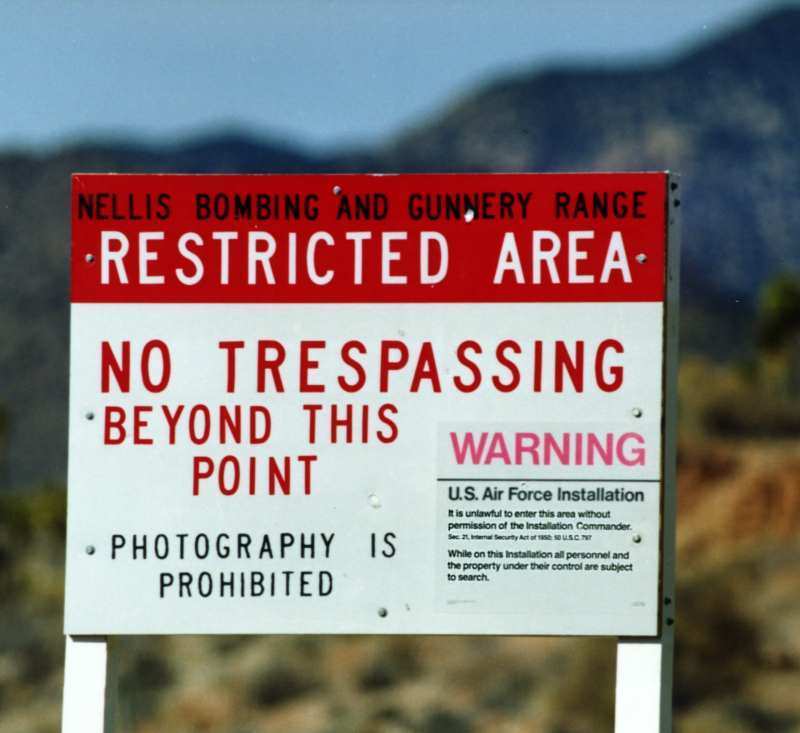 As the boys drove across the bleak gray and tan Nevada Desert, the boys noticed a large number of different US Air Force Jets buzzing the sky when the noticed that they were in the infamous Area 51 Military Zone. However, they didn't see any UFO's, nor Mulder and Scully (from the X-Files Television program). but they did observe a bunch of strange looking aircraft overhead.
The only tackier than a Las Vegas Casino is ..... As it approached 2:00 PM, the boys were almost across Nevada outta beer, with an empty beer cooler, empty stomachs, and full bladders they saw one of the first Nevada Casinos that citizens from the white-bread State of Utah come along on the Freeway, they looked more like a Truck Stop/Party Store. Stopping in for gas, the boys stayed for lunch, had the buffet (notice they didn't ENJOY the buffet, just had it). The Casino/Restaurant was smoky and greasy, with a room of unsavory looking gamblers,,, perfect company for Mike and Bone. Getting gas (from the lunch) as well as petroleum, the boys were also refueled in the Hall of Shame department, and ready to continue their aimless direction east.
A final observation the boys made during that lunch stop is, that the only thing tackier than a Las Vegas Casino is a Eastern Nevada, desert Casino !
Night and Day: Crossing from Nevada into Utah
What a difference a mile makes, there is a low mountain range that separates Nevada from Utah (pictured above). Cross through that gap in the Mountains and from the drab grey and tan desert of Nevada, you emerge into the brilliant greens and reds of the Utah desert. Interestingly enough, the Boys were soon to find out that the sleazy gambling denizens of Nevada were night and day different from the starched white-bread citizens of Utah, as the Boys were soon to painfully find out.
The Epiphany !!! Meeting Heber Jones !!!
Shortly after crossing into the Mormon State of Utah, the boys pulled over to a highway Tourist Information Station to determine their waning options, especially since the day was waning. Walking in they encountered a elderly, white-haired National Park Ranger which they immediately began to hammer with inane questions on options. After two or three minutes listening to the beer-breathed bums bungle their options of Zion or Bryce or Grand, Heber Jones: Grandfather; Devout Mormon, National Park Ranger became the Patron Saint of this Tour with the following few words, "You can see them all".
Pulling out a free map, Heber Jones the Patron Saint of the 1995 Mike and Bone Tour laid out a path of future destruction and degradation that the boys planned to implement the very next day, all the while Loki, the God of Mischief looked down and smiled, knowing this plan was good!
With map in hands, and a point to life, the Mike and Bone jumped back in their car, heading east, planning to start the newly minted "Heber Jones Memorial Tour" !!!!
Bluffing St. George !!
After been given their non-Mormon mission by a Mormon, the boys landed in St. George Utah, where they planned to stage their assault on the Canyonlands the next day. At face value, St. George seemed to be a very clean bucolic little town under these gorgeous Red Rock Bluffs, but something was wrong, definitely wrong. Upon checking in the local Hotel, they found that all the towns people were simply too cheery and smiling. Fearing either Alien Invasion or the Stepford Town, Mike and Bone wandered around with an ever-present growing sense of dread and fear. Finally when they asked a Hotel Clerk an innocuous question, their worst fears struck them like a lightening bolt from Hell !! It was a Mormon Town, and worst of all IT WAS DRY !!!!!!!!!!!!
Where in Nevada, you could get a drink anywhere, anytime, in Utah you couldn't get a drink no where, no time.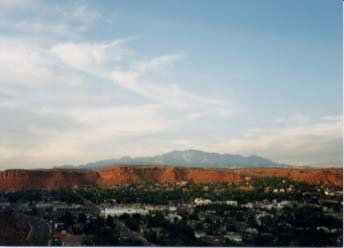 The Horizon of Beerless, Cheerless Hell !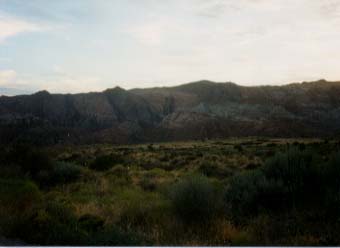 Now in a completely sour mood and facing the indignity of NOT being able to practice their God-given, constitutionally protected rights to drink beer, the Boys stuck their tongues out to St. George and said " PHOOEY !! as they drove up into the hills above the city to find SOME sort of entertainment as they drained the remainder of the Hall of Shame for the day.
The Sad, Beer-free Bluffs above St. George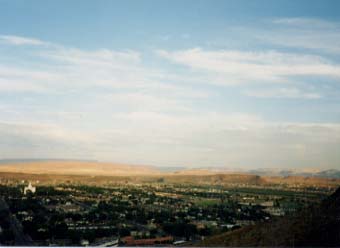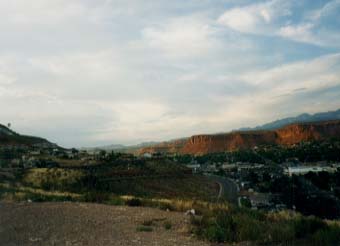 Kimmie, Tammie, and Pammie, Oh My !!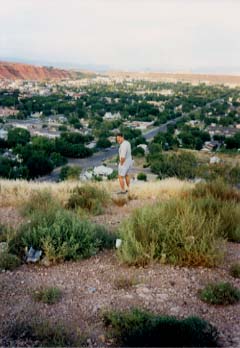 The only thing worse the giggly children are giggly adults. While rock climbing in the Red twilight of the Red Rock bluffs above St. George, Mike and Bone happened upon three giddy college girls in their early twenties. who were, yep you guessed it Mormons !!, and they would tell you that they were Mormon every third sentence. Chatting with the BYU students was marginally interesting as the Twilight of the day deepened, only because the boys were using them as a source of information on where they could buy beer !!
After the girls told the Boys that despite being Mormons they were still wild (the 21-year-old even thought once about French kissing a boy !!) and that they had no idea where to buy beer ("why would you want beer?!),. the Boys quickly departed back to their Hotel totally disrespecting Mormons ("Whaddya mean Dry Counties !!!")
As it pushed 9:00 PST, the long drive, the late night the evening before, and the depression of a forced, unnatural, and unwanted sobriety put the boys to bed at an early hour.
Besides, they now had a mission, the Heber Jones Memorial Tour !!!