Day
5
:
A Race through the Desert Home
Main Page > Operation: Desert Storm >
By the fifth and final day of the Heber Jones Memorial Tour the Boys had achieved all their original objectives and then some. This breakneck pace of driving and hall of shaming, had left the boys quite exhausted. However the end was not yet in sight, it was 9:00 in the Morning, they had a 6:00 Flight Home, and only 9 hours to drive back !!
Realizing their dilemma they jumped in their rental and drove like the wind northwest, averaging between 80-90 miles per hour.
Truckin' along the Kaibob National Forest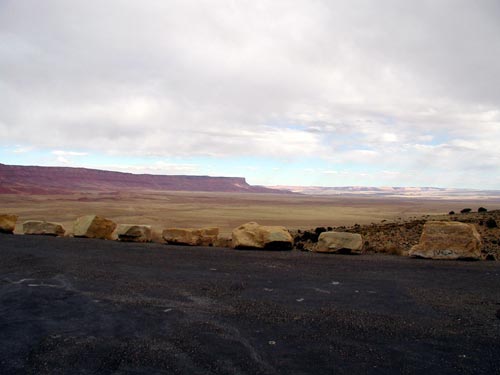 With ABSOLUTELY no time to spare, "touring" was completely out of the question, as well as any replenishment of the Hall of Shame. They simply could not afford the time for the "bio" breaks, and besides they had already seriously depleted the Southwest's beer supply.
They did however enjoy the scenery as they raced in excess of 80 miles an hour through the Kaibob National Forest, which really wasn't a forest at all, but a high-desert plain.
Still in Kaibob, however not much in the way of Forest !!!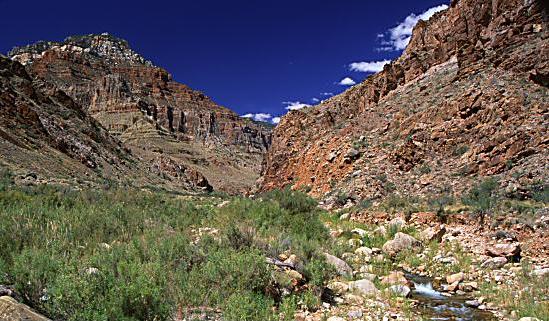 As the minutes quickly evaporated into hours, the tension began to mount on whether or not Boys would make their flight home, and with each passing hour the average miles per hour seemed to raise by at least 5 miles.
Trip Postscript
By 5:00 PM, by averaging 90 miles an hour the entire trip placed the Boys deep into Nevada, and by 6:00 PM, they were at the Los Vegas Airport, exhausted, by safe and ticket-less.
Before they boarded their flight home the Boys sat in the Airport Bar and raised their last beer of the trip to toast the benefactor of this highly successful trip, Heber Jones !! Thereby ending the 1995 Assault on the Southwest or the Heber Jones Memorial Tour.