Day
1
: Wall Street Raiders
Main Page > 1999 NYC: The Lamb Lies Down on Broadway Tour >
A tour of NYC must be well planned, it requires a proper staging point, similar to a military operation. In order to properly terrorize the Big Apple, Bone planned a Mid-Town attack with a base of operations in Times Square. Besides, where did the lamb lie down? On Broadway !!
Mauling Mid-Town !!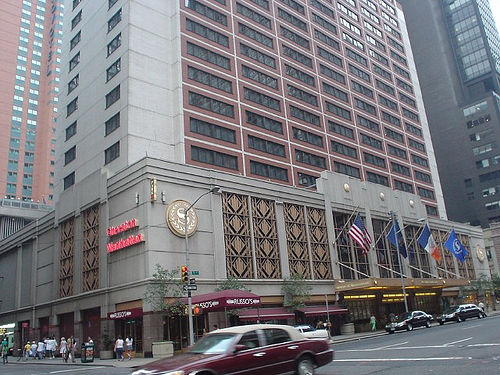 Upon arrival in midtown, Mike and Bone dumped their stuff at the Sheraton Mid-Town, grabbed a cab and planned an immediate raid on the Raiders of Wall Street !!
Never a regret with Sabrett's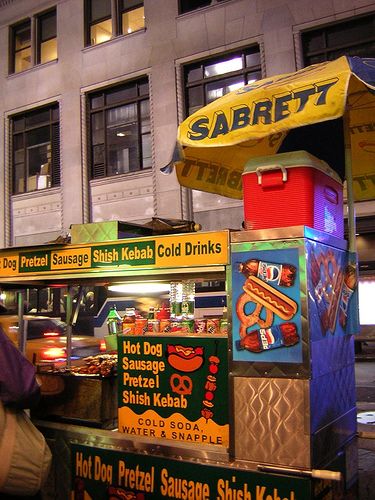 Raiding can be hard work so before touring Wall Street, the Boys needed sustenance, now Mike had never savored the savories found on NYC streets, so Bone hadda introduced him to the most holiness found in a bun, a Sabrett's hot dog (they're on a roll!) ! Chompin' down a coupla of dogs with sauerkraut and mustard (NYC Style !) turned out to be more of a religous experience than they had ever envisioned.
Sated, they headed to the heart of American Enterprise, the Engine of Capitalism, the shine of the buckola, the New York Stock Exchange !!!
The New York Federal Hall, Where George Washington was Sworn In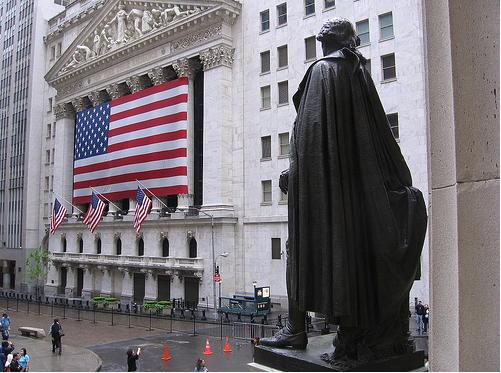 On their way walking down Wall Street, Mike and Bone passed the very famous Federal Hall where on April 30, 1789, George Washington was sworn in on the balcony. George's Swearing in has set the precedence that all other presidents have used since George for the ceromony.
Taking Stock of the New York Stock Exchange !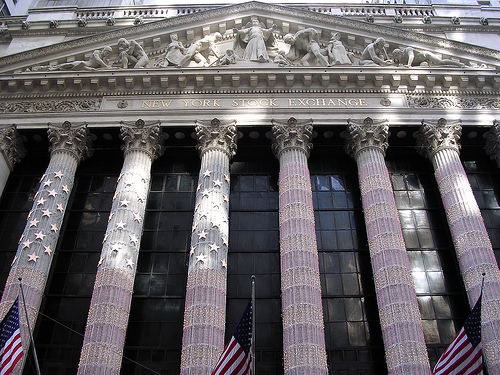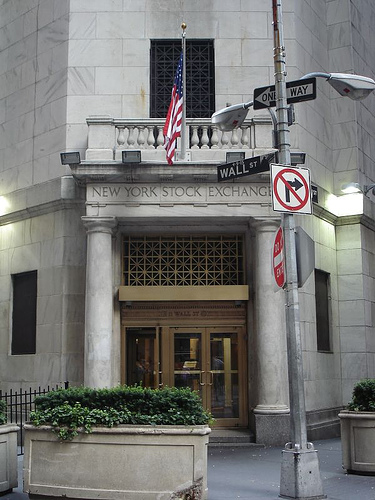 Mike and Bone finally arrived at the New York Stock Exchange, which is located at 11 Wall Street in lower Manhattan. It is the largest stock exchange in the world by dollar value of its listed companies' securities. Its founding is owed to one of our founding fathers, Alexander Hamilton, when he crafted the Buttonwood Agreement which was signed by 24 stock brokers outside of 68 Wall Street in New York under a buttonwood tree on Wall Street. Hamilton borrowed money from the stockbrokers to pay for the individual states Revolutionary War debt, and "exchanged" it for Federal Treasury bonds, hence the concept of stock exchange.
Being the greedy capitalist that they are, Mike and Bone had a near-orgasm when they were able to entering the Floor viewing center. The Boys watched the ebb and flow of trading back and forth. After about an hour, Mike and Bone reluctantly moved on with Bone wanting to make a run at the floor to do some trading and convinced otherwise by a pleasant older police officer who talked with the Boys for 20 minutes about his 30 years working the NYSE.
Based on what they learned about the founding of the NYSE, when the Boys left, they decided it only made sense to pay tribute to Mr. Ten-Dollar Bill, Alexander Hamilton !!
Trinity Episcopal Church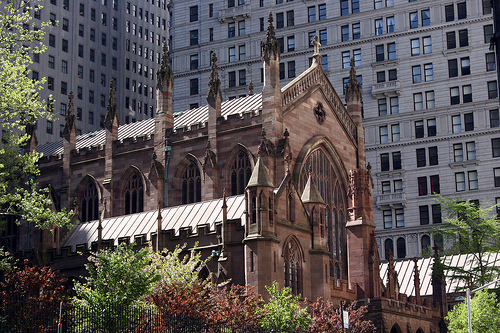 Being energized by being bathed in the engine of capitalism, Mike and Bone visited historic Trinity Episcopal Church, the resting place of Alexander Hamilton and famous for its Revolutionary War roots. Founded in 1696, Governor Benjamin Fletcher approved the purchase of land in Lower Manhattan by the Church of England community for construction of a new church. The parish received its charter from King William III of England on May 6, 1697. Its land grant specified an annual rent of sixty bushels of wheat, still not bad money these days !
During the American Revolutionary War New York became the British military and political base of operations in North America, following the departure of General George Washington and the Continental Army shortly after Battle of Long Island and subsequent local defeats. Under British occupation clergy were required to be Loyalists, while the parishioners included some members of the revolutionary New York Provincial Congress, as well as the First and Second Continental Congresses.
"Oh, so here is where they plugged Alexander Hamilton!"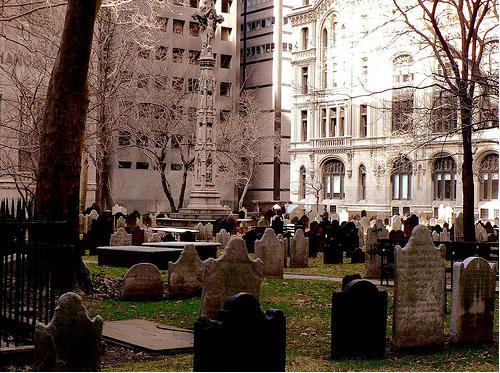 There are three burial grounds closely associated with Trinity Church. The first Trinity Churchyard, at Wall Street and Broadway, in which Alexander Hamilton, William Bradford, Robert Fulton, Captain James Lawrence and Albert Gallatin are buried. It is the only active cemetery remaining in the borough of Manhattan. The second is Trinity Church Cemetery and Mausoleum on Riverside Drive at 155th Street, formerly the location of John James Audubon's estate, in which are interred John James Audubon, Alfred Tennyson Dickens, John Jacob Astor, and Clement Clarke Moore. The third is the Churchyard of St. Paul's Chapel.
Equal Opportunity Burials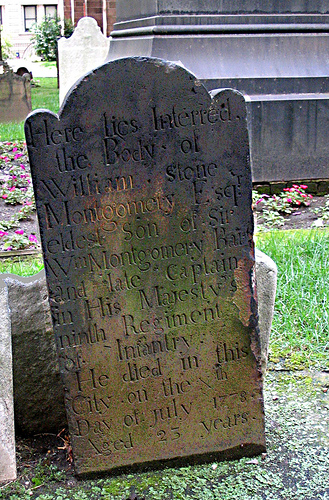 Even the enemy was buried here. This is the marker for a British officer, buried two years into the Revolution in NY's Trinity church. it states "Here lies Interred the Body of William Stone Montgomery Esq. eldest Son of Sir Wm Montgomery Bart (?) and late Captain in His Majesty's ninth Regiment of Infantry. He died in this City on the Nineth day of July 1778, Aged 23 Years." Finally Mike and Bone found Hamilton's resting place, laid a ten spot in his honor on the grave and decided to hit another part of the City !
Big Veal in Little Italy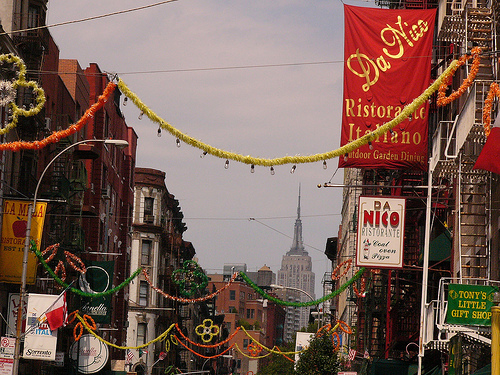 Now the Sabrett Hot Dogs were awesome, but it was the only thing the Boys had ate all day, as it hit 7:00 PM, Bone thought Italian would be a good treat so the Boys, headed to Little Italy from the Financial District ! Little Italy is a historic neighborhood in lower Manhattan, noted in multiple movies and TV shows. It is found on the section of Mulberry Street between Broome and Canal Streets which is lined with Italian restaurants and street decorations. Now one of Bone's favorite restaurants of all time is Angelo's of Mulberry Street. Having been going there for years Bone has seen old Italians in silk suits with huge gorilla's with sunglasses on (at midnight in the Winter time), so it is very authentic New York Italian, if you know what I mean ! Angelo's has some of the best veal ever, and the Boys indulged in a great Veal Parmesan, spaghetti marinara, and some great Red Wine !
Now that's a fine desert ! After Dinner Mike and Bone went to a Cigar Shop across from Angelo's bought two Cohiba's, lit em up, and started wandering North towards NYU and SoHo ! The Boys enjoyed their smokes are they walked through the still crowded streets of Soho they noticed how the neighborhood changed. When they finished their smokes, it was time for many beers and cheers, so they grabbed a cab and headed to Times Square !!
Good Times in Times Square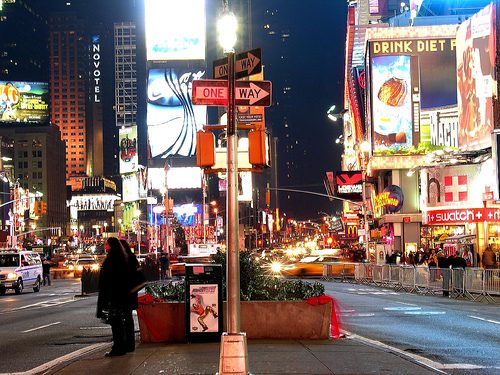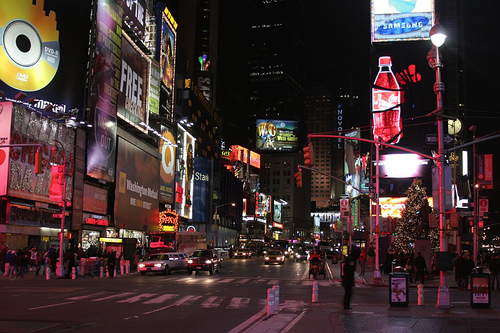 How many stars are there in the Sky? About as many Bars in Times Square !! Amidst the Neon lights, Mike and Bone started to Barhop from Bar to Bar, tasting Guiney's and Bass Ales, limiting to one (sometimes two !) round per Bar in order to "taste" the Town. After 10, 12 bars and rounds later, the Boys noticed it was 4:00 in the morning !
Late Night 'Za!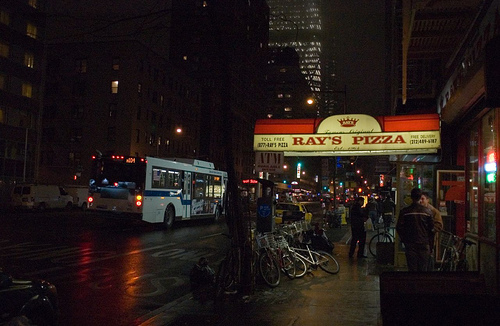 Before retiring, Mike and Bone hadda have at least a taste of NY style pizza ! There is no better place to have a late nite slice than Rays Pizza. The Boys ordered two slices of 'Za, which were the size of a plate. Blearily Mike and Bone chewed their pies and observed the other late night denizens enjoying their slices, and finally staggered to bed around 5:00 AM.