Day 1: The Rally from Raleigh
Main Page > 2000 BlackBeards Revenge Tour >
D'OH! How far is it !?!
On Mike and Bones first trip they approached the Outer Banks through Norfolk which takes about 4 hours. Knowing that the authorities would be watching that entrance, they decided that coming in from Raleigh would be new, different, and unfortunately,,,, stupid !! What they did not know is that the journey to the Outer Banks from Raleigh is an 8-hour drive!! So in typical Mike and Bone fashion they stopped, picked up a Hall of Shame (a Styrofoam Cooler), a 12 pack of Coronas, and trundled on down the road.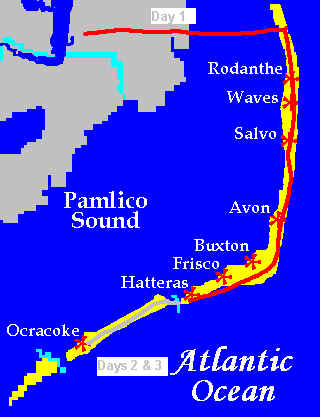 On Q for some mighty fine Bar-Que !!! Carolina Style !!!
The route to the Outer Banks quickly shrinks to a very rural, two-lane road with occasional country stores, gas stations, and damn good Bar-b-que joints! Now many places claim to have the best 'Q. Memphis has a claim with its smoked 'Q, smothered with sauce. Texas has a legitimate claim with it's beef brisket and tangy sauces.
The truth of the matter is that they are all the best, because they are all so different. Carolina 'Q consists of slow smoked, pulled pork, drenched in a tangy sweet vinegar, place on a bun with a dollop of coleslaw. After of few road beverages, the thought of lunch (and a restroom!) was becoming more urgent. As luck would have it a classic Carolina 'Q joint came up at the most opportune time, and Mike and Bone were able to address both their needs for "P's" and "Q's".
After gorging themselves, Mike and Bone continued heading east until they reached the Alligator River (yep!!! there are gators in North Carolina), and onto Roanoke Island, which starts the Outer Banks.
Cruisin' through Oregon Inlet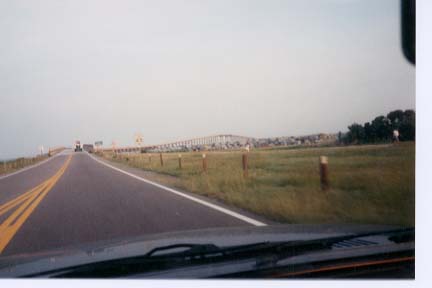 Slim Pickinís
Arriving in Cape Hatteras around 8:00 in the evening didn't leave the boys much time to check out the sights and lights of Hatteras. With that in mind, they bee-lined to check out the famous Cape Hatteras Light House. By that time of the night there were not many visitors, just raccoons in trash cans looking for a free meal, after wandering around the Lighthouse in the dark, the boys decided to head to their spacious accommodations for the night (a motel!)
The Cape Hatteras Lighthouse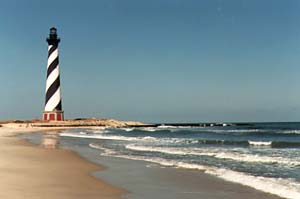 The Cape Hatteras Lighthouse (Reverse View)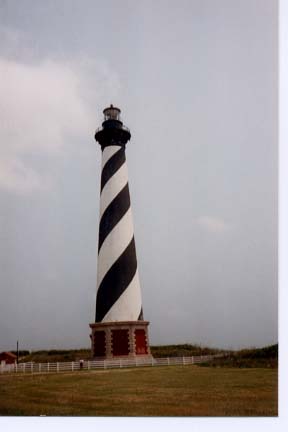 Getting Soaked After the loong drive and checking out the Lighthouse, the boys decided that drinking beer and checking out the stars sounded like a good therapy for road weariness, especially in a hot tub on the beach.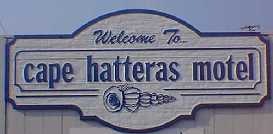 As the Boys checked in to the Cape Hatteras Motel, they procured some more 'Rona's and limes, and proceeded to drink beer, ponder the universe, and watch the sand crabs scuttle about while soaking away the road trip. This continued until mid-night when the beer ran out and the boys decided to put in for the evening.