Day 4: Riding the Storm Out
Main Page > 2000 BlackBeards Revenge Tour >
7:30AM Panic Time!!
The Ockracoke Ferry is scheduled for every hour during the week. with a 7-8 hour drive and a 5:00 flight, Mike and Bone were hard pressed to leave no later that the 8:00 Ferry. Now it is a 15 minute drive to the other side of the island to where the ferry was located and in addition there is always other trying to get on the ferry. So when the boys woke up at 7:40, they they were performing a Chinese fire drill to packup and check out. Racing through the village at extremely high-rates of speed, the boys just made it to the ferry docks in time to make the 8:00.
Ockracoke Inlet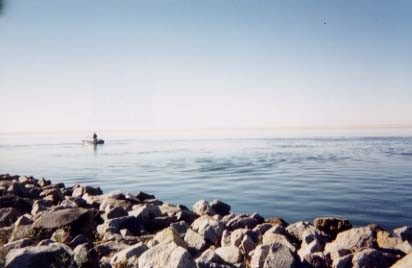 The Ockracoke-Hatteras Ferry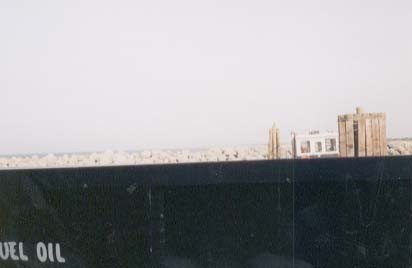 Come On!! Don't Rock the Boat !!! The rain pattern that came through the night before was still overhead, in fact the sky became black as night as the cars were driving onto the ferry. Just as the ferry launch a storm hit that rained so hard the boys couldn't see out of the windshield. In addition, the ferry was rocking back and forth more than the boys preferred. The storm broke up just as the ferry reached the Hatteras launch, which gave the boys clear sailing up through Hatteras, over Oregon Inlet, and back to the mainland by 12 noon.
Trip, PostScript
Despite the time crunch, Mike and Bone were able to find a greasy dinner in a little town where the coney islands were good, and Mike and Bone were the only two Caucasian's in the county. The remainder of the drive back was uneventful. Despite Mike & Bone's concern on time, they made it to the Airport on time and also evaded the authorities for the second time in the Outer Banks. Thus ends this assault on the sensibilities and beverages of the greater Out er Banks Communities !!