Day 1:

Come on Baby Light my Fire !!!
A Fiery Kink in the Road: Natural Disaster 1 - Forest Fires
Bone flew into Montana in the early afternoon, with Mike's arrival planned for later in the evening. Now the Missoula Montana Airport is not what you would consider a "cosmopolitan airport". The airport is built with huge logs giving the impression of being in a very large log cabin, and as you exit the jet way you have the unparalleled opportunity to confront a 10 foot stuffed grizzly bear. After picking up a car, Bone headed into town feeling very much in the Mountain West.
The moment Bone walked out side he noticed that it was extremely HOT !! With uncommon temperatures zooming into the high 90's, Montana and Idaho had been experiencing a long and hot summer with soon-to-be dire consequences for the boys and their well-laid plans. His other observation is that he forgot all the Trip's paperwork !!!! Fortunately, Bone had 7 hours to make it right, and he knew that Missoula was the home of the University of Montana Grizzlies, therefore had to have a cyber-cafe or some sort of Internet access. The original plan was for Bone to rent a car, drive out to Salmon Idaho, for their first two days of white-water rafting, get a hotel, then head back to pick up Mike, so he needed to find where they were going.
Sure enough there was a Kinko's in town, and after 15 minutes on the phone with Earl Keating, the co-outfitter of the Lewis and Clark Adventurer for final directions. However Earl had some bad news for Bone. Because of the long draught and high heat, the main road, Route 93 from Missoula to Salmon Idaho, was closed due to one of the many forest fires plaguing both states, and worse yet, it was expected to be closed for 3-4 days !!!
Since the rafting trip was supposed to start the next morning, Earl and Bone agreed that if the boys could find a way to Salmon, the rafting trip could start as late as 11:00 AM. So they devised a couple of potential options:
Charter a plane to Salmon (big expense !!)

Risk the drive (to be potentially turned around by the National Park Service)
Neither option sounded swell. So Bone agreed to call Earl the following day. Earl gave Bone the name of a motel that the boys could spend the night at a reduced rate since they would not be able to spend the night at the cabins that they had rented in Salmon.
Running Around at Ruby's
Since it was the tourist season in Montana, Bone wanted to ensure some sort of accommodations for Mike and himself, and rented a room at the afor-mentioned Ruby's, which is a cheapo motel next to a quaint mountain stream and a really tacky casino. After checking in, Bone did some IBM work, and decided to check our the lovely Missoula.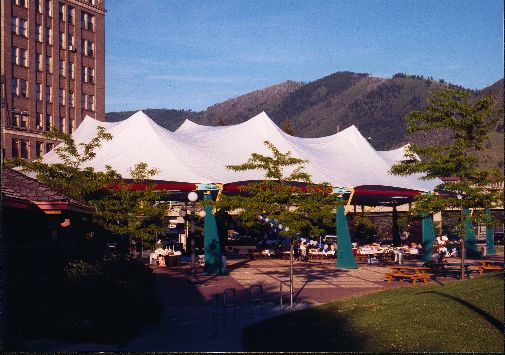 Messing Around in Missoula
With rest of the afternoon to putz around, Bone drove around the cool Montana hills and through the very quaint, University of Montana Campus. Being a firm believer of performing reconnaissance before a mission. Bone scoped out several potential brewpubs and tipplery's where Mike and Bone could ply the craft for which they have become quite well known for. In fact to ensure a high level of quality, Bone stopped, and sampled the fresh-brewed wares of several of the fine establishments prior to Mike's arrival.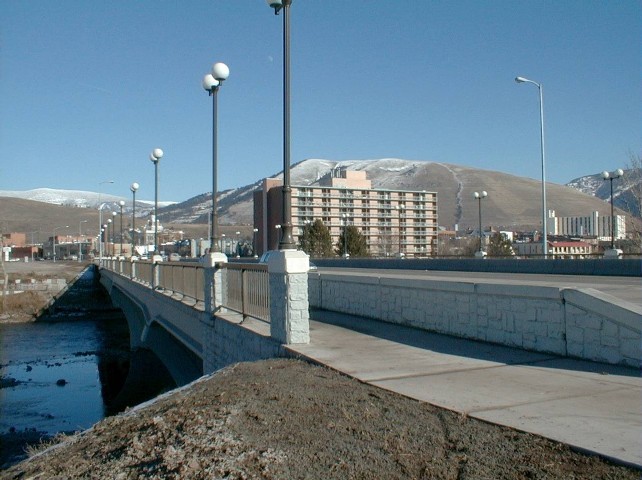 The Lamb Lies Down on Broadway ?!?
Mike's plane arrived at 7:00 in the evening (PST), having given Mike an update during his lay-over in Minneapolis, all the boys needed to do is find some entertainment for the evening. The Missoula Airport is 10 miles out of town, and with the low humidity and high heat, Bone was concerned that Mike may possibly dehydrate, and was well prepared to prevent it with a 12 pack of assorted local brews.
After picking Mike up, as the boys drove into town they noticed that the major thoroughfare from the Airport to town is called "Broadway". Now being in the mountains, it is highly likely that there were mountain sheep in the area, and if Bone were to hit a baby sheep on that road, a "lamb would lie down on Broadway", which is interesting considering how far from New York they were.
Drinking Moose Drool !!!
Having enough philosophy in Genesis music, the boys headed downtown to a local college hangout called the Rhino, where Bone was able to demonstrate his poor parallel parking skills in full view of a police cruiser.
The Rhino is one of those cool, eclectic bars that had a Rhino head "busting" through a wall. It also carried some excellent local brews which included a fine porter known as "Moose Drool". The boys dickered with the locals while slurping Moose Drools until mid-night. Being this was a travel day, it was 2:00 AM their time, and they had a big decision the next morning, they decided to head back to Ruby's.
Back at Ruby's the boys finished their beers in the outside Jacuzzi staring at the very bright stars and discussing the meaning of life, liberty and the pursuit of the perfect pint. Sadly after a couple of more hours the beer was all gone,,, along with their motivation for staying up, so they put in and prepared for the "big day".
If they only knew what was about to occur . . . . . . . . . . . . . . . . .