Day 1: Bucking Buckhead
Main Page > 2005 Having a Cocktail at the Worlds Largest Cocktail Party
Bone picked up Mike from the Atlanta Airport as Bone was flew in from Charlotte. After having a quick cup of coffee with one of Bone's colleague's at the Airport, the Boys wanted some good-time, old-time southern food, boogied on downtown get some victuals at Mary Mac's Tea Room, and then on to the Varsity for "Desert."
Gettin' their Vittles on @ Mary Mac's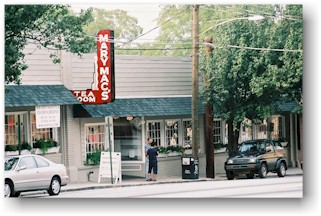 Enjoying some "Genuwine Southern Cookin' " Open since 1945, Mary Macís Tea Room is a genuine southern institution. It has neatly framed, autographed photos that run up and down nearly every wall attest to that. Johnny Mercer, James Brown, Jimmy Carter and Jesse Ventura have all eaten here. And each praises the goodness of Mary Mac's classic Southern food.
Inside, businessmen, tourists and families crowd the tidy, time-honored dining rooms, with names like "Ponce," "Myrtle" and "Skyline." You order Mary Mac's-style, jotting down your selections on a slip of paper with a pencil and handing it to one of the snappy servers, many of whom have been working here as long as the older regulars have been coming round for some good old fashioned food. The history on the back of the menu brags that "it's still 1945 in the kitchen at Mary Mac's." The old-fashioned entrees come with two sides and include everything from meatloaf and chicken and dumplings to pork barbecue. When in doubt, fried green tomatoes are always a good bet. Mike and Bone enjoyed some fried chicken, but some so much that they couldn't make a few Rebel "wannabe"s to eat crow at the next table and leave some room for a Varsity Slawdog !
Mike and Bone getting a degree at the Varsity !!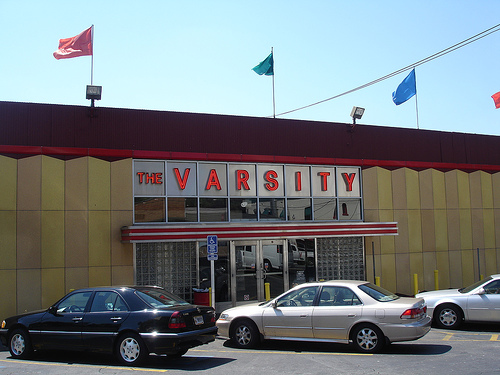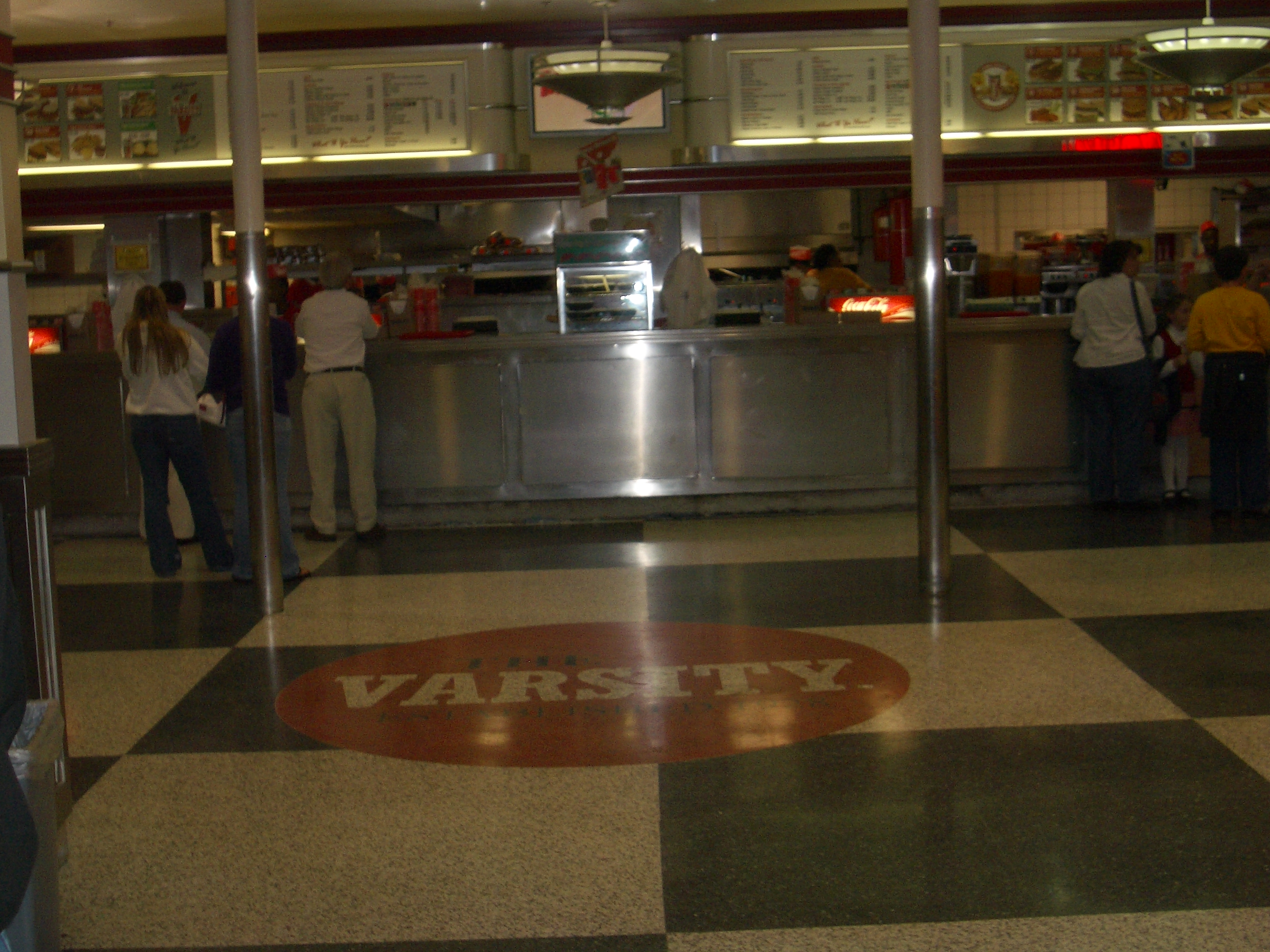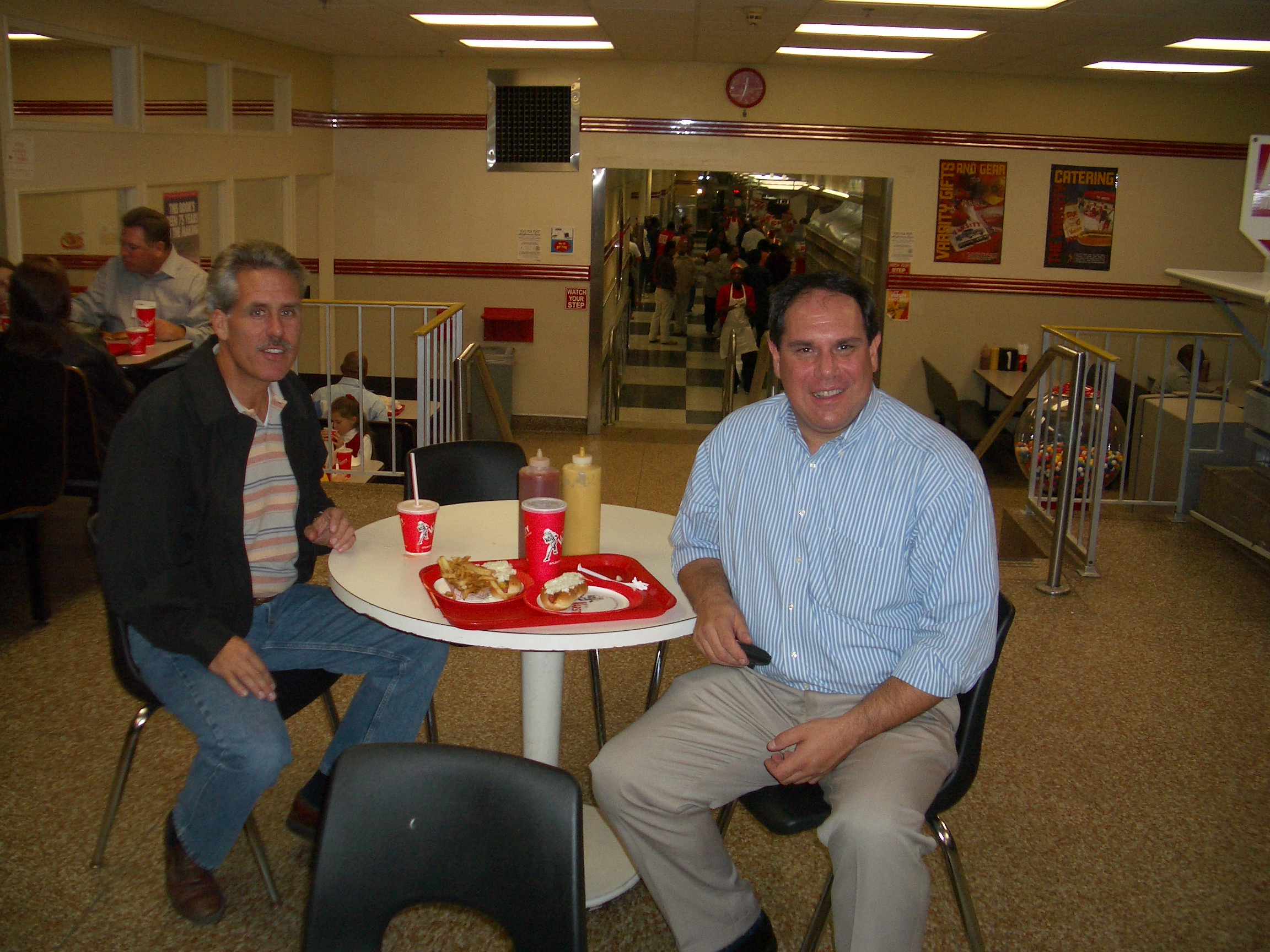 The Varsity serves a darn fine Slaw Dog !!!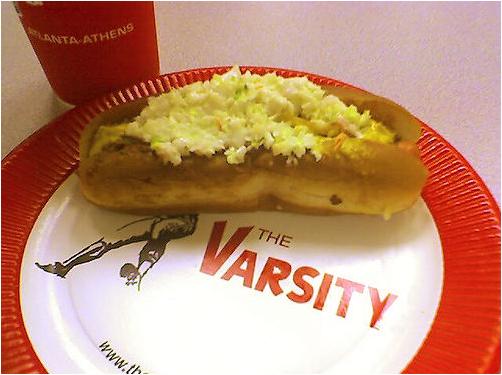 Slurping Slaw-dogs. The Varsity is the World's Largest Drive-in Restaurant, where they have been serving customers in Atlanta since 1928. The Varsity serves over 18,000 hotdogs a day, and over 50,000 (!) on Georgia-Georgia Tech Saturdays. The Varsity has been one of Boneís favorite hangout since his early 80ís adventures. Mike and Bone came in around 10:00 PM to soak up the ambiance, a few slaw-dogs and some grease ! So what is a slaw dog anyhow? It is a very southern tradition of a basic hotdog, with chili sauce (no beans), mustard, and coleslaw. It sounds atrocious, but taste delicious.
Making it a short Night
After quickly scarfing a few slawdogs, the boys headed up Peach Tree Avenue to the very toney Buckhead area and the PeachTree Pub for a couple of quick Guiney's. Since the next night was the Worlds Largest Cocktail Party, the boys didn't want to party too, too much and soon headed down to the Marriott Marquis to crash at Mike and Bone early Midnight.