Day 1: Rendezvousing in Memphis
Main Page > 2010 Civil Whites Tour >
In 2009, Bone had the opportunity to work for a Memphis based client and got to know the "Bluff City" and new with a Delta Hub, it was a good rendezvous point to start the Tour and get some Rendevous Bar-be-que!!!
Getting Ribbed at the Rendezvous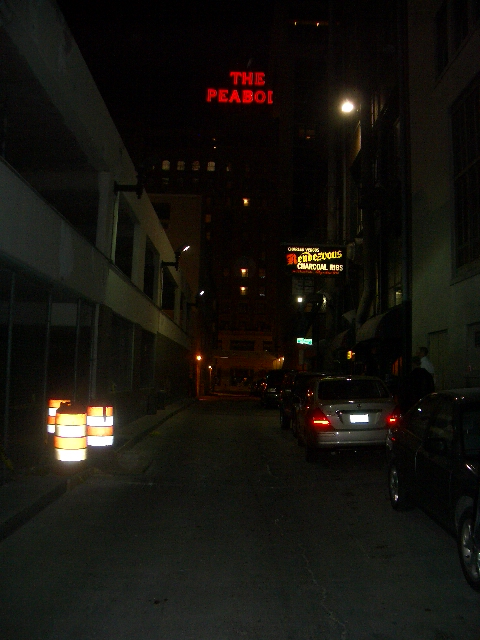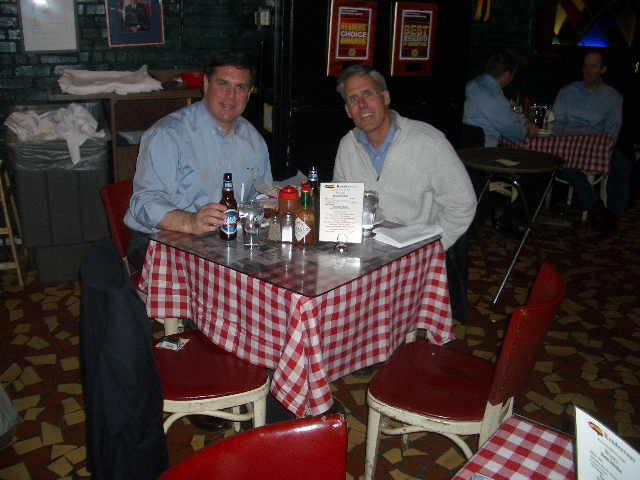 If you want to dig in (literally and actually!) to the world famous Memphis Bar-b-que experience you gotta start with the Rendezvous! The story of the Rendezvous's world-famous dry-rub pork ribs start with Charlie Vergos, who took an old coal chute from the wall of his smoky basement tavern in downtown Memphis and created barbecue history. Since he first opened the doors in 1948, Charlie Vergos' Rendezvous has attracted a long list of high-profile guests including Presidents Bill Clinton and George W. Bush, former Vice President Al Gore, and entertainers such as Bill Cosby, Justin Timberlake and Mick Jagger. While he was most famous for his ribs, Charlie was also known for his civic contributions to the city of Memphis.
He was always grateful to the citizens of Memphis who supported his business. Additionally, Charlie was a major force in the revitalization of downtown Memphis. Memphis mayor A.C. Wharton called him an icon for saving downtown. Ordering two slabs of dry rub ribs with a coupla of beers, Mike and Bone dug in with aplomb and gusto, not leaving a shred of meat on a bone ! The one problem with dry rub barb-b-que is it makes you thirsty (or at least it was a good excuse !), so the Boys headed out to party Beale Street.
Doing Beale Street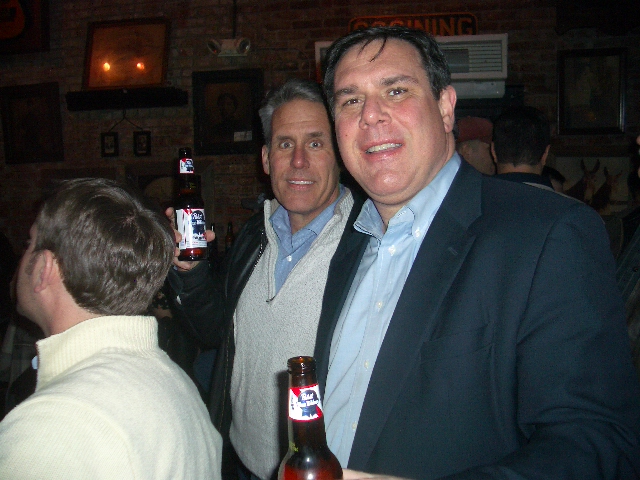 In the heart of downtown Memphis with three blocks of nightclubs, restaurants and retail shops, the Beale Street entertainment district is a melting pot of delta blues, jazz, rock 'n' roll, R&B and gospel. With cold beer and hot music, Beale Street is one of the coolest places in Memphis.
Beale originally was home to traders and merchants that used the convenient location to move goods along the Mississippi River. By the 1860s, many traveling musicians began performing on Beale and over the next few decades, Beale began to flourish. The Orpheum Theatre, "The South's Finest Theatre" was added in 1890 and in 1899 Robert Church (the first black millionaire in the south who purchased the land around Beale) created Church Park at the corner of 4th Street and Beale. Church wanted to give musicians a place to gather. At that point, Beale slowly began transforming into a recreational and social center, where folks could unite and listen to music.
Bands on Beale !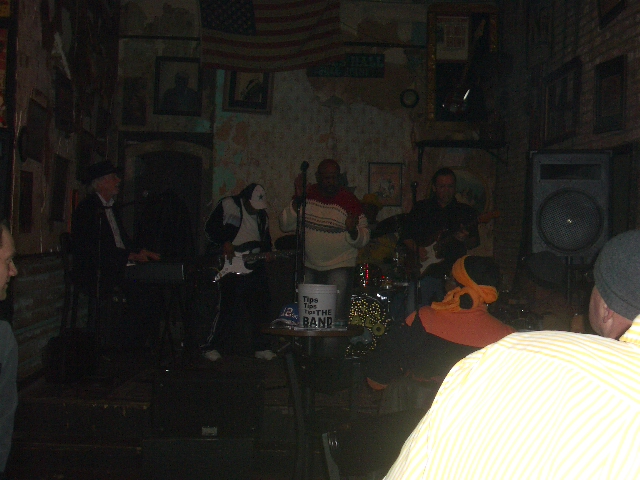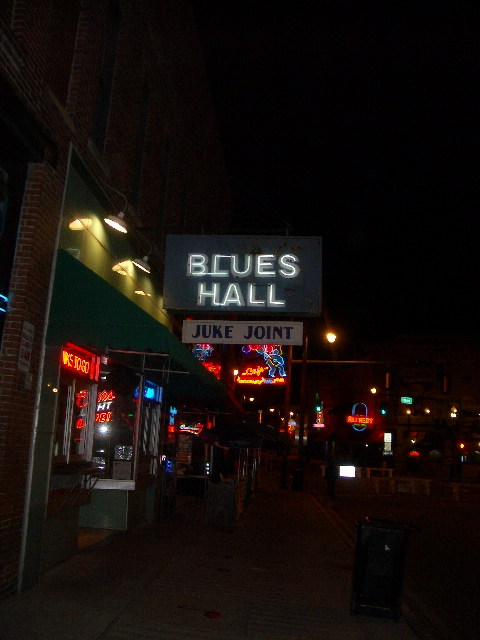 In the early 1900's a young man by the name of W. C. Handy made his mark on the city by creating hit songs like "Blues on Beale Street" and "Mr. Crump" (for a local mayoral candidate). Handy's influence ran deep and from the 1920s to the 1940s, other blues and jazz legends like Albert King, Louis Armstrong, Memphis Minnie, Muddy Waters, and B.B. King (B.B. stands for Blues Boy) all performed on Beale. Their influence created a style known as Memphis Blues. In 1966, Beale Street was declared a National Historic Landmark and in 1977, Beale Street was officially declared the Home of the Blues by an act of Congress. Today, all you need to do is take a stroll down Beale Street's neon row and you'll hear music spilling out of clubs and restaurants like Rum Boogie Café, B.B. King's, Silky O'Sullivan's or the Blues Hall Juke Joint (pictured above). Beale Street is serious about its music, and jam sessions at many of these clubs tend to go deep into the night. While Beale Street is a tad on the touristy side, it is cool and at night the Memphis Police shutdown car traffic and it becomes a street party.
The Boys on Beale with Beers !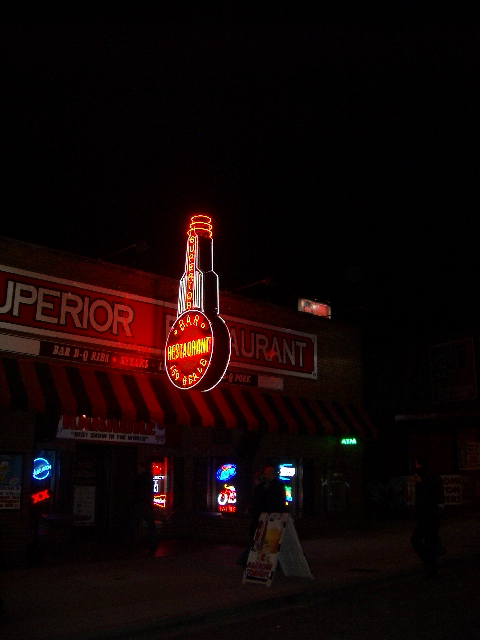 Mike and Bone slaked their thirst by bar hopping each joint on Beale with a two beer minimum per joint! The music was hot and the beers were cold, all was good on Beale that night! As the night wore on the need for a late night snack (on top of the Ribs) increased so around 2:30 in the morning (3:30 Eastern!), the Boys swayed into a late night bar for some victuals ("eats" for you northerners !)
Late Night Eats on Beale !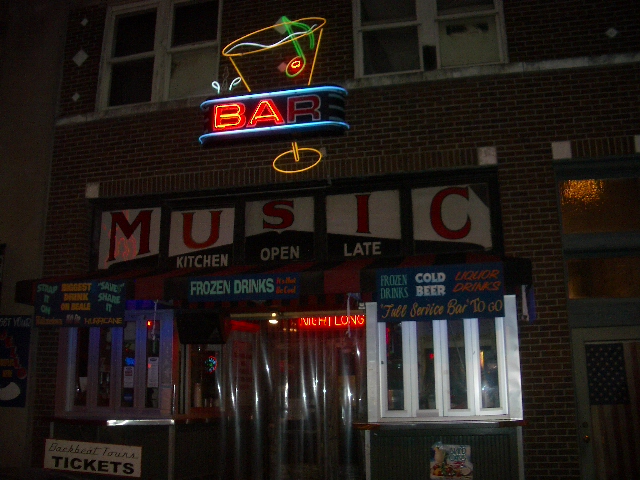 While the Boys noshed on some greasy gator bites and chicken wings with a final set of beers, they had the unparalleled opportunity to dicker with a local musician that played guitar on the street. It was quite a lovely conversation on each others thoughts on favorite bands and guitarist. Finally around 3:30 AM, the Boys bleary-eyed, stumbled back to a Marriot Residence Inn a few blocks away!