Day 2: Graduating from Whisky Row
Main Page > 2011 Razing Arizona ! >
The Morning came bright and hot in the late spring. It was a day of renewal and new things;; it was Graduation Day !!! Grabbing a quick breakfast, they headed over to Embry-Riddle University for the Commencement.
Proud Dad with Kelsie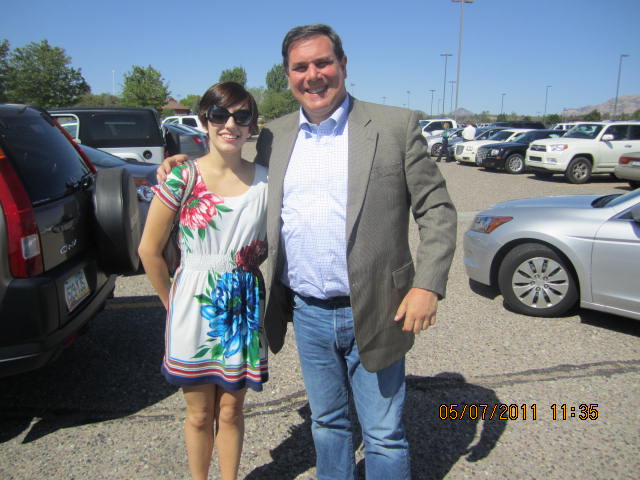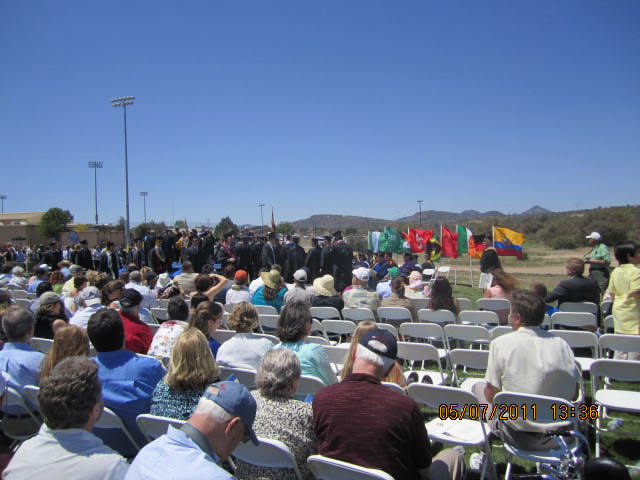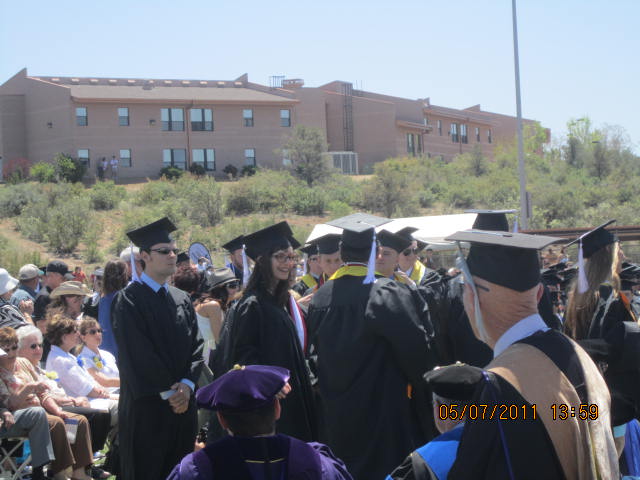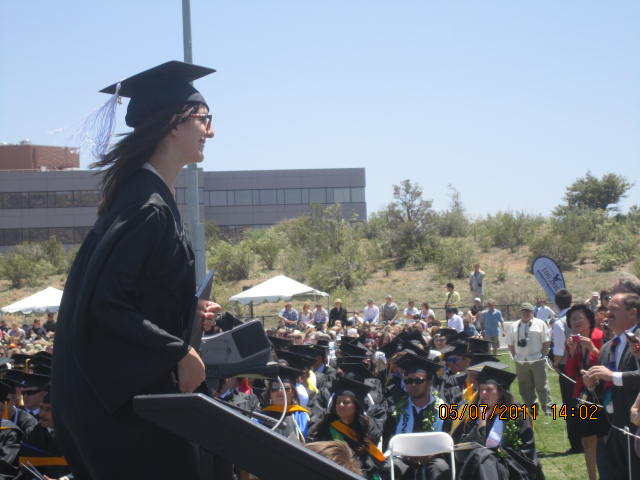 Katie Irene Giordano - College Graduate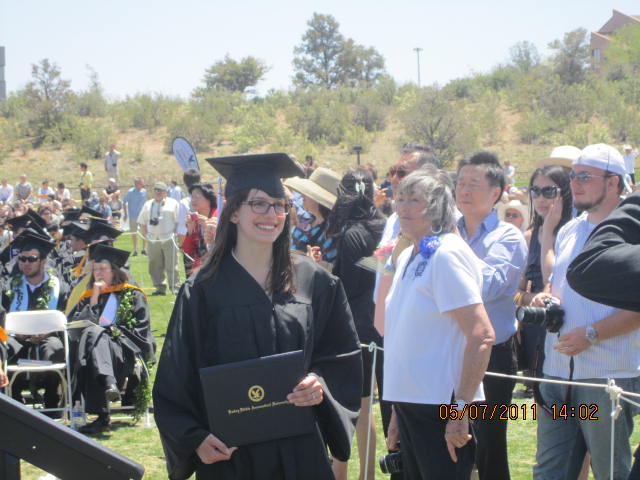 It was a freaking hot morning as the Sun beat down mercilessly on the faculty, families, and graduates. The speeches were all filled with flowery quotes of hope, optimism, and new leaders, everything that a commencement should be with exhausted and exhilarated students, with their beaming parents.
The 2011 Embry-Riddle Graduating Class !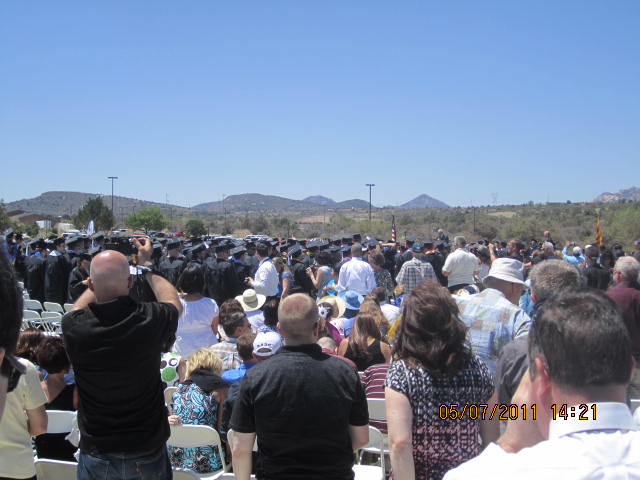 Living through Texting !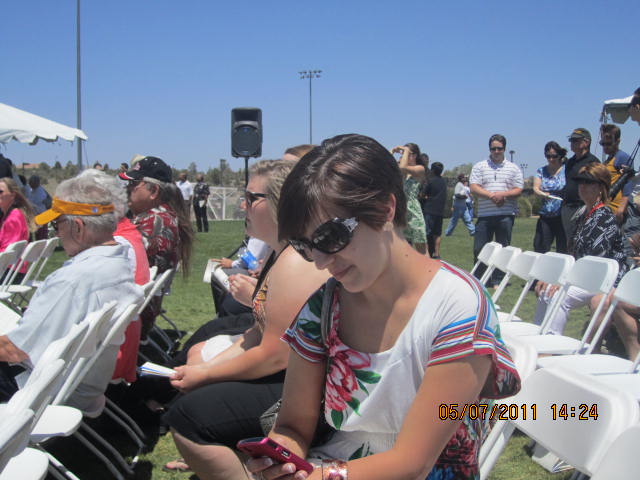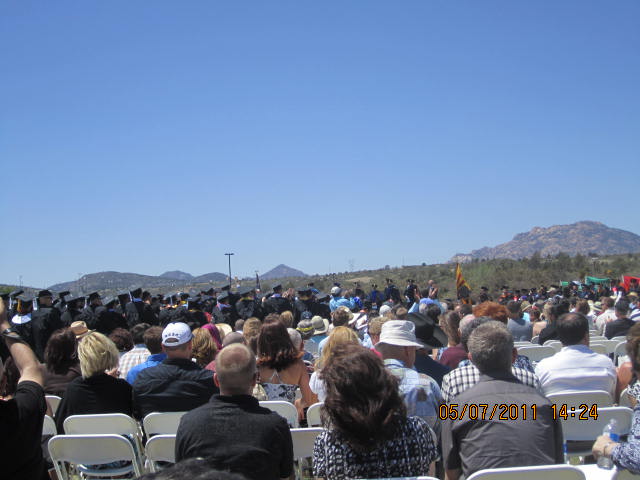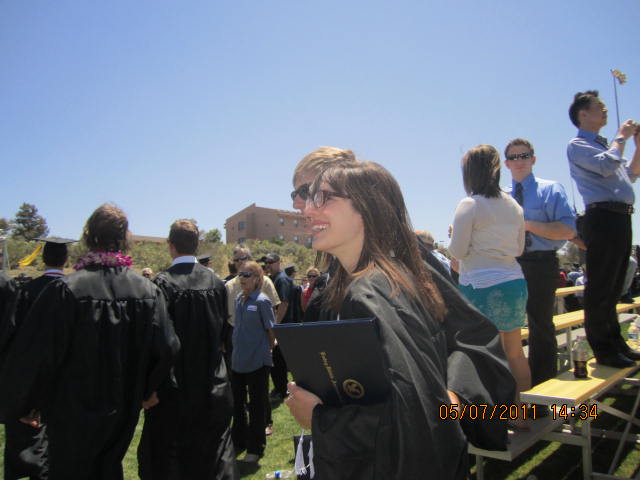 Kels and Kate !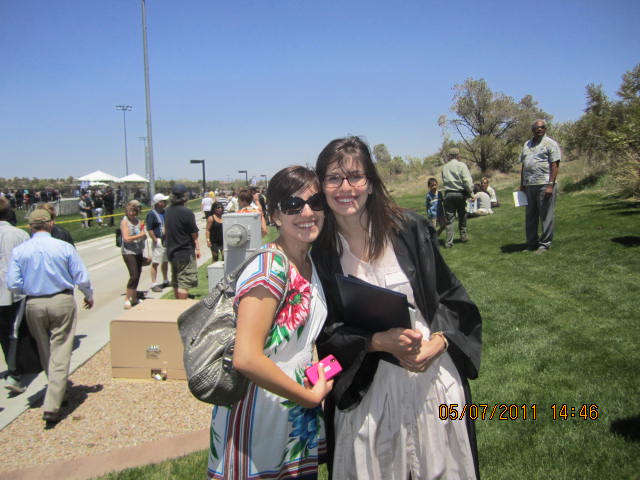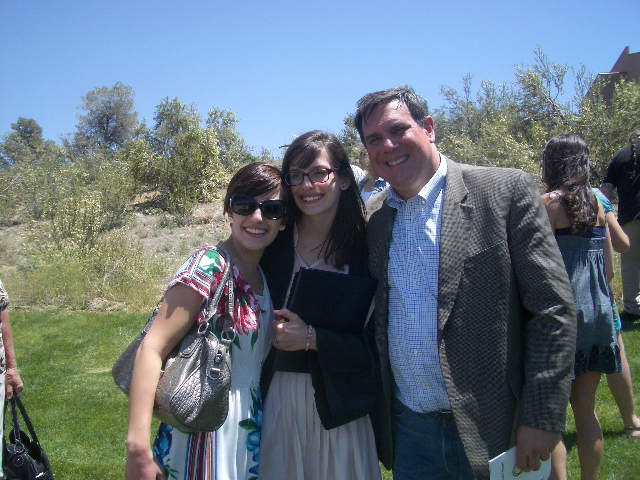 Bone was a proud papa that day with both his daughters on that glorious morning ! Bone posed proud for many pics with the Girls. Of course the Girls wanted to hang with their own, so Mike and Bone set a time to meet the Girls later in the evening and decided to "check out" Whiskey Row, almost guaranteeing some sorta mischief!
Walking Whiskey Row
The day was warm and bright with a clear sky and dry mouths from the Morning Matriculation of Katie. Needed sustenance, the Boys committed to have a drink in each of Whisky Row's saloons and check out each of their stories. The first bar had a patio overlooking the street, unfortunately there were no open seats, so Bone brazenly asked a girl sitting alone if she minded company, who didn't, and the Boys not only found a seat but a new friend ! Turned out she was a waitress off the Bar who was off work and shared all about the bar scene in Whiskey Row. After2 or 3 the Boys moved on to a fowl place.
Flying in the Bird Cage !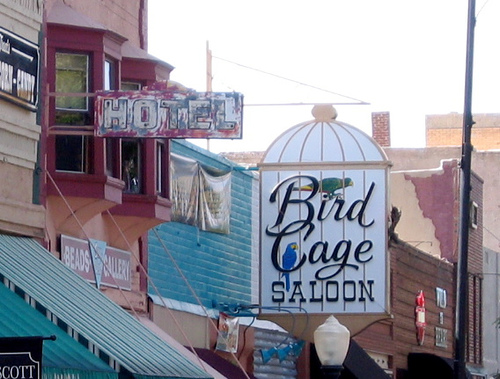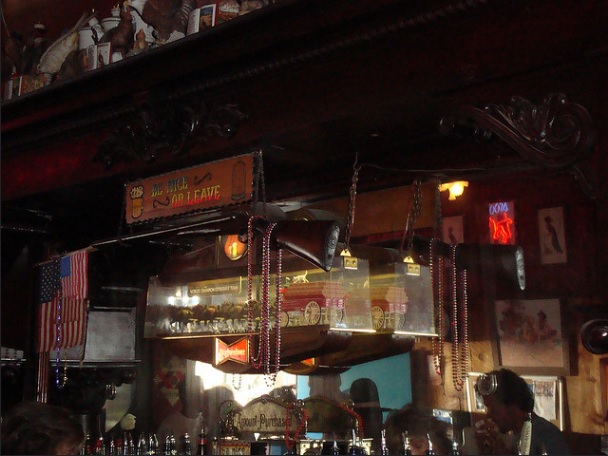 About the third Bar into the tour of Whiskey Row was the Bird Cage Saloon, which is one of the longest-lived bars on Whiskey Row, or in all of Prescott for that matter, that was established in 1967. The saloon gets its name from the collection of mounted birds displayed in cases throughout the bar. It was an eclectic bunch in the Saloon that afternoon with a mixture of grungy locals, old hippies, and happy college grads. Standing at the bar, Mike and Bone was enjoying the band, when a local patron walked up and said "you guys ain't from around here!" Smiled, and promptly bought the Boys a beer! Mike and Bone really enjoyed the Bar, but wanted to check out something that had them outside, so they headed down the street to Coyote Joes.
Cocktail's at Coyote Joes!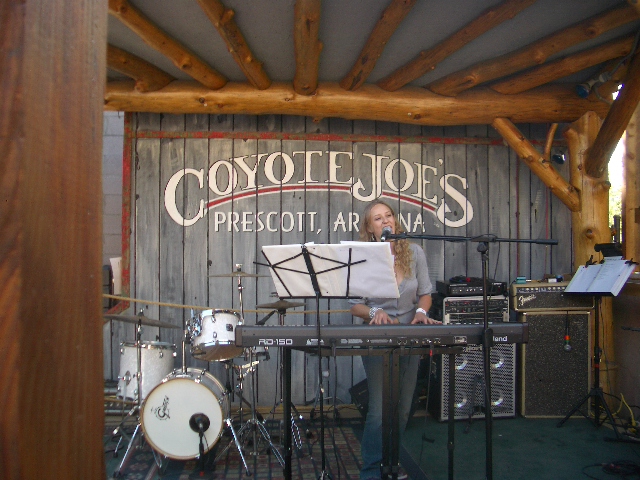 Coyote Joe's is another funky cowboy saloon with a huge backyard patio. On that particular Saturday, they were having a benefit with a Tex-Mex Buffet and a series of musician's performing. Mike and Bone lucked out and found a table RIGHT in front of the stage ! The Boys immediately order four (it was 2-for-1 for the benefit) local micro-brews and adjoining Bushmill's shots ! The first performer was a female solo artist, that was doing an eeriely awesome job of covering "What if God was one of Us." Which left Mike and Bone to ponder (while drinkin') did God do shots and beer !?!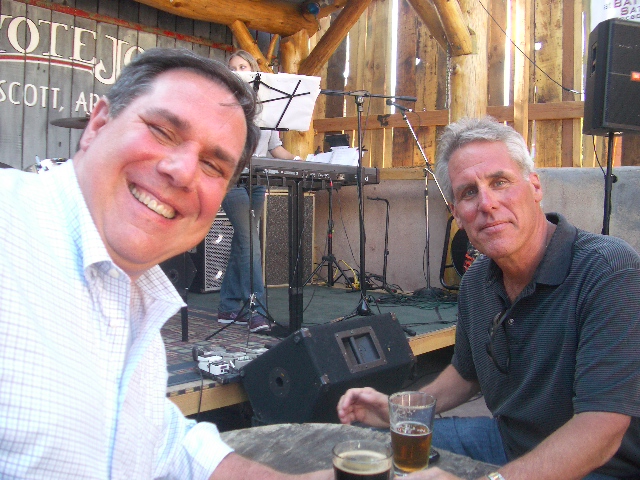 "I am the Walrus"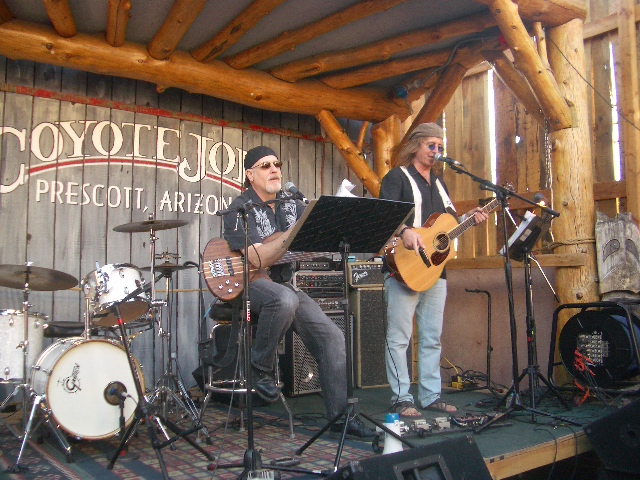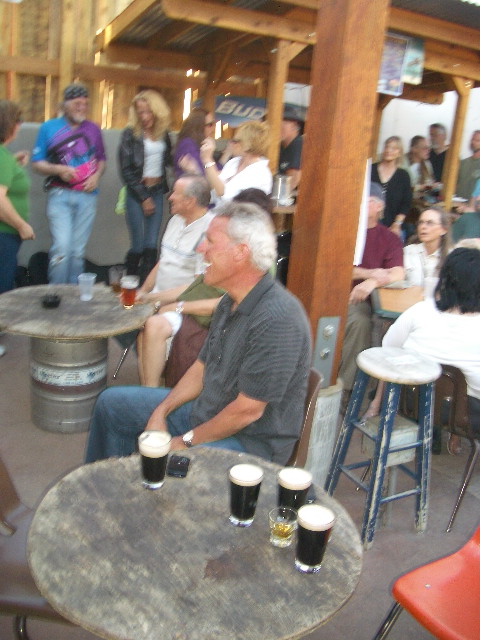 Mike and Bone spent the next few hours hammering the local beer and whiskey supply while jammin' on the music and fresh air. They knew that they had been at it for a loong time when two unplugged guitarists played John Lennon's "I am the Walrus" and it sounded awesome !
New Coyote Joe's Friends!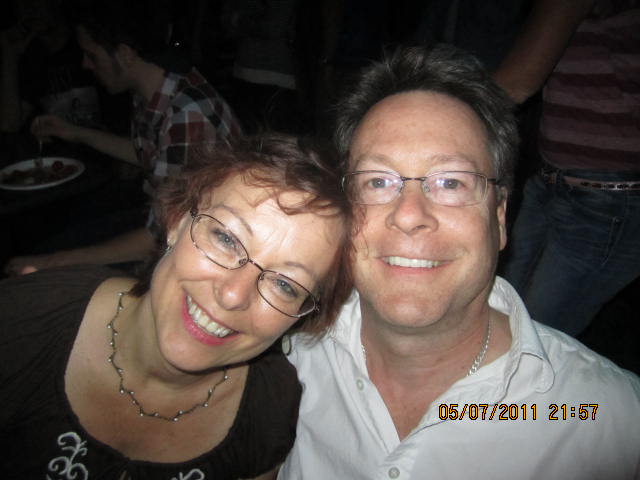 The day slowly turned to night, and Coyote Joe's was still the place to be as the music, beer, and shots continued to flow, as the Boys continued to party at the party. Soon, everyone started dancing including the Boys with some of their new friends pictured above.
However around 9:30 PM, the Boys realized that they were supposed to be meeting Katie and Kelsie for Dinner at 9:00 !
Katie and Kelsie,,, Now you really meet the Real Mike and Bone !!
Katie and Kelsie with a few of their friends were patiently waiting in an upscale restaurant, when Mike and Bone stumbled and mumbled in! Mike and Bone were in rare form with Katie and Kelsie, their friends, and the Wait Staff as they attempted to order wine and food for the table. Fortunately it was all good as everyone ended up having a good time (even the wait staff whom got a large tip!). However drinking 13 hours plays heck in the high altitude, and with a still good attitude, Mike and Bone graciously retired from the Kids dinner party around 11:30 PM and promptly passed out in their Hotel !