Day 1: Blow Tide !
Main Page > 2012 Bama Beatdown ! >
The Boys met in Dallas and bee lined it before the Game a traditional Pre-Game Meal: Hot Dogs !!! Based on a some high recommendations from a colleague of Bone's they went Uptown Dallas on Mckinney Ave, to a very New York sounding place called the Bowery.
The Not so New York, Dallas-based Bowery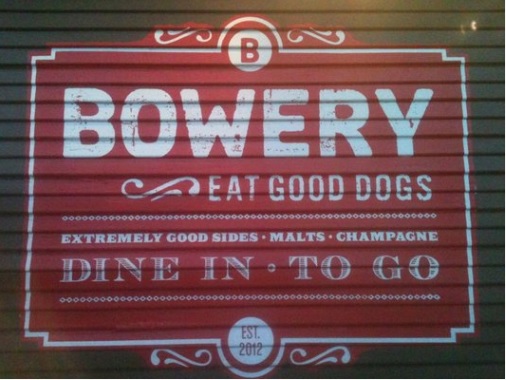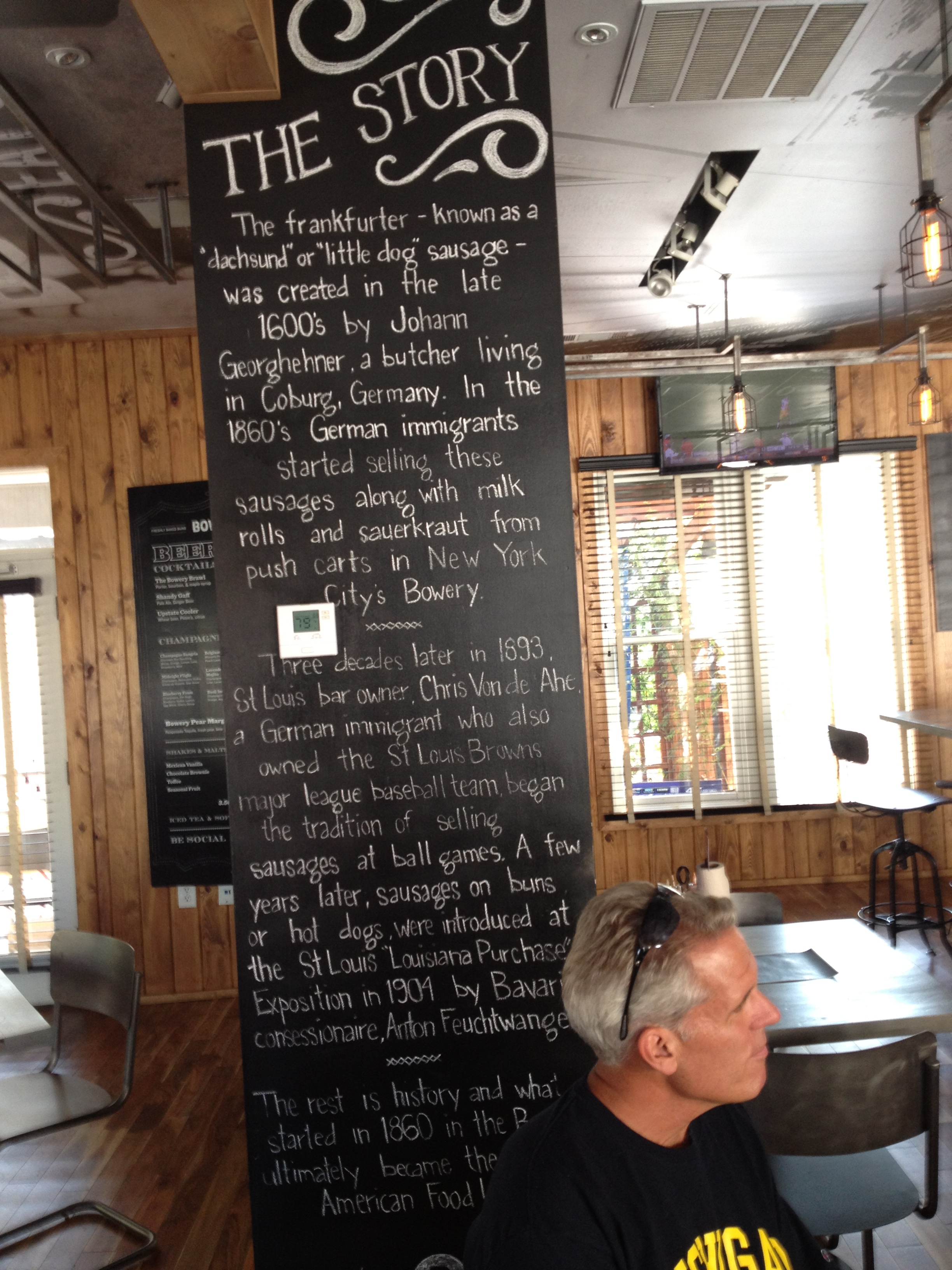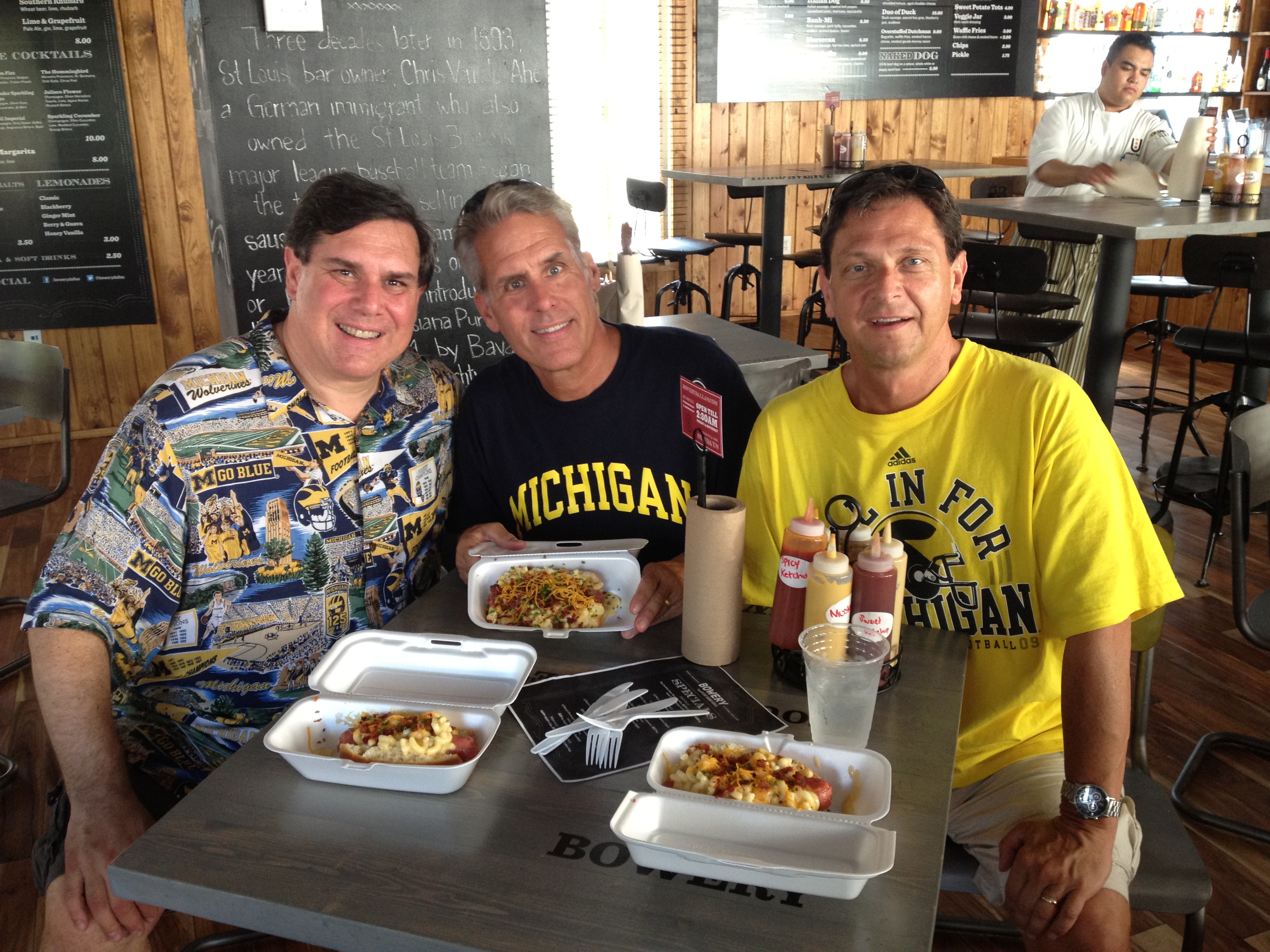 The Bowery Tavern, opened in 2012 attempted to a glimpse of what is was like in the Bowery district of New York back in the day. They purported on their story board that in the 1880's, Dutch immigrants introduced what today is known as the hot dog (despite all the other evidence that is was Germans from Frankfurt, hence frankfurters). Their specialty is the "The Mac," yep a hot dog with mac and cheese !
The Bowery's so-called specialty dog: The Mac (really ?!?)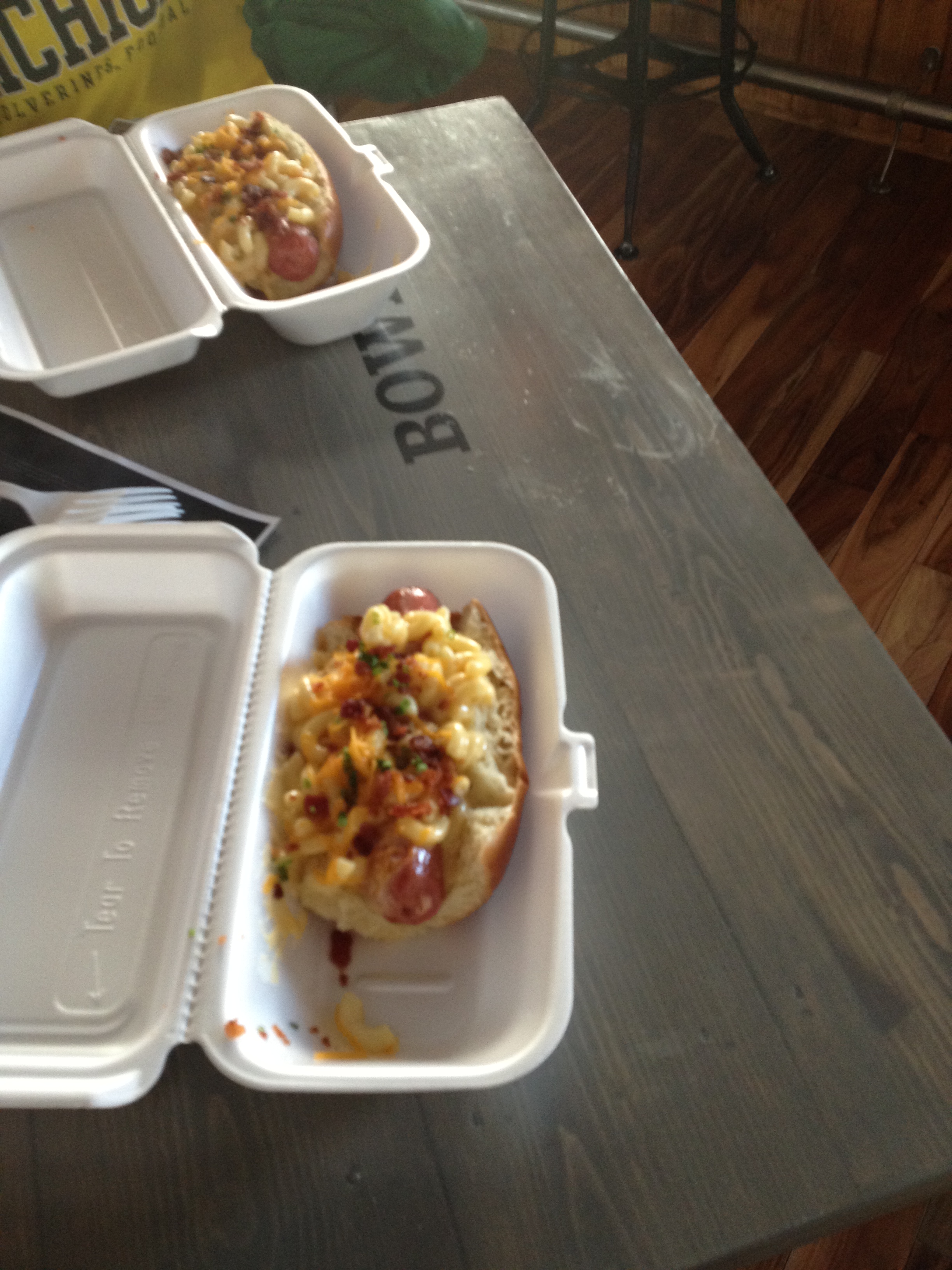 The Verdict: People in Dallas may know Bar-B-Que, but haven't a clue on Hot Dogs !!! The Bowery was antiseptic (Hot Dog Joints need some flava!), overpriced, and their specialty "The Mac" was bready and honestly, Mac and Cheese on dog just wasn't very good.
Sadly, it was a sign of bad things to come.
Jerry Jones Pad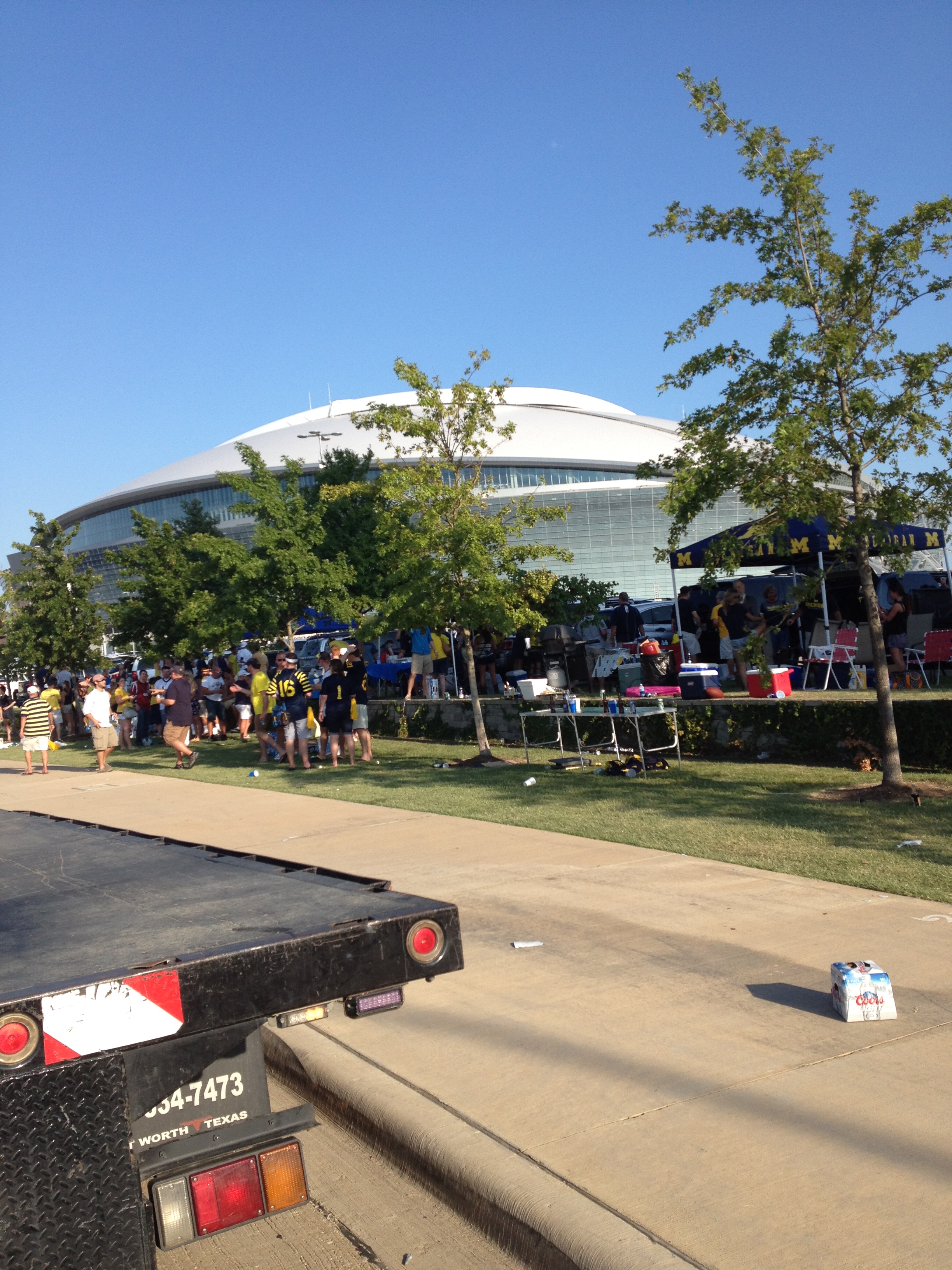 The Hot Dog fiasco caused the Boys to start to run on time, ain't nottin unusual there, so they super boogied in pretty heavy traffic and parked about 1 mile from the Stadium, which is no big deal unless it's 100 freaking degrees outside !
The Maize and Blue Warriors Three !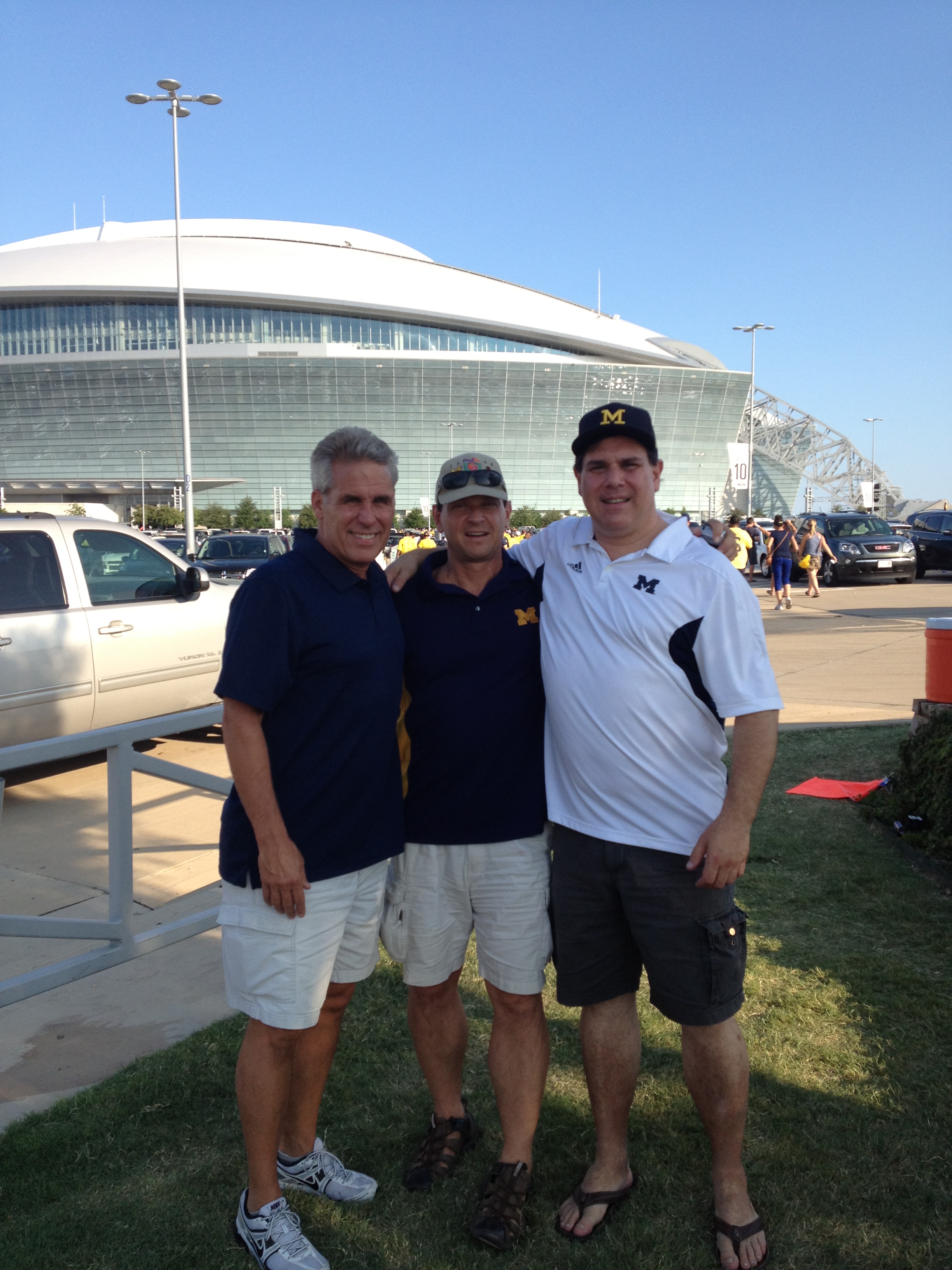 With little under 45 minutes the Mike, Bone, and Ron slow roasted over an open fire called the Dallas Sun as they raced to get to their seats in time for both the Bama Band and Mighty Meechigan Marching Band !
"Yep! End Zone Seats in the Meechigan Section!"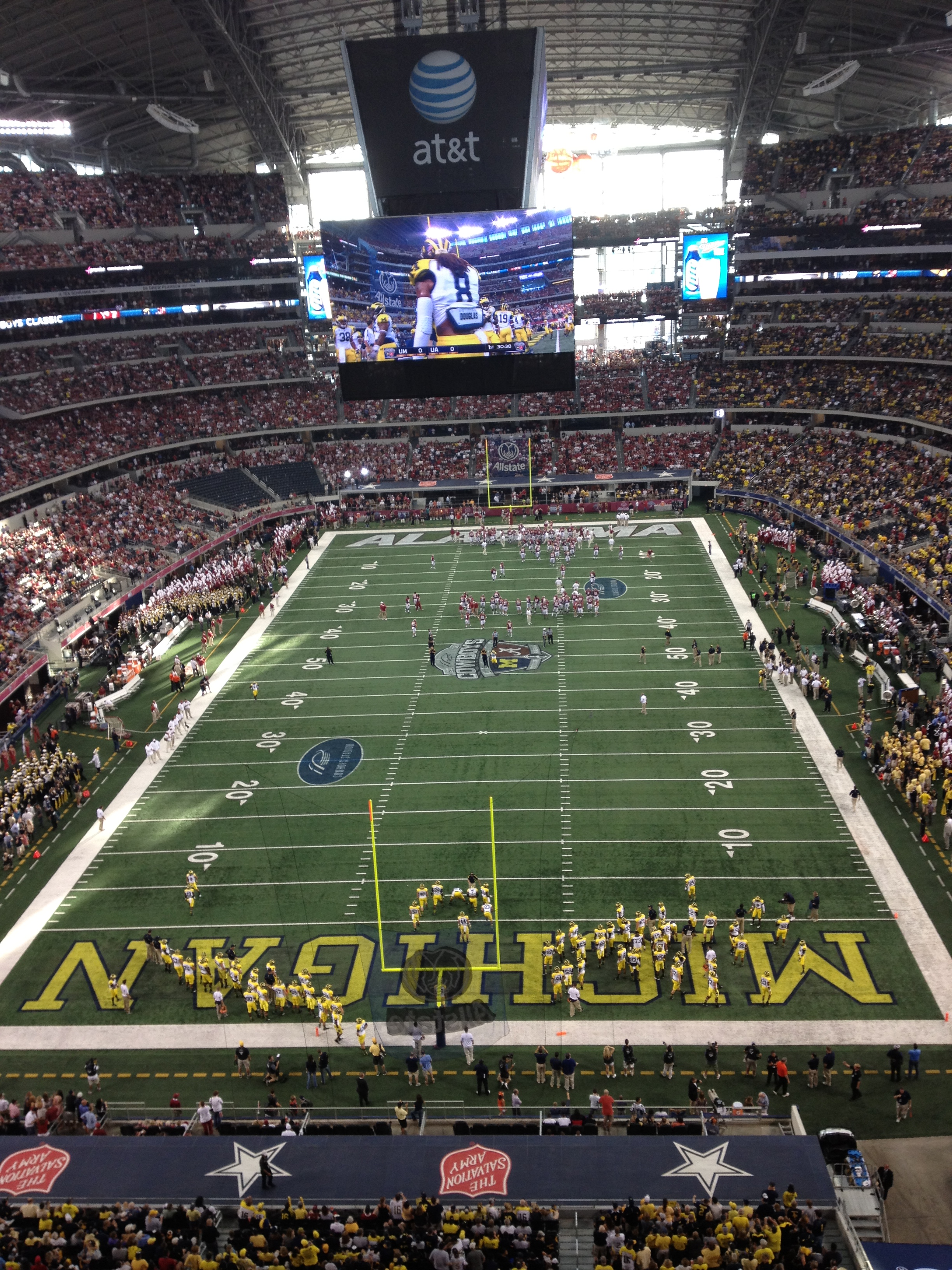 "Introducing the Meechigan Marching Band!
Band,, Take the Field !"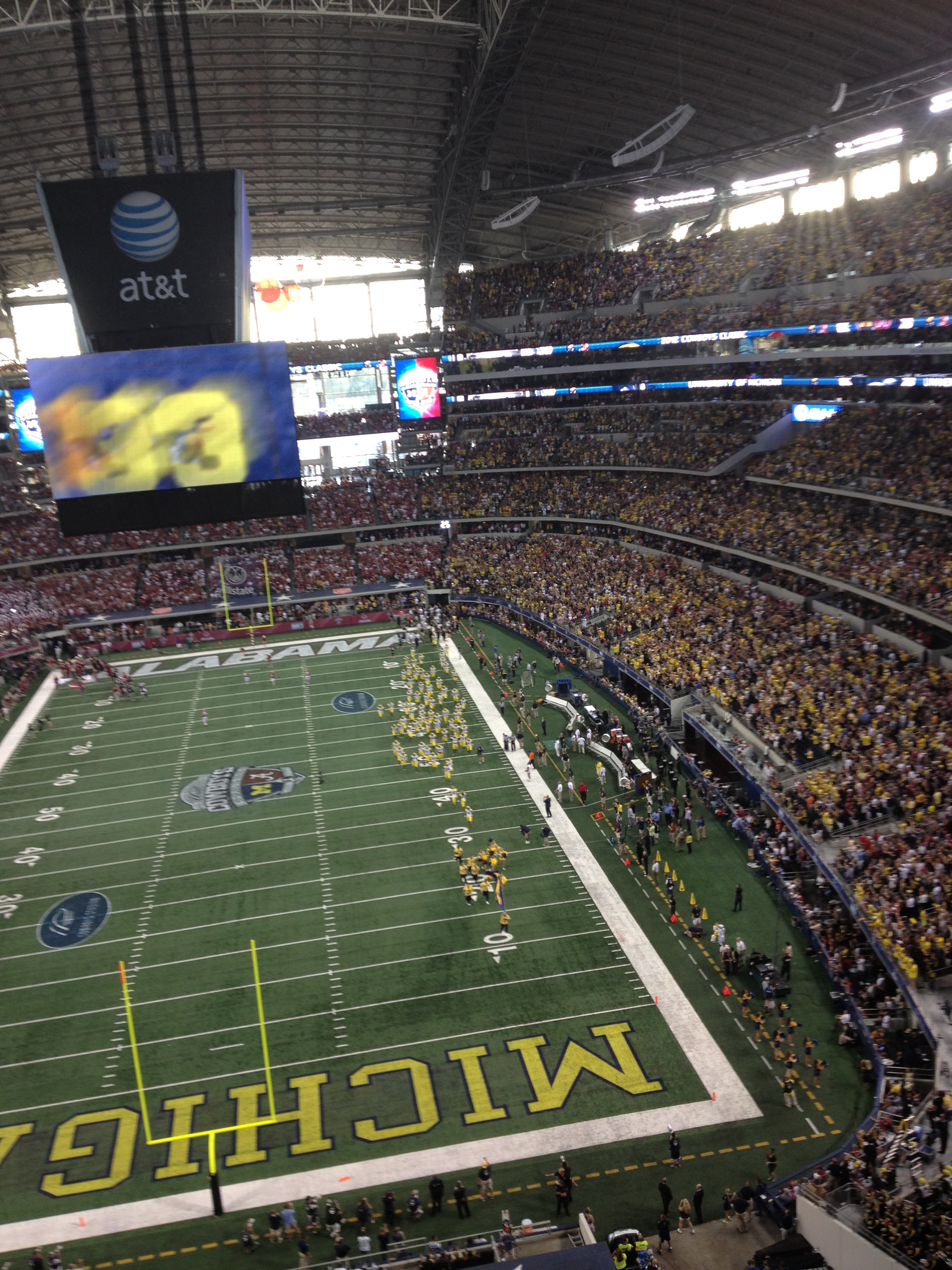 The crowd of 90,413 was the largest ever to see a college game at Cowboys Stadium, where the crowd was distinctly split by fans in crimson and those in maize and blue.
Game on and Game Over !
The Game was close only on the Kickoff, then Michigan saw why Bama was 2011 National Champs and were on track to do it again. Alabama might have lost six defensive starters to the NFL, but that didn't stop the Crimson Tide from pushing around the Maize and Blue all night. Dee Milliner and Alabama defense pushed around Michigan and showed they can still dominate, manhandling the eighth-ranked Wolverines and pounding Denard Robinson in a season-opening 41-14 victory..
C.J. Mosley returned an interception 16 yards for a touchdown for the second-ranked Tide. AJ McCarron, no longer with third overall draft pick Trent Richardson to hand the ball off to, threw two touchdowns as Alabama won its 11th consecutive season opener.
Milliner, the primary nickelback last season now in a starting role, deflected four passes in the first half, and had an interception after shoving intended receiver Roy Roundtree to the ground and into the Alabama sideline. That set up a touchdown for the Crimson Tide, which shot out to a 31-0 lead.
"Obviously, we didn't play Michigan football, and that's something that bothers our team, bothers the coaches," Hoke said. "Win or lose your first game, you learn a lot."
Michigan was without suspended running back Fitzgerald Toussaint and defensive end Frank Clark, but even with them probably weren't ready for the toughest of tests. Unfortunately for Hoke and the Wolverines, this was Alabama, still at its very best. Even Saban was applauding the performance as the final seconds ticked off the clock.
It was a tough night for Denard Robinson, even though he accounted for both Michigan touchdowns. Most of his 200 yards passing (he was 11 of 26) came on two plays -- a 71-yard pass right before halftime that came before his 6-yard TD run and his 44-yard scoring pass to Devin Gardner in the third quarter.
"I didn't make the throws that I should have made today and I feel that I didn't play as the Michigan quarterback today," Robinson said. "I've got to step it up and be more accountable."
Robinson, held to 27 yards rushing on 10 carries, showed his toughness when he didn't miss a snap immediately after being hurt on a fourth-down run in the third quarter.
Officials first marked Robinson's run as first down. But while Robinson was being tended to, the play was reviewed and it was determined that his elbow came down short of the first down. But he was back in the Michigan huddle after Cade Foster kicked a 51-yard field goal.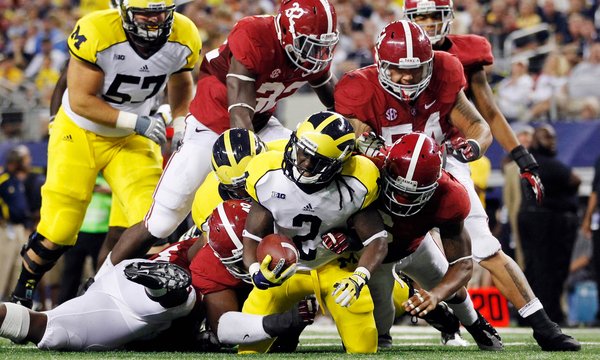 After Alabama went three-and-out on the opening drive of the game, and its defense quickly set the tone with Milliner knocking down two passes on Michigan's first possession, the Crimson Tide got rolling.
McCarron faked a handoff to perfection, after Lacy and Yeldon had carried the ball down the field, and tossed a 2-yard TD pass to Michael Williams for a 7-0 lead.
Robinson overthrew two receivers before another Michigan punt, and McCarron hit DeAndrew White in stride streaking down the sideline for a 51-yard score. Cornerback Courtney Avery, in after starter Blake Countless sustained an early knee injury, slipped down on the play.
Then came Milliner's big shove that he got away with for a big play. With Roundtree on the ground and the ball in the air, Milliner caught the ball near midfield and returned it to the Michigan 17. Robinson helped make a touchdown-saving tackle, and appeared to grab his right shoulder then.
"I got a good jam," Milliner explained. "When I looked up, the ball was coming and I made a play on it."
Lacy, limited coming off an ankle sprain, broke two tackles on a hard-charging score that made it 21-0, still in the first quarter.
When Jeremy Shelley's 22-yard field goal made it 24-0 with 10 minutes left in the first half, the Crimson Tide had 233 total yards -- 199 more than Michigan. It was 31-0 after Robinson inexplicably threw a pass right into Mosley's chest.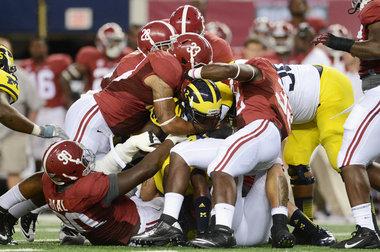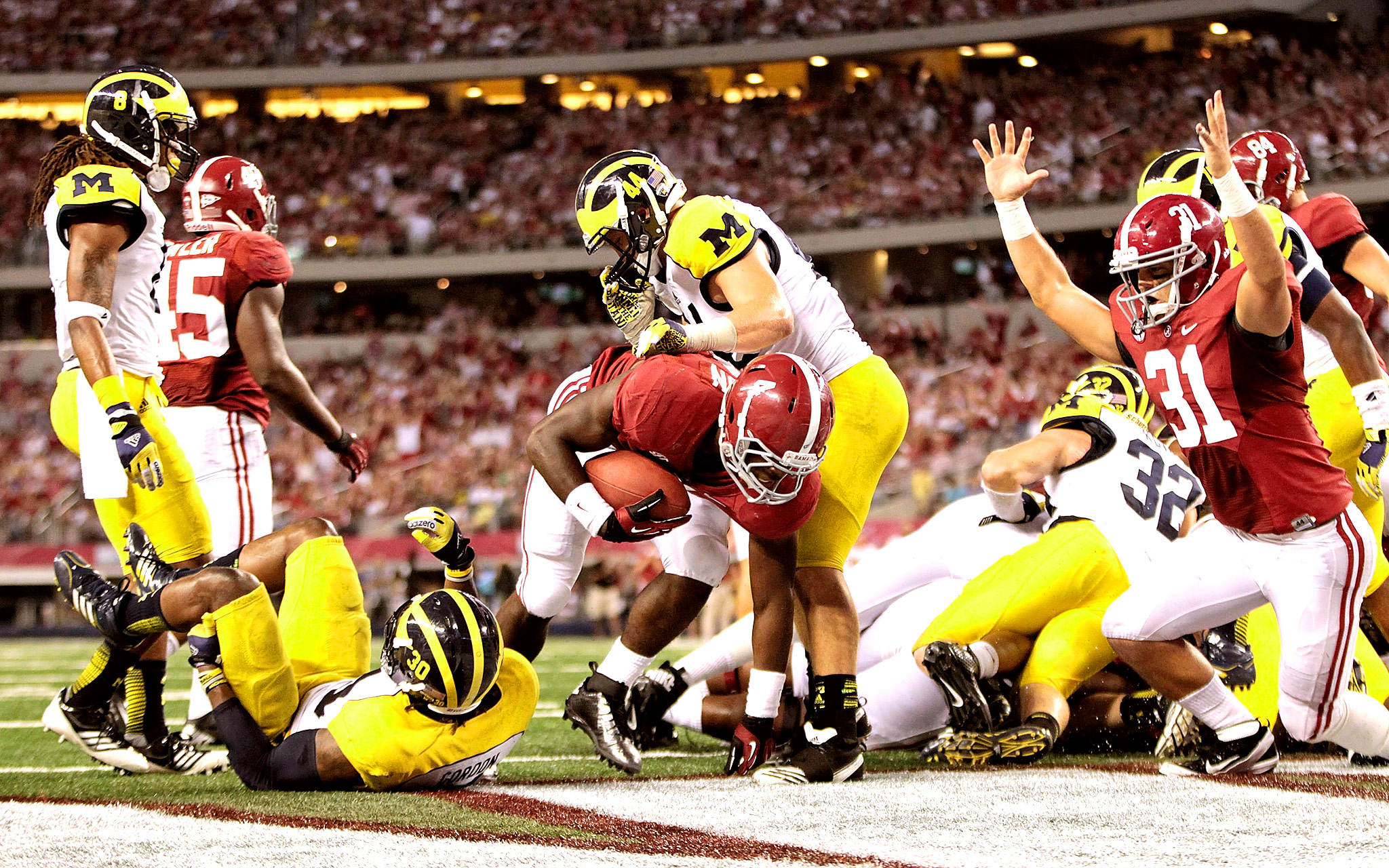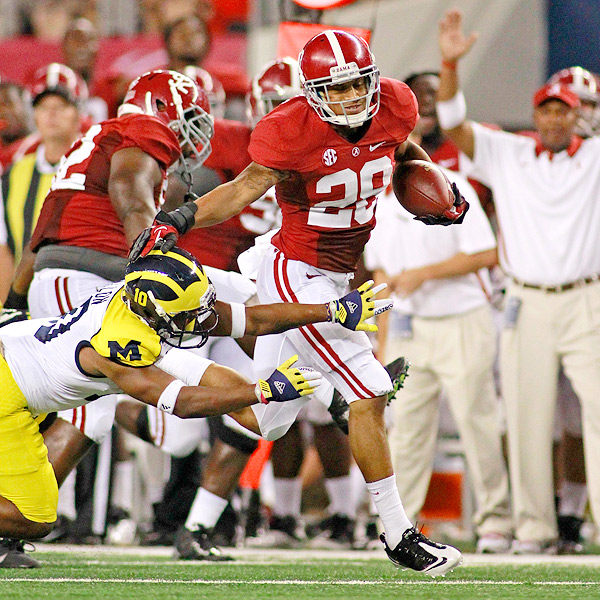 Alabama finished with 431 total yards, and Michigan had 269.
At the end, the Alabama fans were chanting "S-E-C!, S-E-C!" and "Roll Tide!" as Mike, Bone, and Ron left dazed and abused.
Post Game Gloom and Doom!
Trudging out of the Jerry Jones Home for the Hopeless, Mike, Bone, and Ron realized the 2012 was NOT gonna be like 2011 and that Denard Robinson was a gifted athlete but no quarterback. It was still freaking hot (still over 95% at 10:00 in the evening !) so rather than trying to walk all the way to the car only to sit in traffic, the Boys saw a sports bar halfway to the car and stopped in to drown their sorrows and shame.
Sadly, even this turned out to be a debacle! The Bar was full of crowing Alabama fans and worse it wasn't air conditioned, so after one tepid round of semi-warm beers, the Boys decided sitting in an air conditioned car licking their wounds was better than baking in a bar with Bama backers, so they boogied. Getting back to Hotel between the Flights, the heat, and the pounding, the Boys were done and called it at night at 12:30 AM.