Day 2: Conspiracy Bus
Main Page > 2012 Bama Beatdown ! >
Mike and Bone toured the 6th Floor Museum during the Red River Rivalry Tour, Ron however had not. With a half of day, all three headed down to Elm Street to dig deeper in the Kennedy Assassination.The morning after the lambasting debacle, Ron, Mike, and Bone went through the 6th Floor Museum where Lee Harvey Oswald infamously took the life of the 35th President.
Booking Lee Harvey Oswald !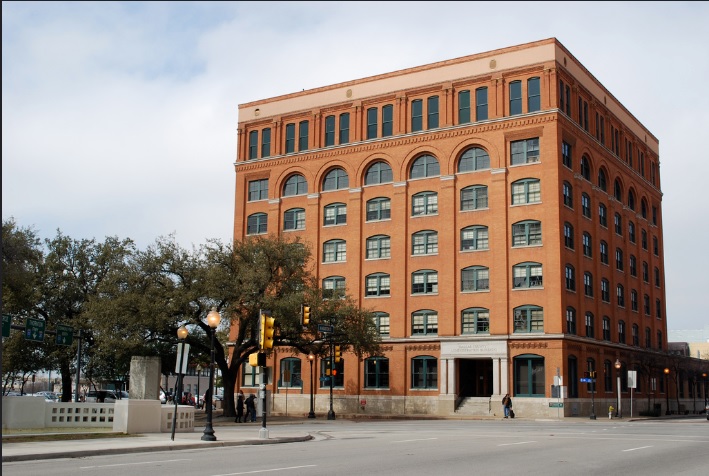 Trolley Folly's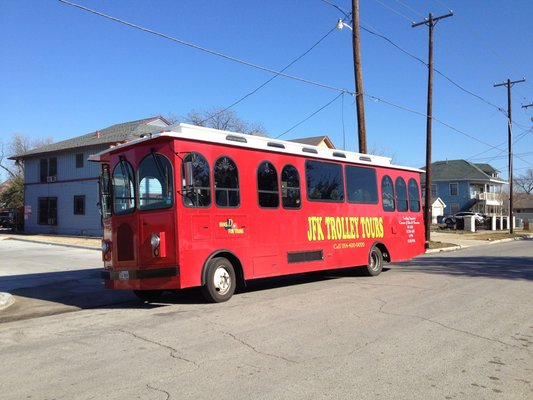 After the Head Set Tour. They still had a few hours and set out an "Assassination" Bus Tour, that tracked Lee Harvey Oswald's day of death. This tour included a crime scene tour of Dealey Plaza, the Grassy Knoll, discussing what happened, how many shots were fired, photographs, film footage showing what happened at Dealey Plaza: The Tour Guide also took the three step-by-step through the day in the Bus to where:
Parkland Hospital emergency entrance

Site where Oswald boarded a city bus

Site where Oswald boarded a taxi cab to Oak Cliff

Exact route from Greyhound Bus Station to Oswald's rooming house

Route from rooming house to site where Dallas Police Officer J.D. Tippit was killed

Route Oswald took from Tippit murder scene to Hardy's Shoe Store and then to the Texas Theatre

Jack Ruby's apartment

Site of Top Ten Record Shop where Officer Tippit made a phone call moments before his murder

Site of Oswalds' Elsbeth Street residence

The Neely Residence where famous photograph was taken of Oswald holding rifle, pistol and the militant newspaper

Municipal Building where the Dallas Police

Department was located on the third floor and the jail on the fourth and fifth floors where Oswald was jailed
The story the Tour Guide shared was on November 21 (a Thursday) Oswald asked a co-worker for an unusual mid-week lift back to Irving, saying he had to pick up some curtain rods. The next morning (Friday) he returned to Dallas with Frazier; he left behind $170 and his wedding ring, but took with him a paper bag. Frazier reported that Oswald told him the bag contained curtain rods, the evidence demonstrated that the package actually contained the rifle used by Oswald in the assassination.
Where Lee Harvey Lived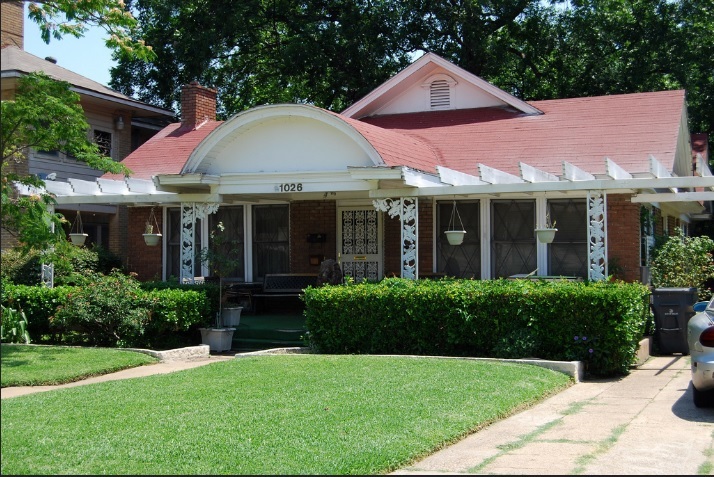 Oswald's co-worker, Charles Givens, testified to the Commission that he last saw Oswald on the 6th floor of the TSBD at approximately 11:55 a.m.—35 minutes before the assassination. The Commission report stated that Oswald was not seen again "until after the shooting."
However, in an FBI report taken the day after the assassination, Givens said that the encounter took place at 11:30 a.m. and that he later saw Oswald reading a newspaper in the first floor domino room at 11:50 a.m. William Shelley, a foreman at the Depository, also testified that he saw Oswald on the first floor talking on the telephone between 11:45 and 11:50 a.m. Janitor Eddie Piper also testified that he spoke to Oswald on the first floor at 12:00 p.m. Another co-worker, Bonnie Ray Williams, was on the sixth floor of the Depository eating his lunch and was there until at least 12:10 p.m. He said that during that time he did not see Oswald, or anyone else, on the sixth floor and felt he was the only one up there. However, he also said that some boxes in the southeast corner may have prevented him from seeing deep into the "sniper's nest." Carolyn Arnold, the secretary to the Vice President of the TSBD, informed the FBI that as she left the building to watch the motorcade, she caught a glimpse of a man whom she believed was Oswald standing in the first floor hallway of the building just prior to the assassination.
According to several government investigations, including the Warren Commission, as Kennedy's motorcade passed through Dallas's Dealey Plaza at about 12:30 p.m. on November 22, Oswald fired three rifle shots from the sixth-floor, southeast corner window of the Book Depository, killing the President and seriously wounding Texas Governor John Connally. One shot apparently missed the limousine entirely, another struck Kennedy and Texas Governor John Connally, and another struck Kennedy in the head. Bystander James Tague received a minor facial injury from a small piece of curbstone that fragmented when struck by one of the bullets. Howard Brennan, a steamfitter who was sitting across the street from the Texas School Book Depository, notified police that as he watched the motorcade go by, he heard a shot come from above, and looked up to see a man with a rifle make another shot from a corner window on the sixth floor. He said he had seen the same man minutes earlier looking out the window. Brennan gave a description of the shooter, and Dallas police subsequently broadcast descriptions at 12:45 p.m., 12:48 p.m., and 12:55 p.m. After the second shot was fired, Brennan recalled, "This man I saw previous was aiming for his last shot ... and maybe paused for another second as though to assure himself that he had hit his mark."
According to the investigations, after the attack, Oswald hid and covered the rifle with boxes and descended using the rear stairwell. About ninety seconds after the shooting, in the second-floor lunchroom, Oswald encountered police officer Marrion Baker accompanied by Oswald's supervisor Roy Truly; Baker let Oswald pass after Truly identified him as an employee. According to Baker, Oswald did not appear to be nervous or out of breath. Truly said that Oswald appeared "startled" when Baker aimed his gun at him. Mrs. Robert Reid—clerical supervisor at the Depository, returning to her office within two minutes of the assassination—said that she saw Oswald who "was very calm" on the second floor with a Coke in his hands. As they walked past each other, Mrs. Reid said to Oswald, "The President has been shot" to which he mumbled something in response, but Reid did not understand him. Oswald is believed to have left the Depository through the front entrance just before police sealed it off. Oswald's supervisor, Roy Truly, later pointed out to officers that Oswald was the only employee that he was certain was missing.
At about 12:40 p.m., Oswald boarded a city bus but (probably due to heavy traffic) he requested a transfer from the bus driver and got off two blocks later. Oswald took a taxicab to his rooming house, at 1026 North Beckley Avenue, arriving at about 1:00 p.m. He entered through the front door and, according to his housekeeper Earlene Roberts, immediately went to his room, "walking pretty fast". Roberts said that Oswald left "a very few minutes" later, zipping up a jacket he was not wearing when he had entered earlier. As Oswald left, Roberts looked out of the window of her house and last saw him standing at the northbound Beckley Avenue bus stop in front of her house.
The Warren Commission concluded that at approximately 1:15 p.m., Dallas Patrolman J. D. Tippit drove up in his patrol car alongside Oswald—presumably because Oswald resembled the police broadcast description of the man seen by witness Howard Brennan firing shots at the presidential motorcade. Patrolman Tippet's encounter with Oswald occurred near the corner of East 10th Street and North Patton Avenue. This location is about nine-tenths of a mile (1.4 km) southeast of Oswald's rooming house—a distance that the Warren Commission concluded "Oswald could have easily walked." Tippit pulled alongside Oswald and "apparently exchanged words with [him] through the right front or vent window." "Shortly after 1:15 p.m.", Tippit exited his car and was immediately struck and killed by four shots. Numerous witnesses heard the shots and saw Oswald flee the scene holding a revolver; nine positively identified him as the man who shot Tippit and fled. Four cartridge cases found at the scene were identified by expert witnesses before the Warren Commission and the House Select Committee as having been fired from the revolver later found in Oswald's possession, to the exclusion of all other weapons. However, the bullets taken from Tippit's body could not be positively identified as having been fired from Oswald's revolver as the bullets were too extensively damaged to make conclusive assessments.
Where Lee Harvey Was Captured
Oswald being led from the Texas Theatre after his arrest inside. Shoe store manager Johnny Brewer testified that he saw Oswald "ducking into" the entrance alcove of his store. Suspicious of this activity, Brewer watched Oswald continue up the street and slip into the nearby Texas Theatre without paying. He alerted the theater's ticket clerk, who telephoned police at about 1:40 p.m.
As police arrived, the house lights were brought up and Brewer pointed out Oswald sitting near the rear of the theater. Police Officer Nick McDonald testified that he was the first to reach Oswald and that Oswald seemed ready to surrender saying, "Well, it is all over now." However, Officer McDonald said that Oswald pulled out a pistol tucked into the front of his pants, then pointed the pistol at him, and pulled the trigger. McDonald stated that the pistol did not fire because the pistol's hammer came down on the webbing between the thumb and index finger of his hand as he grabbed for the pistol. McDonald also said that Oswald struck him, but that he struck back and Oswald was disarmed. As he was led from the theater, Oswald shouted he was a victim of police brutality.
Where Lee Harvey Was Booked
At about 2 p.m., Oswald arrived at the Police Department building, where he was questioned by Detective Jim Leavelle about the shooting of Officer Tippit. When Captain J. W. Fritz heard Oswald's name, he recognized it as that of the Book Depository employee who was reported missing and was already a suspect in the assassination. Oswald was formally arraigned for the murder of Officer Tippit at 7:10 p.m., and by the end of the night (shortly after 1:30 a.m.) he had been arraigned for the murder of President Kennedy as well.
Soon after his capture Oswald encountered reporters in a hallway. Oswald declared, "I didn't shoot anybody" and, "They've taken me in because of the fact that I lived in the Soviet Union. I'm just a patsy!" Later, at an arranged press meeting, a reporter asked, "Did you kill the President?" and Oswald—who by that time had been advised of the charge of murdering Tippit, but had not yet been arraigned in Kennedy's death—answered, "No, I have not been charged with that. In fact, nobody has said that to me yet. The first thing I heard about it was when the newspaper reporters in the hall asked me that question." As he was led from the room the question was called out, "What did you do in Russia?" and, "How did you hurt your eye?" Oswald answered, "A policeman hit me.
Fake Selective Service System (draft) card in the name of "Alek James Hidell", found on Oswald when arrested. "A. Hidell" was the name used on both envelope and order slip to buy the alleged murder weapon, and "A. J. Hidell" was the alternate name on the New Orleans post office box rented June 11, 1963, by Oswald. Both the alleged murder weapon and the pistol in Oswald's possession at arrest had earlier been shipped (at separate times) to Oswald's Dallas P.O. Box 2915, as ordered by "A. J. Hidell".
Oswald was interrogated several times during his two days at Dallas Police Headquarters. He admitted that he went to his rooming house after leaving the book depository. He also admitted that he changed his clothes and armed himself with a .38 revolver before leaving his house to go to the theater. However, Oswald denied killing Kennedy and Tippit; denied owning a rifle; said two photographs of him holding a rifle and a pistol were fakes; denied telling his co-worker he wanted a ride to Irving to get curtain rods for his apartment (he said that the package contained his lunch); and denied carrying a long, bulky package to work the morning of the assassination. Oswald also denied knowing an "A. J. Hidell". Oswald was then shown a forged Selective Service System card bearing his photograph and the alias, "Alek James Hidell" that he had in his possession at the time of his arrest. Oswald refused to answer any questions concerning the card, saying "...you have the card yourself and you know as much about it as I do."
The first interrogation of Oswald was conducted by FBI Special Agent James P. Hosty and Dallas Police Captain Will Fritz on Friday, November 22. Asked to account for himself at the time of the assassination, Oswald replied that he was eating his lunch in the first floor lounge (known as the "domino room"). He said that he then went to the second-floor lunchroom to buy a Coca-Cola from the soda machine there and was drinking it when he was encountered by Dallas motorcycle policeman (Marrion L. Baker). Oswald said that while he was in the domino room, he saw two "Negro employees" walking by, one he recognized as "Junior" and a shorter man whose name he could not recall. Junior Jarman and Harold Norman confirmed to the Warren Commission that they had "walked through" the domino room around noon during their lunch break. When asked if anyone else was in the domino room, Norman testified that somebody else was there, but he could not remember who it was. Jarman testified that Oswald was not in the domino room when he was there. During his last interrogation on November 24, according to postal inspector Harry Holmes, Oswald was again asked where he was at the time of the shooting. Holmes (who attended the interrogation at the invitation of Captain Will Fritz) said that Oswald replied that he was working on an upper floor when the shooting occurred, then went downstairs where he encountered Dallas motorcycle policeman (Marrion L. Baker).
Oswald asked for legal representation several times while being interrogated, as well as in encounters with reporters. But when H. Louis Nichols, President of the Dallas Bar Association met with him in his cell on Saturday, he declined their services, saying he wanted to be represented by John Abt, chief counsel to the Communist Party USA, or by lawyers associated with the American Civil Liberties Union. Both Oswald and Ruth Paine tried to reach Abt by telephone several times Saturday and Sunday, but Abt was away for the weekend. Oswald also declined his brother Robert's offer on Saturday to obtain a local attorney.
During an interrogation with Captain Fritz, when asked, "Are you a communist?", he replied, "No, I am not a communist. I am a Marxist." With that story, the Tour was over ! Mike, Ron, and Bone left much more informed about what REALLY happened that bleak week in 1963 in Dallas.
Where Natural Selection Finally Won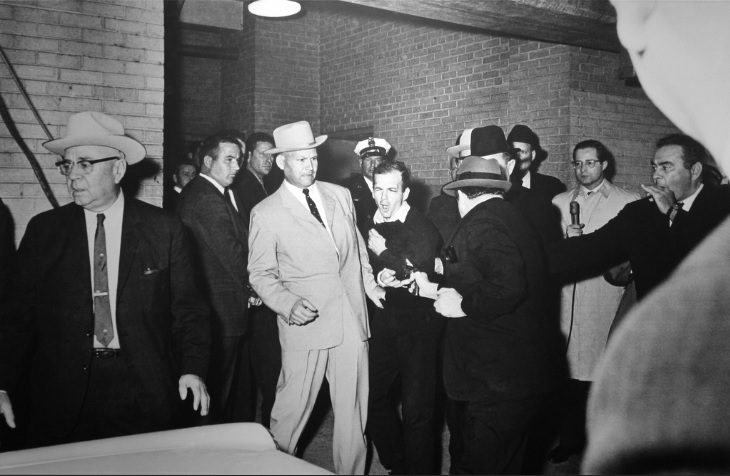 With that Mike, Bone, and Ron headed north on I-35 towards DFW to fly to Meechigan.
Trip, Postscript
Mike, Bone, and Ron, had good time with each other's company and the history, ,,, but Dang ! 42 -14 !!! Thus ended the Bama Beatdown