Day 4: Dutch Treat
Main Page > 2014 30th Anniversary: Rocking the Kasbah ! >
"F$CK Air France 2 !"
French screwed Mike and Bone in the beginning of the trip and did so in the end, they received a message the night before that Air France was still on strike. So instead of flying straight home from Casablanca, Mike and Bone would have to fly from Casablanca, to Madrid, then on to Amsterdam, spend the night (on their nickel) and then fly to Detroit !! But Mike and Bone have a track record of turning lemons into lemonade, or in this instance a big ole' Party, as it would turn out.
Farewell to a Friend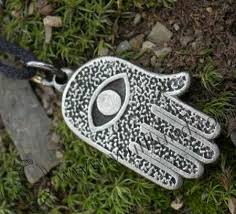 That morning Mike and Bone brought their gear downstairs for a final Fu-Fu breakfast, their new friend Mohammad gave the Boy's little Fatima hands for each of their children. A fatima also known as the "hamsa" is the hand of Prophet Muhammad's daughter Fatima. It is the symbol of patience, loyalty, faith and resistance against difficulties. According to common belief, it tells of the Fatima's struggle for dignity and her tough life. According to traditional Islamic culture, the five fingers of Hamsa represent the five requirements of Islam, which are: 1. To profess your faith, 2. Pray, 3. Give Alms, 4. To Fast, and 5. To undertake a Pilgrimage to Mecca. It was a very thoughtful gift and farewell from a very gentleman.
After Breakfast and a farewell to Mohammad and his staff, Khalid's Boss drove Mike and Bone for the trip back to Casablanca's Airport. During the ride, The Boys discussed the challenges of integrating old customs in the Twenty-First Century. He explained that their tour guide Ahmad was a union tour guide and people had to use him, hence he did not have to cater to the clients as one would expect.
After the long, dry, dusty three hour trip the Driver dropped Mike and Bone at the Airport for their next challenge: getting through Customs !!!
Now you have Customs to get out of a country, then their are cultural customs. The Moroccan customs on Customs is something that Mike and Bone were not accustomed to!
First, in the US, Japan, or Most of Europe, people queue up in line and pretty much respect those around you. In Morocco, the line is only a suggestion and people mill about and those that are screaming the loudest, tend to get through the fastest, and with no air conditioning, it turns into a sweaty din of confusion.
Second, the Muslim Women like to smile at you, especially when the simply cut in line in front of you. They feel that a smile entitles them to cut in front of the Boys regardless whether or not (and it was a not!) the Boys were good with them cutting in front of them.
Third, the Moroccan Customs Police do not like it when American Men do not want to get the Muslim women cuts. The Boys started to getting English/French/Arabic bitching about what their problem was.
So what would have been a 20 minute quiet queue in Detroit, turned into a one and half hour ordeal getting through Customs ! As the Plane took off around 12:30, Mike and Bone where pretty much done with the Kingdom, culture, and customs of Morocco !
An Iberian Island of 1st World Comfort
Landing in Madrid, the Boy's went through a very sane and orderly Customs process that made Mike and Bone happy, and irritated those Moroccan's that cut in front of Mike and Bone earlier in the Day !!
It had only been four days, but it was clear that a 1st World Euro Zone country like Spain was much different from the 2nd world country across the Mediterranean pound of Morocco! It was quite lovely to be able to walk into a clean Bar and order western cuisine that did not include tangine and cous cous! Grabbing a burger and a beer was simply wonderful.
After an hour of decompressing back into 1st World mode, Mike and Bone boarded again for the Capital of the Netherlands, Amsterdam!
Mike and Bone gives an Amsterdam !!!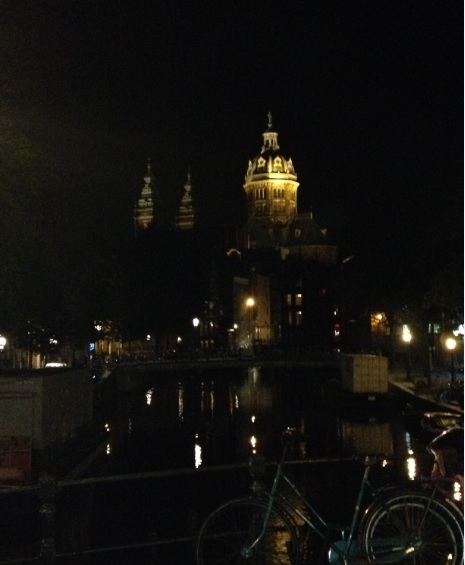 The Boys landed in the Country of Orange around 12:30 PM, being in the Euro Zone, there were no customs which let the Boys beeline for a Hotel.
Hilton Heads
The First Hotel the Boys tried was the Sheraton, which was completely sold out. The Hotel Staff, told Mike and Bone that there were a lot of stranded passengers due to the Air France Strike. Fortunately the Hilton had rooms (but for $450 US!) which ensured that Mike and Bone had a place to crash, but why crash, the night was young, it was only 1:00 AM, with bar's in Amsterdam are open 24/7!
So while the Boys had been seeing red with the rude muslim women, the boys now wanted to see red, the Red Light District!
Party Town!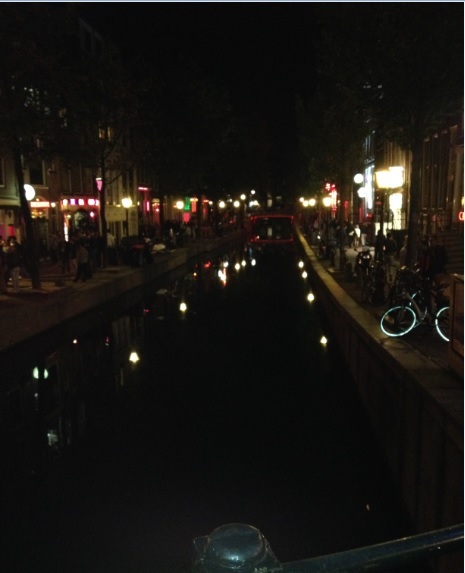 The Boys grabbed a cab and boogied down town, to an amazingly clean, modern, but still historic and cool city. Amsterdam is the capital and most populous city of the Kingdom of the Netherlands. Amsterdam's name derives from Amstelredamme. After the floods of 1170 and 1173 locals of the river Amstel vicinity built a bridge over- and a dam across the river, hence giving its name to the village: "Aemstelredamme". Hence, was named after a beer,,,,, Amstel Light! it took about twenty minutes to get to the notorious Red Light District.
The Red Light in their Eyes !!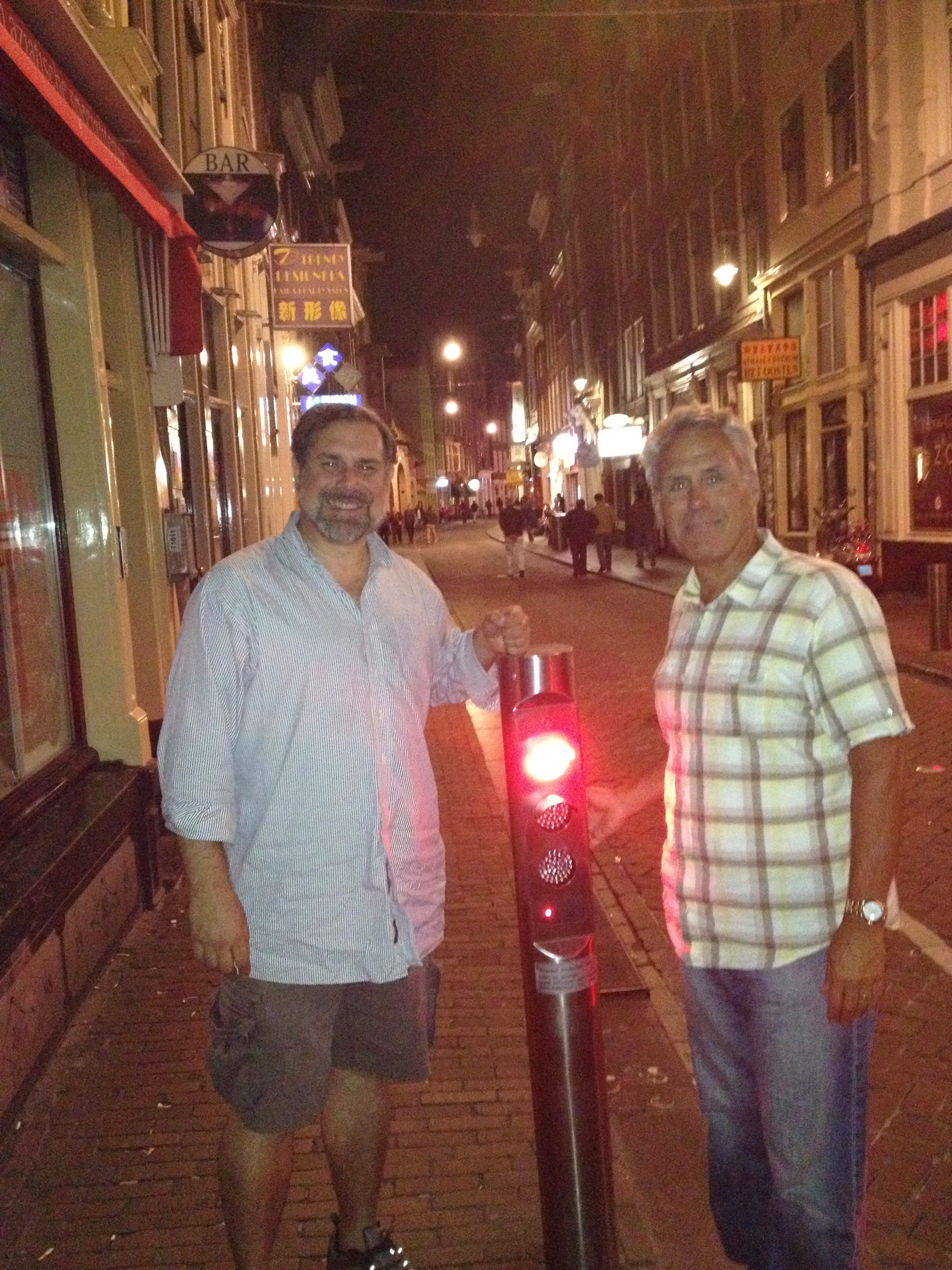 Amsterdam's Red Light District or as they call it "De Wallen" is the largest and best known red-light district in Amsterdam and consists of a network of alleys containing many bars, restaurants, cannabis-based coffee hours and yes, prostitutes who offer their sexual services from behind a window or glass door, typically illuminated with red lights. These "kamers" are the most visible and typical kind of red light district sex work in Amsterdam and are a large tourist attraction.
Getting out of the cab, the Boys were no longer tired and beat from the looong day that started in Marrakesh, their spirits were rejuvenated when the saw streets after street of awesome looking bars. Not being picky they walked into the first one they saw to be surprised to be in ........................
Looking for a good Pint of Beer!!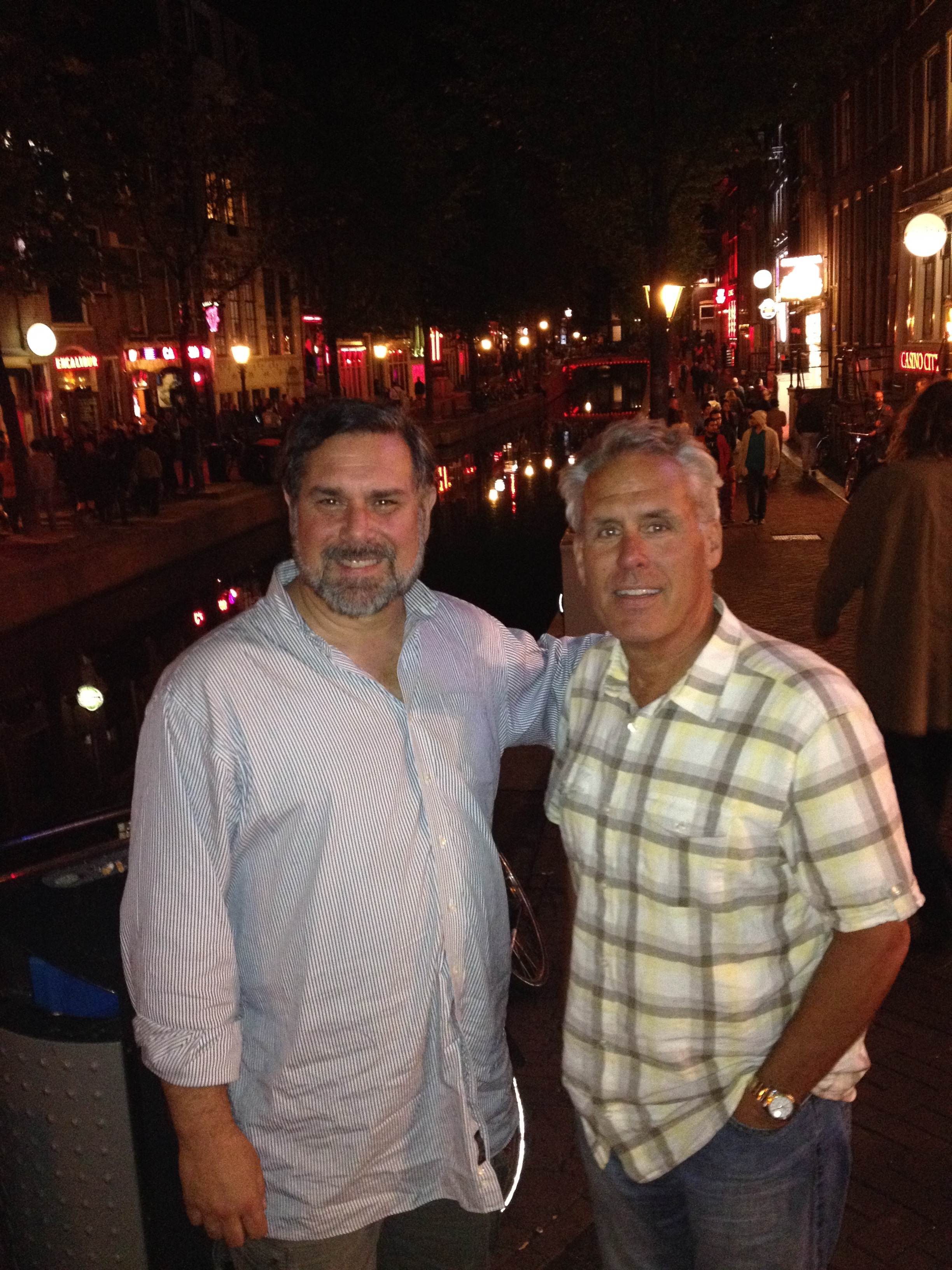 The Heart of Texas !?!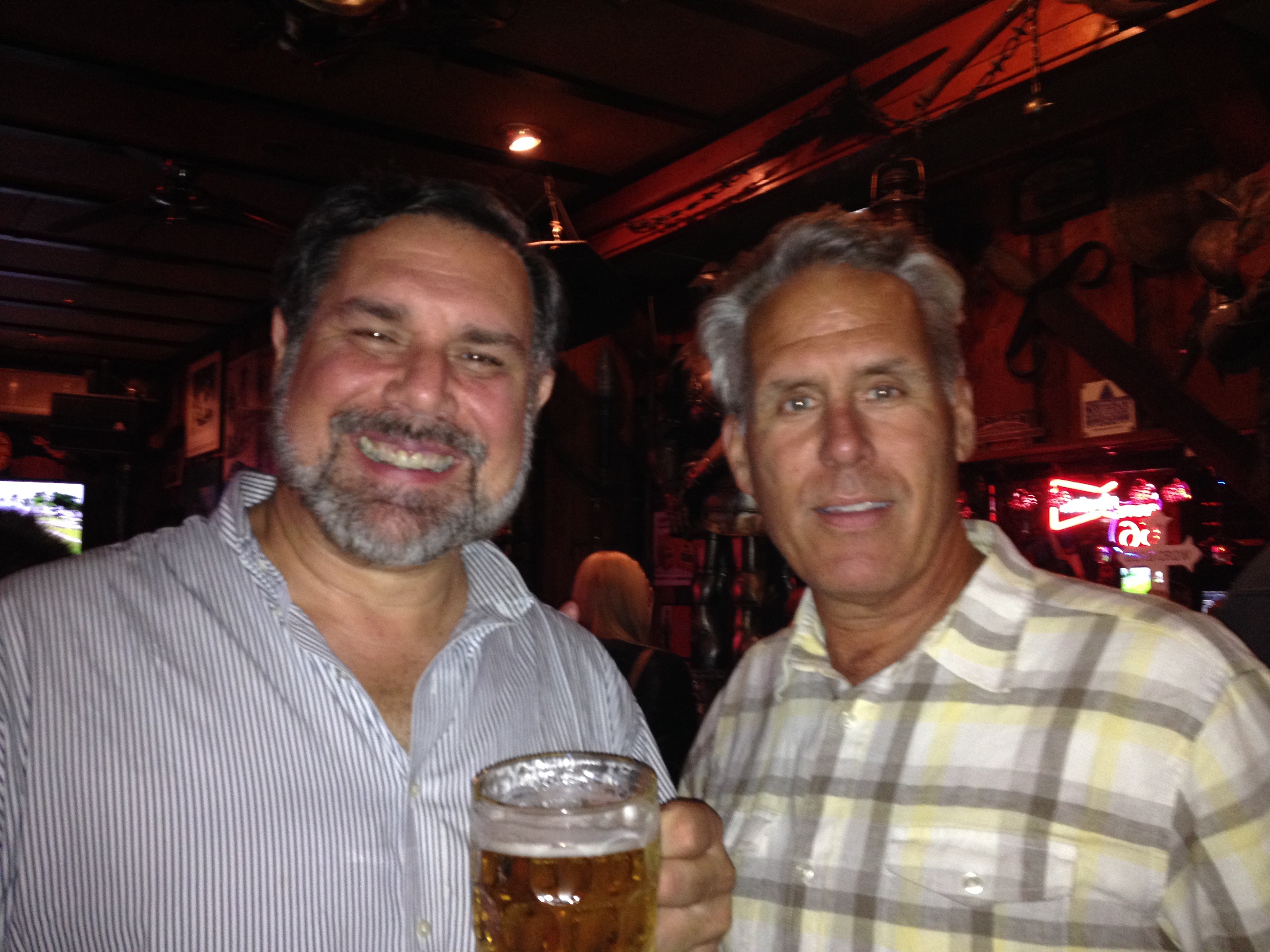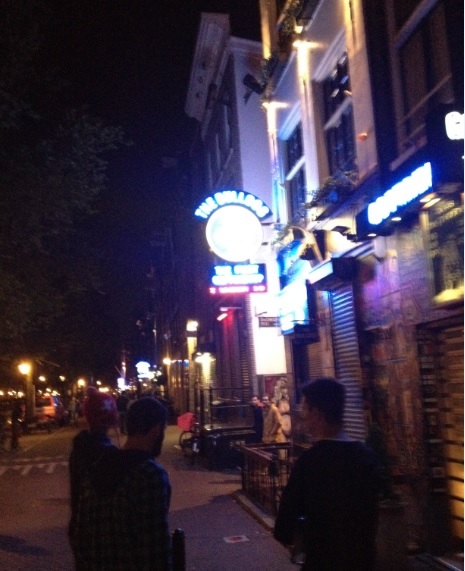 The Bar had a Country-Western Decor with American music blaring. They ordered a couple of Dutch Grolsch'es and two shots of Jack Daniels (something you can't get in Morocco!) to celebrate their return to the states. When Bone asked a VERY lovely lady to take their picture she and her boyfriend lit right up with a Texas accent and smile, took their pictures and started a half hour conversation about traveling, then more important things like college football. All in Europe!
Seeing the Red!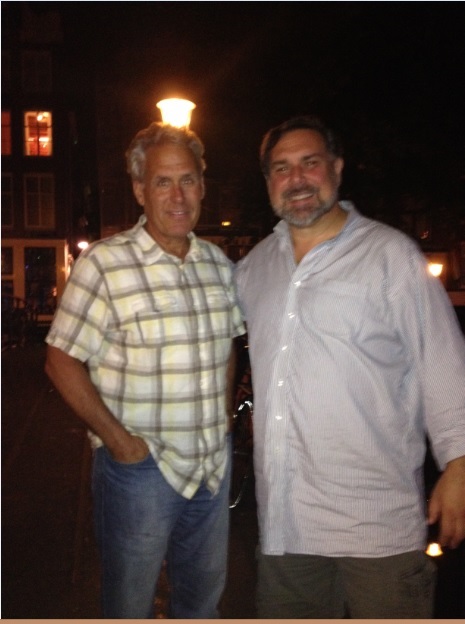 After the shots of Jack Daniels and Grolsch'es with the nice couple from Dallas, the Boy's felt like they were fully back in the Western World! They stayed until the Bar closed down at 2:00 AM, when the Boys searched for another bar. However, being in the Red Light District, they really did not see any of the ladies. When Mike and Boen (the Dutch spelling!) went down an alley to find a bar, there they were ! In the alleys the "ladies" dressed in little more than undies woould "model" and entice walkers by in glass windows in the Alley. The amazing thing was the number of pretty obese women there were in the Alley! Apparently Freddie Mercury was right that "Fat-Bottomed Girls made the Rockin' World go round." Which may be but that was not the Boys objective, it was to have a beer at a Coffee House?
The Bull Dog "Coffee House"!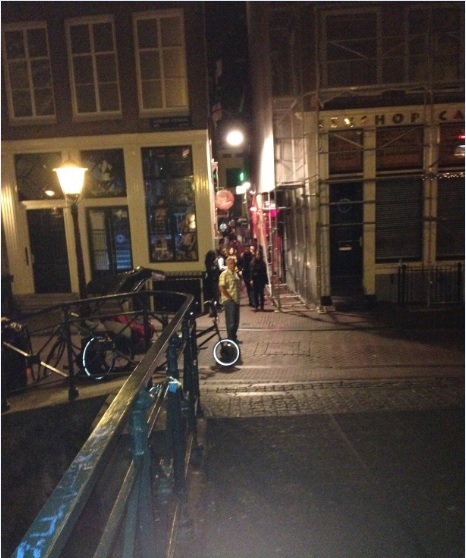 Since they were in the neighborhood, they had to check out the most famous of all of Amsterdam's "Coffee Houses", the Bull Dog No. 90.
The history of the Bull Dog No. 90 is from an underground smokers-den to a coffee shop empire. The Bulldog's success-story reads like an American dream and as such could have filled an episode of Oprah. The Bulldog No. 90 was the first coffee shop in Amsterdam and laid the benchmark for the contemporary coffee shop. What once began in a cellar, has grown into an ironclad trade-name with five locations and a hotel in Amsterdam, locations in Canada and a merchandising line. In 1970 Henk de Vries sold his first African Grass in matchboxes at the 'Kralings Bos' pop festival in Holland. How could he have known that this would result because the site of Bulldog was the site of his father's sex-shop, located right on one of Amsterdam's famous canals, which he used for his latest experiment, the world's first coffee shop! But what should he call it? The answer came to him in the shape of Joris, his four legged Bulldog friend!
Walking in to the Bulldog and ordering yet a few more of the lovely Grolsch's Mike and Bone did not see any coffee in the supposed "coffee shop" but immediately got a contact high from all the cannabis gettin smoked! it was truly a scene from a 1970's Movie!
Which only became more bizarre when they went to another joint on the next canal, that was playing KC and the Sunshine Band to Pink Strobe Lights!!!
Mike and Bone, Bleary-eyed at 4:00 in the Morning!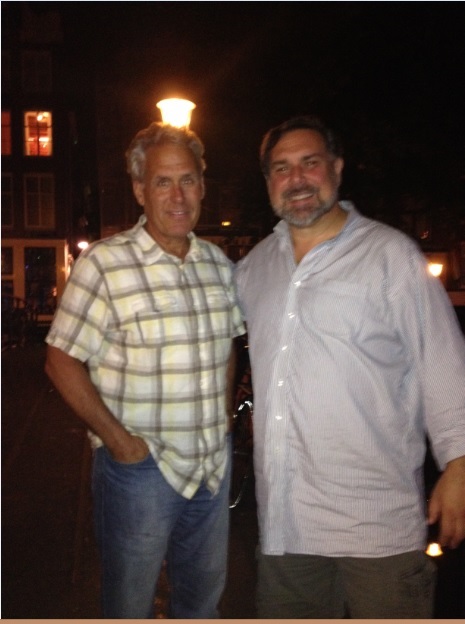 By now, the boys were lit, and knew they had to get to airport by 9:30 and it was already 4:00 AM !
"Oh Amsterdam! We love ya, but did not get enough time to know ya!"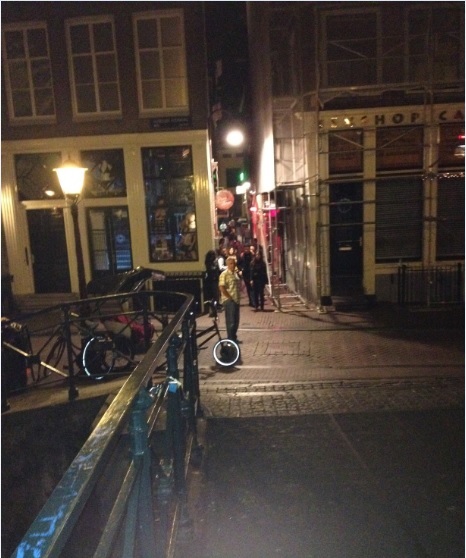 Heavily hammered Mike and Bone blurry-eyed flagged down a Taxi for a ride back to the Hotel. Getting in Bone told the Czech driver that they wanted to use a credit card, after 2 blocks Bone repeated the request, whereas the taxi driver said he would stop at an ATM, which Bone said no, that wasn't the deal. At this for cabbie flew into a rage. Bone told him to stop so they could get out whereas the cabbie demanded 6 euros for the 4 blocked he drove them. After arguing with him Bone gave him a 10 spot, then demanded change, which devolved into a good old fashioned rugby scrum. Finally, after all the excitement another taxi drove Mike and Bone and got back to the Hotel at 5:00 AM!
The next morning and the flight back to Detroit on Delta was vile. Both Boys were massively hungover and exhausted, Poor Mike had been to Greece, Turkey, Morocco, Spain, and Holland in two weeks! During the Trip Mike and Bone did stand on top of Atlas, ride the Camel, deal with a Flood, drank way, way, way too much, in other words did all the things necessary to make it an epic Mike and Bone Adventure !