Day 1: Overtime and Outta Gas !!!
Main Page > 2015 Hoosier Daddy Tour ! Intro >
In a rare moment of common sense, Mike and Bone realized that the drive to Bloomington is one long ass ride and it was best to meet somewhere in the middle and head down. So Mike met Bone in bucolic Marshall Michigan for the loong trek down into the Hoosier State. It is about a 7 hour journey through mostly rolling cornfields to just about Bloomington, when you start into very un-mid west limestone country.
The drive was fairly uneventful till the Boys got within 40 minutes of Bloomfield when they ran into a helatious traffic jam. Mike deftly used Google Maps to navigate off of Highway 37 and through some quaint and some not-so quaint (to the sound of the Deliverance Banjos) villages in South-Central Indiana.
However, after while it started to feel that they were wandering aimlessly around in the back country and the clock was beginning to work against them! With the Game starting at 3:30 the Boys needed to find a place to park, get to the Stadium and get into their seats, and it was pushing 1:40!!
The Boys grew more and more anxious of being lost and missing the start of the game, when all of a sudden they emerged on a boulevard , where the next left turn was ,,,,,,, Indiana Memorial Stadium!
Back home again in (the University) Indiana ?!?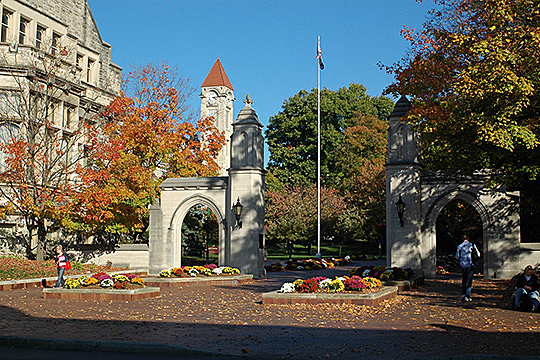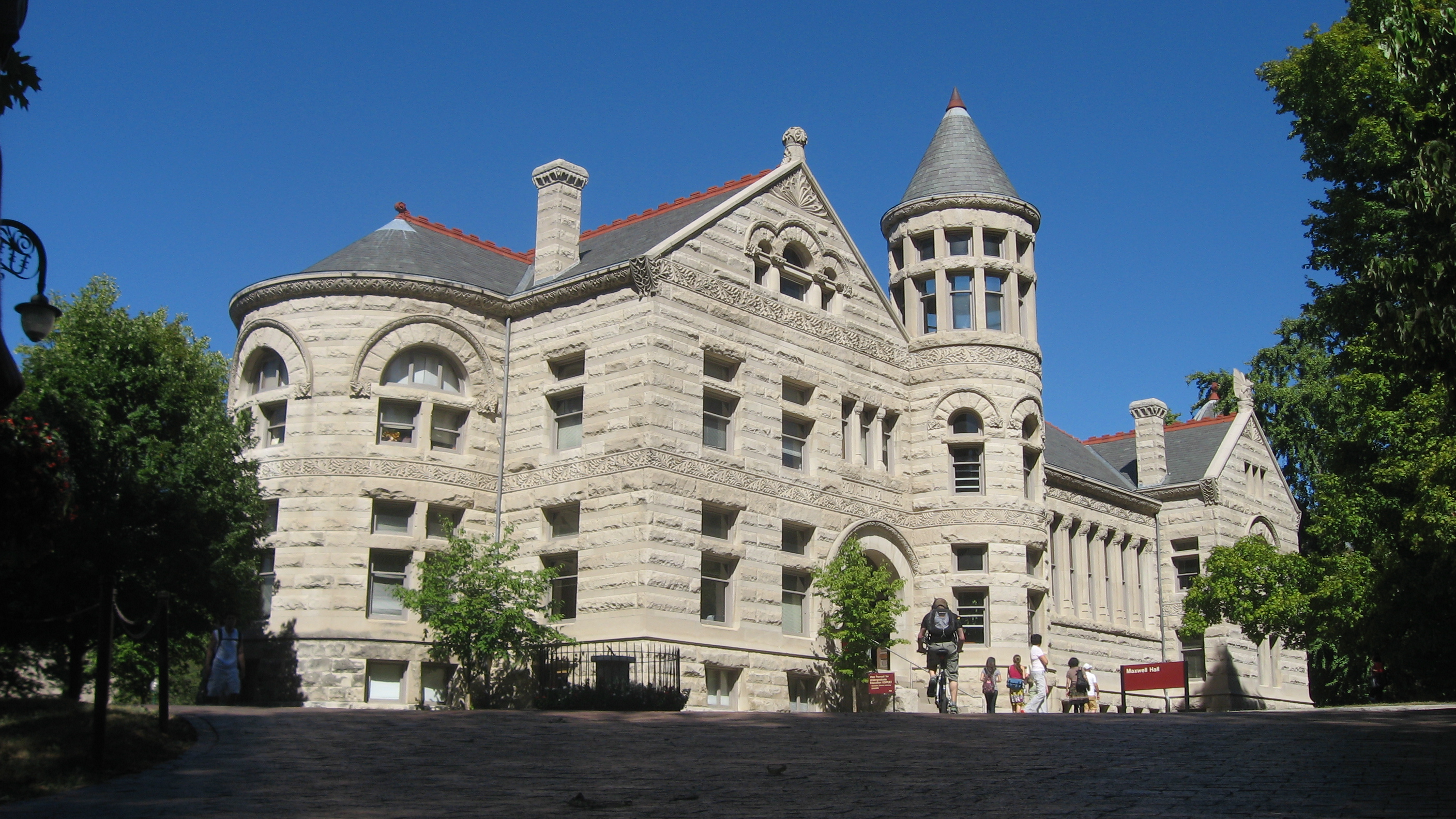 Driving through the campus, it is a quintessential mid-west university, in terms of its facilities and campus. But Mike and Bone wanted some football !!! and looked for a place to park!.
Mike and Bone, On IU's Campus (finally !)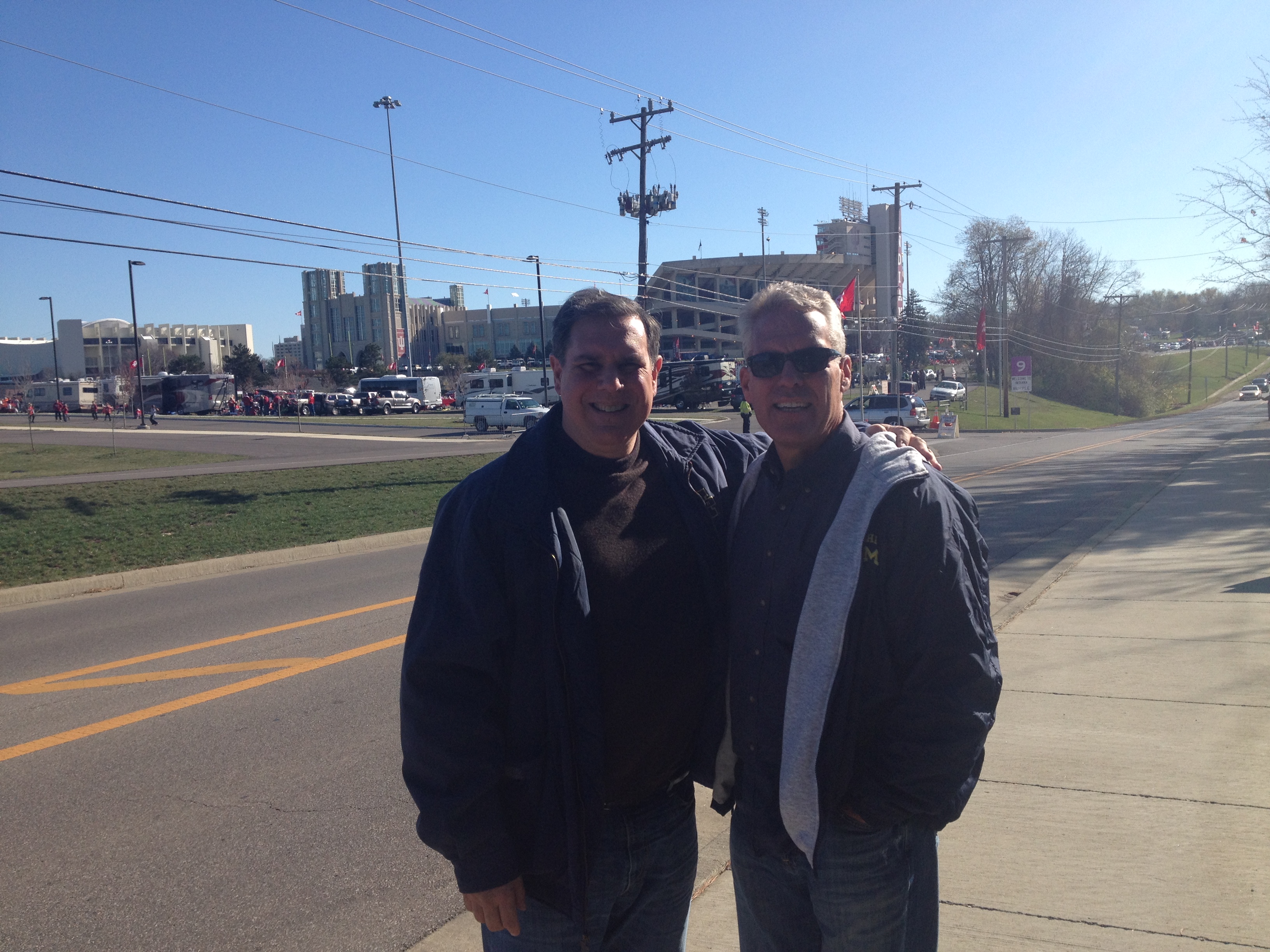 Mike and Bone lucked out for this one! Within a quarter of a mile of the Stadium, they saw a parking lot with open spaces. Going in the Boys asked "how much?" to the answer, "its contribution only sir." so for $10 bucks, the Boys parked closer than $40 bucks could ever get at the Big House!
As the Boy hit the side walk they came upon a ticket seller that charged $65 a seat or face value in Ann Arbor! So within 10 minutes, the Boys had found the Stadium, park, and get tickets!
Mike and Bone, invading Wolverines and Indiana Memorial Stadium!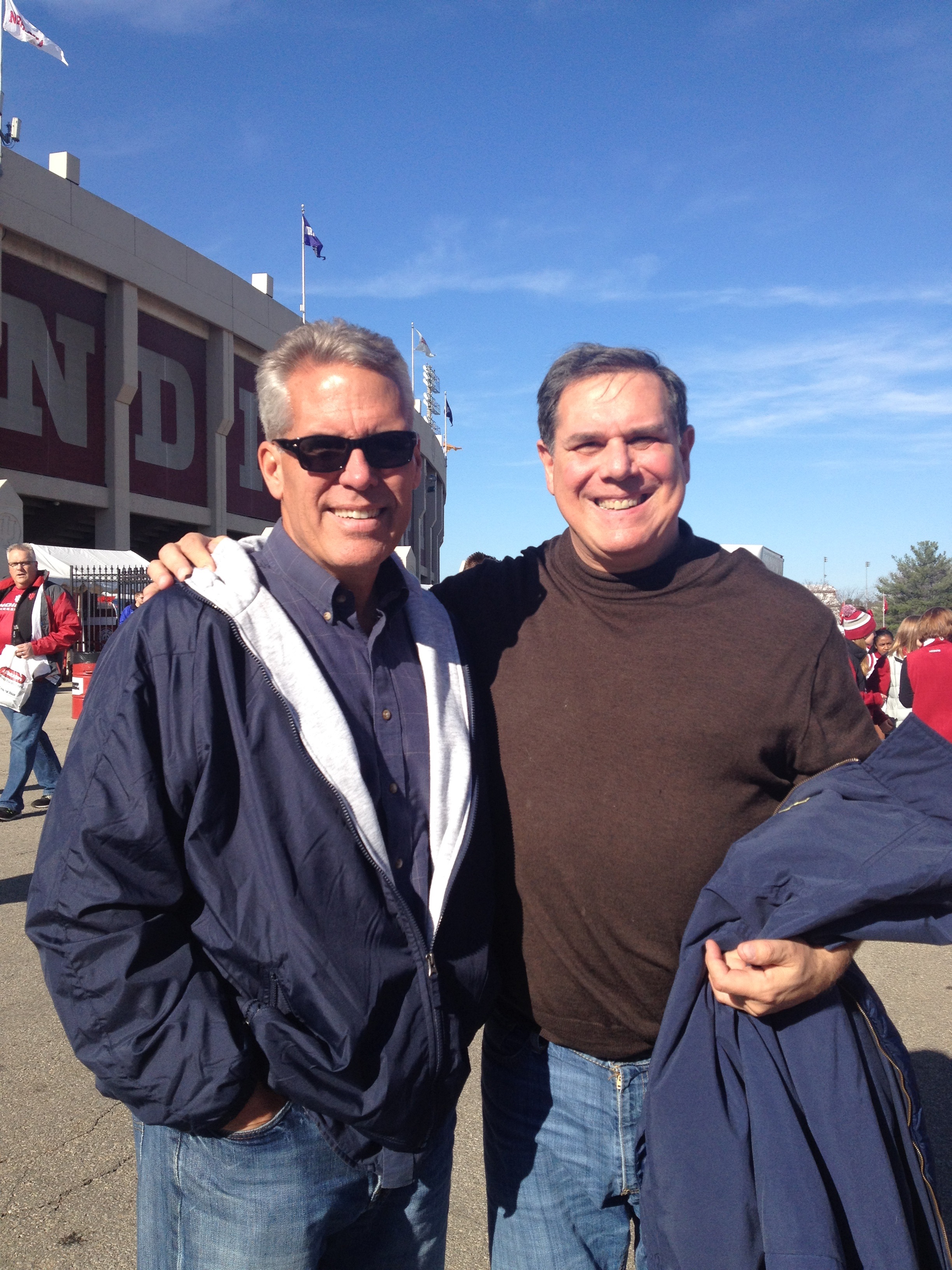 It was a perfect day for a Big 10 match up, the weather was perfect with clear skies, temperatures in the mid-50s and a light breeze. Mike and Bone wandered around the Memorial Stadium and check out the various Hoosier "villages" and World War II plaques, Around 2:45, they opened the doors and headed to their seats on the 20 Yard Line, about halfway up.
Excited Hoosiers in Memorial Stadium!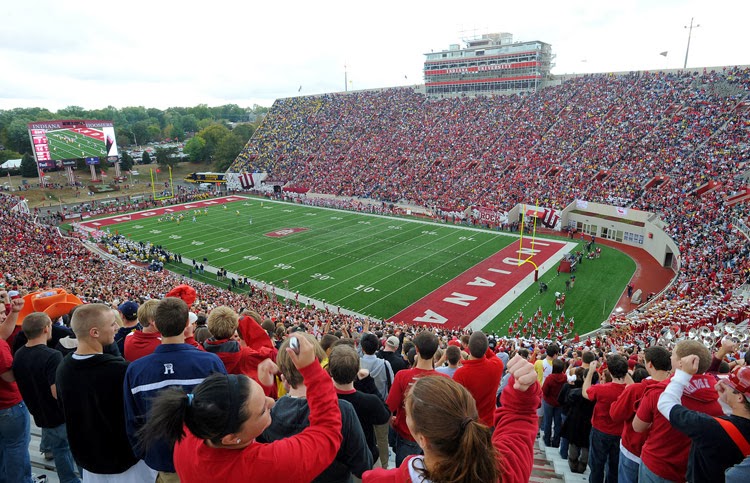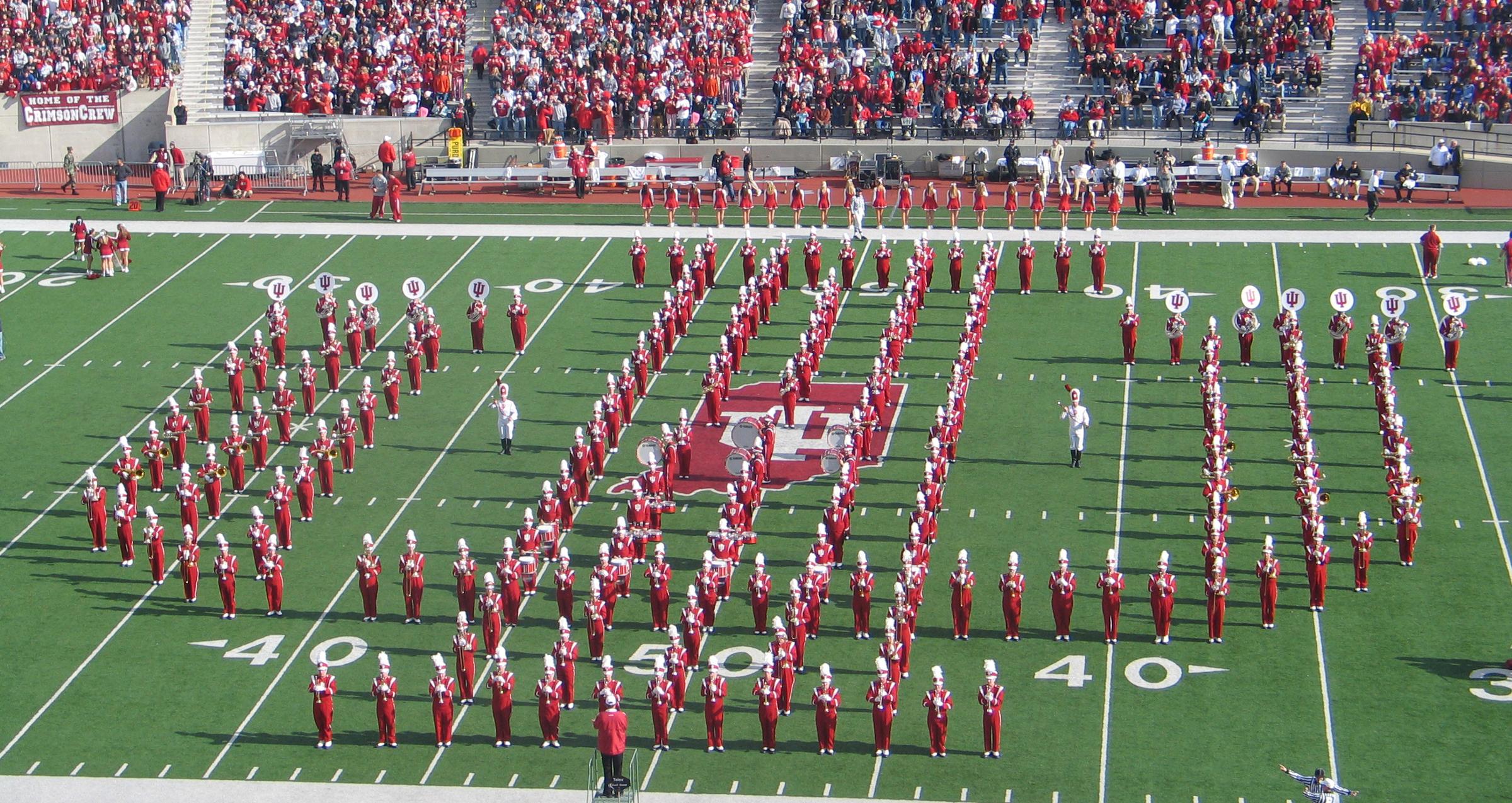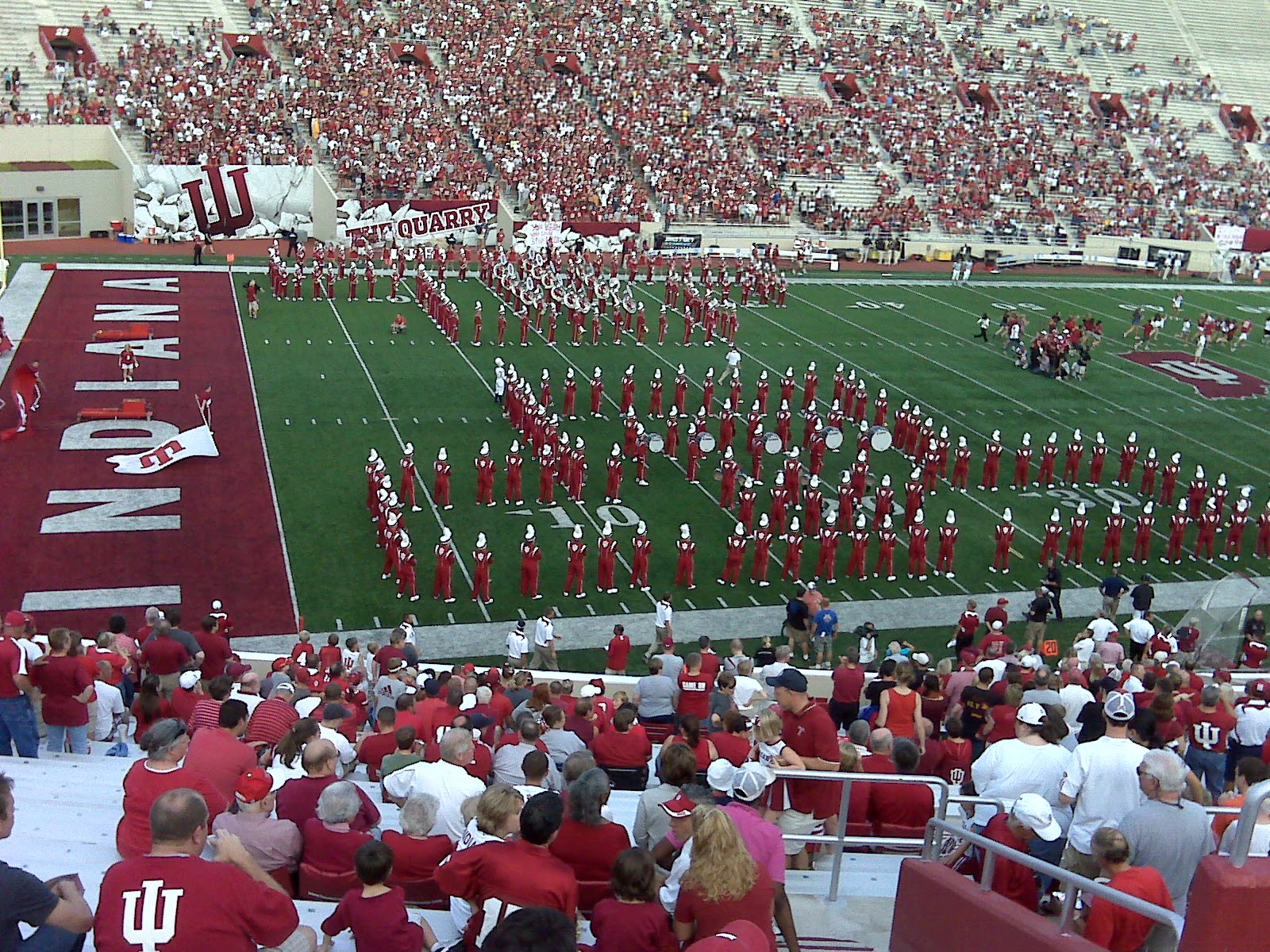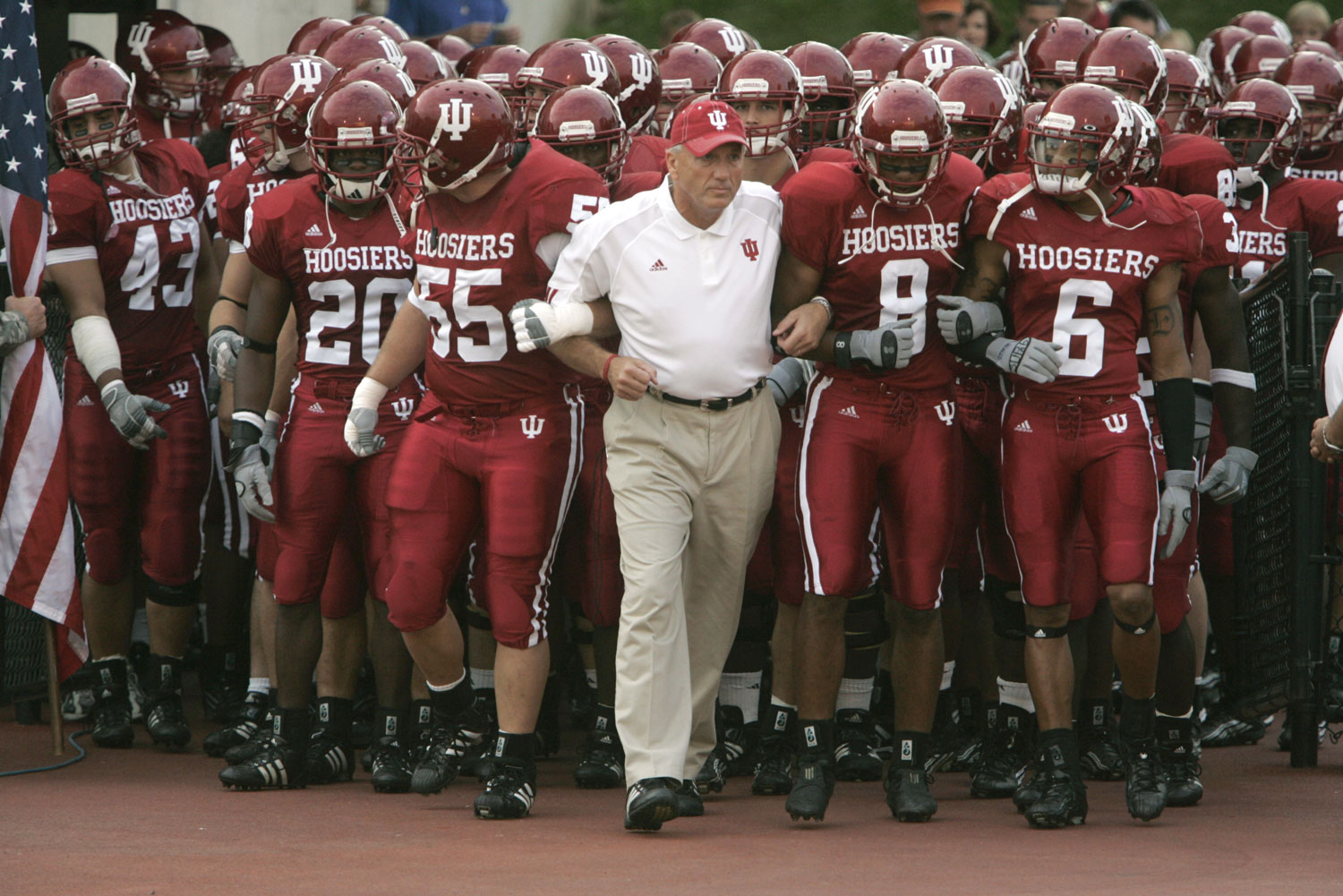 Let the Fireworks Begin!
One of the cool things about visiting different college football teams and their stadiums is the many different traditions that each school has. At Indiana, the Team runs on the field under fireworks!
Now these fireworks are nothing compared to the next four hours!
Red-Hot Ruddock!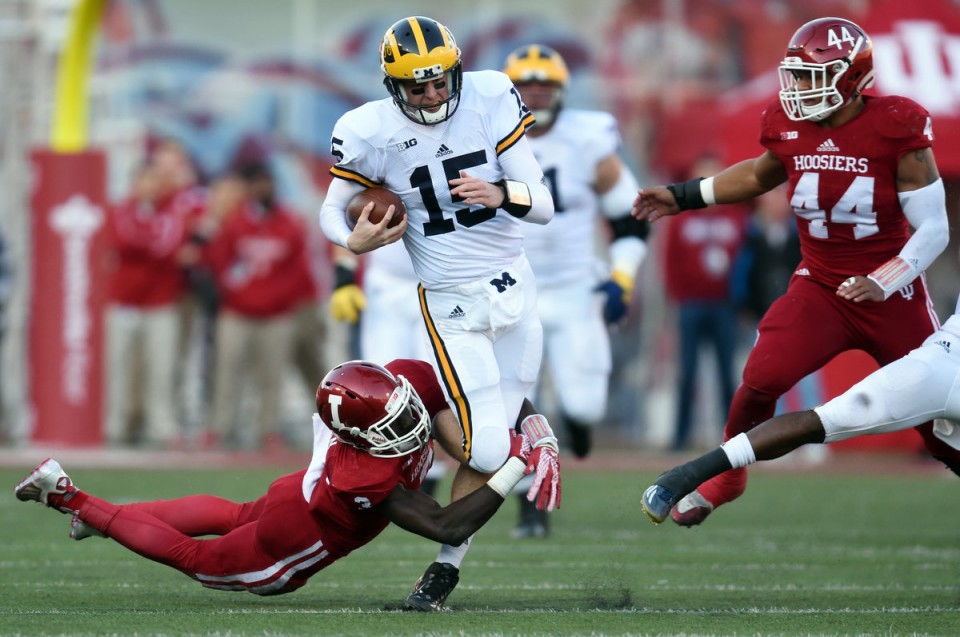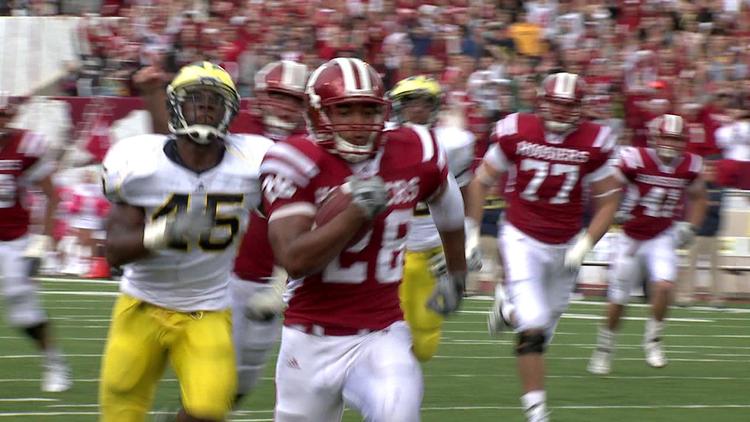 The Game started well with Michigan stopping Indiana and marching right down the field for a touchdown. The first quarter ended with Indiana having to settle for a Griffin Oakes field goal, from 36 yards out, after driving into the Michigan red zone. While the quarter ended with Michigan leading 7 to 3 ominously, Indiana out-gained 153 yards 35 plays and Michigan only producing 58 yards on seven plays. We also lost our starting safety Dymonte Thomas with an apparent right knee injury, which wasn't good because Michigan's defense was clearly struggling.
Michigan went into half-time 24 to 16. Starting its final drive at its own 25, Michigan went hunting for points before the half. Piecing together a 17-yard catch by Amara Darboh, a 13-yard catch by Jehu Chesson and a 29-yard catch by Jake Butt, the Wolverines storm back down field after Indiana's late TD. The drive can't cross the finish line, though, as Michigan settles for a 22-yard field goal by Kenny Allen. That Indiana touchdown was the result of a number of stupid penalties (way too many offsides all game!) and a 7-yard screen pass from Nate Sudfeld to Jordan Howard. Indiana's drive went 61 yards on seven plays in just 1:22 for the quick strike.
Can't anyone stop Jordan Howard?!?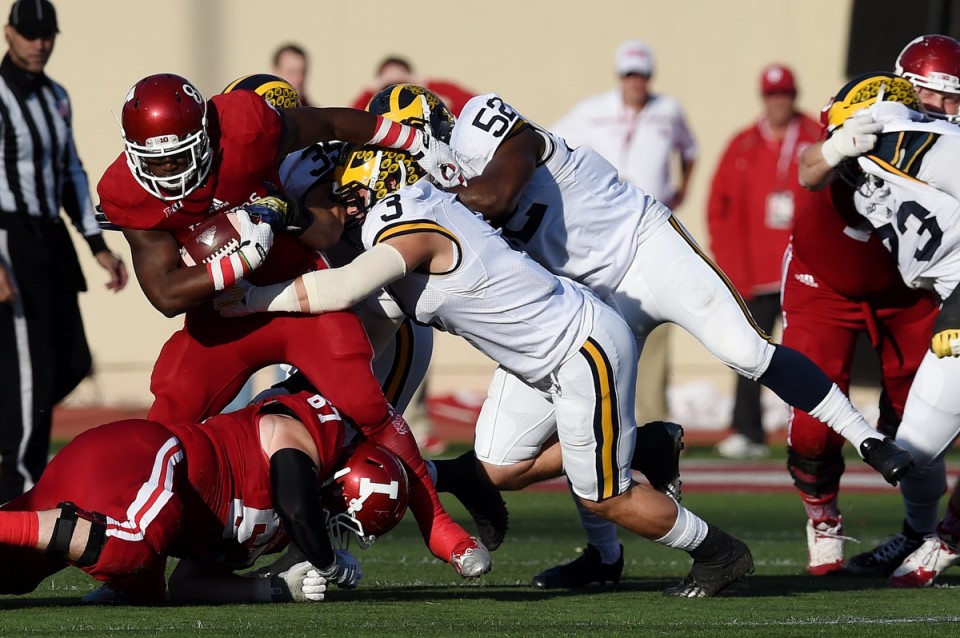 The third quarter may have been the worst quarter of Michigan football in 2015. An opening three-and-out by the Michigan offense, which included a blown timeout and a sack of Jake Rudock, puts Indiana in position to make some news and the Hoosiers respond loudly. A 51-yard punt return by IU's Mitchell Paige, courtesy of some terrible missed tackles by the Wolverines, cuts Michigan's lead to one point less than two minutes into the second half; Michigan 24, Indiana 23.
Next, thanks to a nine-play, 69-yard drive by Nate Sudfeld and the Indiana defense, the Hoosiers their first lead of the game on a 24-yard field goal by Griffin Oakes, his fourth made kick of the game. Michigan once led 21-9. The futility continued when Michigan kicker Kenny Allen misses a 42-yard field-goal attempt when a low snap can't be properly placed by holder Blake O'Neill. Allen gets off an attempt, but comes up well short and wide left.
The fourth quarter starts with a Michigan 15-play, 78-yard drive, that can only rustle up three points on a 20-yard field goal by Kenny Allen to retake the lead. Michigan 27, Indiana 26 (6:38) The Wolverines go back on top thanks to a few more key third-down scrambles by Jake Rudock and an important 6-yard completion to Amara Darboh on third down.
Then to Mike and Bone's horror and the drunken Hoosier fans delight, hooting on them on, the Hoosiers rattle eight straight run plays for 69 yards, running through and around the Michigan defense, mostly from rugged running back Jordan Howard, and power into the end zone for a touchdown to reclaim the lead. Indiana is dominating Michigan at the point of attack and shredding one of the best run defenses in the country. A two-point conversion also came on the ground from Howard. It is now Indiana 34, Michigan 27, with only 2:52 left in the Game! By now Mike and Bone are in despair, Harbaugh's Boys are gonna lose! However on Jake Rudock's back and shoulders, Michigan is carried 66 yards over eight plays in 2 minutes, 52 seconds for a game-tying touchdown! On fourth down from the Indiana 5, with only 4 seconds on the clock Rudock finds Jehu Chesson across the middle on the final play of regulation for a touchdown, sucking the air out of Memorial Stadium. Rudock has now completed 31 of 44 passes for 394 yards and four touchdowns.
We are going to overtime!
Overtime 1 Series: Michigan wins the toss and Indiana goes up 41- 34, riding a ground attack that is punching holes through the Michigan defense, Indiana puts a touchdown on the board from the half-yard line on fourth down. Jordan Howard dives over the top for the TD, his second of the day. Howard now has 218 yards rushing and the Hoosiers have rattled off 14 straight run plays. Michigan answers with ease and it is now 41-41. Jake Rudock finds Jake Butt for a 21-yard touchdown pass to extend the game. Now the Wolverines got to keep the ball and begin another drive, looking for a score for Indiana to answer!
The stop on the Goal Line in Double Overtime !!!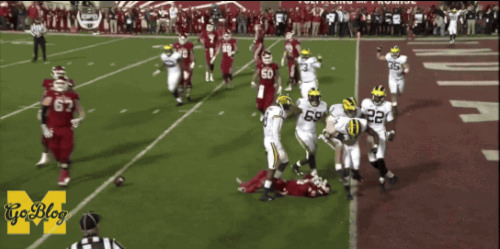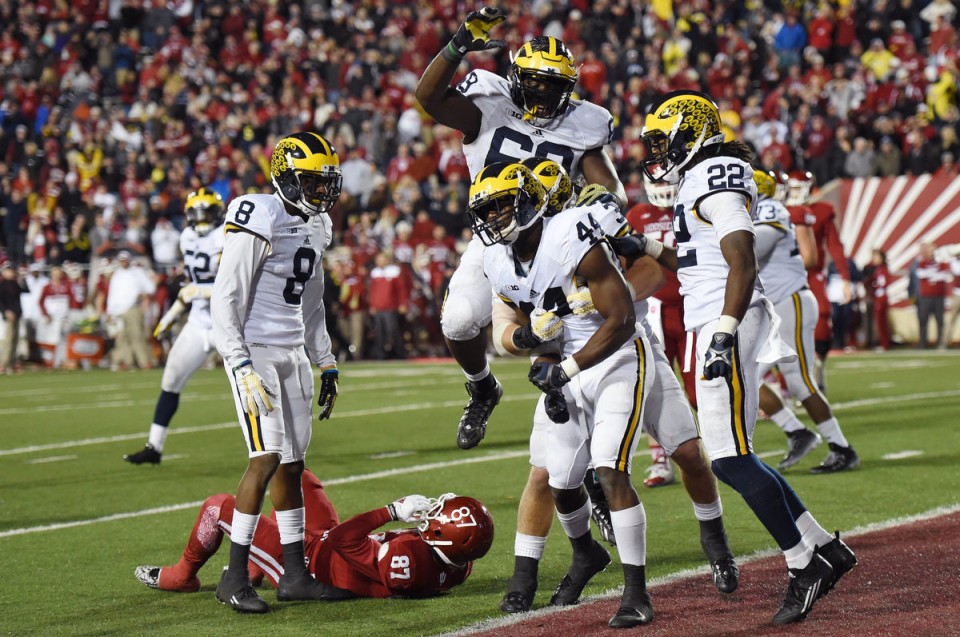 Overtime 2 Series: It's now too easy for Michigan, it is now 41-48. On the first play of a new set of downs, Rudock lofts a 25-yard touchdown to Amara Darboh for another touchdown. The Michigan quarterback is now 33-for-46 for 440 yards and six touchdowns. Now the ball goes back to Indiana, which has to answer the TD. When Indiana takes the field they continue to run all over Michigan, However, on the final play of the day, after successfully running 18 straight rush plays, Indiana coach Kevin Wilson calls for a pass on a fourth and goal from the 2-yard line. The throw from Nate Sudfeld to Mitchell Paige was deflected by Delano Hill and Michigan celebrates a wild victory and a banner day for Jake Rudock, Michigan 48 - Indiana 41. Jake Rudock threw for six touchdowns, and twice he saved the Wolverines' conference title hopes.
After the Game Harbaugh stated that "If Jake doesn't play the way he does, we don't have a chance. All those attributes -- talk about his accuracy, talk about his arm strength, talk about his durability, his toughness, he's intelligent -- but I still go back to that one, he is just unflappable. It does not matter what the situation is."
"He made a good play," said Paige, who scored on a 51-yard punt return in the third quarter to become the first Indiana player since 1990 with two punt returns for touchdowns in one season. "I had the ball, ran a decent route (Nate Sudfeld) put it right on me. I've just got to make the play."
For the Wolverines, it was a record day.
Rudock finished 33 of 46 with 440 yards and six scores, breaking the previous school record of four. He also kept drives alive with his feet, running seven times for 64 yards.
Chesson finished with a career-best 10 catches for 207 yards and four scores -- tying Derrick Alexander's single-game TD receptions record set in 1992. Darboh wound up with eight catches for 109 yards, and Butt finished with seven for 82 yards.
Harbaugh wasn't pleased with his defense, which came into the weekend allowing the fewest points per game in the nation and third-fewest yards rushing per game. It didn't play like it. Howard ran 35 times for 238 yards and two scores, caught a 7-yard TD pass and became the 11th player in school history to top the 1,000-yard mark in a season. Sudfeld wound up 20 of 34 for 220 yards with one TD in his home finale and Simmie Cobbs Jr. caught four passes for 86 yards. It still wasn't enough for Indiana (4-6, 0-6), which has lost six straight, four of those to Top 15 teams, and 20 consecutive games in this lopsided series.
Hoosiers coach Kevin Wilson stated "Again we played well, but not good enough."
Harbaugh said "It's like that Clint Eastwood movie, `The Good, The Bad and The Ugly." "There was some of all it today. Our guys found a way to win, and it's as good a win as you'll ever have."
A very elated, exhausted, relieved, and famished, Mike and Bone headed into Bloomington for a celebratory burger and beer!
Noshing at Nicks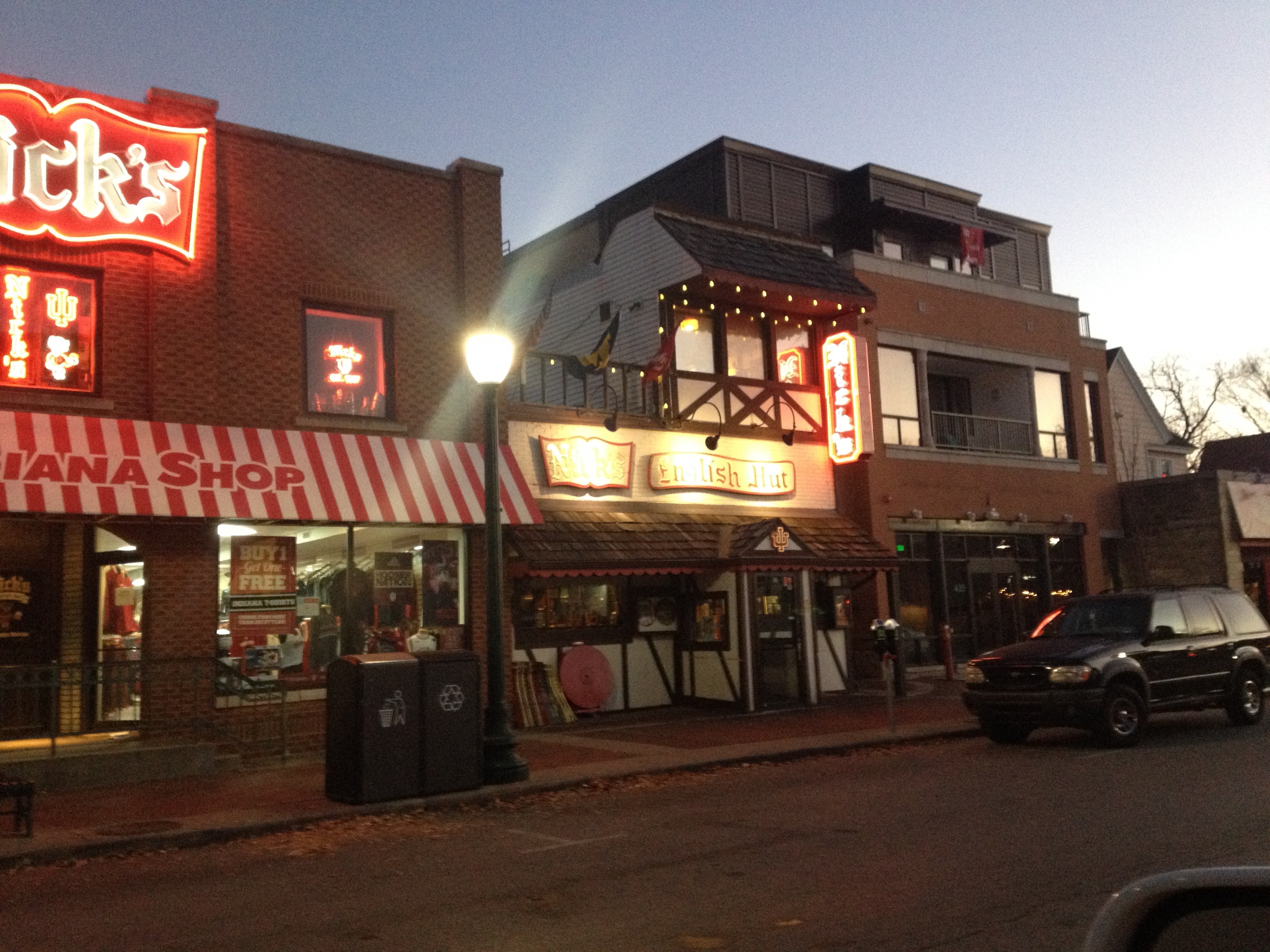 Mike and Bone checked out the local College Bar scene which was packed and luckily fell into a University of Indiana local tradition, Nick's English Hut!
The story of Nicks English Hut starts in 1924, where Nick Hrisomalos bought a patch of land where he constructed a small building on a quiet, brick street — Kirkwood Avenue. Three years later, the young immigrant from Rapsani, Greece, opened his self-titled restaurant, Nick's English Hut, serving simple menu items such as egg sandwiches and fried bologna. After prohibition was repealed in 1933, Nick's began serving beer and wine, to the consternation of certain vocal opposition groups. While the establishment was not well constructed and had only a small rudimentary grill, its favorable location one-and-a-half blocks from campus soon attracted Indiana University faculty and students. Many of the students were war veterans who were provided an education under the G.I. Bill. These vets became some of Nick's original regulars.
Over the decades, several generations of regulars would follow. An original "town and gown" meeting place, beer, food and lively conversation became the order of the day at Nick's. On Nov. 14, 1949, a young woman named Ruth Collier started working for Nick as a waitress, cook, and cashier — anything that was needed. Though small in stature, Ruthie was a powerful force with customers throughout her 40 years of service. On March 17, 1953 — the day IU won its second NCAA basketball championship — Nick passed away. He was 62. He left the management of the tavern to his wife, Katina.
Their son, Frank, who was attending medical school at the time, was worried about the long hours his mother was putting in at the bar and offered its sale to a friend, Dick Barnes, in 1957. Ruthie was there to aid in the transition. Nick's Expands Owner of a local pizzaria, Dick continued the traditions and close relationship fostered with IU and Bloomington. His vision for Nick's growth took shape soon after his arrival. He initiated several structural changes to the building over the next five decades: 1961 — The bar moves to the other side of the building Late-1960s — The Attic opens 1979 — Construction of the Hump Room begins 2000 — The Hoosier Room (formerly Kleindorfer's bowling alley) opens While the kitchen has never moved, the food at Nick's has evolved with the times. The menu items that have made Nick's so popular over the years — such as pizza, stromboli, subs, and more — now includes fresh fish, organic greens, and local beef. Original Sports Bar "Nick's was a sports bar before there were sports bars," explains Nick's manager Gregg "Raggs" Rago.
In 1978, there were only three TVs that customers were glued to during IU's basketball and football games. Currently, there are nearly 40 flat screen TVs scattered throughout the various rooms. Nick's was the place to be during each of IU's five NCAA basketball championships, as fans rushed to save seats as soon as the tavern opened and hawkishly guarded their tables throughout the day and evening. With each win, Nick's and Kirkwood Avenue became the celebratory axis for the Hoosier nation.
The Bucket Brigade?!?
In the mid-1970s, a private, beer-drinking club was established. Members were the proud owners of tin "buckets" from which they drank their brew. Each of the 120 pales was numbered, and only its owner could drink from the designated bucket. If members moved away or died, their buckets were willed to a new generation of the brigade. In the early 1980s, the Bucket Brigade became so popular Nick's established the Attic Bucket Brigade, adding 40 more buckets. Nick's currently sells replicas of the buckets. Claim to Fame Nick's has hosted many famous celebrities over the years, including musicians Roberta Peters, Dominic Spera, Al Cobine, Stan Kenton, Henry Mancini, John Mellencamp, Bix Beiderbecke, and Hoagie Carmichael; writers and actors Kurt Vonnegut, Art Buchwald, Dylan Thomas, Ernie Pyle, Kevin Klein, and Truman Capote; as well as athletic figures Steve Kinser, Fuzzy Zoeller, Bob Knight, and the 1984 Olympic basketball team, which included Michael Jordan. Cheers to Nick's Not unlike the television show Cheers, Nick's regulars certainly know each others' names. But Nick's differs from its fictional counterpart thanks to the thousands of devoted alumni who return to Bloomington and the tavern — home to countless youthful memories. "It's a place that makes you feel young again. It's where you may have had your first kiss, met your wife, or played 'Sink the Biz,'" says Rags. "Nick's is a happening, an emotion, a living thing, because of the people who come back."
Mike and Bone doing the jars at Nicks!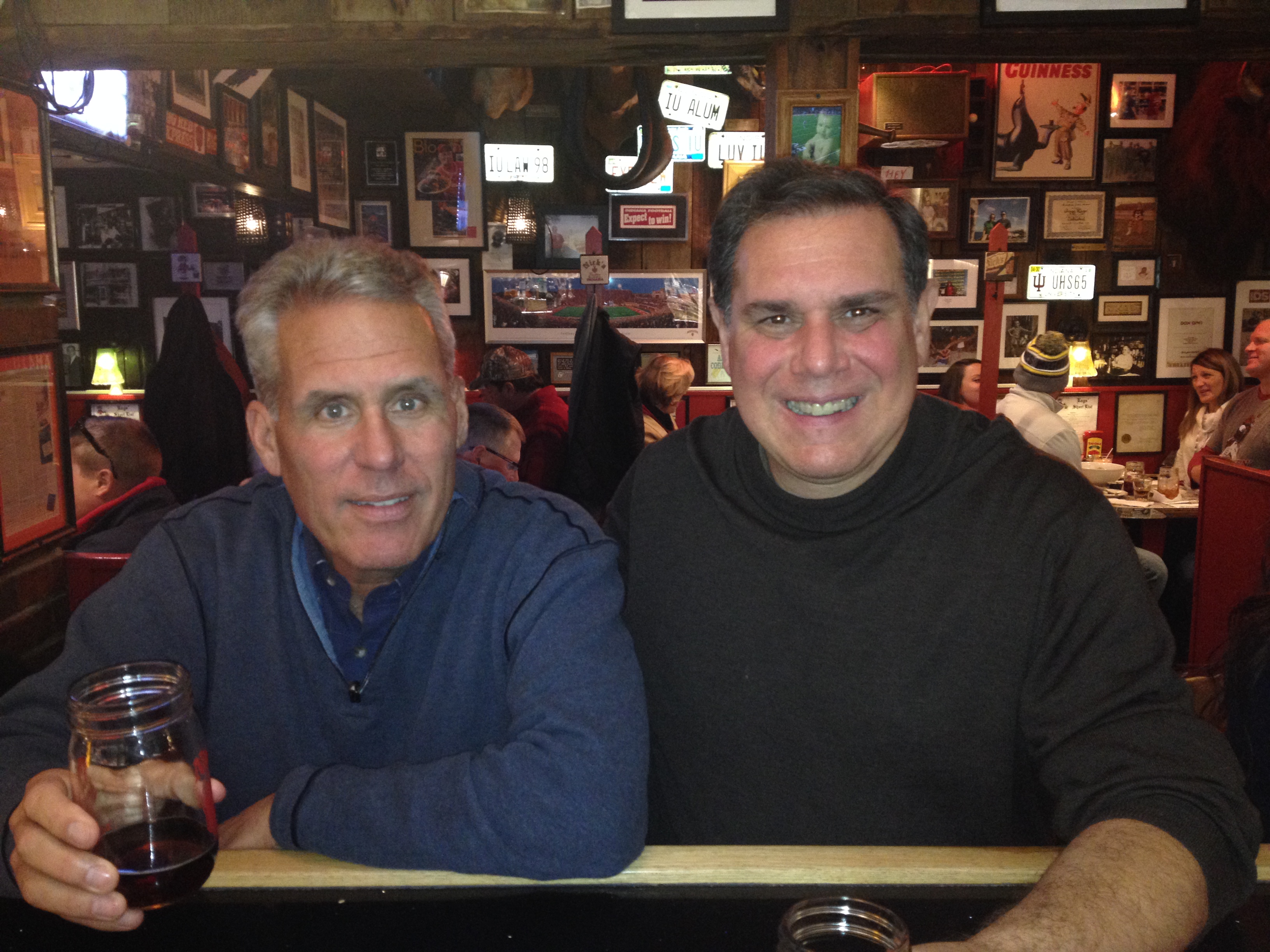 The company was great, the bartender amazing, the local kraft beer great, the food, not so good. The burgers were very plain, and the pizza used that mid western flat/matzo bread crust, which was just ok. Stuffed and drained (the boys both got up around 5:00 in the morning!) they headed off for a much needed slumber before a looong drive home.
Hotel Hell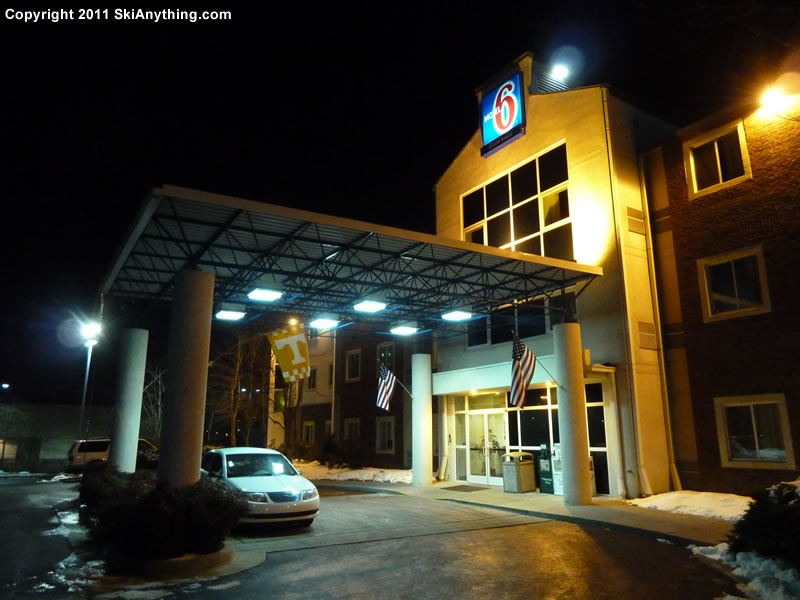 Now the Boys have stayed in some palaces and even more dumps, this Motel 6 that Tom Bodette should be ashamed of, first boned Bone on the rate (supposed to be $45) and it wasn't, plus all they had left was a smoking room with a queen! When Bone has specifically asked for twins and non-smoking! the obese lady said "you don't want it ok!" Unfortunately it was late, the Boys were beat, and it was very likely that everything else would be sold out as well.
The room was almost as bad as the Georgia Bulldog Inn (with exposed wires), however it was pretty close, with the dry air, the heat, and the smell of smoke neither Mike nor Bone could sleep very well. An exhausting end to an exhausting day!